Are you planning a trip to Bohol? Then you are likely looking for reliable and up-to-date information on the ferry services between these two places.
Sure, you can also fly from Cebu to Bohol with Cebu Pacific, but does it make sense to pay 3,000 Pesos for a flight ticket instead of 800 Pesos for a ferry ticket, and not even saving time if you add the taxi ride to the airport on Mactan and waiting time at the terminal? Not really.
So by far the easiest way to get from Cebu City to Bohol is by ferry. I personally did this trip again last week, and in this quick guide I will give you all the information on the boat schedules, the ticket prices, what to look out for, as well as several photos, a video and a map.
I want to make this guide as simple as possible, so let's get right into it:
Cebu to Bohol Ferry Schedule
The first thing you probably want to know are the departure times of the ferries.
Here is the current schedule from Ocean Jet, the most popular boat company: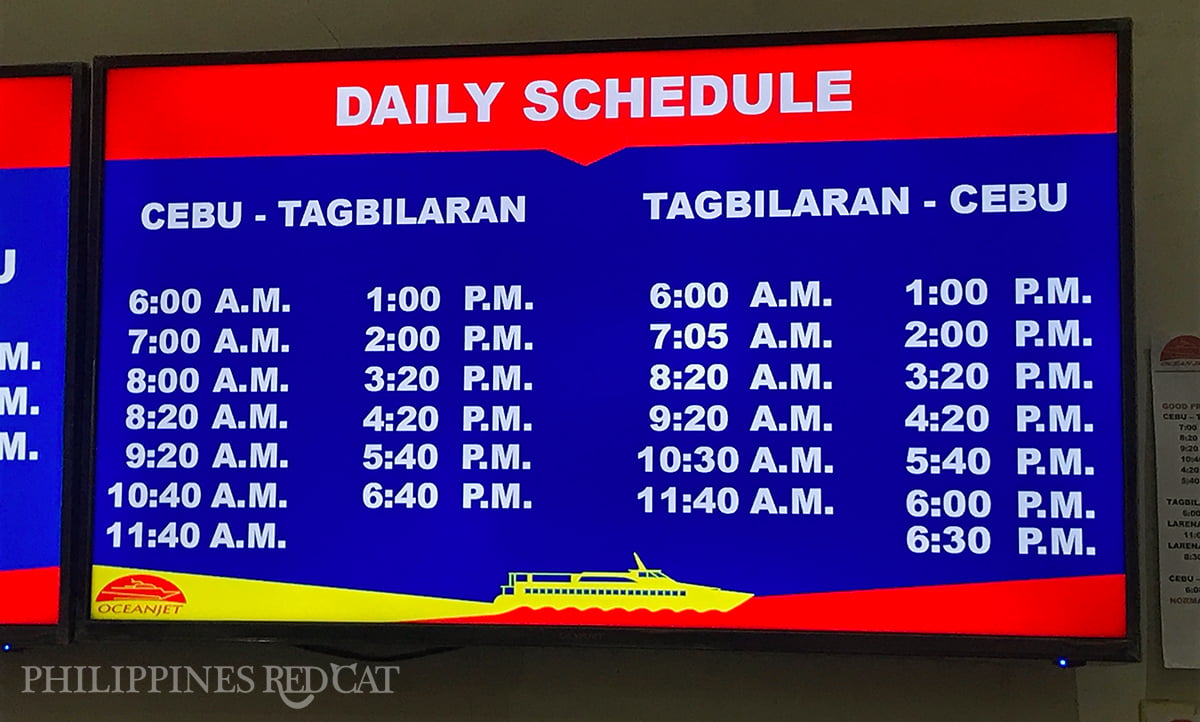 In case you don't know: Tagbilaran is the capital city of Bohol. You don't really want to stay there, it's just another hectic and chaotic Filipino town. Instead, do it like 95% of all travelers do and take a tricycle or taxi to Alona Beach in Panglao. I'll talk about that in more detail at the end of the post.
So like you can see in the picture, Ocean Jet has services about once every hour from 6am to 6:30pm, every day. The trip takes about 2 hours.
Important: Don't worry about the departure times too much. There are currently 4 ferry companies serving the Cebu – Tagbilaran route, and so if you come at any reasonable time (with "reasonable" I mean like 6am to 7pm) you will never have to wait for more than 30 minutes until the next boat leaves.
Prices of Ferry Tickets from Cebu to Bohol
The standard ticket price for a one way ticket from Cebu to Tagbilaran on Bohol is 800 Pesos for Tourist Class and 1,200 Pesos for Business Class.
The difference between both classes: Tourist Class are the seats on the upper deck of the boat (half open air with a roof on the top), and Business Class are the seats on the lower deck (inside, air conditioned).
I usually travel Tourist Class, because the views and atmosphere upstairs are nicer, however, the seats don't have that much legroom. All the photos and video in this guide are taken in the Tourist Class.
When I took the ferry from Cebu to Bohol last week, they had a promotion going on, and the one way ticket with Ocean Jet was only 400 Pesos. Additionally, you will have to pay the Terminal Fee of 25 Pesos.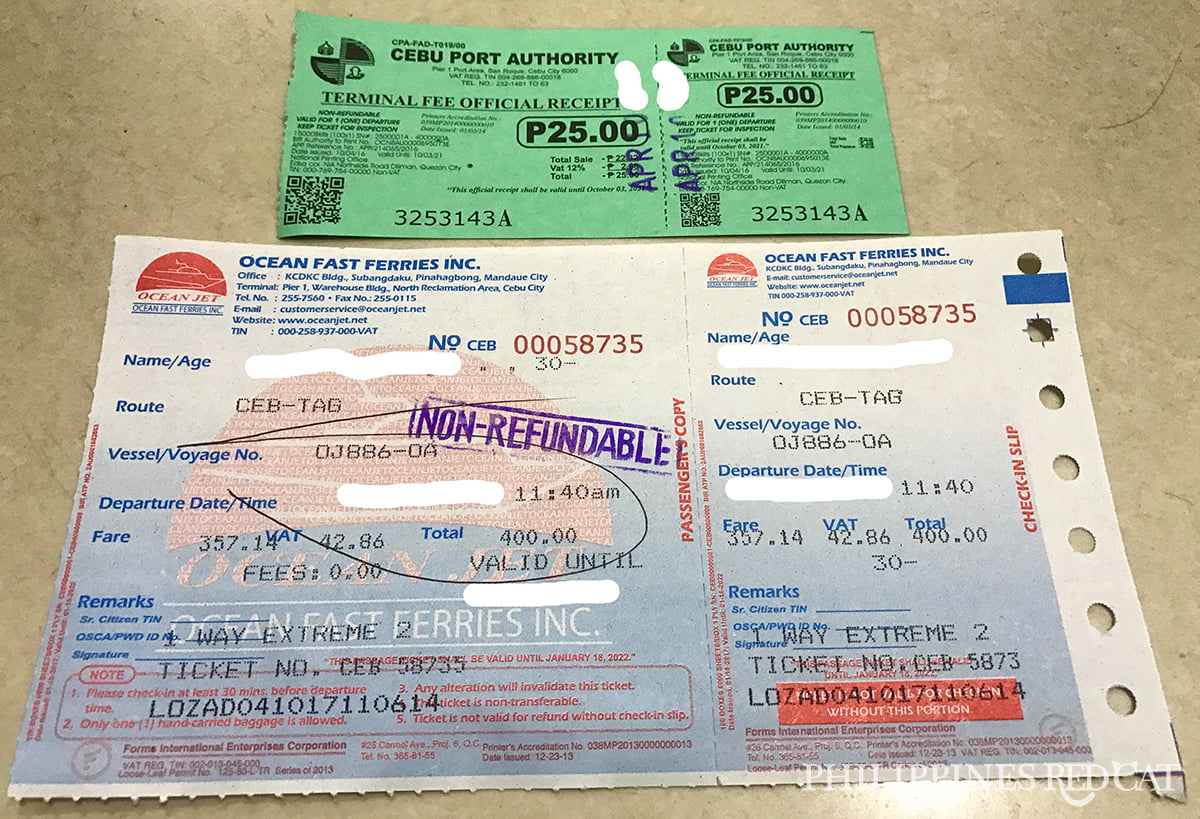 Before I show you some pictures of my trip, I think it's a good idea to give you an overview map.
Map of Cebu & Bohol Ferry Terminals
The ferries in Cebu leave from Pier 1. If you take a taxi to the pier from downtown, just tell him "Ferry Pier to Bohol", and he will know where to go. The taxi ride will cost just about 80 Pesos from Mango Avenue, or 100 Pesos from Ayala Mall (by meter).
Pictures of Ferry Ride from Cebu to Tagbilaran (Bohol)
That's the ticket office from Ocean Jet right in front of the entrance to the Ferry Pier. You don't need to prebook your ticket, unless it's an important holiday where the Filipinos want to go home to their families and the boats tend to be fully booked (Christmas, Easter & Independence Day – 12 June).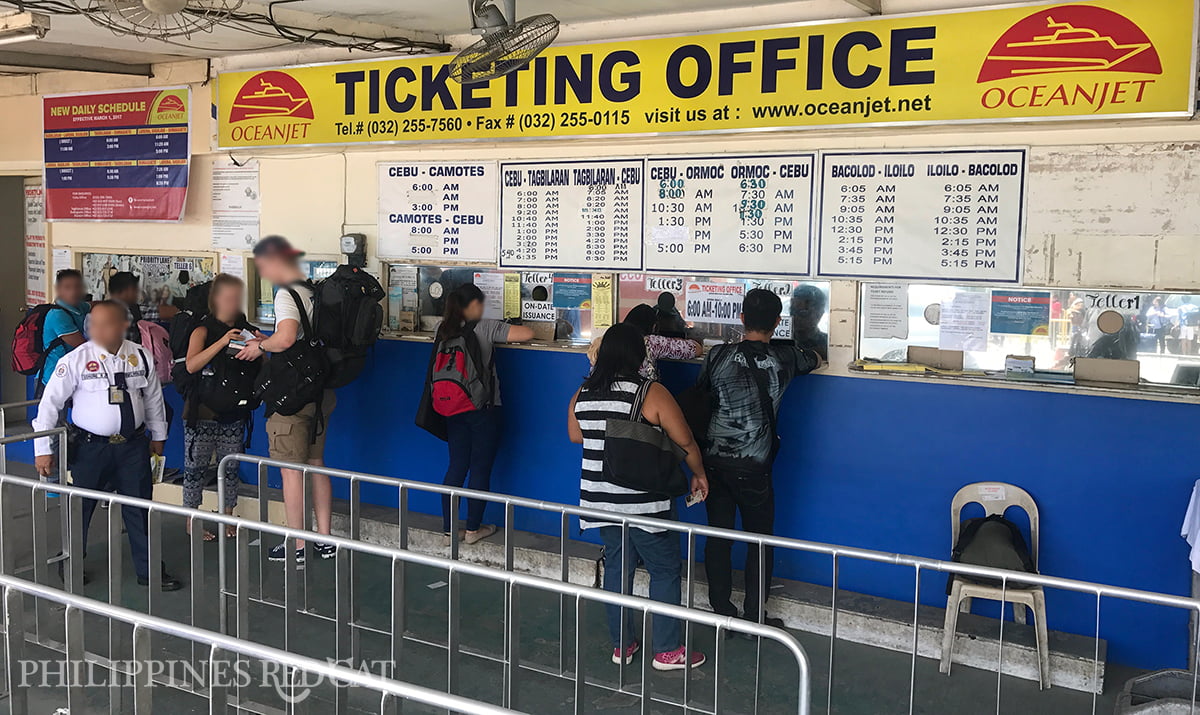 The employees at the port check all your bags, similar like at the airport.
The waiting room in Cebu's Port. There are usually some Filipino musicians, creating a friendly atmosphere in the otherwise cool and boring hall.
Ready to board the boat: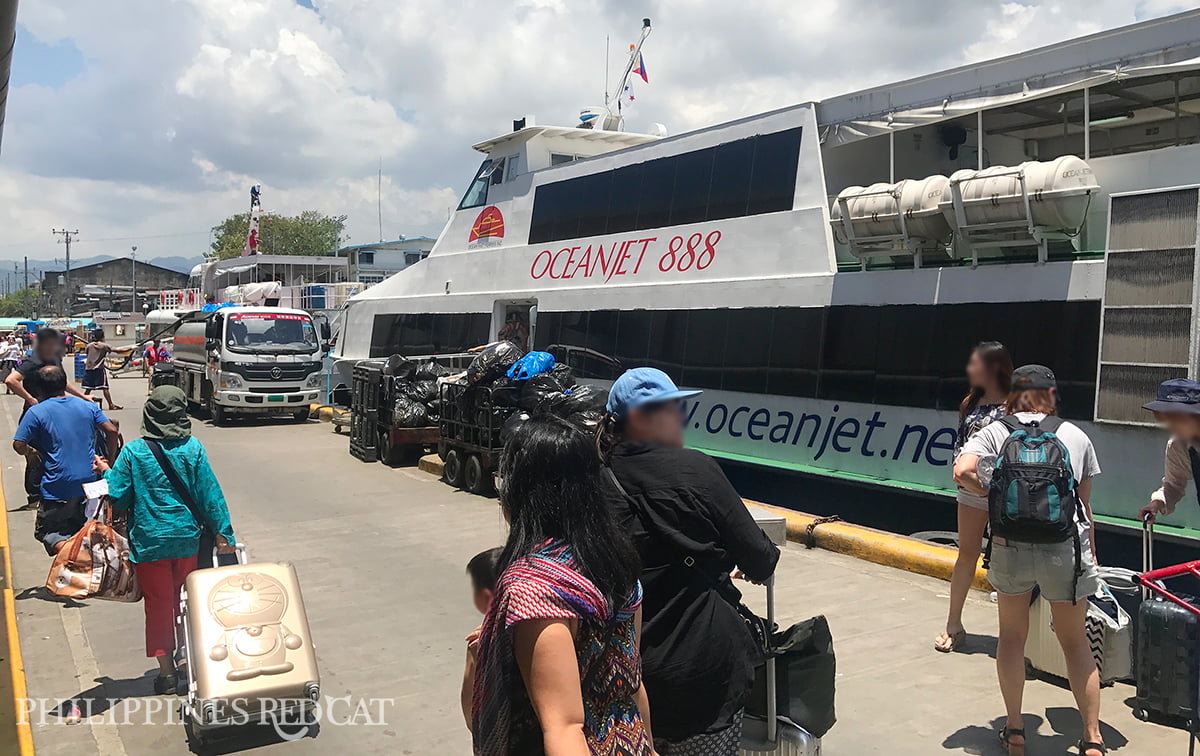 This is the "Tourist Class" on Ocean Jet: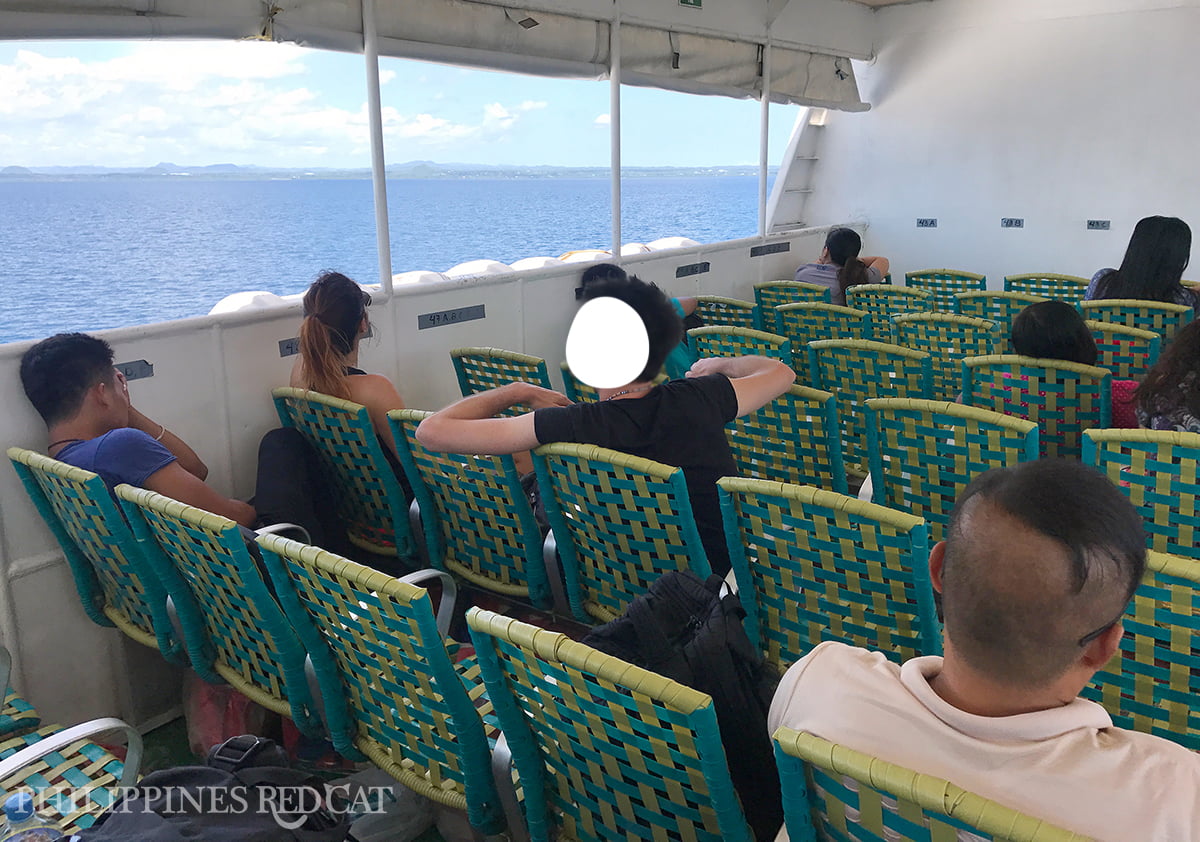 Some views from the ferry: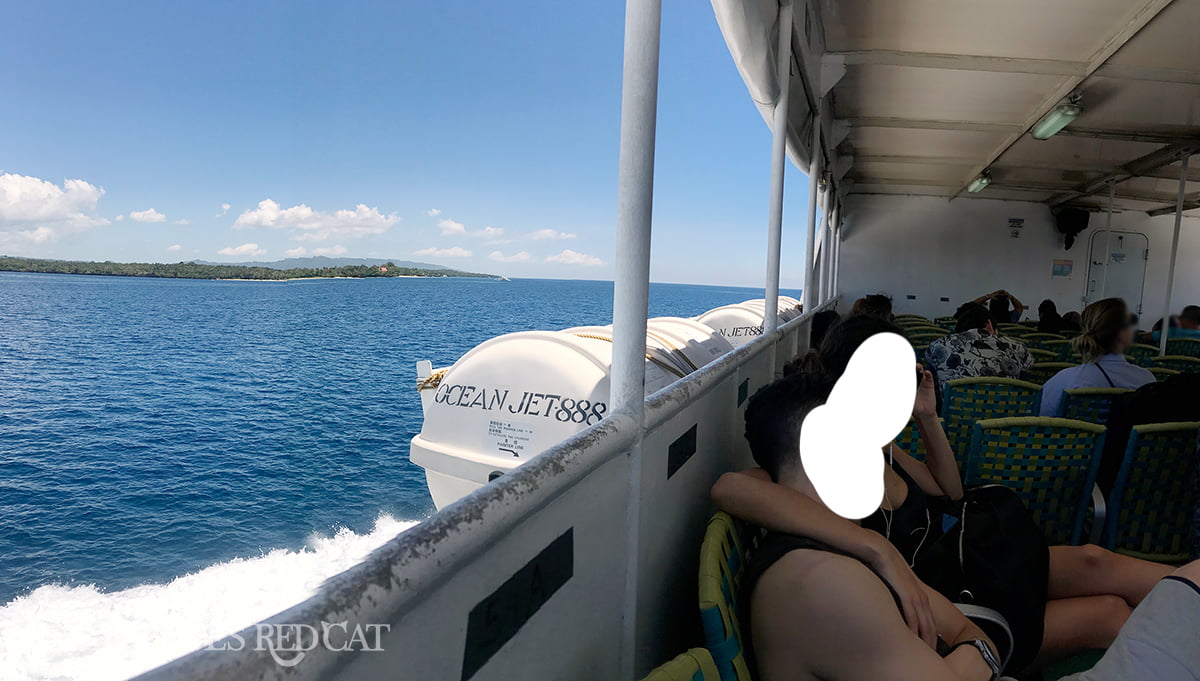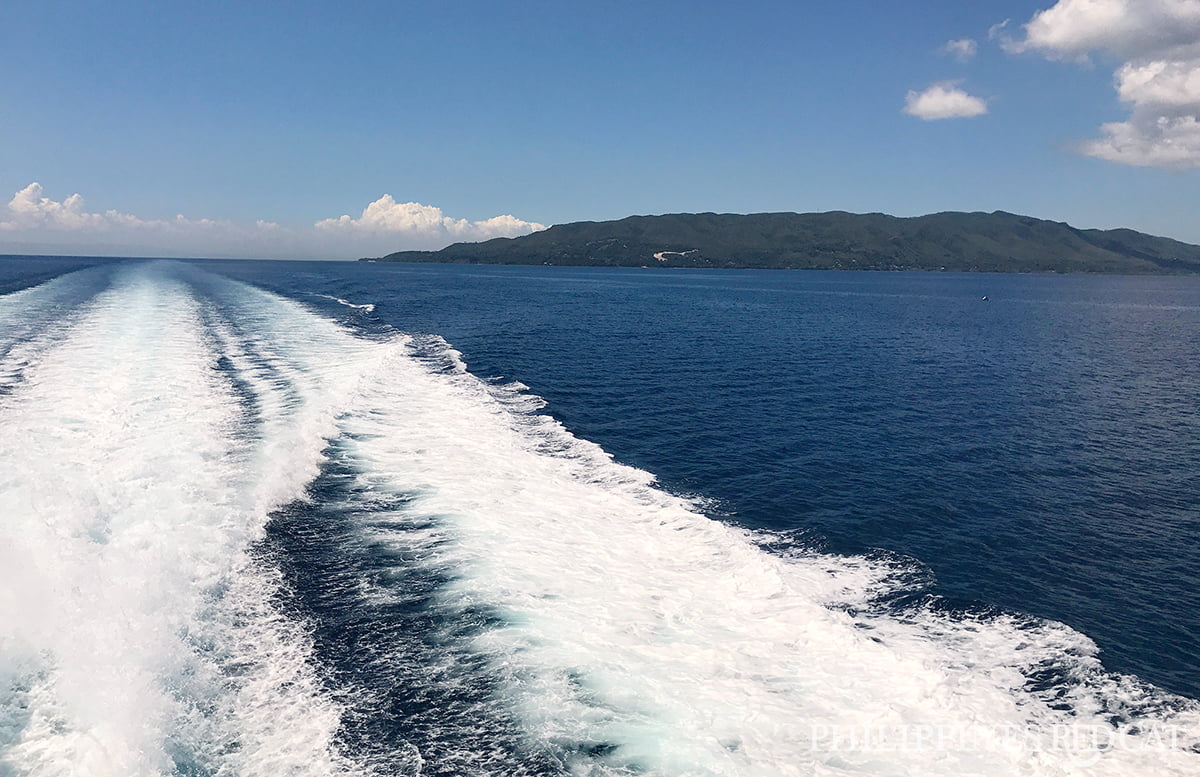 How to get from Tagbilaran Port to Alona Beach
Once you have arrived at the port on Tagbilaran, you will see both tricycles and taxis waiting for passengers. A tricycle to Alona Beach in Panglao will cost you about 300 Pesos (negotiable) and a taxi about 700-800 Pesos (also negotiable, they don't like to use the meter here).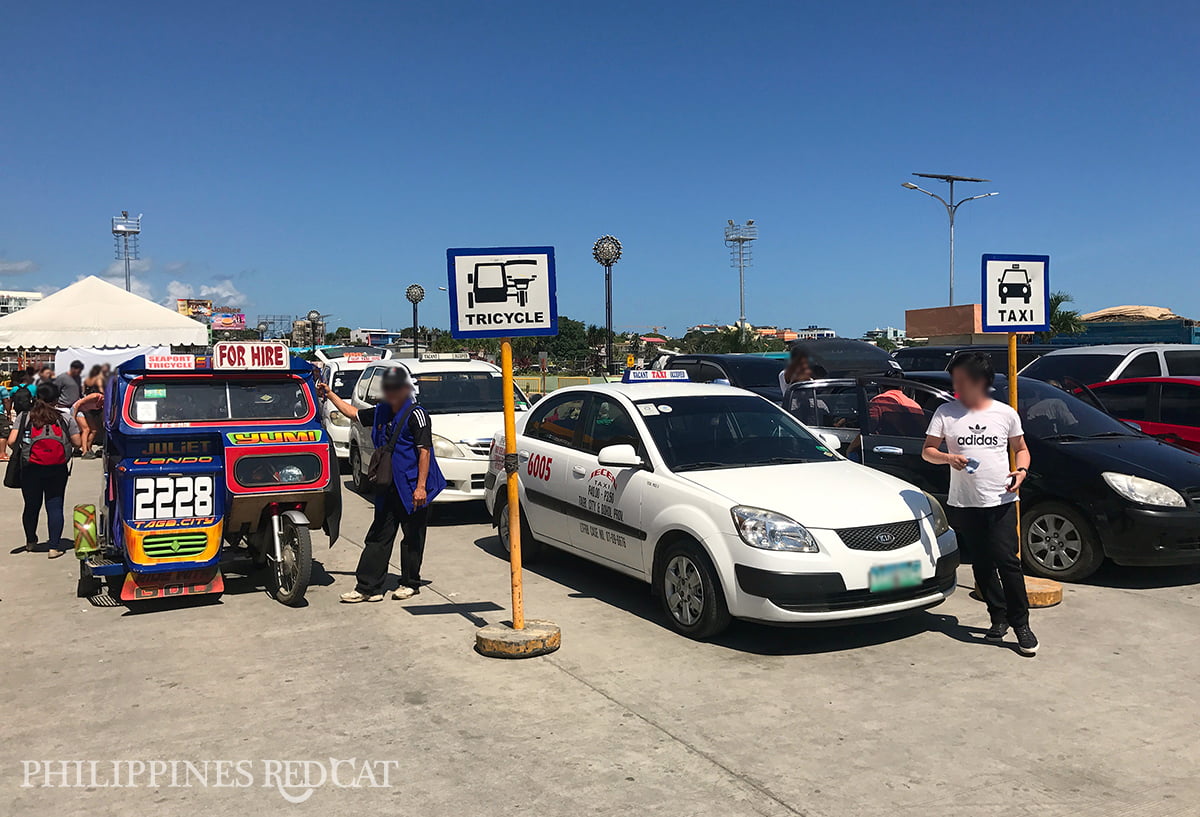 This may sound like a lot, but you have to keep in mind that it's about 19km between these two places, so the price is rather very reasonable.
Alternatively, you can rent a motorbike at the port. However, I think that's very expensive: They charge about 400-500 Pesos per day for an old and shitty scooter. I think they arrange the prices with each other. You can get a much newer and nicer bike on Alona Beach for about 350 Pesos.
Alright, that's all you need to know about this popular ferry trip. I finish this post with my video:
Video of Ferry Ride from Cebu to Tagbilaran (Bohol)