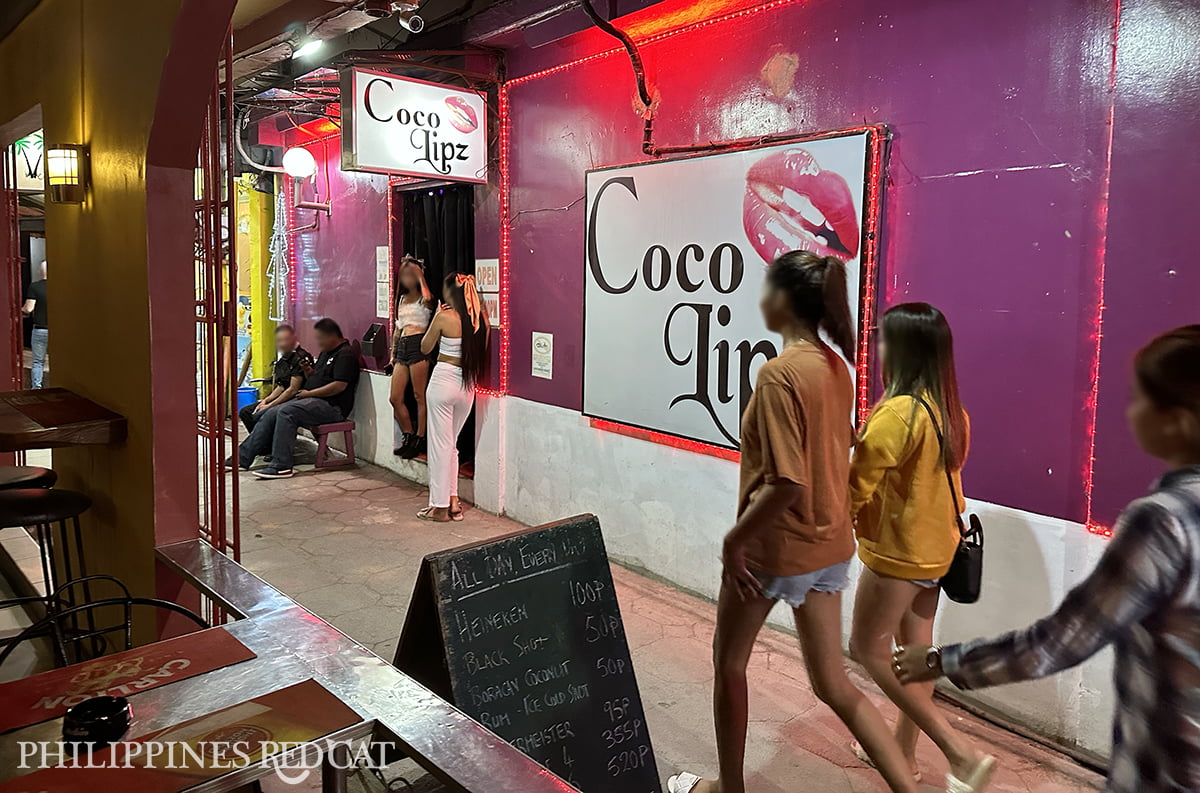 Puerto Galera is the closest nice beach area from Manila, and so it attracts not only western guys looking to relax and enjoy themselves, but obviously also countless of sexy Filipina girls from all over the country who see a chance to make some cash by entertaining all these guys. This makes it one of the prime sex destinations in the Philippines.
The most important thing right away:
The red light area of Puerto Galera is located in the beach town of Sabang. It's a 100 meter long alley off the main street right behind the beach (see the red flag pin on the map at the end of the guide). In this alley you will find about 10 different strip clubs each with 10-30 mostly young and surprisingly hot ladies working every night, as well as a few freelancers roaming around.
There are also a couple of "normal" bars that are great for people watching: Marti's & The Pub.
Sabang Nightlife Overview
Sabang is a really small town, you could walk all the streets in less than 1 hour, means you will get a quick orientation of everything pretty soon. The most important areas are the main street that is filled with supermarkets and shops, the red light alley that goes off that street, the beach promenade that has many popular restaurants as well as the sea that has the famous floating bar everyone loves. Everything beyond that has more to do with nature and daytime attractions, which I have covered elsewhere.
I have also already written a guide on how to get from Manila to Sabang in Puerto Galera, so this post will be about the 5 different places to meet girls here:
Girly Bars in Sabang, Puerto Galera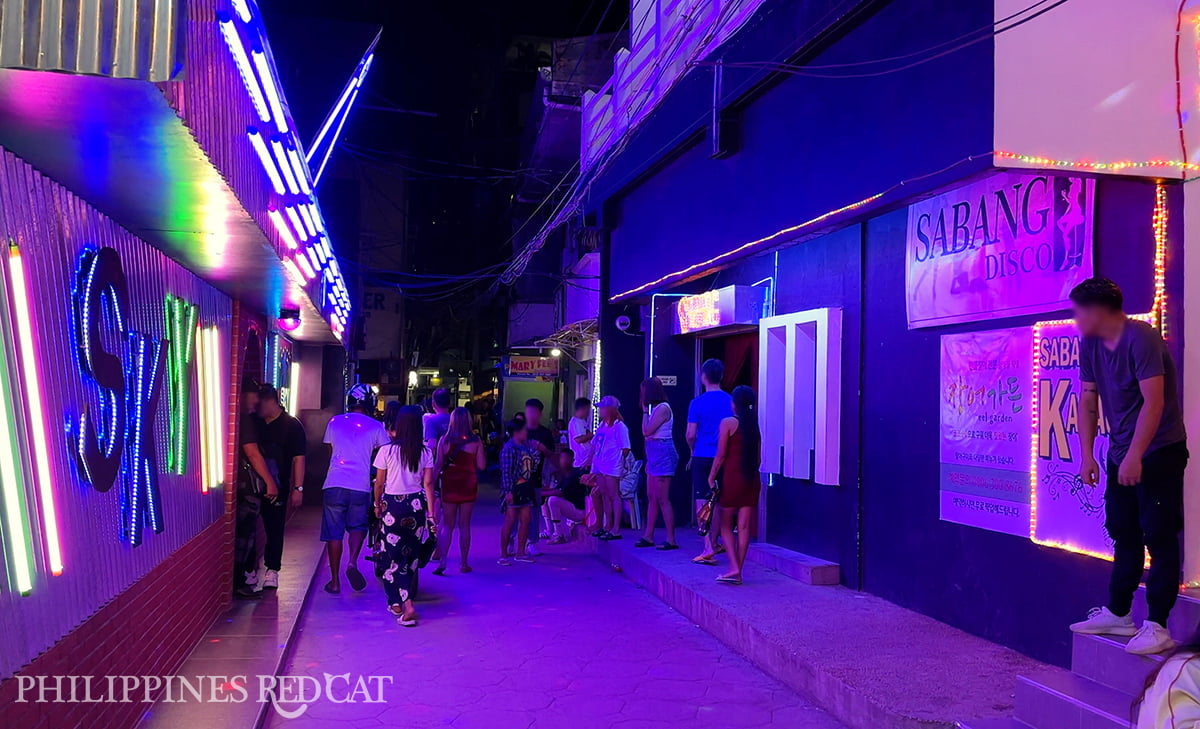 The girly bars in the narrow alley right behind the beach promenade are the place where most tourists pick up girls for sex in Sabang.
It's most convenient, and most safe as each girl is required to show up for a health check up at the doctor every day at noon. I can verify that by myself, as I discovered that clinic while randomly walking around town and saw about 6 girls lining up in front of that place (across opposite of Reflexzone Massage). They were obviously prostitutes and even told me they are required to go there every day.
You probably want to know what are the best strip clubs in Sabang, but that's quite hard to tell as the staff changes all the time. Coco Lips is the longest established girly bar here and known for their nice customer service, but generally I would recommend you to just walk into the bars and quickly scan the ladies. If you like what you see, you can sit down and order a beer and take it from there.
Prices: About 150 Pesos for a beer, 250-400 Pesos for a lady drink and 4,000 to 5,000 Pesos for the bar fine which includes sex and the company of the girl for the whole night until the next morning (but better confirm that with the mamasan before paying her bar fine).
Street Hookers in Sabang, Puerto Galera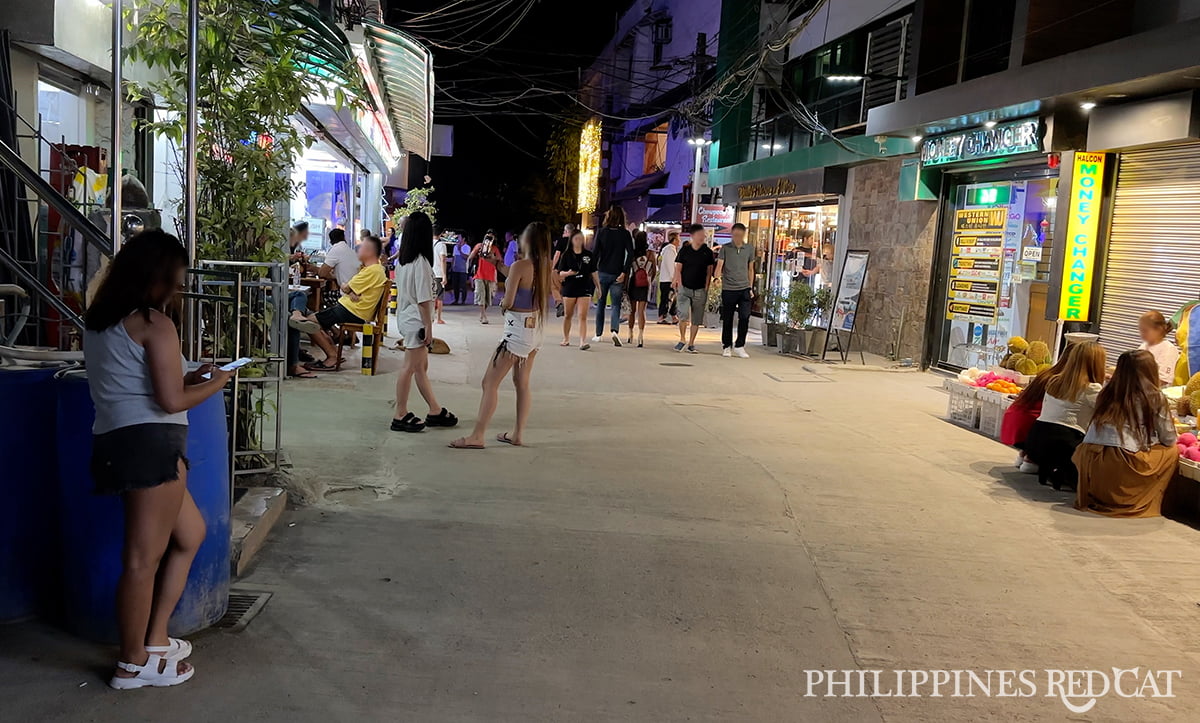 There aren't nearly as many street hookers in Sabang as you might expect, as 95% of the prostitutes here work in the lady bars.
But if you take a seat at the open-air Marti's Bar and watch the crowd for long enough, chances are that you will spot several hot women who are probably on a holiday from Manila and looking for an adventure with a foreigner (if they really wanted to go on a "typical" beach holiday, they probably wouldn't choose Sabang as it's mostly known for sex tourism).
Prices: That's hard to say as these aren't the typical type of street prostitutes you find in a place like Walking Street in Angeles. If you are lucky to find someone, you might even end up with a free one night stand, but if she's a freelancer, she'll probably be happy with somewhat in the range of 1,000-2,000 Pesos.
Puerto Galera Floating Bar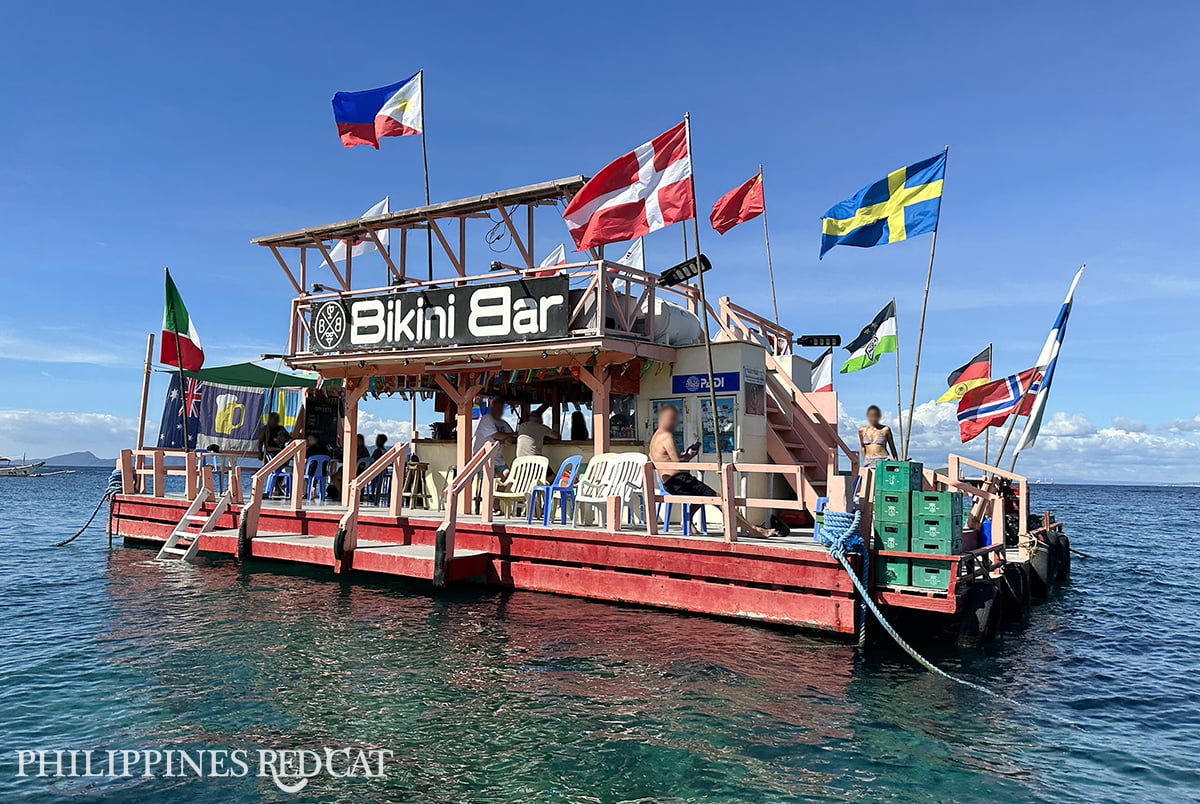 Any trip to Puerto Galera wouldn't be complete without visiting the legendary Bikini Bar, a floating bar about 100 meters off Sabang's coast.
They have a free boat transfer from the pier by the main road (see the black pin on the map below) whenever customers need it.
It's so much fun to just chill there, enjoy the views, sip cool San Miguel beers, chat with other foreigners – and of course, the ladies. When I went there for the first time and didn't see the staff wearing bikinis, I asked one of them why they call it "Bikini Bar". She just giggled and said, she wears one underneath. But, as it turned out… she didn't wear anything underneath. The next time I went they all wore sexy bikinis though.
Oh, and in case you were wondering, yes they do have a small toilet on their floating bar.
Prices: Daily Happy Hour until 7pm with beers for 75 Pesos, otherwise very fair prices like 150-200 Pesos for mixed drinks and 100 Pesos for soft drinks. Make sure to check out my video down below where you can see the full drink menu as well.
Puerto Galera Girls on the Dating Site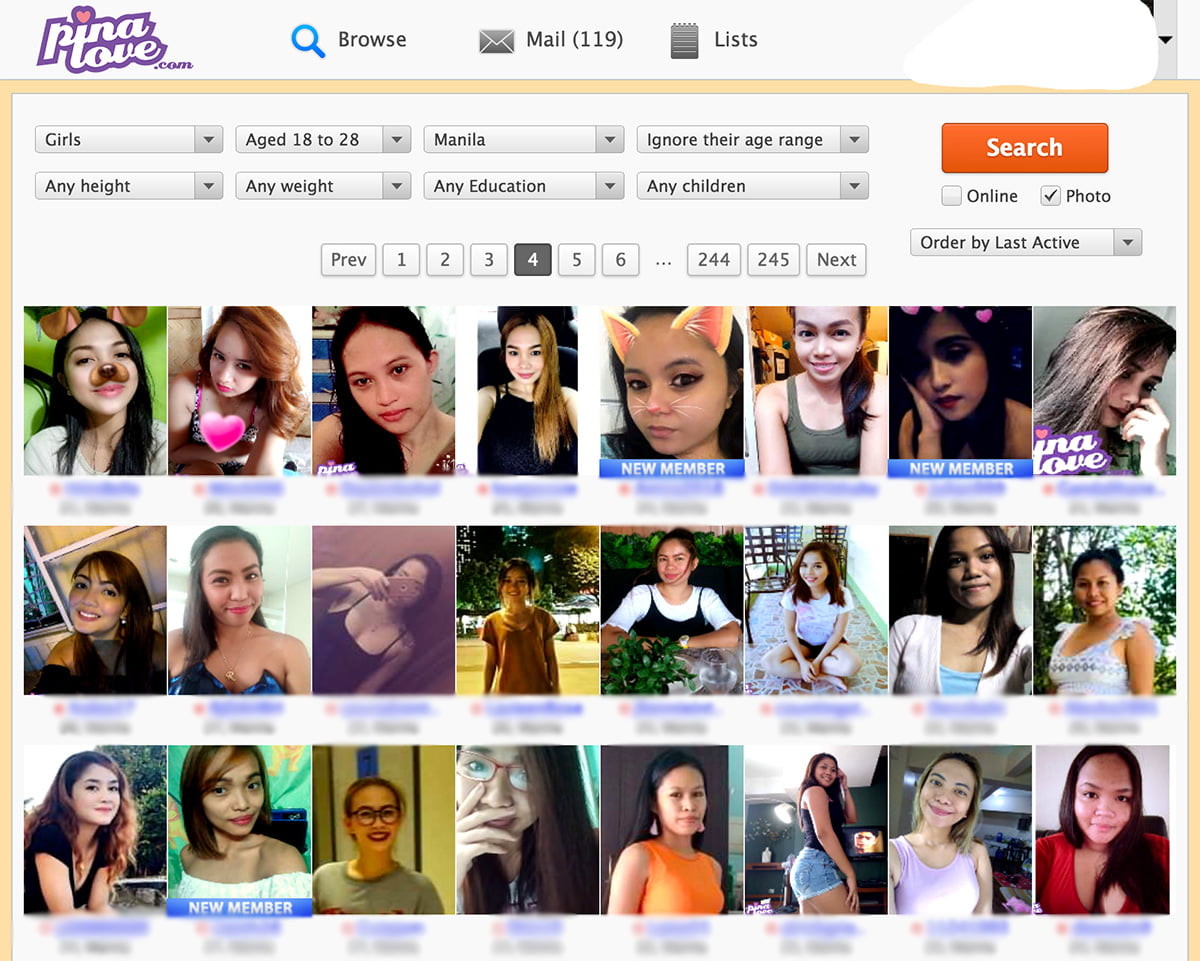 It's almost impossible to meet girls in Puerto Galera without paying for sex in the "real" life, as most of them work in the strip clubs or already have a boyfriend.
The exception is the Pina Love Dating Site that has attractive ladies from the greater Puerto Galera region who will happily jump on the bike to meet you for dinner and probably much more after that.
Prices: The basic functions like sending and receiving messages are free on Pina Love, and most girls also don't have any money expectations as they are looking either for exciting experiences with a foreigner or even a potential boyfriend.
Happy Ending Massage in Sabang, Puerto Galera
There are a couple of very popular massage salons in the tourist area towards the end of the main road near the beach promenade, however, they offer strictly no extra services like hand jobs or blow jobs.
This is a quite common phenomenon in the Philippines that I have mentioned several times on this website – unlike in Thailand, there isn't a big happy ending massage industry in this country and even in Sabang, there are only "tradional" massage shops without special services.
What you could do, however, is to take a private "Swedish Massage" with a girl of your choice, do some small talk with her and if you get on well enough (chances are pretty good of course) you can take her phone contact and meet her for a date outside of her working hours.
Prices: It's usually 600 Pesos for a 60 minutes Swedish Massage with oil.
See also: 5 Best Girl Friendly Hotels in Sabang, Puerto Galera
Map of Nightlife in Sabang, Puerto Galera
Videos of Nightlife in Sabang, Puerto Galera