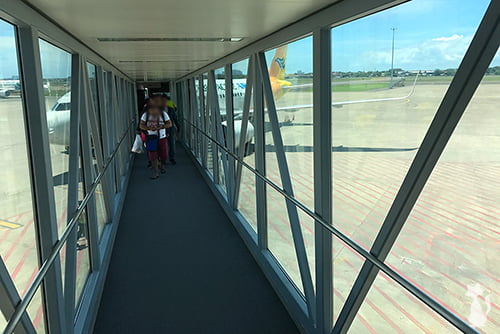 You have just landed at Cebu Airport? Then you probably want to know how to get to the city center as quickly as possible.
Mactan-Cebu International Airport is located about 14.5km from Mango Square in downtown (I'm sure you know about Mango Square – that's the epicenter of the nightlife with lots of girly bars, but also plenty of hotels, malls and restaurants within easy walking distance).
However, the traffic situation in Cebu has gotten a lot worse during the last few years, so you can expect somewhere between 30 minutes and 1 hour and 15 minutes between these two places.
Anyway, first things first:
There are 2 ways to get from Cebu Airport to the City Center (or vice versa) – by bus, or by taxi.
In this guide I will give you an overview of both options, where you can find the departures, how much to pay, some of my pictures and a video, as well as an overview map.
Cebu Airport to Downtown by Bus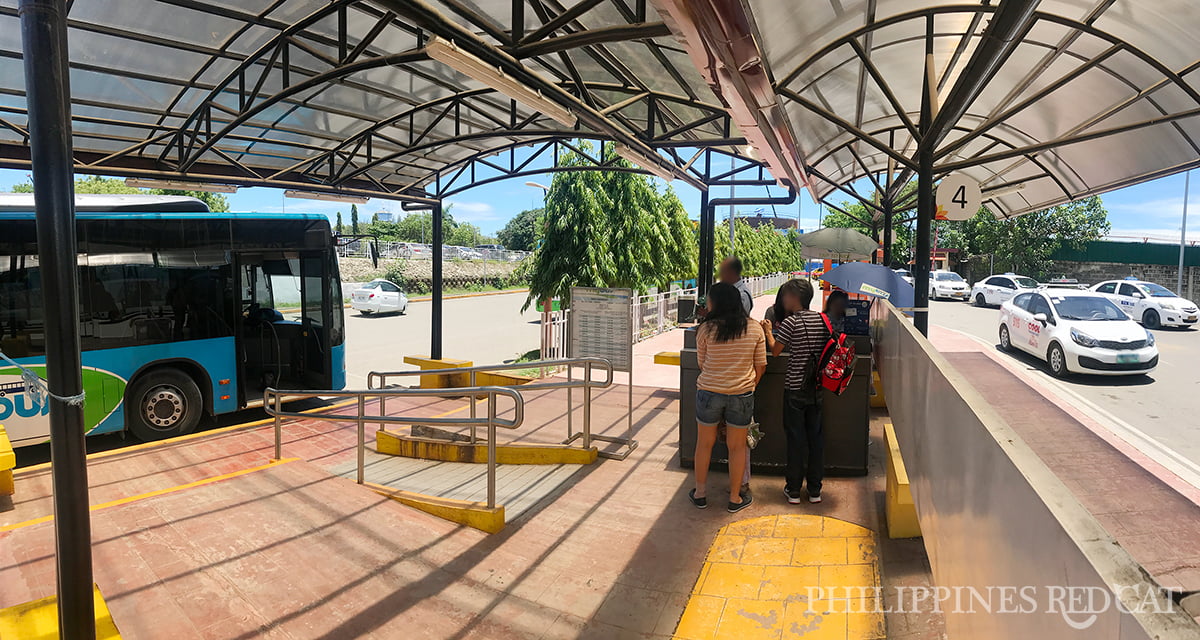 That's how I usually go from the airport to the city center of Cebu. Just walk out of the arrival hall and turn right. You will already see the bus stop about 100m down the walkway.
These official airport busses leave about every 20 minutes to SM City Cebu. That's one of the most popular shopping malls in town, and from there you can either walk to your hotel, or, more likely, switch to a taxi or jeepney.
The bus fare is only 50 Pesos (new price), and here is the schedule: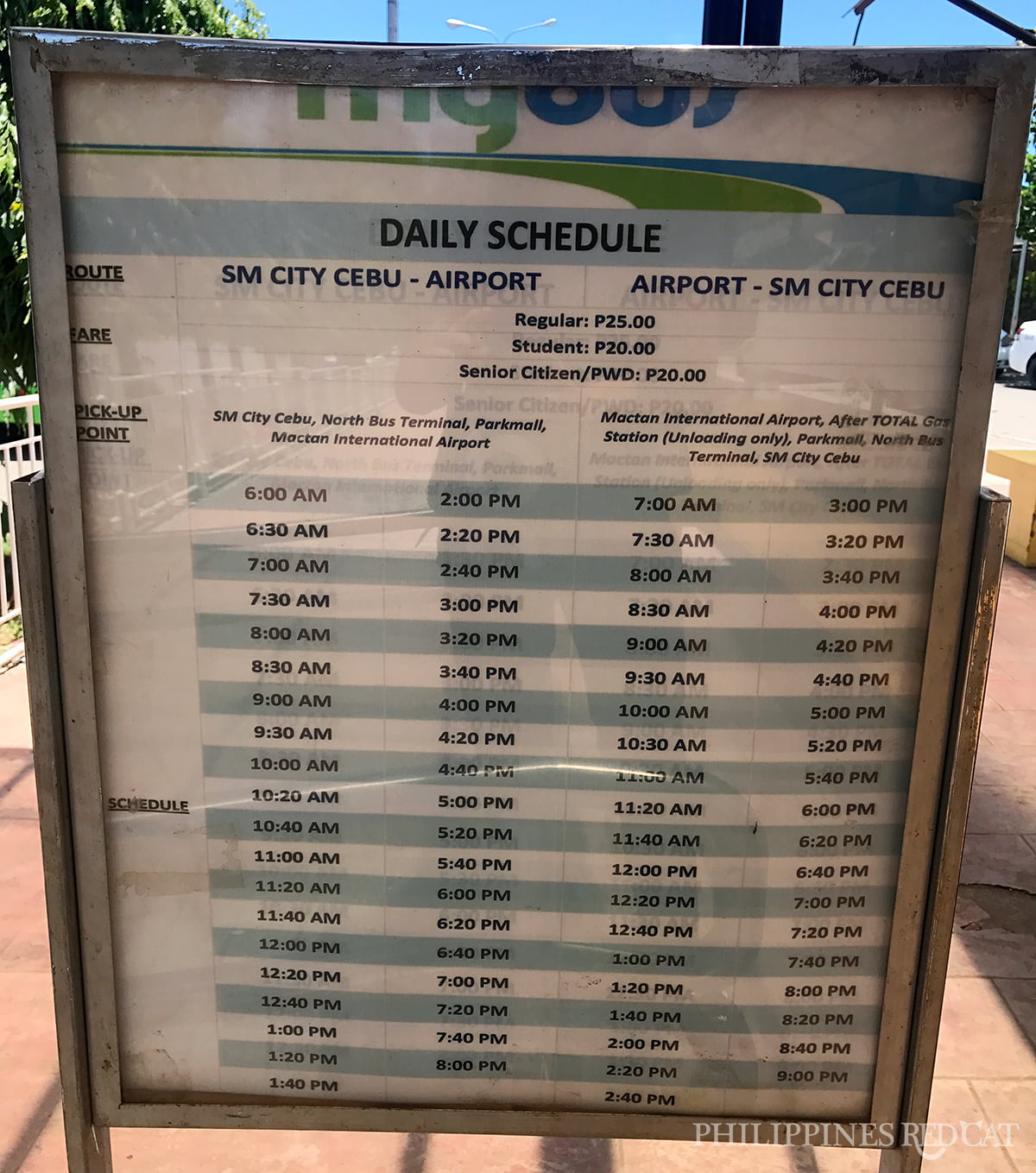 Like I have already mentioned before, it can take up to 1 hour to get there – it's only about 11km, but in the morning and late afternoon / evening there is usually a lot of traffic due to rush hour.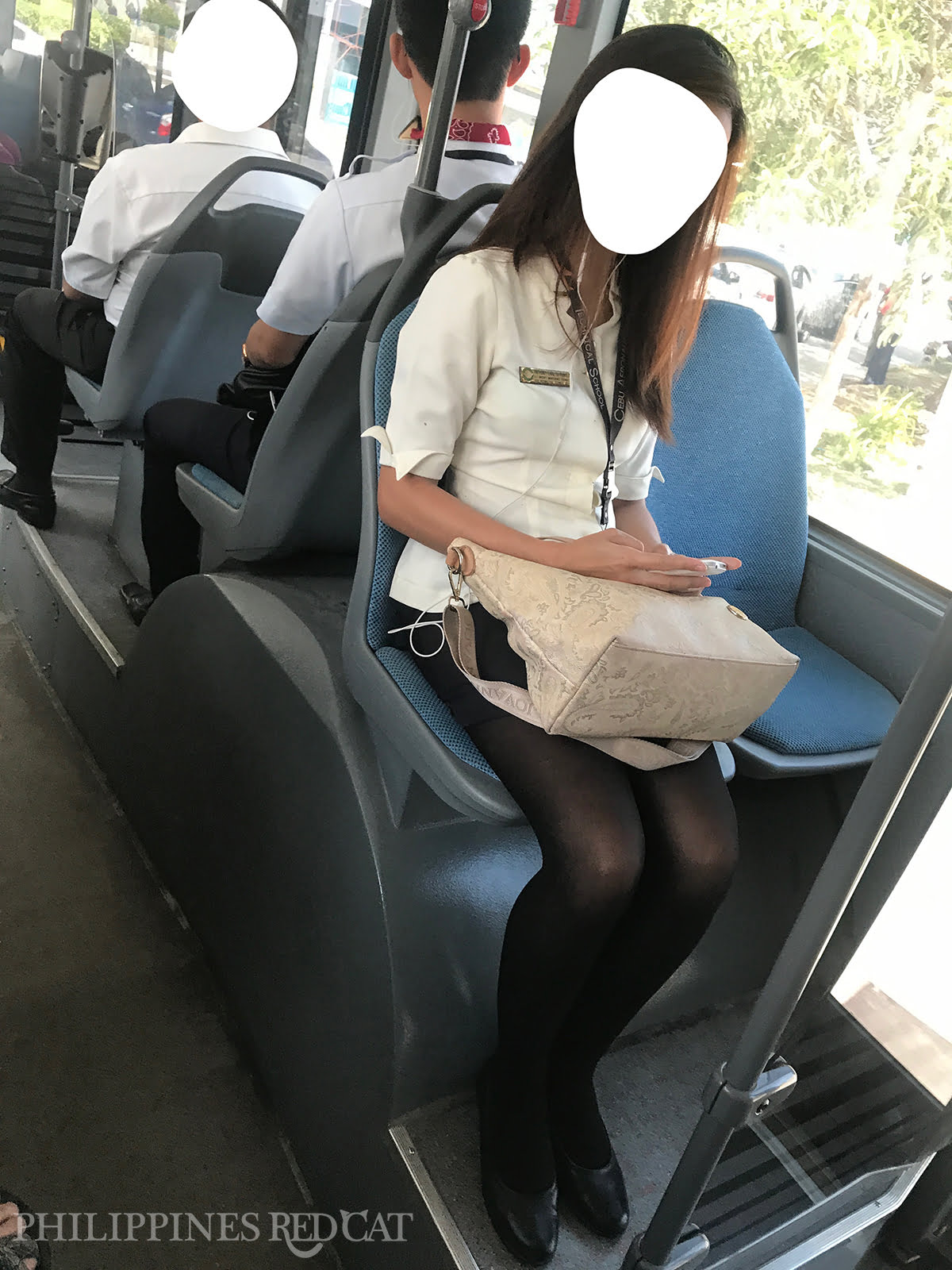 Once you have arrived at SM City Cebu, the best idea is to take a taxi to your hotel – it's about 80 Pesos to the Ayala area, and about 100 Pesos to the Mango Square area.
Cebu Airport to Downtown by Taxi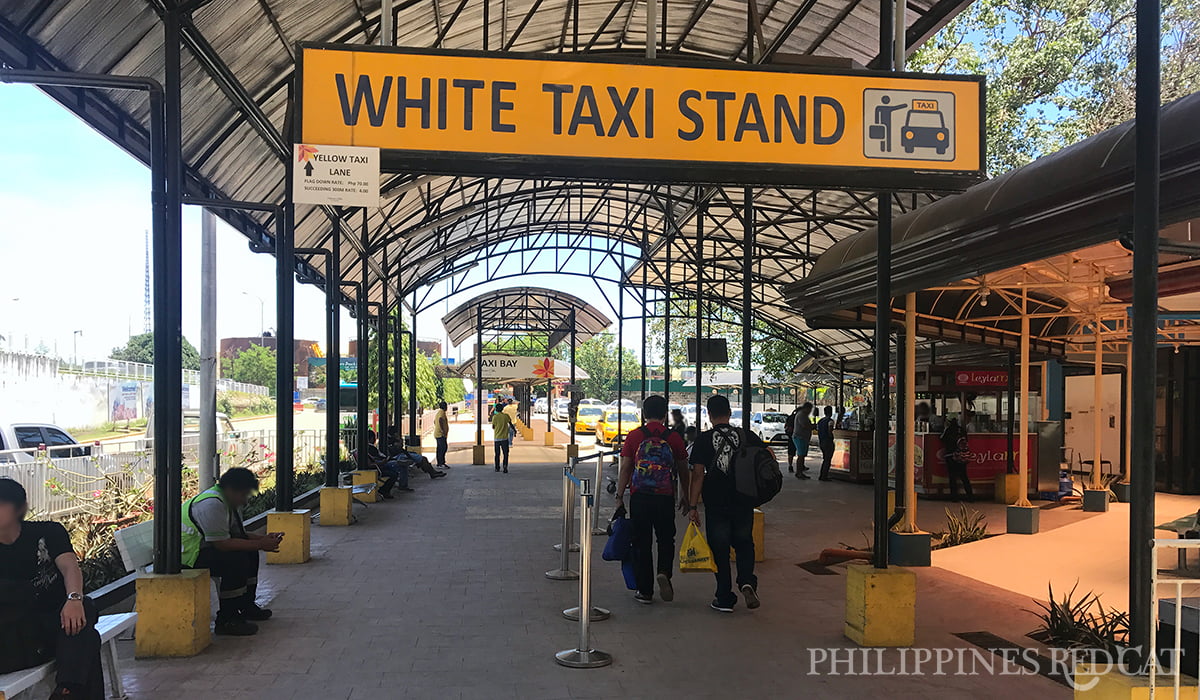 If you don't want to change your means of transport like with the bus, of course you can also take a taxi from the airport straight to your hotel.
The taxi stand is located right opposite of the bus stop – so again, walk out of the arrival hall, turn right and walk straight for 100 meters.
There are 2 types of taxis available at the airport: Yellow Taxis and White Taxis.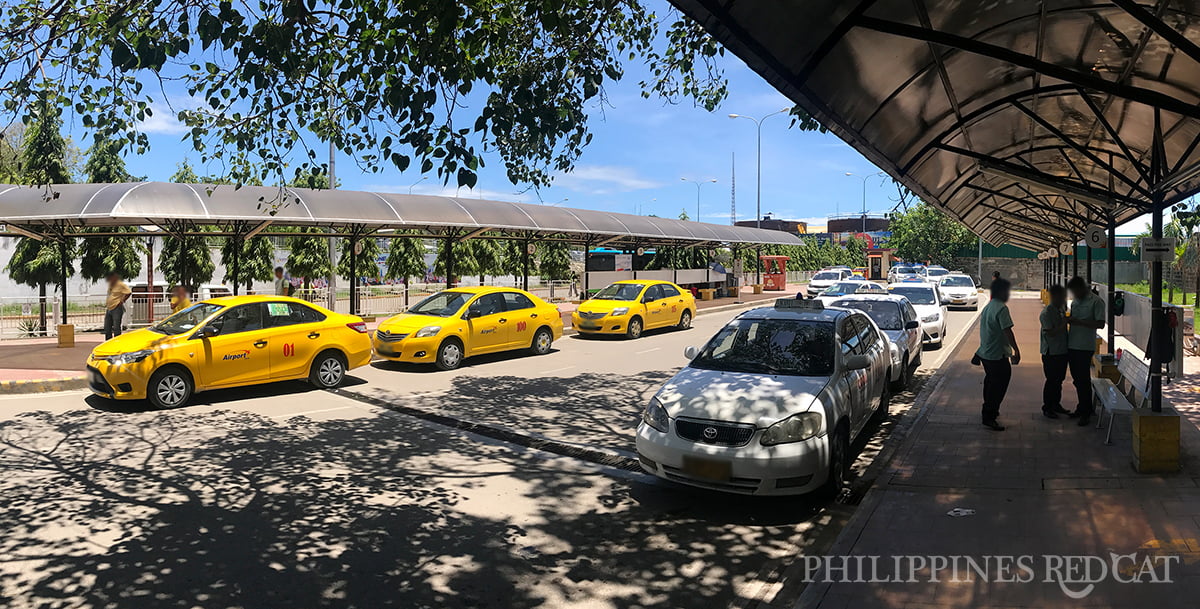 The Yellow Taxis are a little bit newer and have a 70 Pesos base fare, while the White Taxis are the standard cars you will find everywhere else in the city, and have a 40 Pesos base fare.
Additionally, you can expect anything from 150-200 Pesos. So, the total price for a taxi from Cebu Airport to the city center is about 200-280 Pesos.
The advantage of taking the taxi is that you will save about 20 minutes time (about 10 minutes waiting time for the bus, and another 5-10 minutes for changing from the bus to the taxi at SM). You can expect about 30-45 minutes driving time.
But the disadvantage is that if you get an annoying driver, he might try to talk with you all the way and offer you to "take you around" while you are here. That's why I usually prefer the nice, open and air conditioned busses.
Location of Mactan-Cebu International Airport
For your orientation, I have also marked Mango Square (the main nightlife area) and Ayala Center (the nicest leisure area in Cebu, which is also close to my favorite Cebu hotel).
From Cebu City Center back to the Airport
You obviously have the same options to get back from your hotel in Cebu to the airport: either by bus, or by taxi.
If you want to take the bus, then you will have to go to SM City first – the bus stop is right next to the main entrance: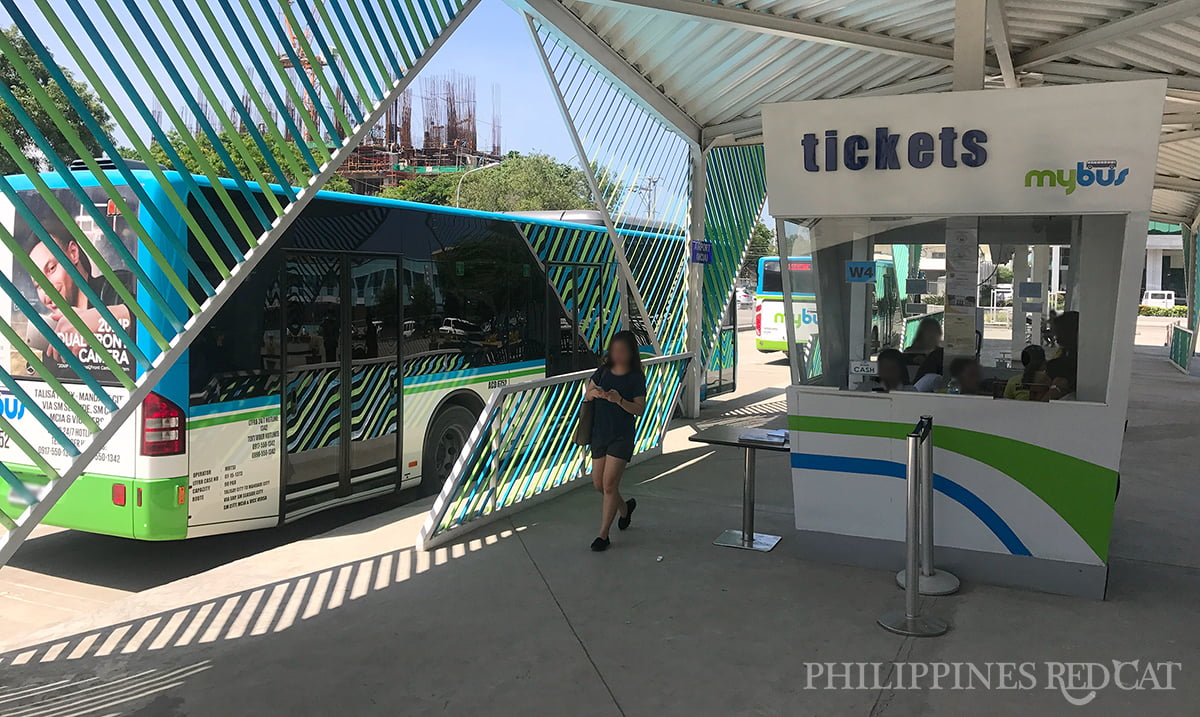 It's the same price – 50 Pesos, and you won't have to wait longer than 20 minutes until the next bus leaves.
If you want to go by taxi, just take the standard white taxi from anywhere in town – 40 Pesos base fare, plus 150-200 Pesos for the drive.
Important: No matter if you go by bus or by taxi, you should leave your hotel at least 3 hours before your departure time – the traffic on the street before the bridge can be terrible, last month it took me more than 2 hours (!) because there was an accident on the Mactan Bridge. I already thought I would miss my flight – but then it turned out that my flight with Cebu Pacific got delayed by half an hour – which is actually pretty common.
Okay, that's all for today. I need a beer now.
Video of Bus Ride from Cebu Airport to the City