I have mentioned quite a few times in my posts about Angeles that in my opinion it's enough to spend five days, or maximum one week in this town. If you stay any longer than that you will probably start feeling bored. You might doubt that since Angeles is one of the biggest sex meccas in the whole world, so how could you possibly get bored of it?
Well, it's because after one week you will know the best go go bars and nightclubs and everything will start to feel the same. Not as exciting as on your first, second or third night. You will get annoyed when you are being surrounded by five girls again 10 seconds after you entered a bar and asked the same standard questions over and over again: "What's your name, sir? What is your nationality? Are you on vacation? For how many days, sir?"
Another reason is that the red light district in Angeles might be big, but not that big as you might think. I remember when I first visited here and always compared it to Pattaya: Walking Street in Angeles is not even half as long as Walking Street in Pattaya. Sure, there are also some bars in the backstreets like Santos Street or out on Fields Avenue, but that's nothing compared to Soi 6 and Soi 8 in Pattaya that have more than 3 times as many beer bars alone, not even mentioning all the other areas like LK Metro, Nakluea, Jomtien and so on.
In other words: You can easily spend 2 weeks in Pattaya without getting bored – but not in Angeles. In Pattaya you have some beaches, islands, temples and theme parks to visit, but in Angeles there's almost nothing to do during the day.
That's when you realize that you want, or rather that you need, a change of your surroundings after your first week when you have seen and experienced everything Angeles has to offer.
Subic Bay is the perfect getaway from Angeles. It's just 75 km away and you can get there in less than one and a half hours by bus. It has several decent beaches (okay, not as phenomenal as Boracay but still nice), cheaper hotels at the same value, two excellent restaurants with western food and several girly bars with drinks and sex prices cheaper than in Angeles.
I don't want to go into too much detail here about all the different delights of Subic as I'm doing that in the separate guides to the nightlife and girls as well as the daytime highlights. This post is all about how to get there easily and quickly from Angeles (and vice versa) and since this introduction is already quite long I suggest we are getting right into it now.
Here are the three ways on how to travel from Angeles City to Subic Bay (or more specifically: Barrio Barretto):
Angeles to Subic by Bus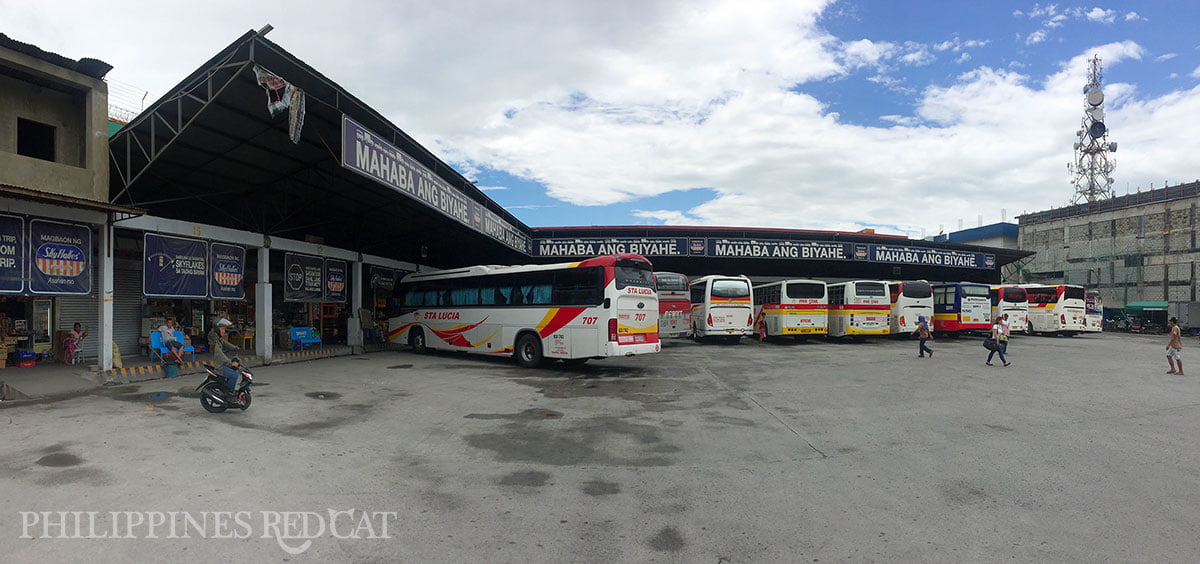 If you are already in Angeles then you probably know that the bus terminal is located in a small town north of the city called "Dau" (see picture above). It's just 1.5 km from Walking Street to the bus terminal and you can get there either by walking (20-30 minutes) or you take a tricycle for 100 Pesos. Don't take one right on Walking Street as the drivers there will try to overcharge you (150 Pesos or even more than that) and instead walk out to the main road where you can easily get a trike for 100 Pesos or even 80 Pesos if you do some bargaining. Local Filipinos only pay 40 Pesos for this short trip.
Once you have arrived at Dau Bus Terminal there will be more than a dozen different coaches waiting for the departure at any given time. Most of them will go to Manila, but of course you want to travel in the exact opposite direction. Look out for the Victory Liner or Philtranco busses, which are the two most popular companies with regular departures to Olongapo which is the capital town of the Subic Bay area.
Be careful: There are several Filipino men in the Dau Bus Terminal who want to "help" you find the right bus. You may think they work for the bus companies, but they are not. They will escort you inside the bus and assign you a seat (you can actually choose whichever seat you like) and then they will demand a tip from you. Of course you don't have to give them anything, but they will get a little bit annoying. The best thing to do is to completely ignore them and ask the bus drivers – they wear a shirt with the bus company's logo which the touts do not.
Buses in Dau leave for Subic Bay (or more precisely: Olongapo) about every 30 minutes, the fare is 140 Pesos and the trip takes about 1 hour and 15 minutes. The views of the landscape on the first half of the journey are quite beautiful, you will get to see lots of green hills, rice paddies and rivers: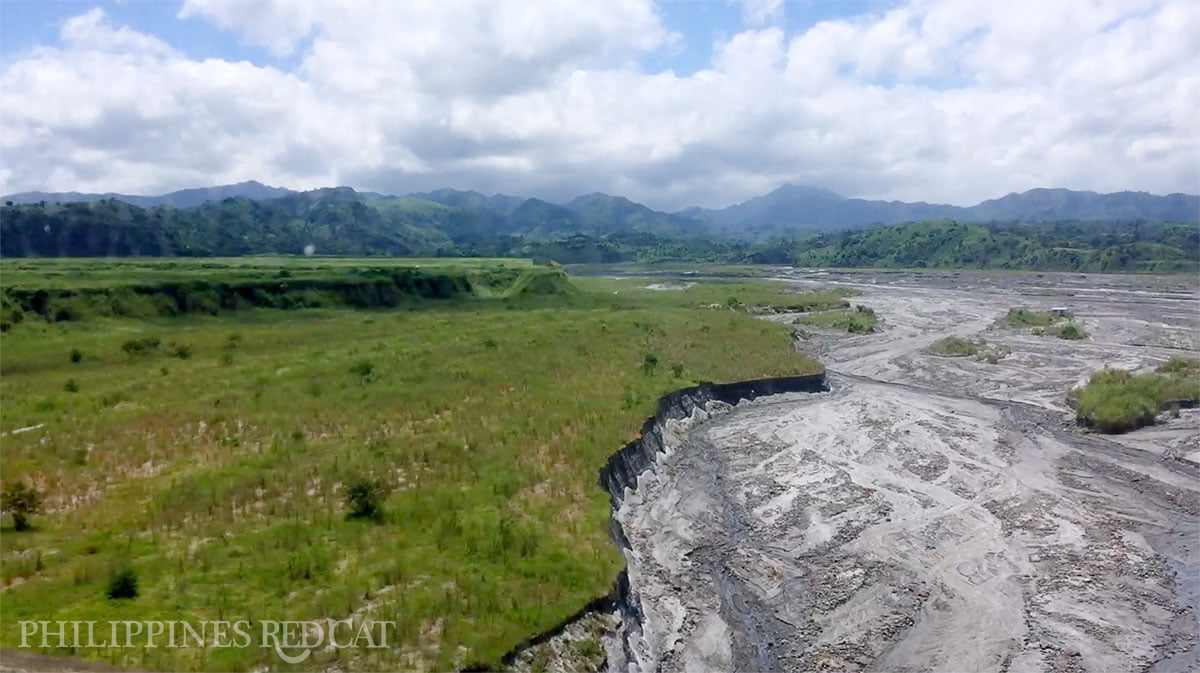 Note that the bus will make one stop at Harbor Point Mall in Olongapo. Do not get off there but wait until you reach the Bus Terminal in downtown Olongapo.
Once you have arrived there it's time for your third and final leg to Barrio Barretto (that's the main beach in Subic with 90% of all hotels, bars, restaurants and shops). Leave the bus terminal and walk one block north on W 18 St and you will reach the Blue Jeepney Terminal (if this sounds too confusing just look on the map below for the exact locations of all mentioned places).
Just get in one of the jeepneys (they will all go in the same direction, doing a loop on the beaches) and wait until it departs. The fare to Barrio Barretto is just 12 Pesos and you should get there in about 20 minutes once it starts driving. If it's your first time in Subic you should ask a Filipino to let you know once you reached that beach, or just use the GPS on your phone.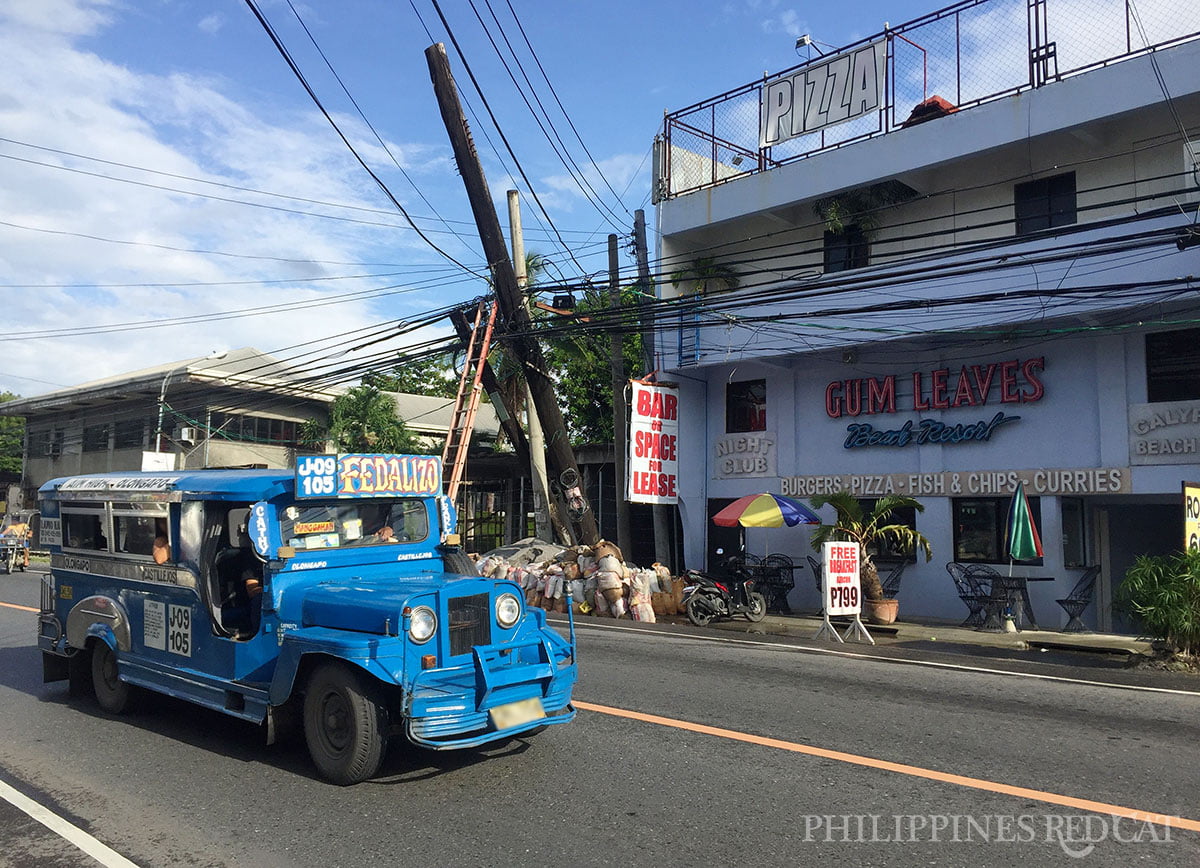 If you have a lot of luggage of course you can also take a tricycle from Olongapo to Barrio Barretto and the standard price for this 6.5 km trip is 150 Pesos. You will get there a little bit quicker and don't need to wait like in the jeepney until it's full before you depart, but some of the drivers can be a little bit annoying so I generally prefer the jeepneys here.
One important note here: There are two types of jeepneys in Olongapo: The blue jeepneys which drive up and down the coastal road and the yellow jeepneys which drive around downtown Olongapo. So if you see a yellow vehicle you know that will not be the right one (unless it's late at night and you are on your way to Nocturnal, the most popular night club in Subic).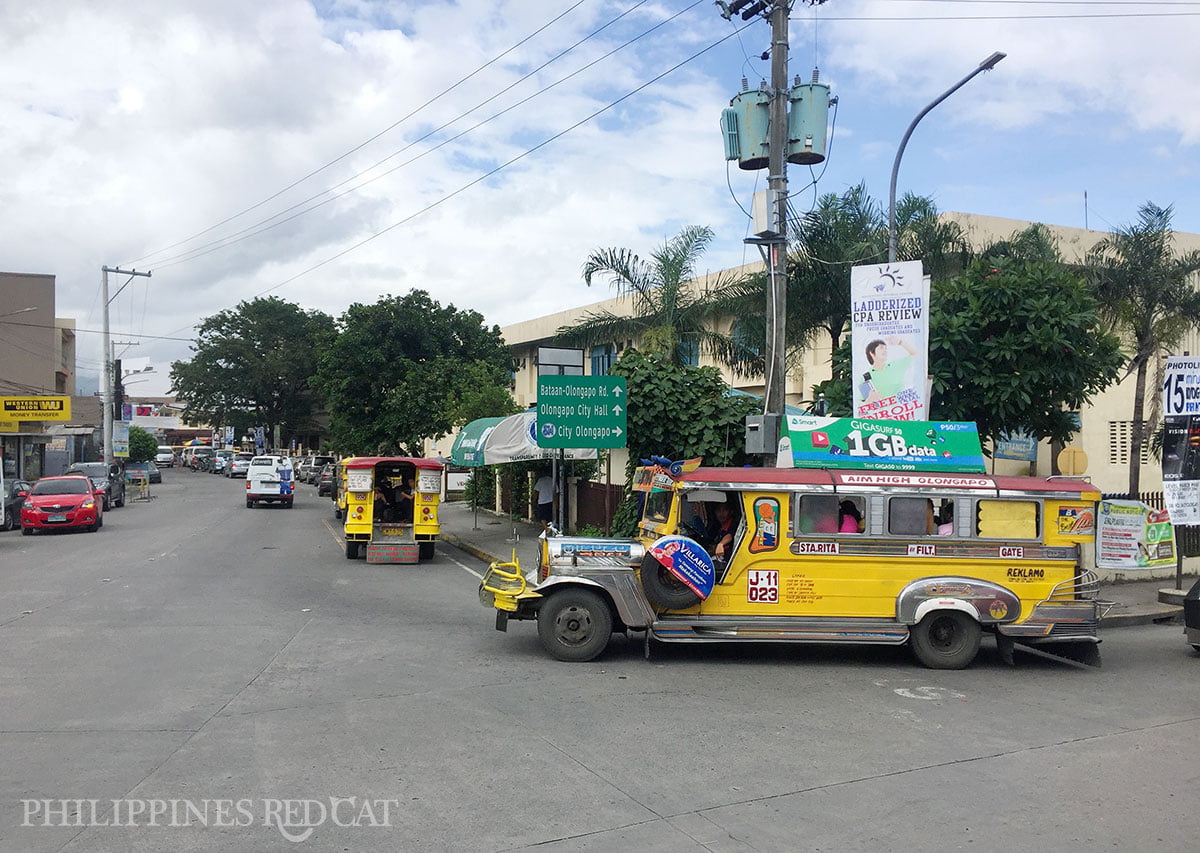 To sum up the trip:
Tricycle from Angeles to Dau Bus Terminal: 2 minutes, 80 Pesos
Bus from Dau to Olongapo: 1 hour and 15 minutes, 140 Pesos
Jeepney from Olongapo to Barrio Barretto: 20 minutes, 12 Pesos
or: Tricycle from Olongapo to Barrio Barretto: 10 minutes, 150 Pesos

Total Travel Time:

About 2 hours and 15 minutes (including waiting times)

Total Costs:

232 Pesos (with jeepney option) or 370 Pesos (with tricycle option)
Make sure you check out my video of my bus trip last month at the end of the post.
Angeles to Subic by Minibus
The next option to get from Angeles to Subic Bay is to take a minivan. It's a little bit more convenient (newer vehicles but not so much legroom), slightly faster and also easier because you don't need to change the type of transportation as much as if you take the bus.
There are two types of minibuses available:
Hotel to Hotel Minibus: You will get picked up at your hotel in Angeles and dropped off at your hotel in Barrio Barretto, Subic. Very easy and convenient and a one way ticket costs 650 Pesos which is reasonable if you consider that you don't have to change the means of transportation.
Public Minibus: Those leave from the big jeepney terminal opposite of Fields Avenue and the fare is 250 Pesos. Well, I should say "supposed" to leave. Because whenever I'm in Angeles and try to find them they are not there. And even when I ask the locals they tell me there is no such service even though I know several foreigners who regularly take them. I think they have two or three daily departures. You can try your luck and if you don't find them you can always hop on a tricycle to Dau bus terminal or just take the more expensive hotel minibus.
The problem with the minibuses is that they are not always reliable, especially the cheaper one that is supposed to leave from the jeepney terminal. There are no fixed departure times and you will probably have to ask the locals for assistance.
Even the more expensive one that picks you up from your hotel has its downsides: Many hotel staff don't even know about it – like I asked at the reception of my hotel (the Grand Central Hotel) what's the best way to get to Subic and they told me the bus. They didn't even know about a minivan service when I specifically asked them about it.
Angeles to Subic by Taxi
There are not nearly as many taxis going from Angeles to Subic compared to from Angeles to Manila. That's because 90% of all taxis are coming from Manila and of course they prefer driving back to the big city again instead of down to the beach town of Subic where they aren't even sure if they will be able to get a passenger for the way back to Angeles or Manila.
If you do find a "willing" taxi driver then he will also try to charge more because of exactly this uncertainty. Since you probably want to read numbers here: You can expect to pay somewhere between 4,000 and 5,000 Pesos for a taxi ride to Subic. In my opinion that's only worth it if you share the price with two or three other people, otherwise the hotel minivan for 650 Pesos offers a much better value for money.
Map of Angeles & Subic Transportation
How to get from Subic back to Angeles / Manila?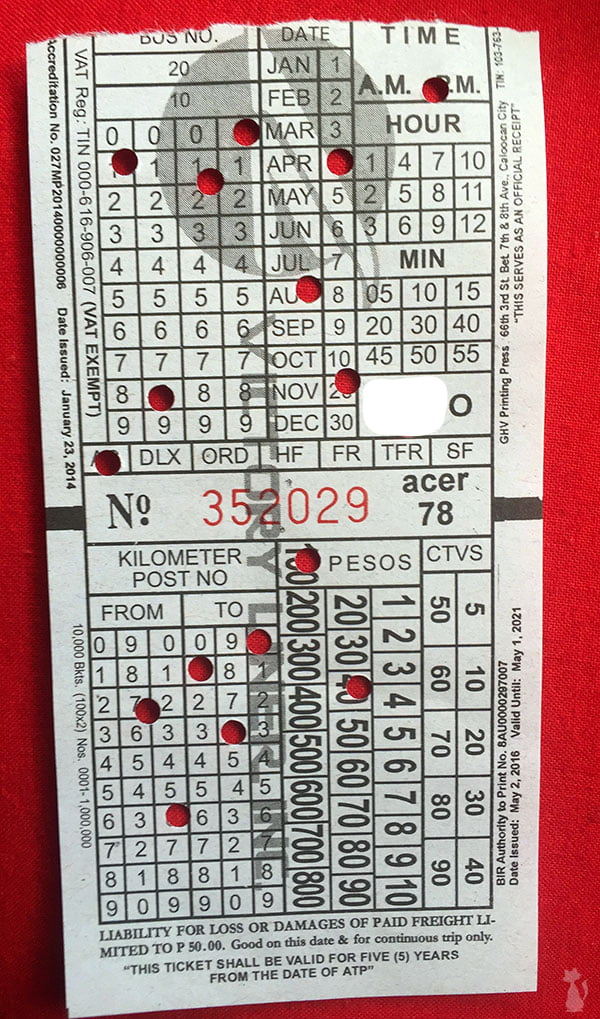 Once your trip to Barrio Barretto in Subic is over you probably want to travel back to Angeles or Manila (unless your plan is to continue your travels further up north to popular tourist towns like Baggio or the magnificent rice paddies of Banaue).
You obviously have the same three transportation options as on your way to Subic: bus, minibus and taxi. If you decide to take the bus like 80% of all people then you can either make your way back to Olongapo's Bus Terminal (once again, either with the blue jeepney for 12 Pesos or by tricycle for 150 Pesos) or inquire at your hotel in Barrio Barretto if they know a bus service that is leaving from this beach town instead of Olongapo.
There are usually such services, but there are only one or two departures every day and the times and companies change all the time. So just inquire at your hotel and they'll be able to let you know. Otherwise you can always take the Victory Liner or Philtranco from Olongapo and the fare for the trip is 140 Pesos to Angeles and about 300 Pesos to Manila (depending on where your destination is). And funny, I'm wondering when they will finally stop using these old school tickets (see my picture on the right).
Below is a timetable of a popular tourist bus that leaves right in Barrio Barretto so you don't have to go to Olongapo first: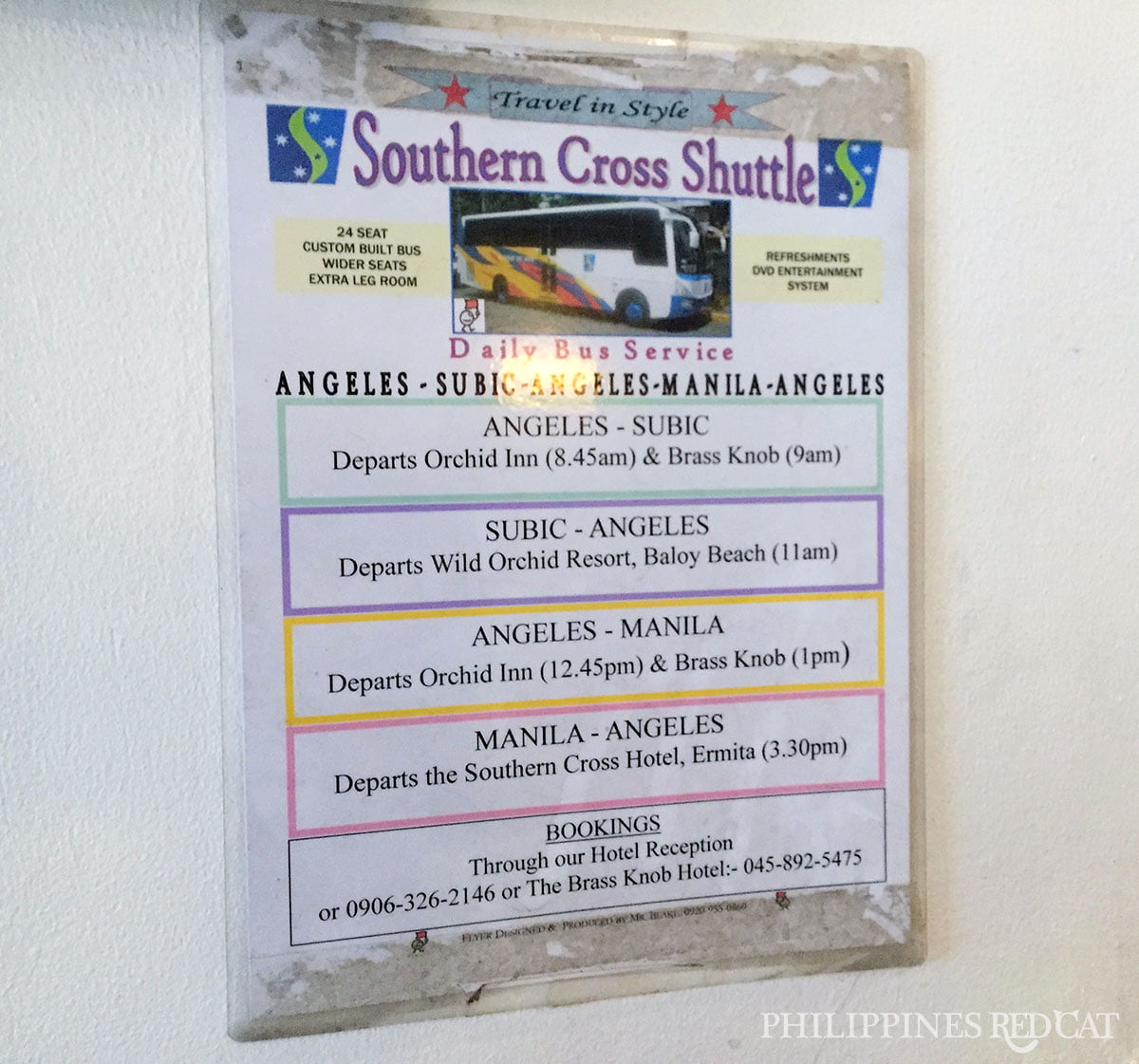 Video of Bus Ride from Angeles to Subic Bay