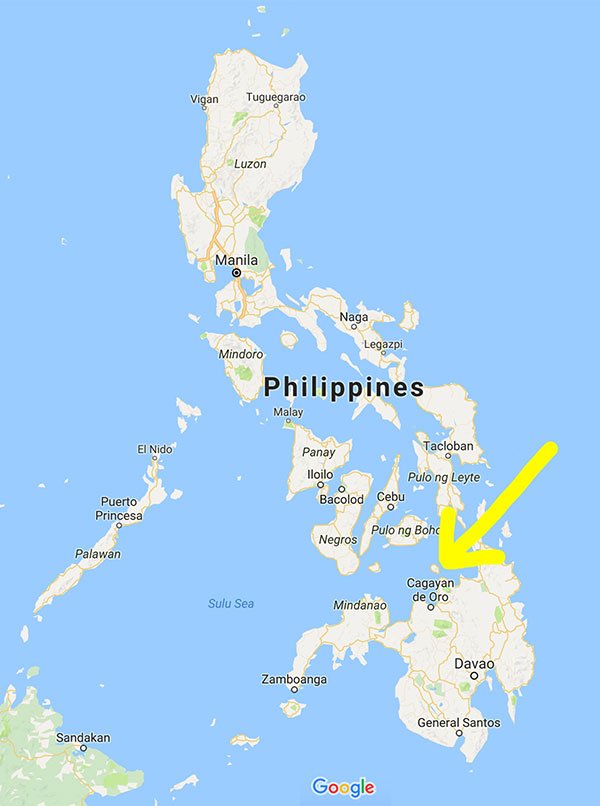 When I boarded the big ferry in Bohol, I had no idea what awaited me on that island called Camiguin. Located just off the northern tip of Mindanao, it was the logical place for a four night stay on my way down to Davao. Little did I know that this island would be the highlight of my whole trip around the southern Philippines.
The 100km long ferry ride from Jagna on Bohol to Balbagon on Camiguin took about 2.5 hours. Yes of course, you can do the trip from Cebu, too, but that's about twice the distance. You can also fly there with Cebu Pacific, but the ferry ride is really a great experience – it gives you such a great impression of the country and how many islands there really are. Make sure you visit Bohol if you have the time, at least for two nights, to see the chocolate hills and to experience a surprisingly happening nightlife and authentic girls scene.
I didn't do a lot of research on Camiguin at all. I didn't even book my hotel, the only thing I knew was that the best beach to stay at was on the northern coast of the island. It was all about the adventure and the experience to discover this place with my own eyes, without any guidance or preparations.
Usually when you ride the big boats in the Visayas, you get to see lots and lots of islands. But now I was leaving the Visayas, and after about one hour there was just the ocean. It seemed like we traveled to a new country.
Then, after about two hours, an island came in sight. No, it wasn't Camiguin, but Mantigue Island near the eastern coast of Camiguin. As I learned later, they are offering day trips to this island including snorkeling, trekking, buffet lunch on the beach etc., but as it turned out, I didn't even find the time to do that. Just one reason to come back in the future.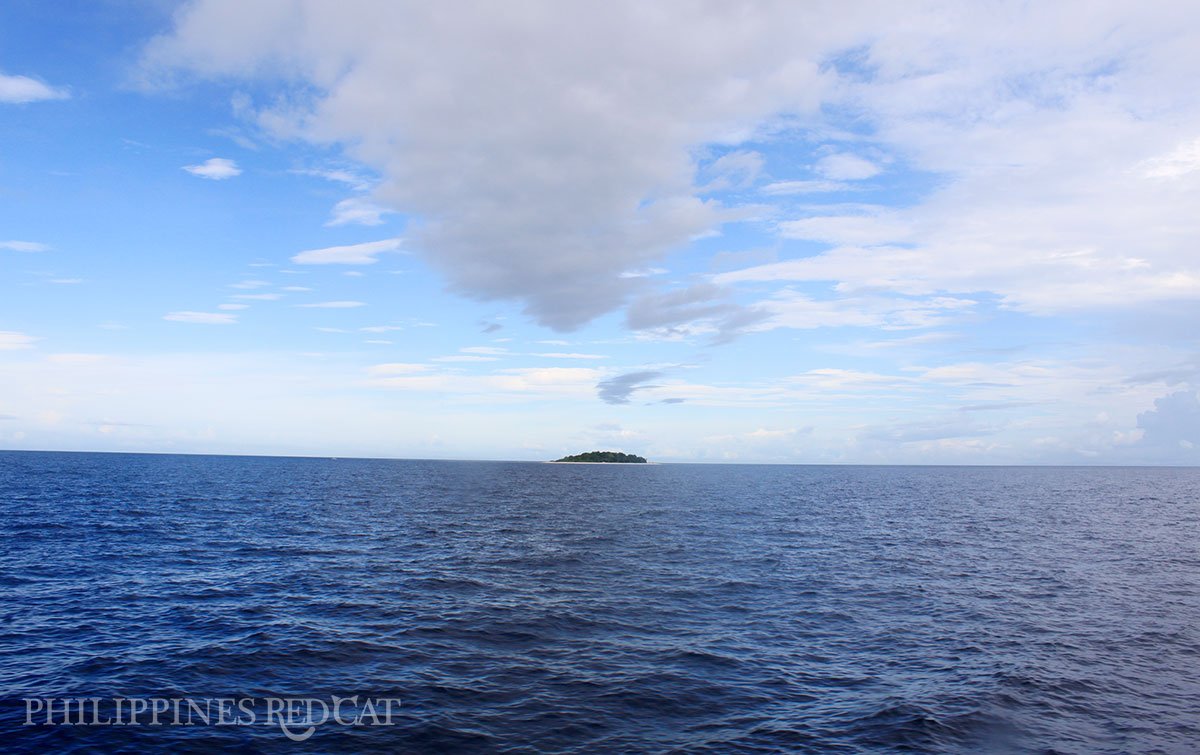 Shortly after we reached the Balbagon ferry pier in Mambajao, the small capital township of the island. Together with a French-Canadian backpacker that I met on the boat, I walked out on the street to look for a place to eat. At that time I wasn't as euphoric as before – this all looked like another hectic, dirty and chaotic Filipino town. The food wasn't any good either and the search for the right jeepney was tiring, too. As usual there were lots of Filipino guys trying to offer their overpriced tricycles to us.
Finally we found a jeepney that drove along the coastal road from beach to beach. So we got in, paid the 8 Pesos fare each and looked out of the small and narrow windows. As soon as we left the busy capital town behind, our mood got a lot better: We could see lots of nice and calm beaches, and some of the largest palm trees I've ever seen.
Volcan Beach – The Place to Stay
About 9km down the coastal road we eventually reached Volcan Beach and got off the jeepney. We were told that this is the best place to stay, with the widest range of hotels, bungalows, restaurants and also some bars.
We looked around and finally found a basic but fine bungalow right behind the beach, run by a nice French couple. It cost 1,600 Pesos per night and we decided to share it.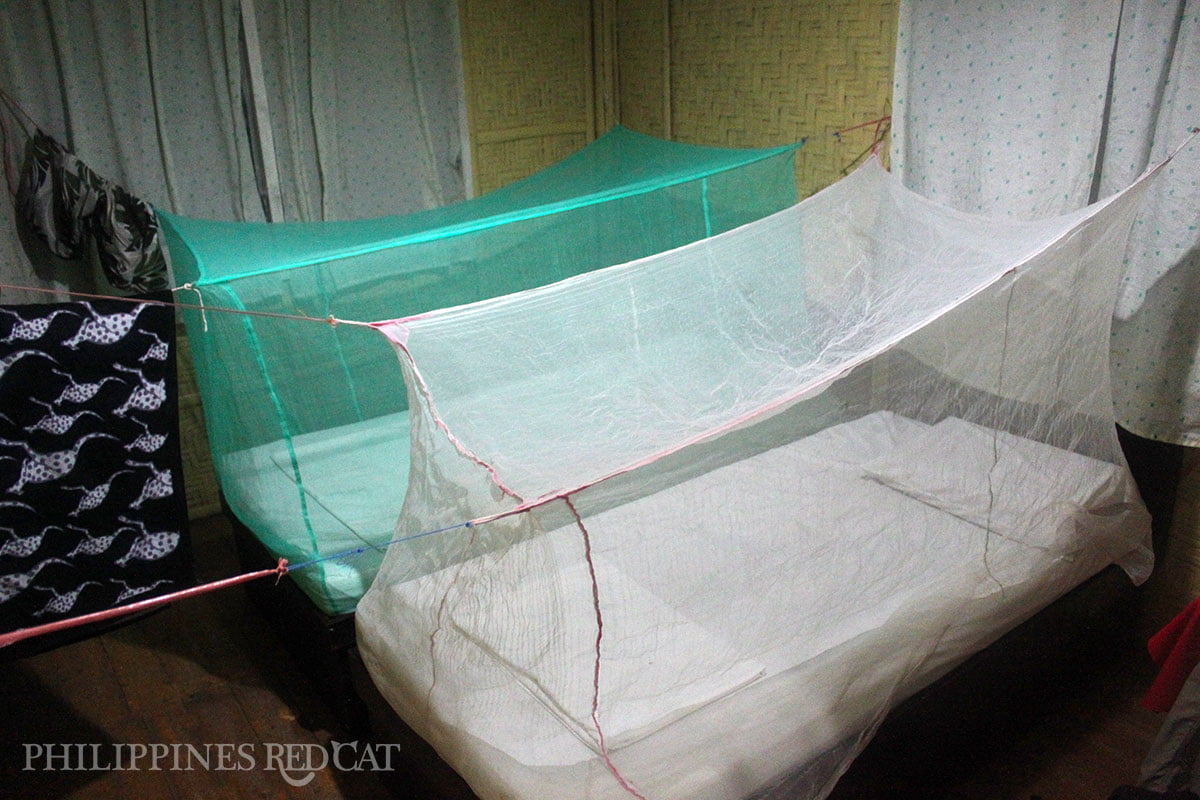 By then it was already 5:30pm so we quickly took a shower and walked out to the beach to watch the sunset.
It's not really difficult to experience a nice sunset in the Philippines, but the tranquility and beauty right here on Camiguin was unlike anything else I've ever experienced in this country – not even in Boracay.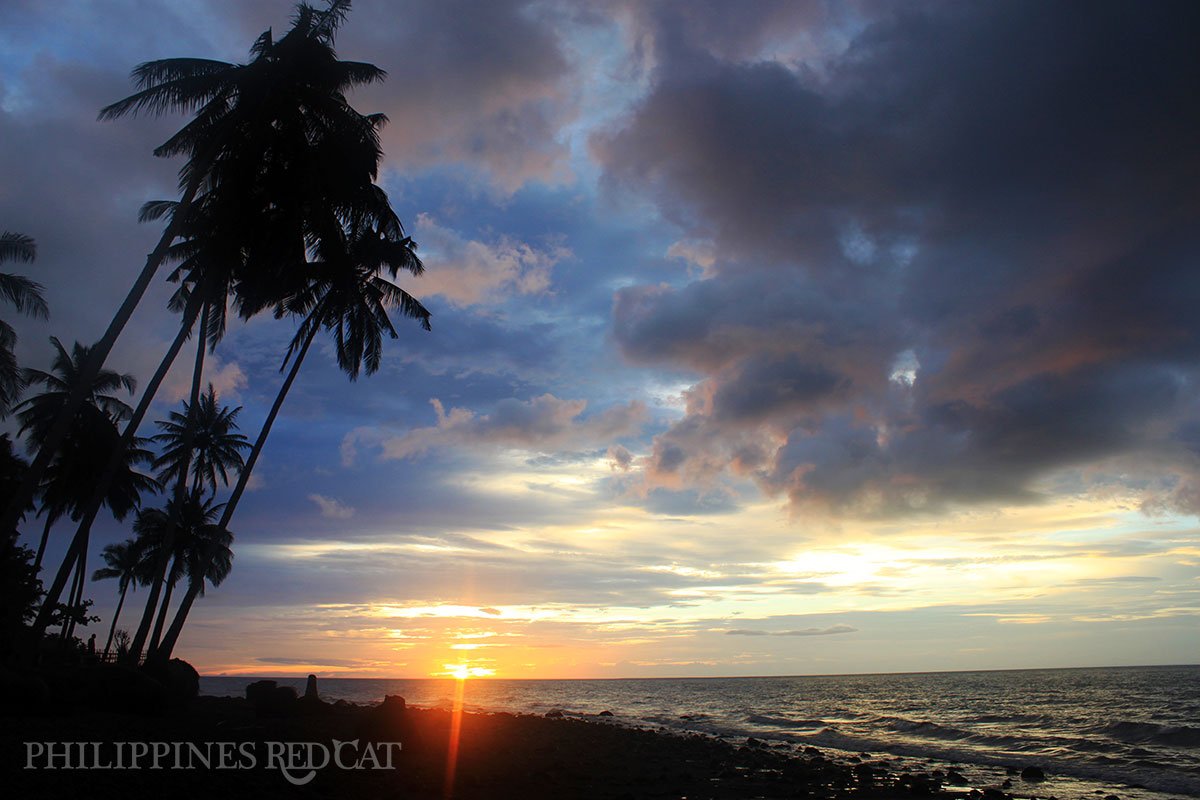 We spent the rest of the night drinking Red Horse Beer for 80 Pesos (big bottles) at one of the scenic beach bars, sharing travel stories and making plans for our stay in Camiguin. Good times.
My First Full Day in Camiguin
The following morning after breakfast we asked the French co-owner of our guesthouse if he knew a place to rent a motorbike. He said he could arrange it and it would cost 400 Pesos per 24 hours for a Honda XRM. We immediately agreed on 3 days rental.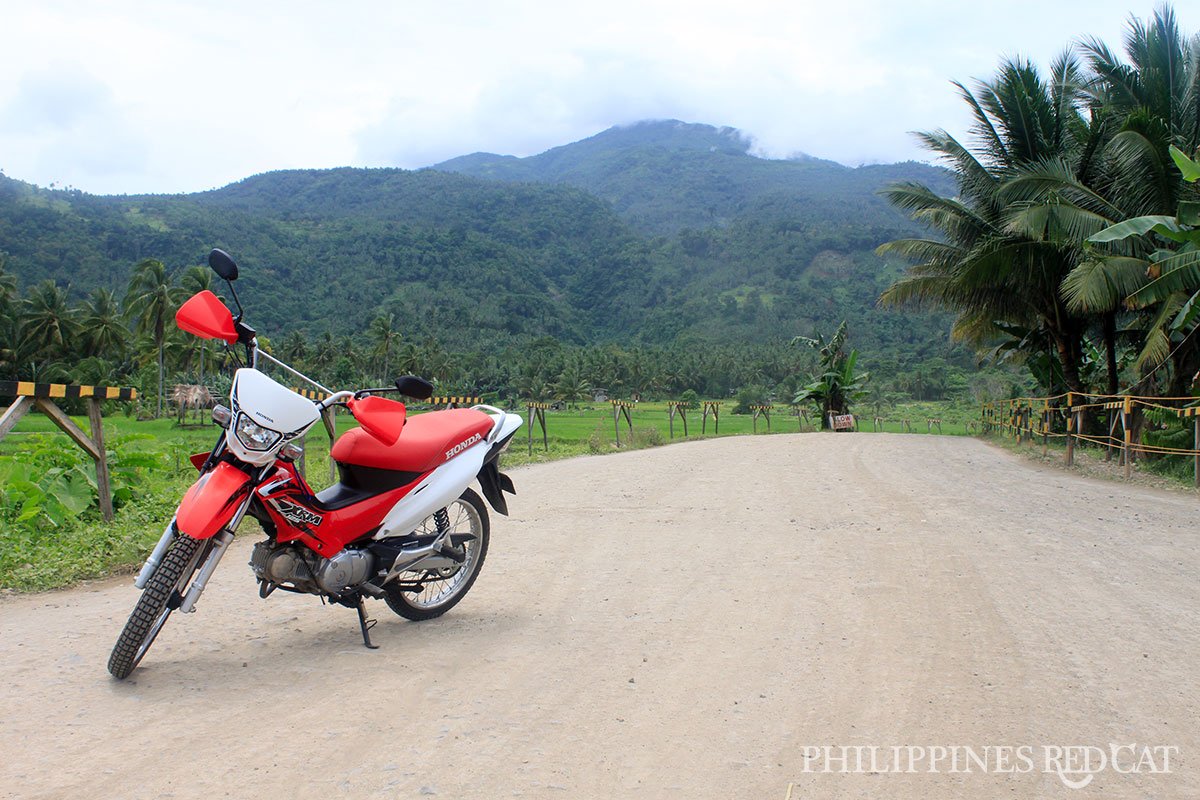 You can drive all around Camiguin island (complete loop along the coastal road) in just about 45-55 minutes. But you really want to stop along the way, and there are several terrific view points. Can you see the volcano in the background (old volcano)? I climbed that one the following day: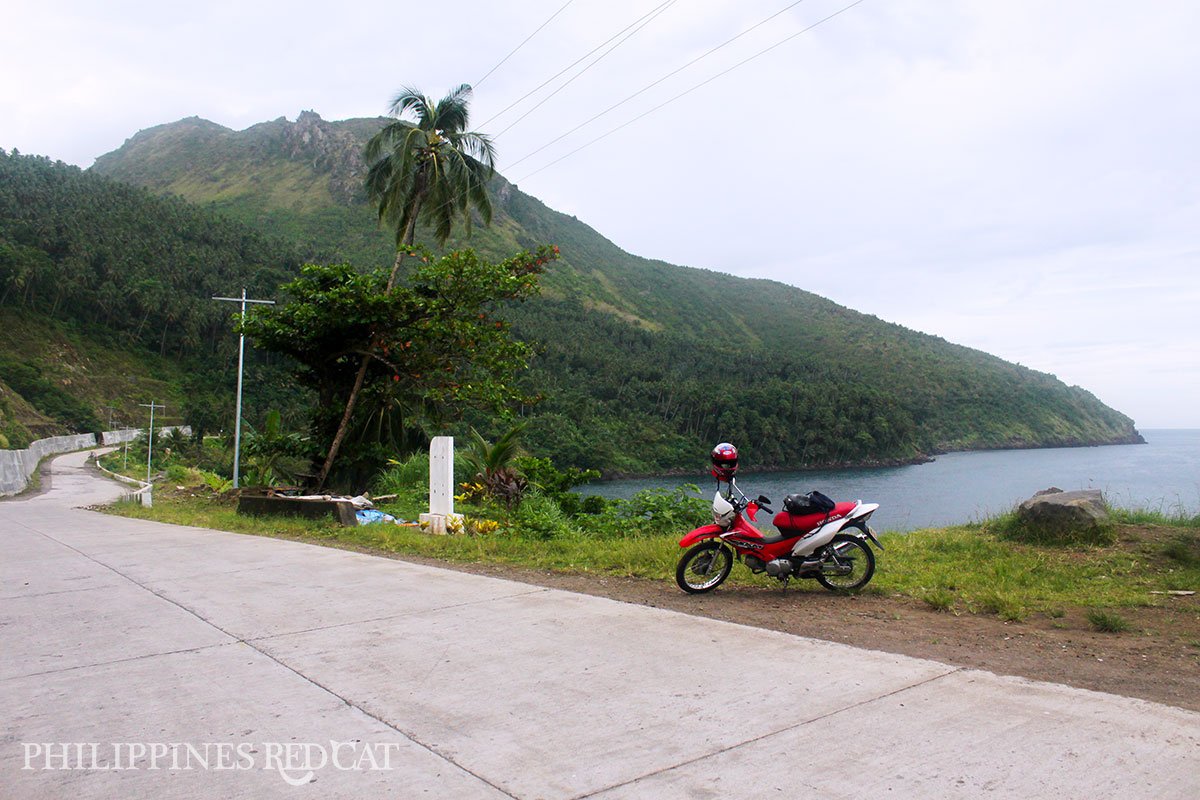 White Beach Camiguin
One of the highlights of the cruise around Camiguin was White Beach on the southern coast of the island. Crystal clear water, just a few resorts and very, very few people. I wanted to go for a swim there, but they warned us that there was jellyfish in the water.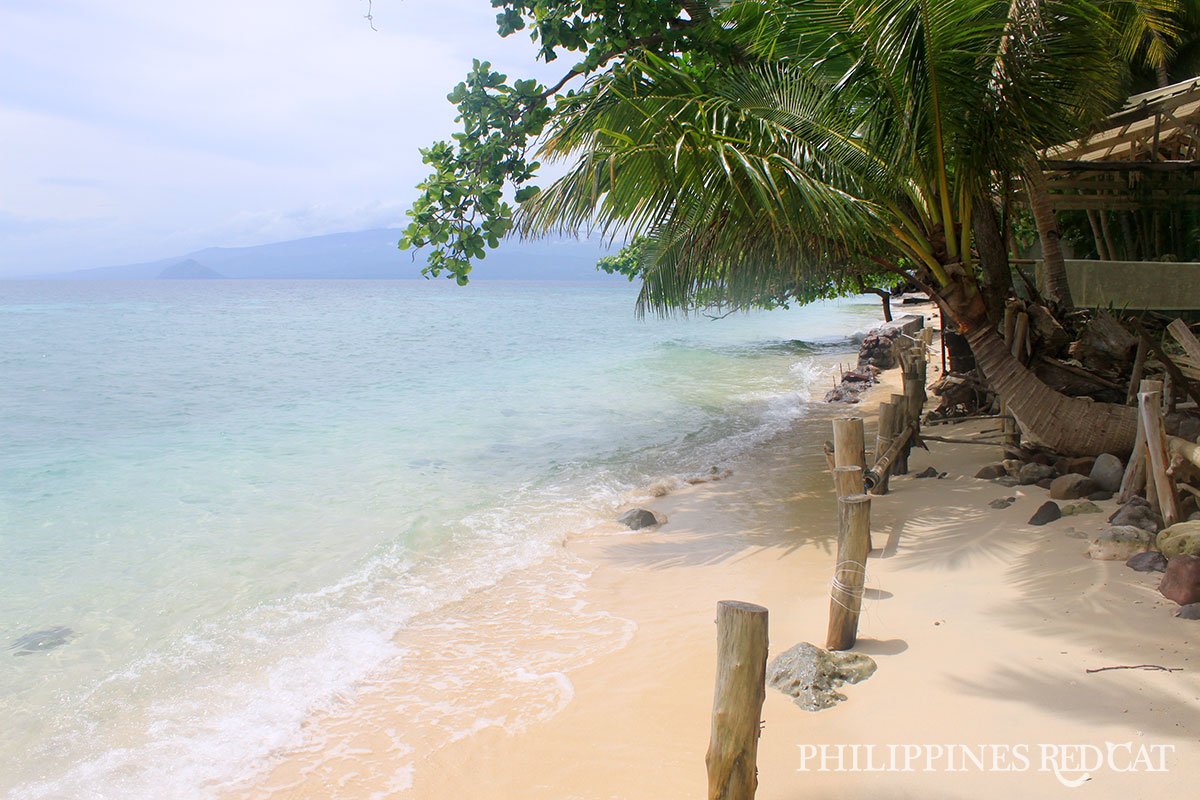 The local kid didn't seem to bother about that though.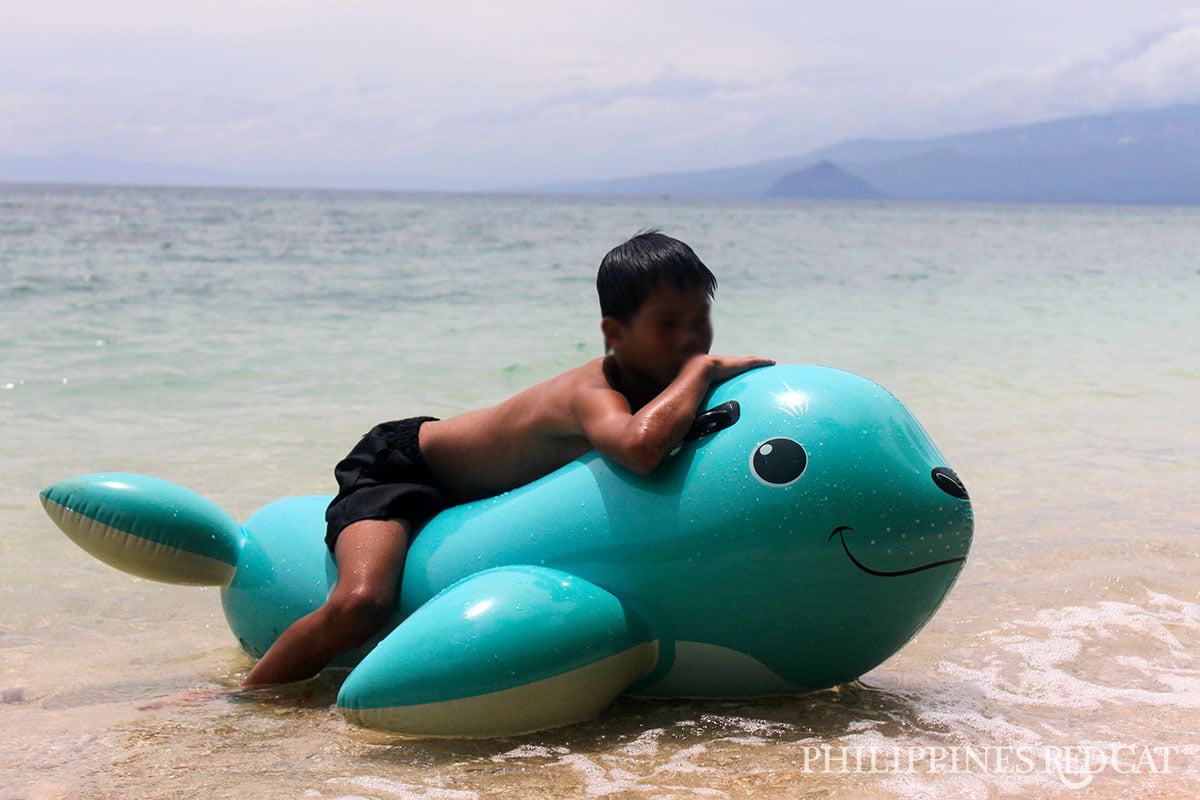 And one more photo of White Beach with the beautiful palm trees: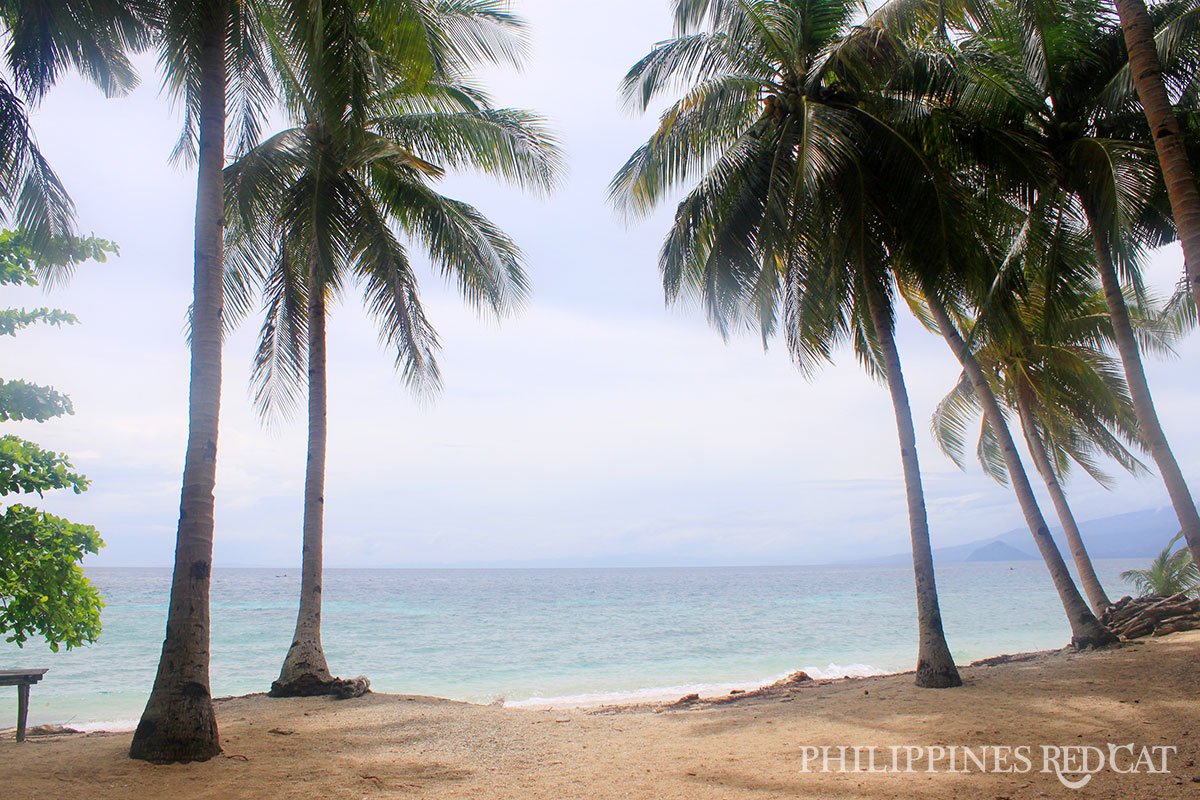 Ardent Hot Springs
We slowly cruised along the eastern coast of Camiguin, past the ferry pier where we arrived less than 24 hours ago, through the capital of Mambajao (where 40% of all 90,000 citizens of Camiguin live) and back to our bungalow resort on Volcan Beach.
It was just 4pm in the afternoon, and since we didn't really know what to do next, we talked to the manager of our resort again. He gave us a few suggestions, and we didn't need a lot of time to make a decision.
We quickly jumped on our bikes again and drove along the main road for five minutes (towards Mambajao), then turned right at one intersection that lead into the dense rainforest of the interior of the island. Another 15 minutes drive and we reached our destination: Ardent Hot Springs.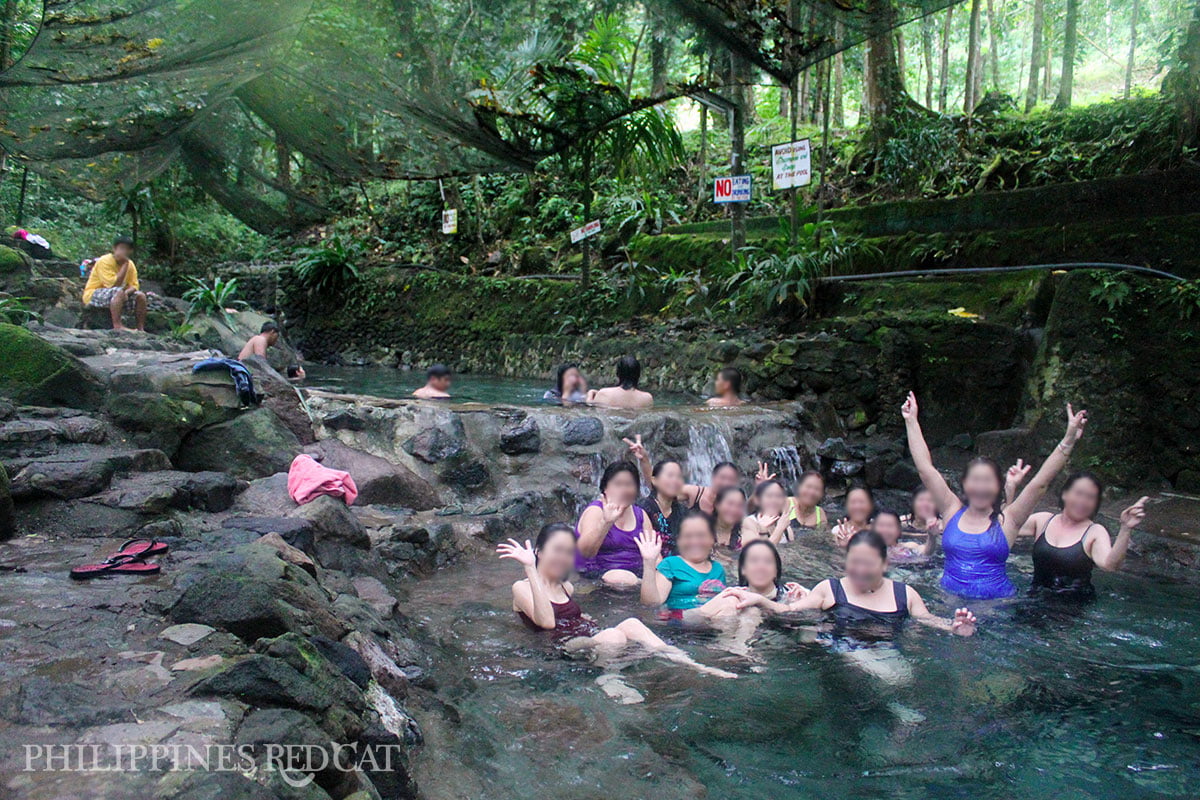 These hot springs are on the foot of Hibok-Hibok Volcano – with its 1,332m the second-highest (and youngest) of the four stratovolcanoes on Camiguin, which is still active. The admission fee here was just 30 Pesos (free for Filipinos) which is incredibly cheap and so much fun to relax in the hot water, together with lots of friendly and enthusiastic Filipino tourists.
By the way, you can climb Hibok-Hibok Volcano and get fantastic views of the island as well as the crater, but you need to join a day tour with a local Filipino guide (ask at your hotel for information and booking, it should be about 1,500 Pesos including food and drinks).
That night we had another nice dinner at the restaurant of our hotel – delicious western and Filipino food: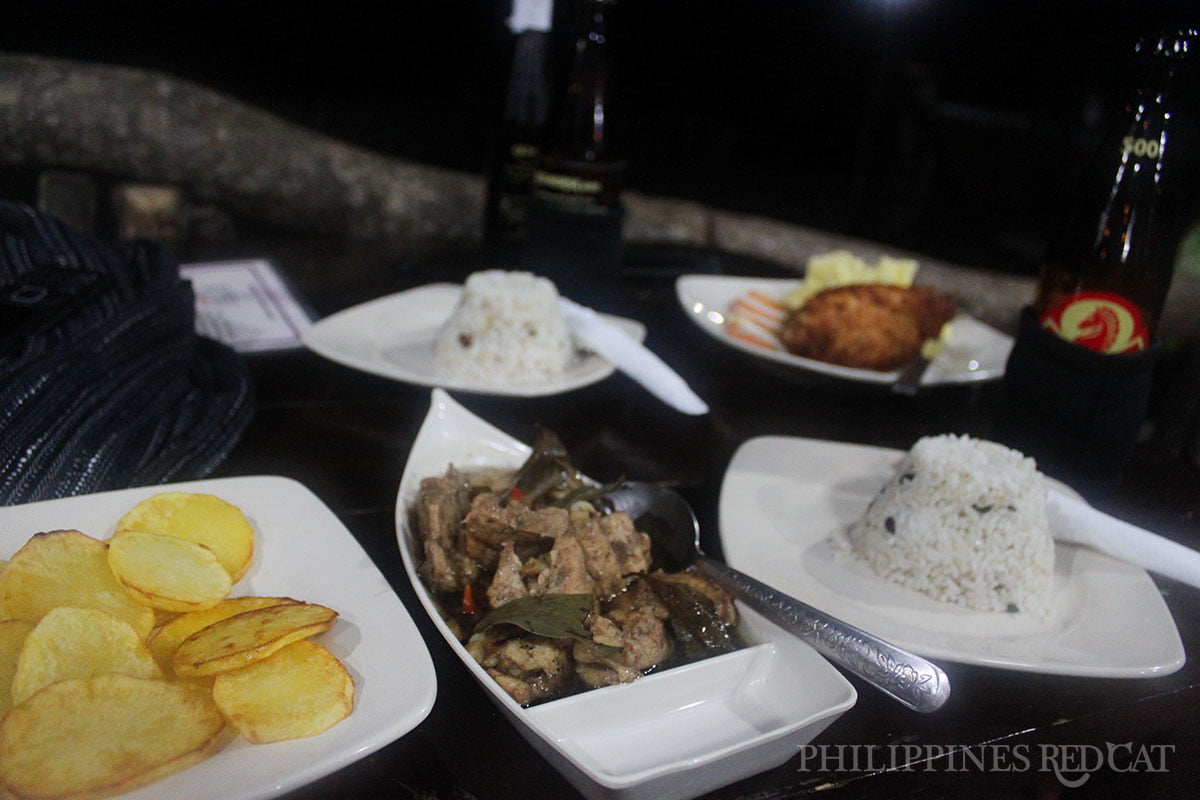 White Island Camiguin
On the morning of our second full day on Camiguin we woke up at 6:30am. After a quick shower we walked out to the beach where a local Filipino guy awaited us in front of his small boat. We gave him 100 Pesos each and shortly after cruised over to the most famous site on whole Camiguin: White Island.
The boat ride took less than three minutes and once we reached this strip of pure white sand and crystal clear water, we were simply blown away.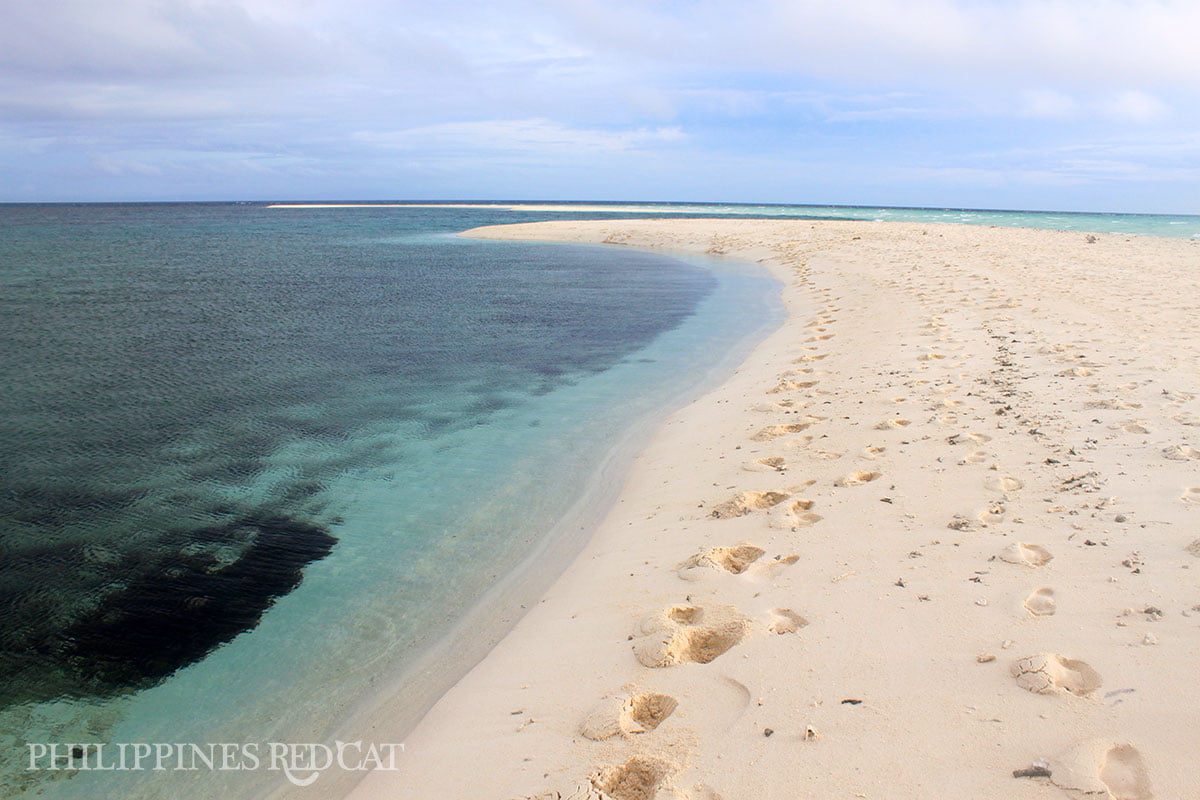 It was hard to believe that this was a natural island and not artificially heaped up. But that's what it is – one of the natural wonders of the Philippines.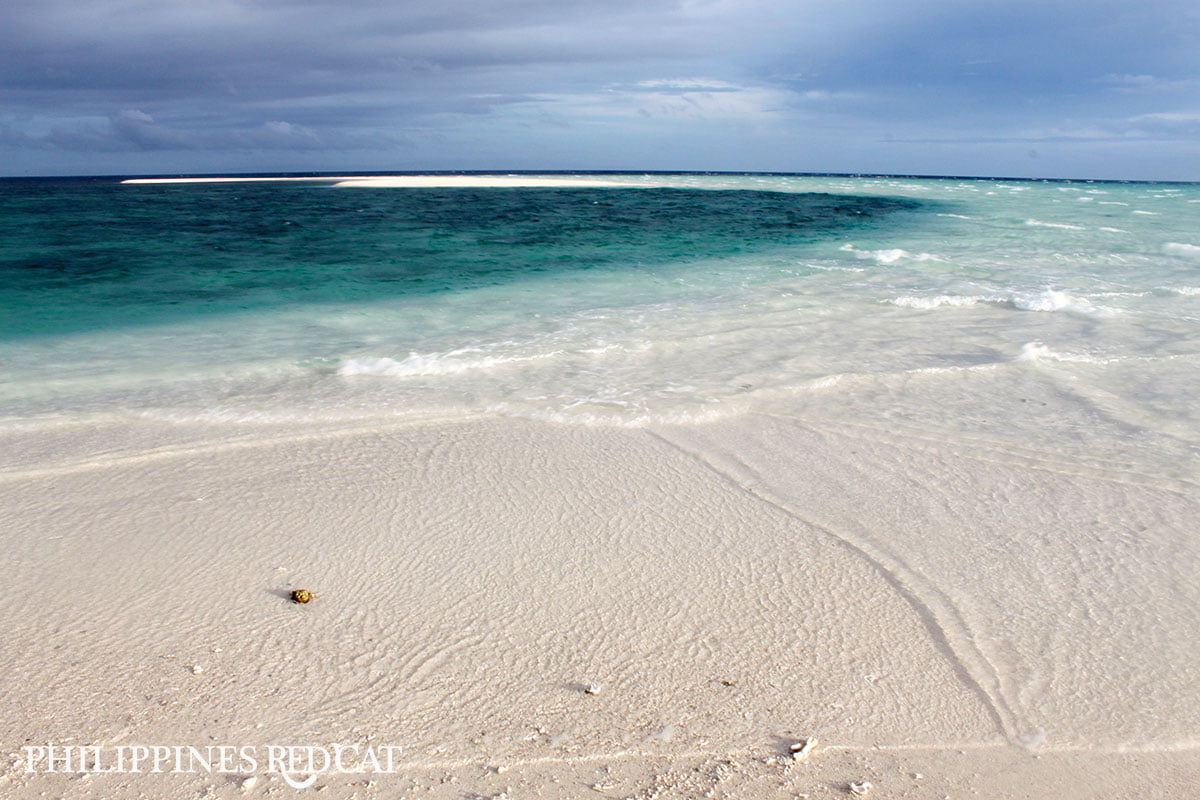 And here is the view back to Camiguin – notice the low hanging clouds and the turquoise water lit up by the sunshine.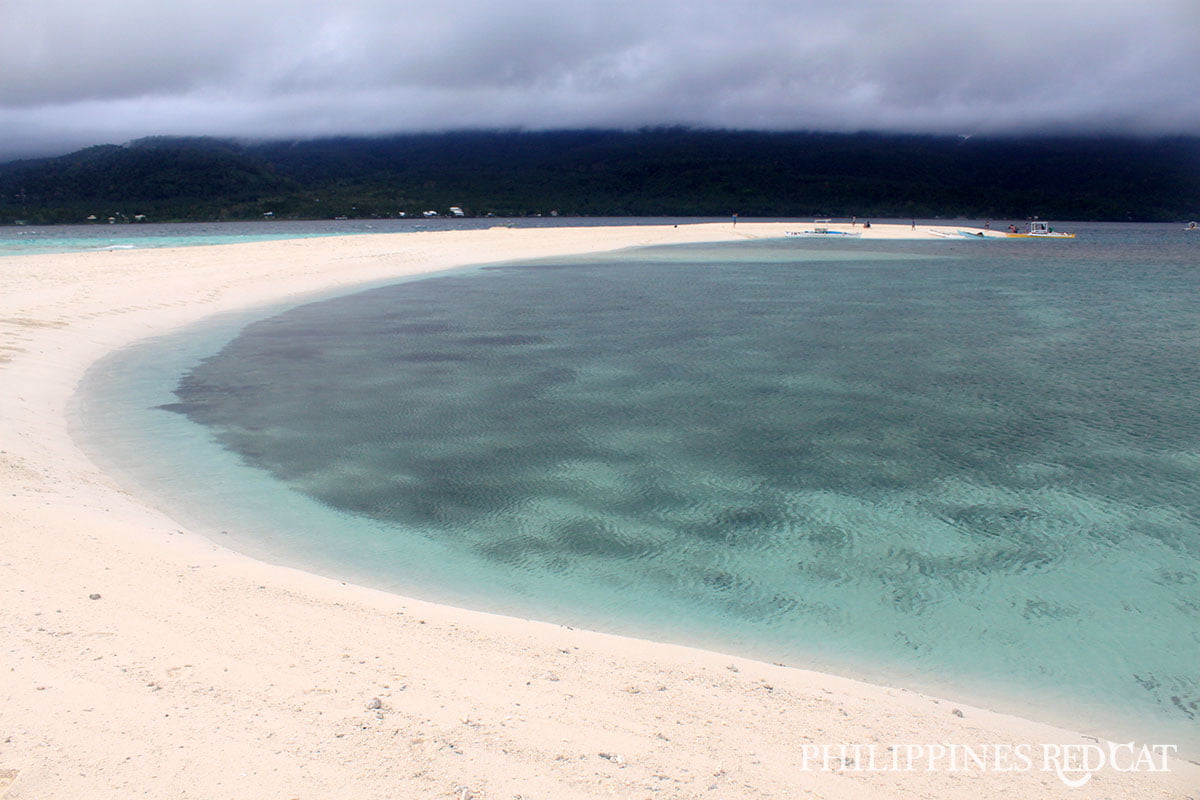 If there is one thing that you should not miss out visiting during your stay on Camiguin, then it's definitely White Island. Just make sure you don't come too late – when we took the boat back to Volcan Beach at 8:30am, there were already more than three dozen of people all over the island. It's still beautiful, but the atmosphere is much more peaceful and memorable right after sunrise.
Hiking Old Volcano
Fun fact: Camiguin is the island with the highest density of volcanoes in the world.
Okay, at about 237 sqkm it's a relatively small island, but still has 4 volcanoes. I have already mentioned the most famous one earlier (Hibok-Hibok), and it's possible to climb that one. However, that has to be a full day tour and apparently is quite challenging, so I decided to climb Old Volcano that is doable in half a day.
There were really nice stations of the cross spread along the first quarter of the trek: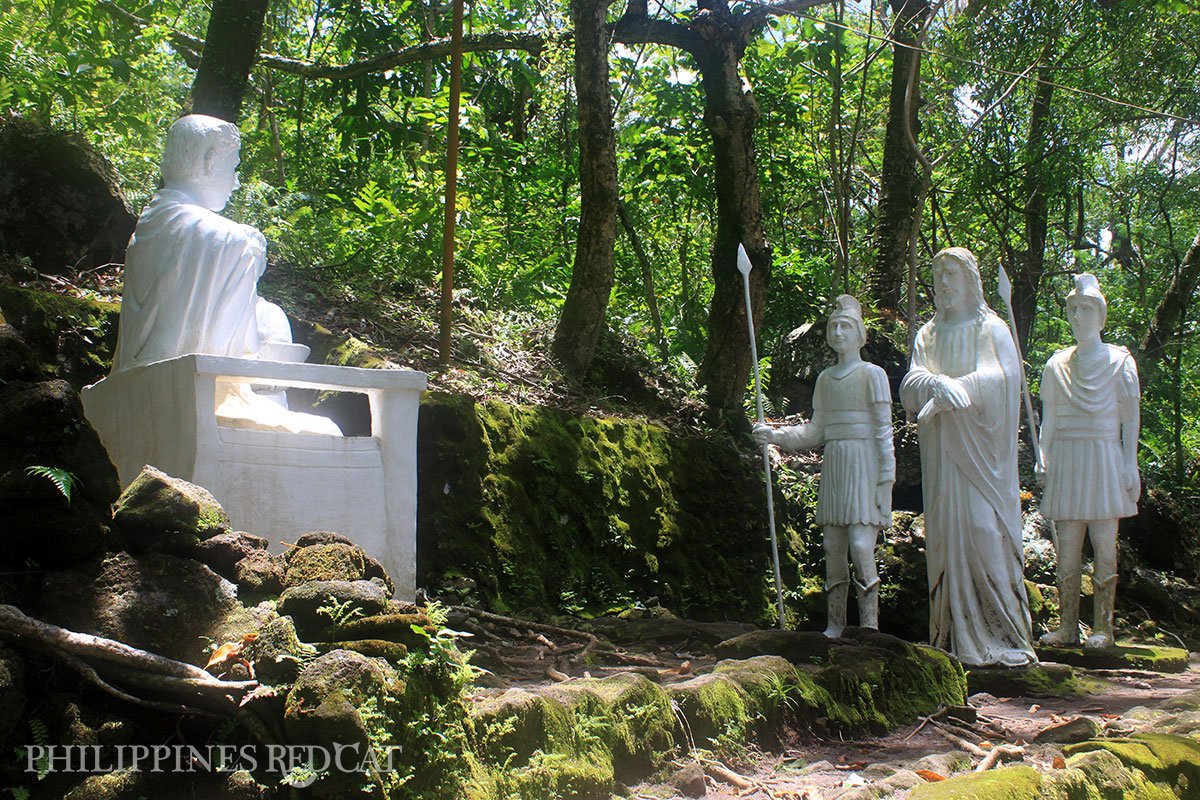 It was certainly a tough hike, but the views from the top were all worth it.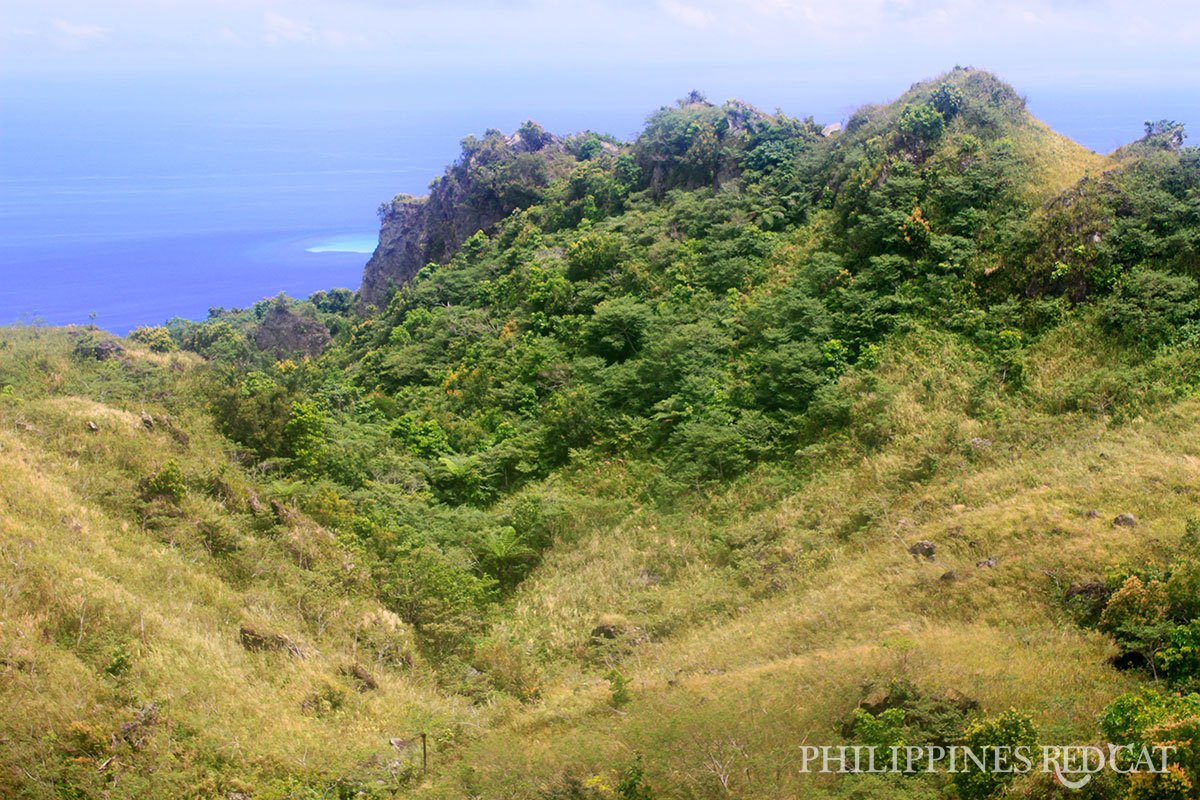 View to the other side – notice the sunken cemetery in the ocean around the white cross – it slipped into the water following an earthquake in 1871: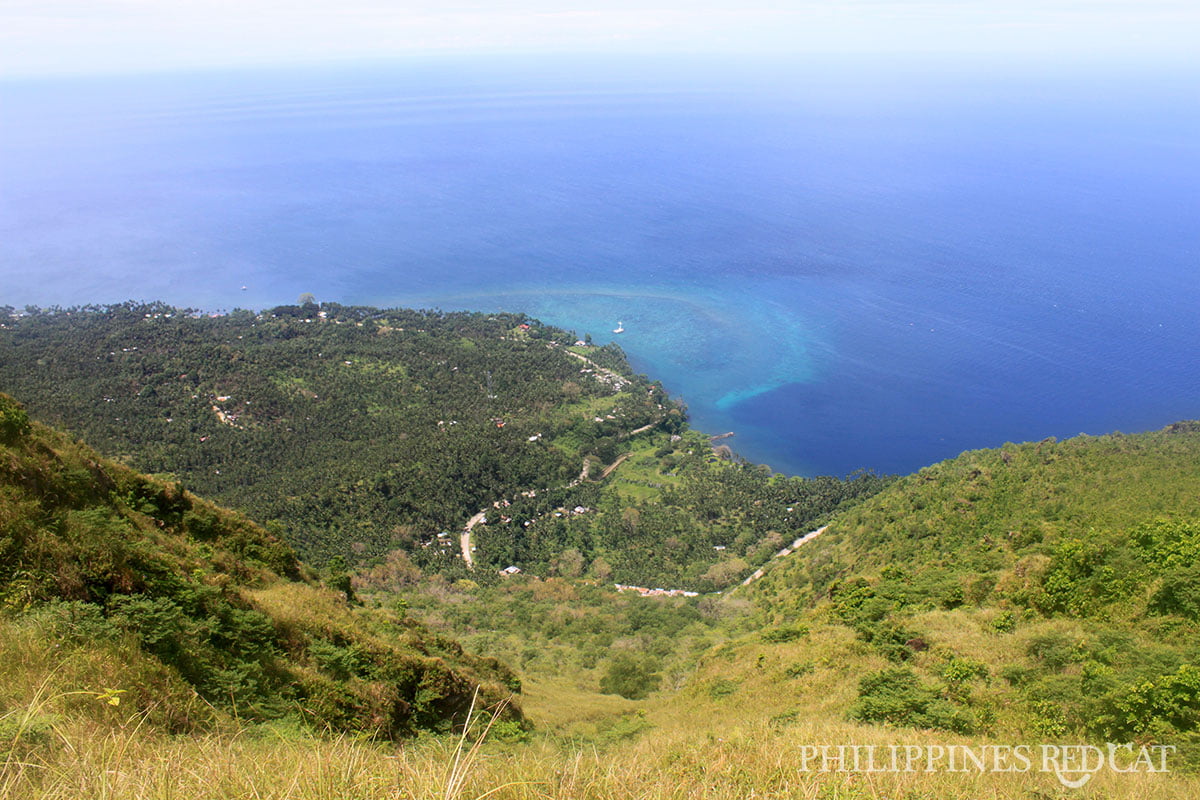 That's what I love so much about Camiguin: It's so diverse. You can cruise along the scenic coastal roads on the motorbike, visit nice beaches and view points, bath and relax in the hot springs, take a boat to the magnificent White Island and even climb several volcanoes.
Do you need another reason to give this island a visit? I have one.
Nightlife on Camiguin
You don't go to Camiguin for a sex vacation. Yes, it's certainly possible to meet some nice Filipina ladies in the beach bars of Volcan Beach – but there isn't nearly as much "selection" compared to most other tourist places. So better don't expect too much, and you will probably be surprised.
There is some nightlife on Volcan Beach – this was the bar at our resort:
Don't expect any bar girls here though. Most of the "open-minded" ladies in the bars are on a trip with their boyfriends. But apart from that, there are always some nice local girls to talk to.
Anyway, I got lucky on my second night and met a nice Mindanao girl that was working as a housekeeper in one of the resorts. She didn't join me to my room that night, but we arranged a date for the following day.
I took her to my favorite view point. Then to the hot springs. And then right under the blanket of my bungalow bed.
I remember how I asked her if she had a boyfriend. She said yes. I asked her why she had sex with me then. She just shrugged her shoulders and said "I love sex." She certainly did.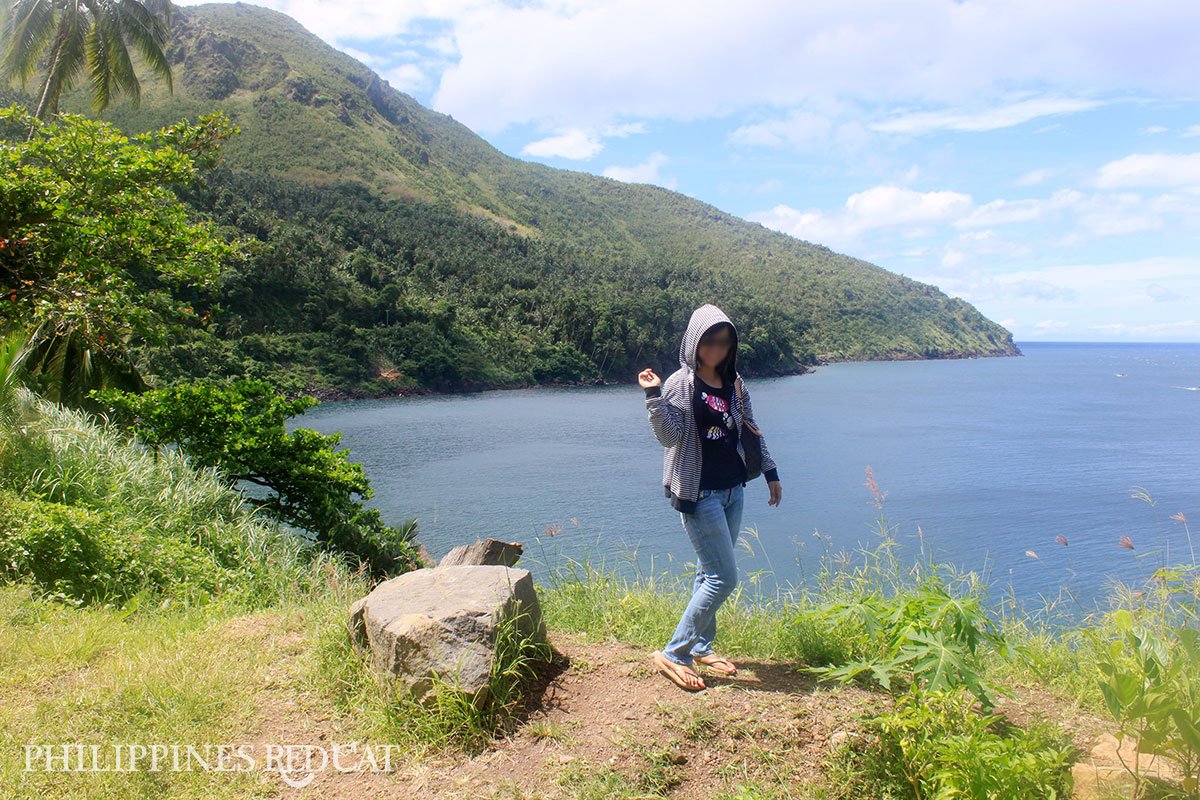 Happy End.
This was the story of my trip to Camiguin. I hope you enjoyed it and maybe it inspired you to visit this little wonderland, too. It's really my favorite vacation island in the Philippines – so few tourists, and so much to see and to do. Plus great bars with cheap drinks at night, and enough opportunities to meet a nice local girl.
Overview Map of Camiguin Highlights