You haven't really been to Angeles if you haven't visited a girly bar. They are all over the place and it's not always easy to decide which place to visit because there are just so many of them. Often the door girls look very attractive, but once you go in you will figure that the girls are rather average.
And if you realize that only after you have ordered your drink it's already too late – you have wasted time and money. With this guide I will help you avoid this scenario and make sure you have a great time by showing you the best bars in town.
80% of all girly bars in Angeles (or go go bars, or bikini bars, call them whatever you like) are located on Walking Street. Among them are the best bars simply because the youngest and hottest girls know that most of the tourists go out there so they have good chances to make money. About 15% of the bars are located out on Fields Avenue and another 5% of the bars are located in the narrow backstreets of Walking Street.
How does it work?
If you have never visited a girly bar in the Philippines before, I will give you a quick guide here before I go into the top list of the best bars. If you already know this you may as well just skip this part.
So you walk along Walking Street where you will find bar after bar, each of them with "door girls" in front of the entrance who try to get your attention yelling like "Viking, sir!". If you feel interested you can take a look inside. Don't be shy, just quickly scan the girls on stage and if you don't like what you see you can just leave again without buying any drinks. However, if you find the ladies attractive then you can look for a place to sit down.
You then order a drink (120-160 Pesos) and take a look around. It usually doesn't take long until one or more of the girls on stage look and smile at you, hoping that you will invite them to sit and drink with you. There will be more girls around, like the ones who take a break from dancing, or even the waitresses can be quite hot, or even the so called "tequila girls" who specialize in selling that kind of drink. Often they would just come over to you, put their arm around you and try to make you feel good.
After a while they will ask you if they can have a lady drink. These are more expensive than your own drinks (250-300 Pesos) but if you buy one you will surely have a great time with the girl. She will give her best to make you feel good, you can touch her body and get close to her.
After a while the girl might ask you "what's your plan?" and what she means by that is if you would like to take her to your hotel for short time (= sex). If you want to do that then you will need to pay the bar fine which is 3,000 Pesos in almost all lady bars in Angeles (sometimes it's 2,500 Pesos, but then the girls tend to be less attractive).
Important: The bar fine includes the price for sex with the girl. This is different in Manila where you have to pay a few thousand Pesos extra in tip. You may give her a tip if she did a good service, and an appropriate amount for that would be 500 Pesos, but really no more than 1,000 Pesos for exceptional service. However, tipping is not compulsory, it's really up to you.
That's it for the quick overview on how things work in the bars. With all that being said, let's now come to the juicy part and the list of the currently five best girly bars in Angeles:
Dollhouse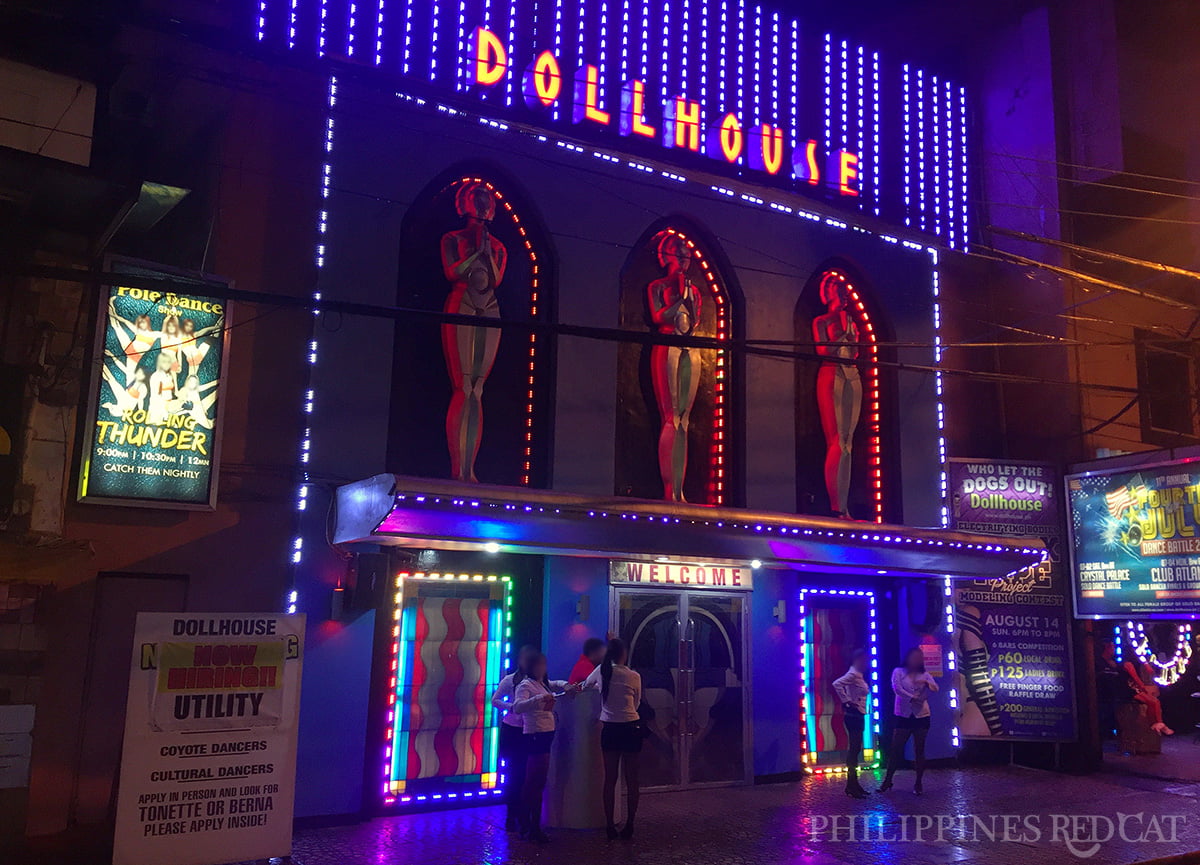 Dollhouse is an institution in the Angeles A Go Go Scene. It has some of the hottest girls on Walking Street and is packed with both tourists and expats every night. Just by looking at the impressive facade of the building and the sexy door girls and waitresses you can assume that this must be one of the very special places on the strip.
Once you go inside, you will discover one big and round stage with only one pole, but more than 30 girls on it and even more of them at different places in the bar. Some sit with customers, some sit together in groups while taking a break from dancing and some just stand or walk around. But obviously all of them are ready to entertain you and make sure you have a great time if you buy them a drink.
They have some very impressive dance performances in The Dollhouse every hour or so, like two girls making their way to the top of the pole like little monkeys (in a good way of course). There are also three pool tables upstairs in case you get bored of watching the ladies (unlikely) and even more seating areas from where you have nice views down to the stage. These are popular mostly among the Japanese and Korean men who want more privacy with their girls.
Girls Quantity: 8/10
Girls Quality: 8/10
Club Atlantis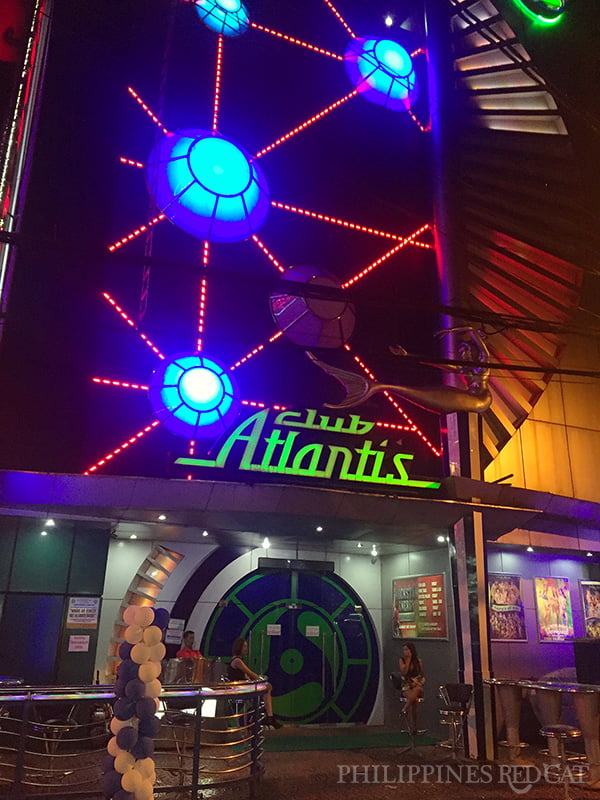 Club Atlantis is the best go go bar in Angeles and it's not difficult to tell why. There are two big stages, one on the ground floor and one on the upper floor with combined more than 150 sexy girls. You can sit down and get fantastic views over both stages – it's like a huge presentation, like an opera!
The girls on the upper floor tend to be more attractive (light skinned, tall, young) but they can be quite lazy when it comes to dancing. Well, they know that they don't have to work hard to have some customer call them over. The girls on the ground floor aren't bad either, and they often also have special dance shows for even more entertainment (like moving their asses up and down, or sexy lesbian kind of performances).
Club Atlantis has been around for many years, and they also got a few sister bars (like The Dollhouse, see above), so the owners must be doing something right. Also the staff here isn't pushing or sketchy at all, normally it's you who asks the girl for a drink and not the other way around. Very polite. And even once I forgot to collect my change after I paid my bill, five minutes later I came back into the bar and told them – they returned it to me without any problems. Great fun, great atmosphere and great people in Atlantis.
Girls Quantity: 10/10
Girls Quality: 9/10
Viking Bar
My favorite go go bar in Angeles. It's right in the center of Walking Street and you can't really miss it with its extraordinary exterior that looks like a viking ship. It's not the biggest bar in town but it is packed with sexy Filipina girls and they tend to be younger than in most other places (that's why it is so popular among the Koreans).
Some of them are even sitting outside because it gets so busy inside. If you are serious about paying the bar fine for a girl then I would advise you to go there no later than 8pm, or the hottest ladies will be taken. Like in all other bars on the strip they don't get naked here but wear sexy and tight clothes, some of them also bikinis.
There is one stage in Vikings that looks like a ship and the Mamasans (yes, there are a few of them) do a good job in making sure the girls are dancing enthusiastically. If not they would point with their flashlight on the girl or even touch them to let them know. Often the girls are even told to "march in step" especially when a group of new customers enters the bar, and that's so typical that the bars in Angeles really know how to "present" their girls to the customers. Great fun in Vikings, don't miss it.
Girls Quantity: 8/10
Girls Quality: 9/10
Crystal Palace
Even though the location of Crystal Palace isn't that great – it is found in the relatively quiet Real St which is a backstreet of Walking Street – it is without doubt one of the best girly bars in Angeles.
Just like Club Atlantis it has a lower and an upper stage and the view of the huge selection of girls is just unforgettable. However, you may want to visit on the weekend as most girls take their days off on Monday, Tuesday or Wednesday. It's one of the few places where you can just sit down, relax and enjoy the happenings in the bar without two or three girls pressing their boobs on your face and begging you for drinks one minute after you sat down.
There are also two pool tables in the back of the bar and even a walk-through to The Dollhouse that has the same owner. To be honest, Crystal Palace was a little bit more fun a few years ago (bigger selection of girls) and today it's more like a hit and miss kind of bar. But still, if you take into consideration the average attractiveness of the girls and setup of the bar it just has to be included on this list.
Girls Quantity: 6/10
Girls Quality: 7/10
Bretto's Sports Bar
Okay, Bretto's isn't technically a go go bar but a sports bar. But I still think that it should be included here because it is one of the best bars with girls. And that's what this guide is all about.
So if you want to take a break from the go go bars, have seen them all or just find it too expensive then Bretto's is a great place to spend several hours. It really has a great atmosphere, it's half open air with pool tables and lot's of "normal" girls around (yes, most of them are freelancers). It's also popular among ladyboys to play pool here or just hang out.
There are several TVs with live sports, they serve food and it's also great to meet other foreigners – both tourists and expats. You see this bar has a little bit of everything and I just love it. It's the best sports bar in Angeles and whenever I am in town I usually start my evenings there playing pool for a couple of hours before hitting the go go bars.
Girls Quantity: 5/10
Girls Quality: 6/10
Map of the Best Girly Bars in Angeles
What's a Good Time to visit the Girly Bars?
If you have been to Pattaya before, you will probably know that the best time to go to the go go bars is 9pm when all girls come up on stage and officially start working. It's a little bit different in Angeles where the girls already start dancing at 7pm. That's important to know as many Korean guys go into the best bars at this time and pick the most attractive girls.
Most bars also have day time dancers (day shift) means girls who start working from as early as noon until early in the evening when the night shift arrives. It's never getting boring here. And also, the Angeles bars close at 4am which is significantly later than in Pattaya where most places close at 2am.
And one more thing that's important to be aware of: Monday and Tuesday nights are usually relatively quiet, that's because many girls take 2 days off. Again that's different than in Thailand where the go go girls only have one day off per week, or sometimes only 2 or 3 days per month. The best days by far to visit the girly bars in Angeles are Fridays and Saturdays when all of the girls are working.
Bar Girls vs Freelancers
There are two types of girls you will meet in Angeles: Those who are employed by the bars (the bar girls) and those who are not employed by anyone (the freelancers).
The freelancers can be found in the night clubs as well as right on the street. They are cheaper than the bar girls (about 1,000-2,000 Pesos) because they don't have to share their income with the bar owner. You just need to be more careful with these types of girls as you don't know where to find them in case there are problems. I don't know of anyone who had any problems in terms of them stealing his values or threatening to call the police if he doesn't give her more money, but it is always a good idea to ask your hotel to call you first before they allow them to leave.
The girls from the bars are safer and you also don't run the risk that they are underage (well, you never really know). If you are unsure, don't take them as sometimes they borrow ID cards from their older sisters or friends. That's quite rare though and I wouldn't worry about that too much.
The bar girls usually have 3 IDs attached to their bodies along with their number tag: A work permit from the mayor of Angeles stating their position (e.g. dancer), a health certificate as well as a drug certificate. So yes, having sex with a bar girl is safer than having sex with a freelancing girl, but it's more than twice as expensive if you include all the drinks you will pay for.
Most of the bar girls are younger and more attractive than the freelancers, but again you never really know. There are also lots and lots of cuties to be found in High Society or even on the streets. And that's the wonderful thing about Angeles – you have to explore and find the right choice for yourself. So have fun and be safe.
Videos of Girly Bars in Angeles