Cebu is a paradise for single foreign men. It's so easy to meet and sleep with Filipina girls in this city as a foreigner it's almost ridiculous. There are only two places in the Philippines that have an even bigger nightlife scene and a wider selection of girls: Manila and Angeles. However, Cebu is much more worthwhile and enjoyable during the day with plenty of nice shopping malls spread around town, green hills surrounding the city and white beaches just a short drive away.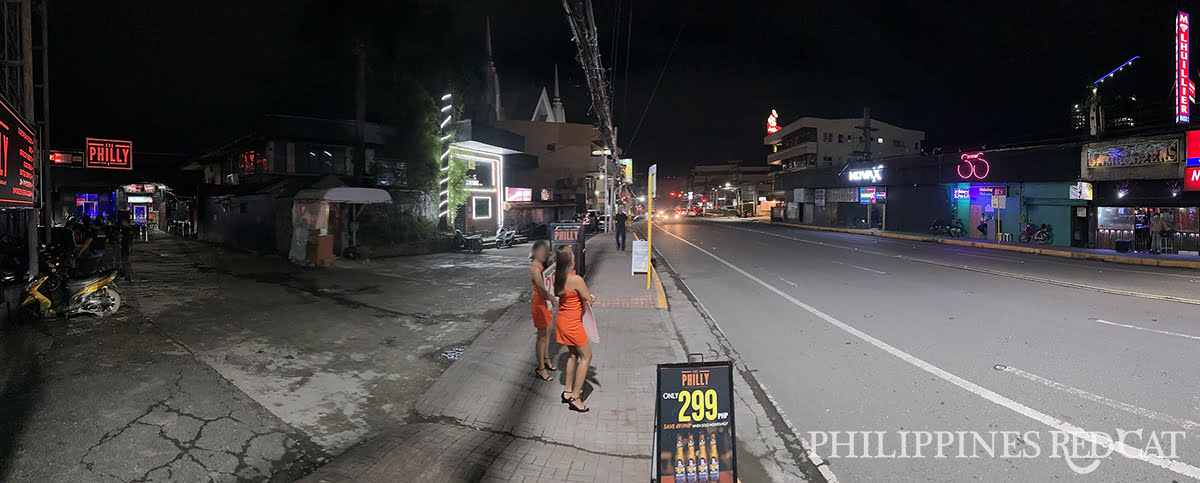 While in Angeles the whole city is basically all about sex for sale and you can barely meet any "normal" girls, Manila is just too much for a lot of guys because it's always super crowded, busy, somewhat air polluted and with lot's of traffic jam – Cebu is different and has the perfect mix of everything.
Cebu is located in the heart of the Visayas and being the most developed island of the region, Cebu City has a population of about 900k citizens and attracts young women from all over the country (especially from poor Mindanao) because of its reputable universities, relatively strong economy and good working opportunities. For many Filipinas the latter one means something different than a 350 Pesos a day pay at a department store.
There are many ways to meet girls in Cebu at any time of the day. This means if you feel bored in the afternoon you could go online on Pina Love and arrange a date with one of the countless of "open-minded" girls. Or you could just head over to Ayala (or any other mall really, but Ayala is the nicest one in downtown and also popular among freelancers to look for customers), buy a coffee and cheesecake at Bo's Coffee (those are delicious!), sit down, watch the ladies passing by and make eye contacts. And smile. Or smile back.
And then there are countless of young and attractive Filipina girls to be found in the various entertainment and nightlife venues. Like the sports bars, bikini bars, nightclubs, KTVs or even the massage salons spread all around town. Because there are so many different ways to meet and sleep with girls in Cebu, I will split this guide into several categories and types of places to hook up with local "Pinays" (Filipina girls). So here we go:
Girly Bars in Cebu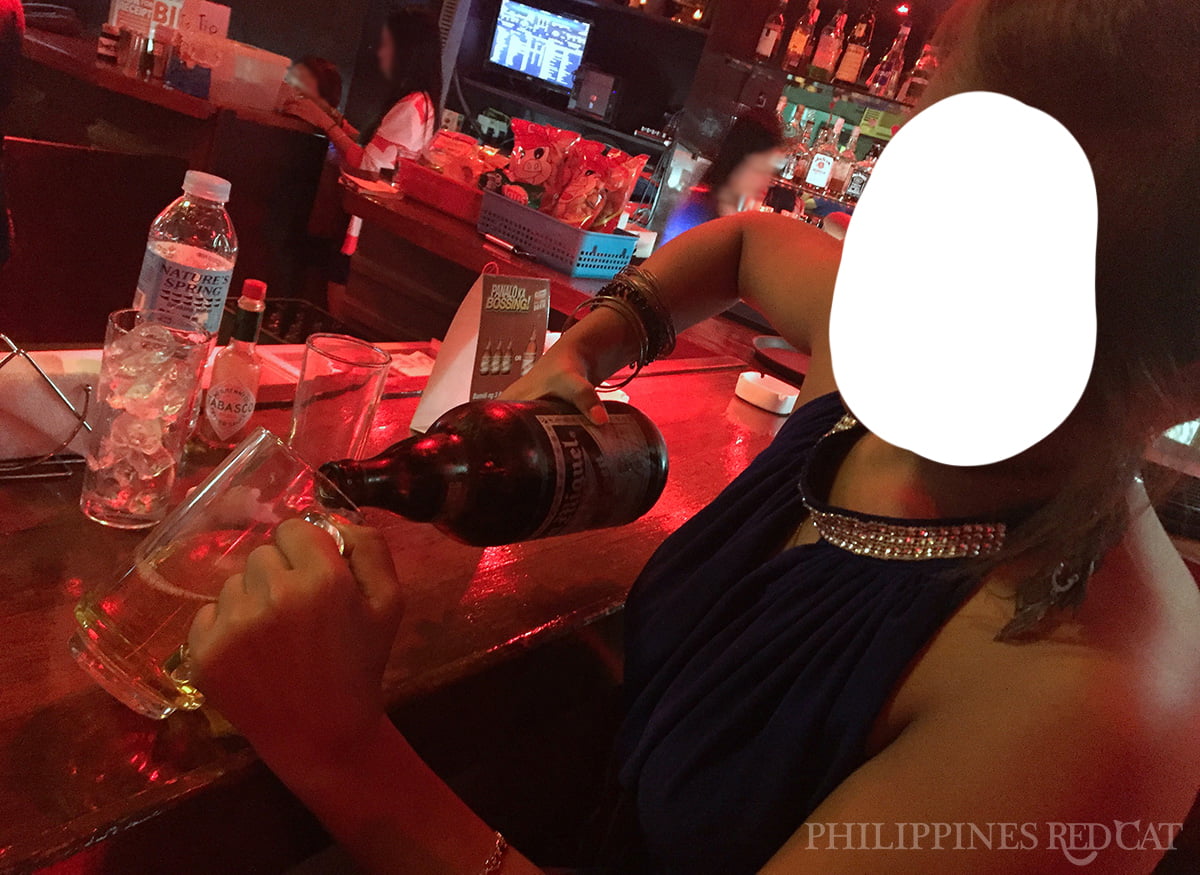 The girly bar scene in Cebu City is huge and there are even different types of such places: Sports bars which are comparable to the beer bars in Thailand with pool tables, TVs with live sports and make popular hang out spots for foreigners. Bikini bars which are comparable to the go go bars in Thailand. And KTVs which are usually similar to the bikini bars with girls dancing on stage but also have karaoke rooms for rent.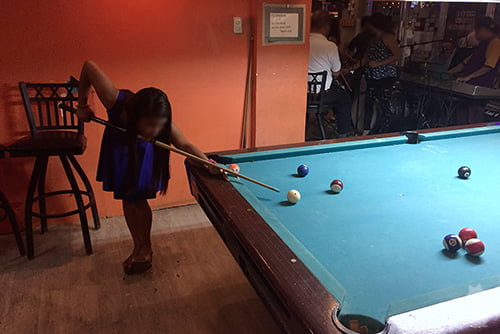 The majority of sports bars in Cebu (around 90% really) are located around Mango Square and in the bar cluster 200m down the road from there. The two most popular places in this category (by far) are The Philly and Howling Dogs. The girls are super entertaining, not as pushing as in the bikini bars and also the foreigners are really outgoing and easy to talk to. If you like to play pool then Howling Dogs is really the best place to go and they also hold a pool competition every Thursday at 9pm. You can find the exact locations of all the mentioned bars on the map below.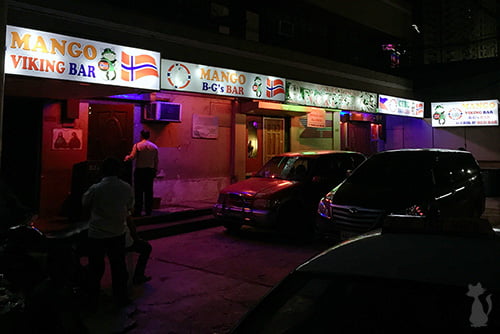 Even more attractive Filipina bar girls can be found in the bikini bars and there are two main areas: The bar cluster near Mango Square (8 in total) and Colon in southern Cebu near the university. The ones in downtown are 100% foreigner oriented and the best bars in my opinion are Sisters Bar and Viking Bar right next to it. Down in Colon things look quite different and the bars are a lot more run down (this is quite a poor area) but you can't complain if they give you a hand job in the dark room of Raj after you bought a couple of lady drinks.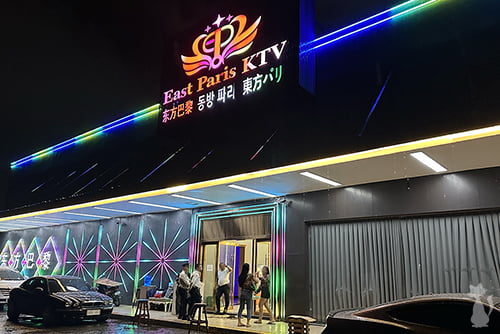 Dozens of KTVs are spread all around town and mainly target Asian customers (especially Koreans and Japanese) but of course you are also very welcome to enter those bars as a westerner, order your beer, watch the girls (if you want the mamasan will have them line up right in front of you) and pick one to have her hang out with you. Karaoke rooms are available for about 500 Pesos and that's not so much about singing songs but rather about more privacy to get more intimate with the girls.
Prices: Beers are super cheap in all of the three types of girly bars at around 85-100 Pesos per bottle (San Miguel/Red Horse) and the sports bars usually also have draft beer available for about the same price. Lady drinks are in the 200-300 Pesos range in the sports bars and bikini bars and 300-600 Pesos range in the KTVs (and very few bikini bars).
Girls in the sports bars cannot be taken out of the bar (you'll need to wait until she finishes work or take her number to arrange a meeting for the following day) but it's possible to do that in the other girly bars if you pay the bar fine of 3,000-5,000 Pesos which includes the girl's price for sex. There are exceptions like East Paris and Arena that charge up to 7,000-8,000 Pesos.
See also: 5 Best Girly Bars in Cebu City
Nightclubs in Cebu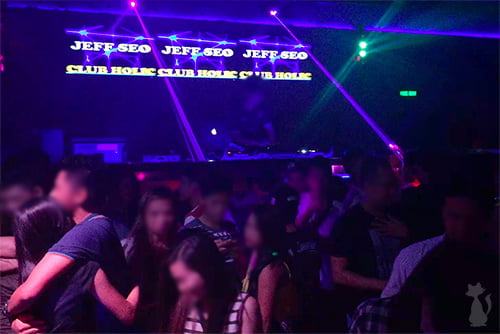 If you like to combine partying, dancing, loud music and meeting girls then the nightclubs may be for you. Supposing it's your first time in Cebu then I'd recommend you head straight to Mango Square where you can find four popular nightclubs clustered all in one area (as well as lots of other bars and street freelancers all around). The number one and most popular club has been Club Holic for many years, but it has gotten serious competition by the recently opened and super modern APEX Super Club near the Park Mall.
Both venues have the hottest Filipina girls you can imagine, but the difference is that Club Holic mainly attracts hookers who are primarily there to meet Korean guys who are well known to spend money like nothing (about 60-70% of the guests are Korean and if you look at the private rooms and "VIP tables" this number is even higher).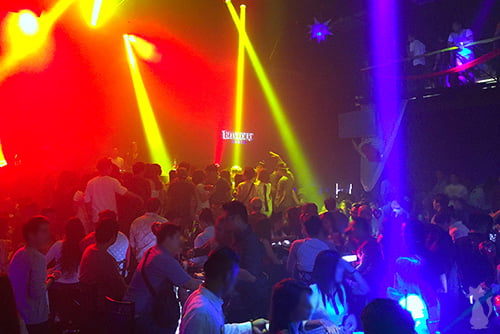 APEX Super Club on the other side may also have some freelancers, though not nearly as many and it would be the best place to meet top-notch Pinays who are no prostitutes. Don't expect them to make the first move though. Oh, and APEX is also one of the few nightclubs that allow ladyboys to enter.
Prices: Entrance at the night clubs in Cebu is usually free except at the "Super Clubs" where they charge 100/200 Pesos at Club Holic (weekdays/weekend incl. 1 drink) and 200/300 Pesos at APEX (weekdays/weekend no drinks included).
Local beers are just slightly pricier than in the sports bars at 80-120 Pesos, cocktails around 160 Pesos, whiskey 130-180 Pesos per shot and a bottle of say JW Black would cost 2,500 Pesos at Holic and 3,400 Pesos at APEX.
See also: 5 Best Nightclubs in Cebu to Meet Girls
Freelancing Girls in Cebu
It's almost impossible to walk along the streets of downtown Cebu for 10-15 minutes, even away from the main nightlife hot spots, and not pass a Filipina girl or woman who offers you sex in exchange for some cash. Those ladies doing "fishing" how they call it themselves would be classified as freelancers. Some of them don't have regular jobs, others do have a day job and just look for a way to supplement their little monthly salaries.
You can meet freelancers not just on bright and dark corners of the street at night, but also in the shopping malls (the 2nd floor of Ayala Mall would be the best place to go for that, just hang around the terrace near Bo's Coffee) as well as in the nightclubs mentioned earlier. The girls in the clubs tend to be more attractive, but there is really no general rule for that and it's not uncommon to meet a couple of hot freelancers in Ayala or SM Seaside Mall before they start hitting the nightlife venues.
The most popular place for street freelancers is on and around Mango Square (picture) where you'll find dozens of girls available to come to your hotel. The atmosphere there is somewhat comparable to Sukhumvit Soi 4 in Bangkok (on a smaller scale though).
Prices: You never really know how much they actually want. They may be asking for 2,000 but end up going with you for 1,000 Pesos. That's especially true for the girls on Mango Square, but if you go to the quieter areas of town, especially down in Colon (see the map below for the main location) you'll get offers from so-so attractive women for as low as 500 Pesos and they'll also know a short time hotel for 200 Pesos (once when I declined she even suggested a very "basic" room for 60 Pesos).
It's a kind of different story in Club Holic that's known for Cebu's "upscale freelancers" who probably won't go with you for less than 3,000 Pesos (and often prefer to hang out only with Koreans anyway).
Happy Ending Massage in Cebu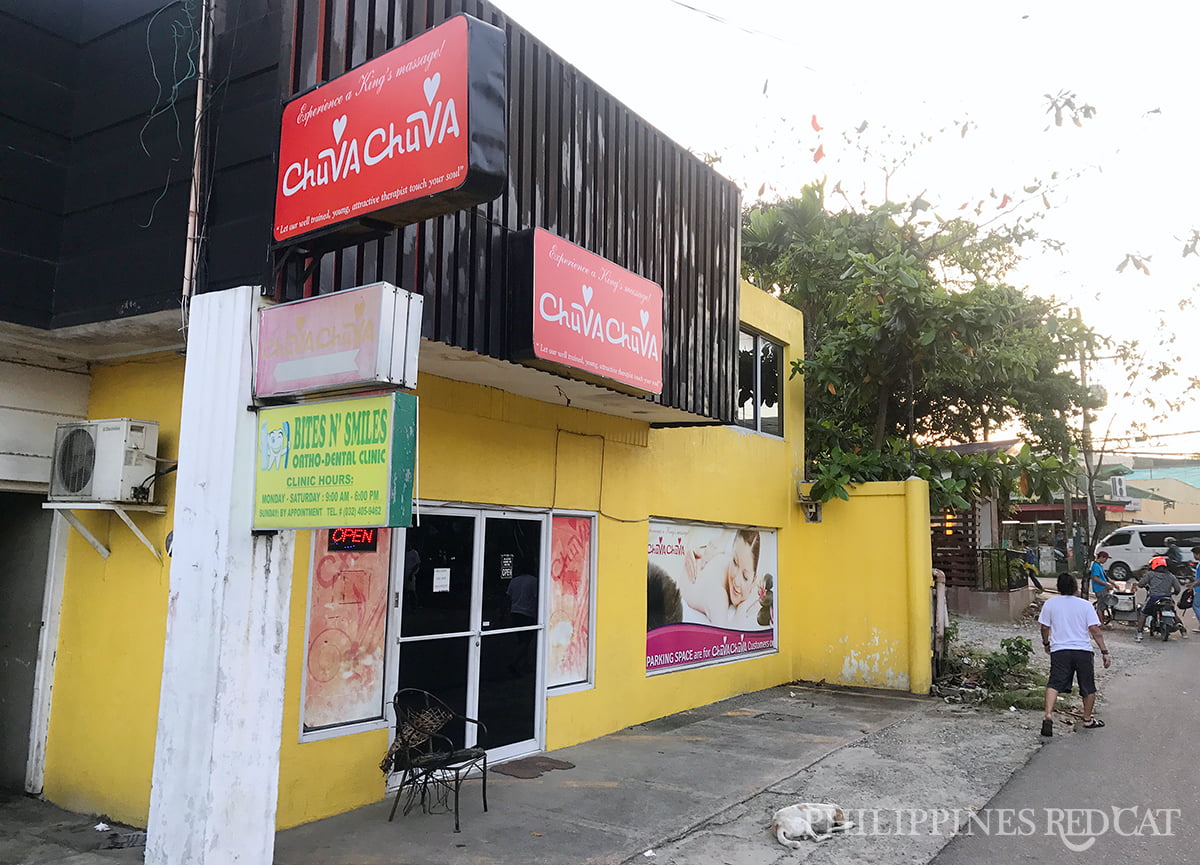 There are dozens of massage salons spread all around Cebu City, but the only place that offers guaranteed happy endings is Chuva Chuva in F. Ramos Street near the Fuente Roundabout (zoom in the map to find the purple pin). You can either go for one or two girls and when you ask them if you can have a look at all girls to make a choice they'll say yes but bring you to the private massage room first.
Then they'll have girls in pairs come to the room and you can choose one or request changes up to three times. I think the reason for them not showing you all girls (they hang out in a room right next to the lobby) is that some of them only want to serve Asian customers.
Update: There are 2 new "special" massage salons called Young Hands Spa and 108 Spa Inc., both located on Tres Borces Padres Street. They offer Lingam Massages for 1,000 Pesos, including hand job happy ending. I have added their locations on the map below.
If you visit any of the "normal" massage salons it really depends on the girl if she gives you a hand job in exchange for a tip. But chances that you get lucky are definitely lower than in Thailand or Cambodia. There are also quite a few massage salons called "Nuat Thai" but the masseuses are also Filipinas. Private rooms are not the norm at these places but rather big public ones with spaces divided by curtains (which also provide some degree of privacy).
Prices: A 80 minute back massage at Chuva Chuva including the happy ending costs 1,000 Pesos for one girl and 2,000 Pesos for two girls (that's what they call "VIP"). Be prepared that the girl(s) will try to upsell you as soon as they say "Are you ready sir? This is our speciality" half an hour into the massage. They offer to get naked and if you took a couple they'll say something like "you can touch four boobs, sir!". To do that they'll ask for another 1,000 Pesos or so.
A massage in one of the "normal" massage salons would usually cost 350 Pesos for a full body oil massage for one hour. They usually call this "Swedish Massage".
See also: Guide to Happy Ending Massages in Cebu
Ladyboys in Cebu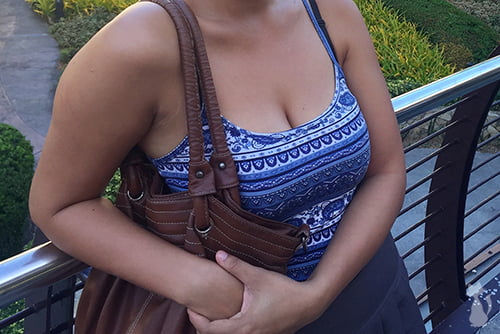 If you are looking to try out a ladyboy while in Cebu, you might just head to Ayala Mall in the late afternoon or evening and make your way to Bo's Coffee on the second floor. There are usually a bunch of ladyboys hanging out together and they are quite attractive. Just order a cup of coffee and choose a table nearby to make eye contact. Actually, it doesn't really matter where you sit or even if you just walk by, it's usually them who try to get your attention. Sometimes you'll also find some "normal" non-working ladyboys in the malls (picture).
When it comes to meeting a Filipina ladyboy in the nightlife places, it's important to know that most bars and clubs don't allow them to enter. The famous exception here is APEX Super Club (see above) that has some of the smoking hottest ladyboys you can imagine. And besides all that, there are also plenty of street walkers around Mango Square and around the bikini/sports bar cluster 200m down on Mango Avenue, but they can be quite, well, diligent.
Prices: They are usually asking for 2,000 Pesos for short time, but quickly lower this price to 1,000 or 1,500 Pesos if you are hesitant. Expect higher prices for the top-notch ladyboy freelancers at APEX Super Club.
See also: 5 Places to Meet Filipina Ladyboys in Cebu City
"Normal" Nightlife Spots and Girls in Cebu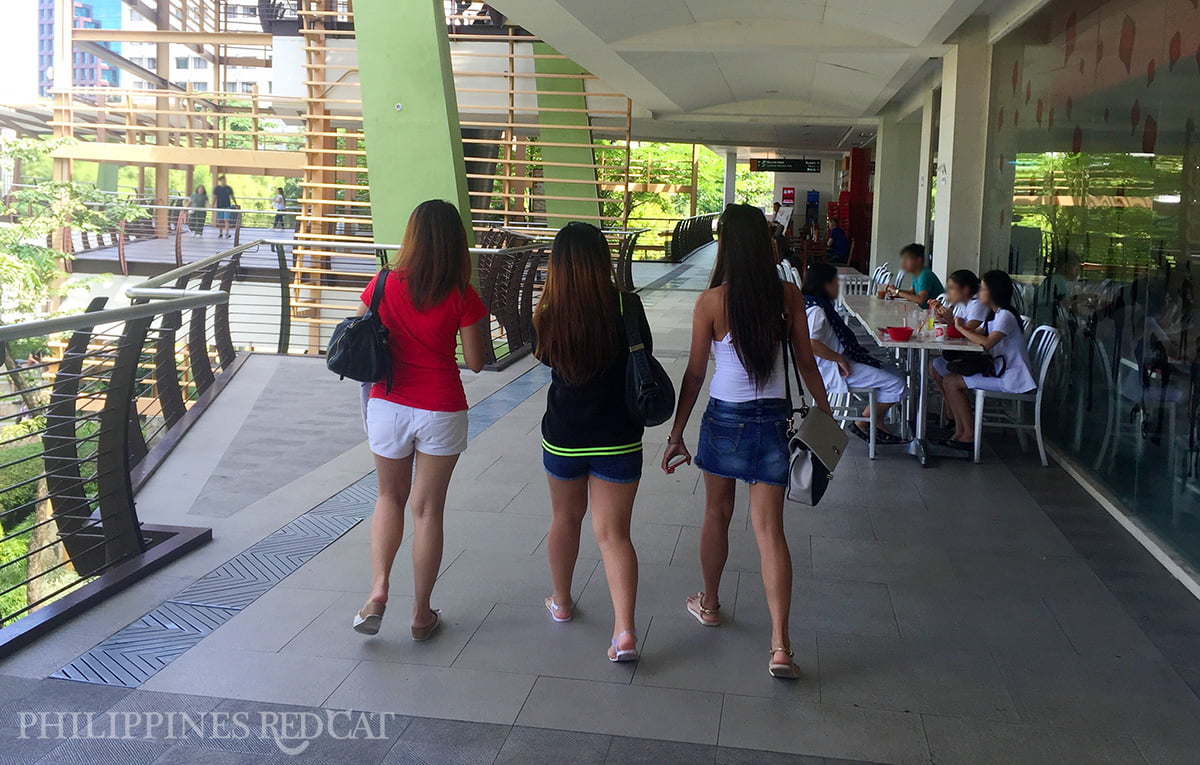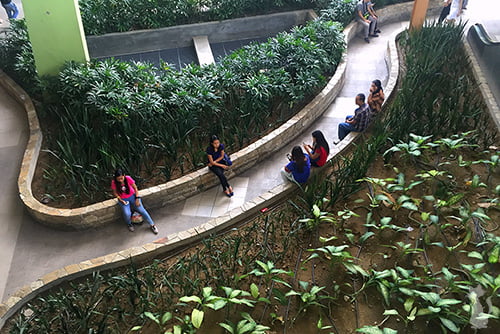 You don't even need to put in a lot of effort to meet Pinays in the nightlife who are not out for any money. MO2 Restobar or even Cubana are two great choices in this category. Otherwise you can literally just walk around town during the day and meet girls in "the real life". Especially the malls and IT Park (call center girls) are great as you'll find many young and attractive girls all in one place. The standard pick up lines don't usually work on them since they are rather shy – especially in public. So ask them for the direction instead or if they can take a picture of you in order to start a conversation.
An increasingly popular way to meet Filipina girls, not just in Cebu but all around the Philippines, are the online dating sites. The big advantage of using them is that you can contact and chat with more girls in 20 minutes than you could by walking around the malls or streets for 2 hours. The percentage of working girls to normal girls is about 30:70 so there's really something for everyone. For more info and comparisons check out my guide on the currently 3 best dating sites in the Philippines.
Map of Nightlife in Cebu City
Video of Nightlife in Cebu City