This is one of the first posts on Philippines Redcat and before I start writing about the fun stuff (oh my god, what epic times are ahead of us) I think it's a good idea to cover some of the basics. And that would definitely include discussing the different means of transport options you have in the Philippines.
Now guess what – it usually depends both on your budget as well as philosophy of traveling. So for example if you can afford 40-50 bucks more then you can simply fly from Cebu to Boracay, but if you instead want to experience overland travel and see something of the landscape and local life in the rural areas, then you might instead go for the bus and ferry option.
So without further ado, let's go into the different types of transport and their pros and cons:
Traveling by Jeepney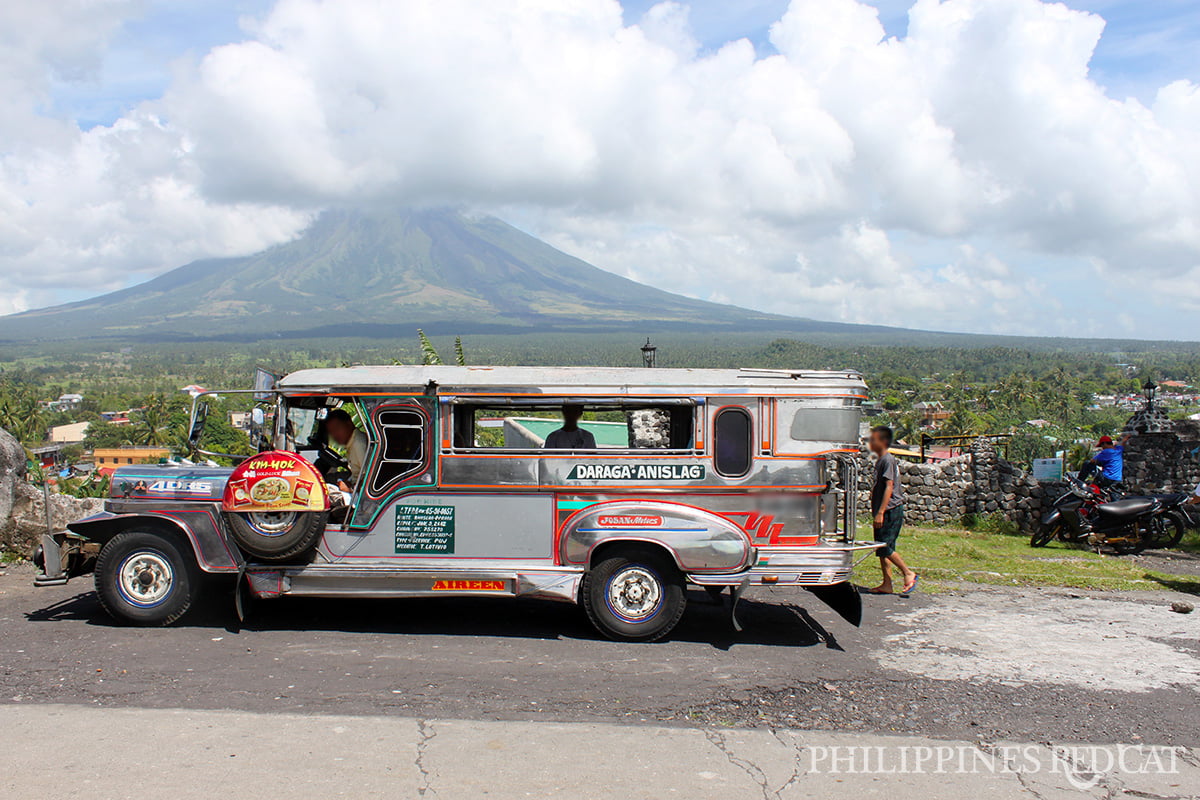 Jeepneys are one of the big icons of the Philippines and without doubt the best value for money option for short distance trips. They are basically shared taxis turned jeeps and you can find them both in the cities as well as in the countryside.
Advantages: Ridiculously jeep (I mean cheap) starting at 8 Pesos for most short distance trips and then the price rises moderately per additional distance traveled.
Disadvantages: They usually don't start driving until the seating areas both in the front next to the driver and in the back are full (you'll need to redefine your definition of "full"). Also, you can usually barely see anything from the outside through the narrow slats.
Traveling by Taxi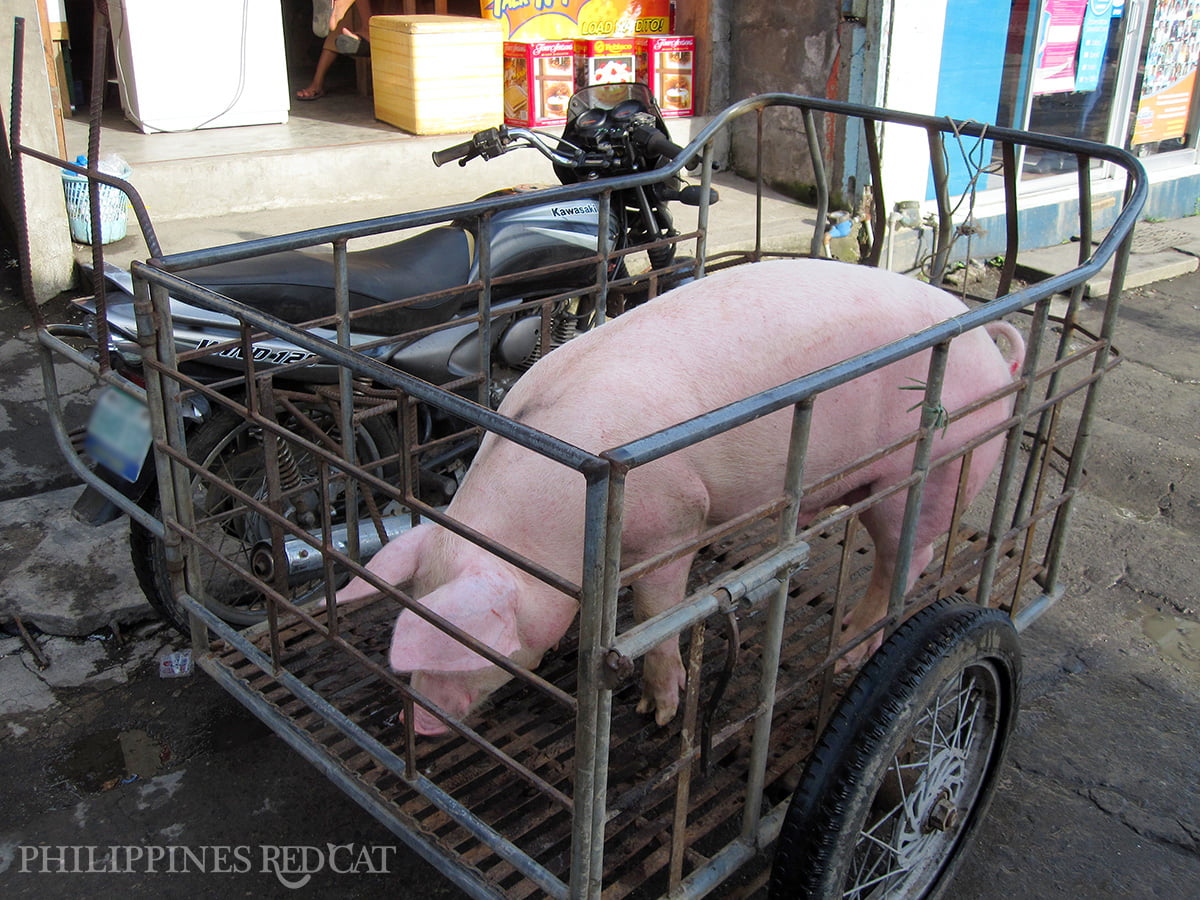 Sorry, wrong picture. The motorized tricycles are looking more like this: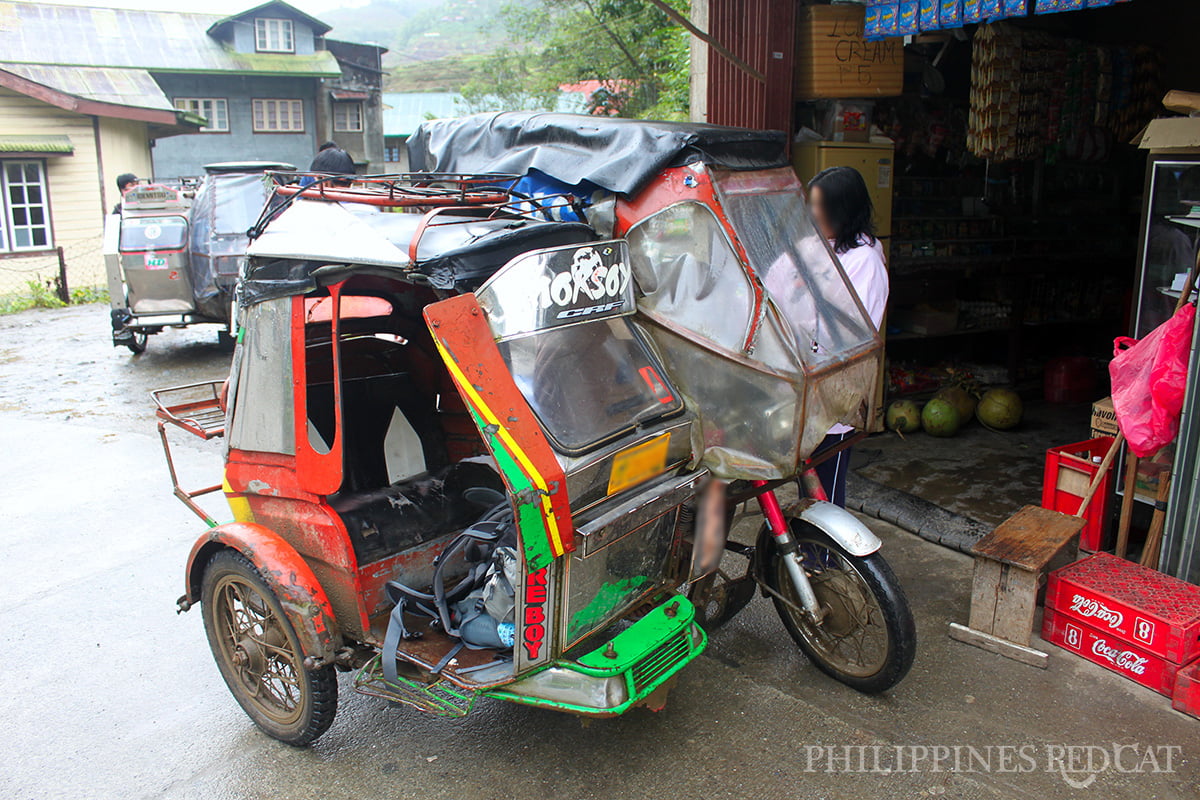 There are different types of taxis. You have the tricycles which come both in the form of traditional bicycles with attached seating carriers as well as motorcycles with attached carriers (picture). Make sure you always arrange the fare with the driver before your ride to avoid being overcharged or even scammed (like he brings you to some "tourist attraction" or shop where he gets some commission). A fair price for a 10-15 minute ride would be 80 Pesos.
In the bigger cities like Manila and Cebu you can also find some "proper" taxis, means cars. If you use one make sure he turns on the meter as he starts driving. The flagfall is at 40 Pesos and if your ride is like 15-20 minutes then the cost would be around 140-180 Pesos, depending on the traffic situation. That's almost the same, well maybe slightly more expensive than the cabs in Thailand. You can also hire a taxi for the whole day for about 2,000-4,000 Pesos (negotiable).
A new and popular alternative is the Grab App, the "Uber of Southeast Asia" (private car taxis).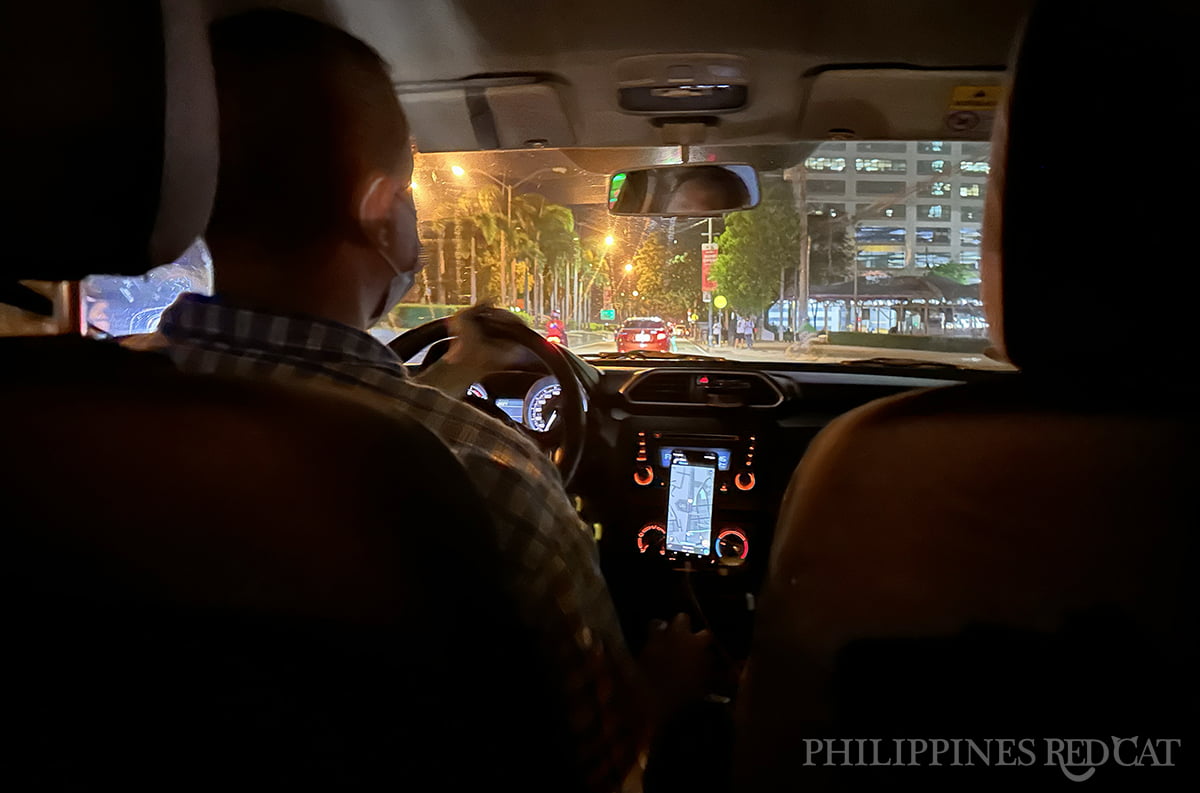 Advantages: Privacy, comfort (hopefully) and time-effectiveness as you don't have to figure out which one of the dozen of different jeepneys travels to your desired destination.
Disadvantages: They are often hard to find. Means when you decide "oh let's just grab a cap" you might have to walk down the streets for 20 minutes or wait on the road until eventually one appears. The exception are of course the car taxis in Manila where you see more taxis than normal cars in some areas. The same goes for the availability of Grab in the big cities vs the smaller towns.
Traveling by Bus & Minivan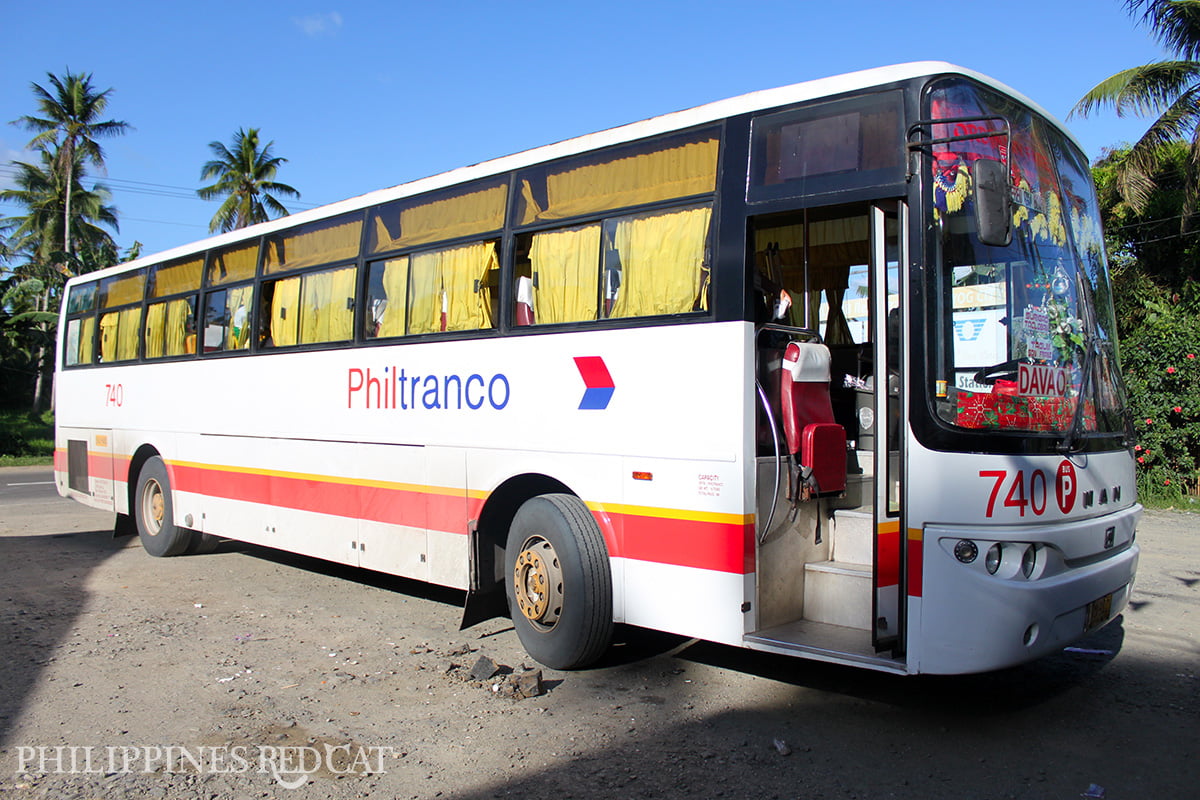 The most common type of long distance travel (along with airplanes of course). You cannot always be sure if they really mean a minivan or big bus when you book your ticket at your hotel or travel agent. Minivans obviously tend to reach their destinations a lot quicker than the big buses. What they both have in common is that they are driving as fast as they can (I still feel fairly save at most times) and they usually play a movie or classic western rock and pop music videos on the attached screens on high volume.
Don't worry about toilet breaks – they will usually pull over in 2-3 hour intervals.
The bus fares are quite random at times but never expensive, so you would pay like 175 Pesos for a 4 hour ride in Cebu, 470-530 Pesos from Manila to Banaue (overnight) or 30 Pesos for a 2 hour ride on Bohol.
Advantages: Relatively convenient once you take your seat. Buses and minivans usually have air conditioning.
Disadvantages: Bus stations in the Philippines are usually chaotic, hectic and not very clean. Also, bus travel can take much longer than usually expected (traffic jam, random problems with the engine or flat tire). If you are on a tight schedule then rather spend another 30-40 dollar and hop on a flight instead.
Traveling by Boat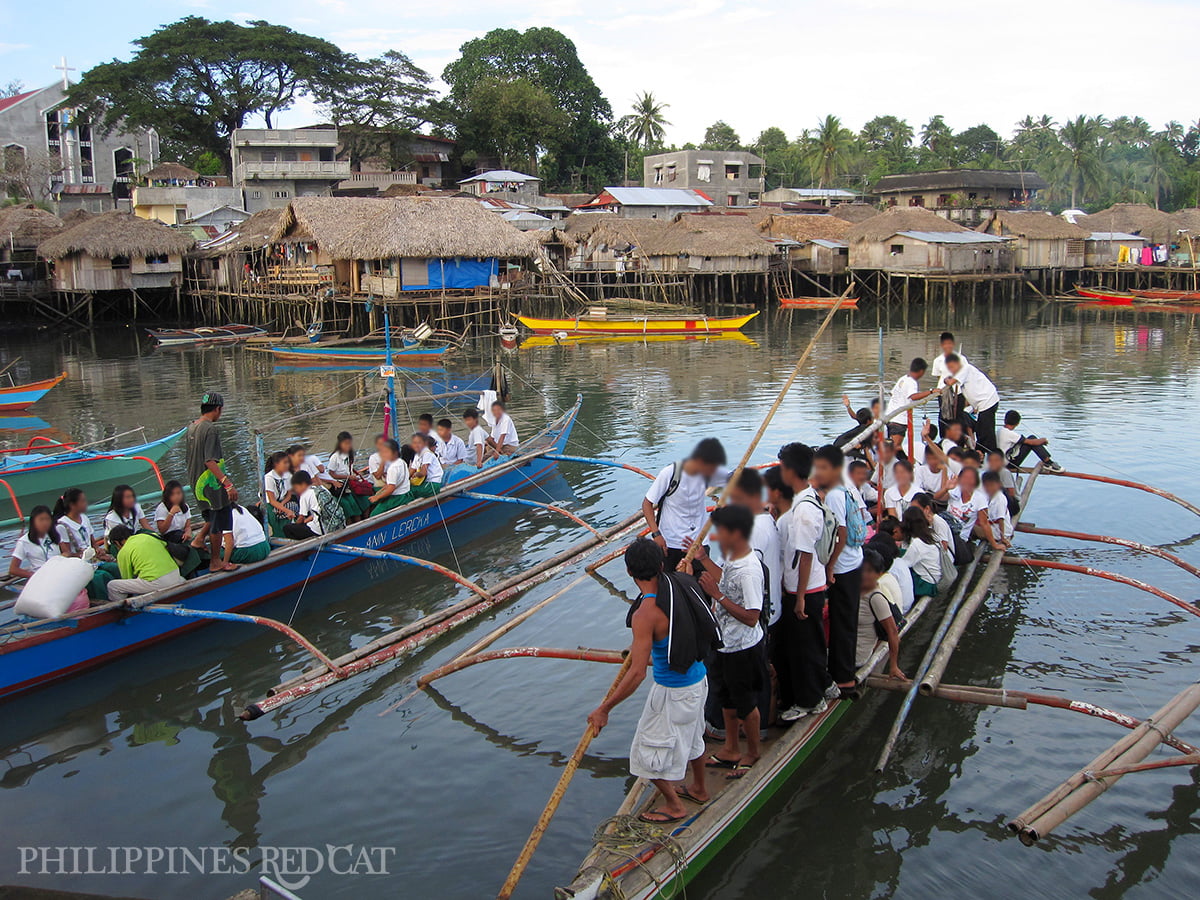 Usually you'll rather board boats like these: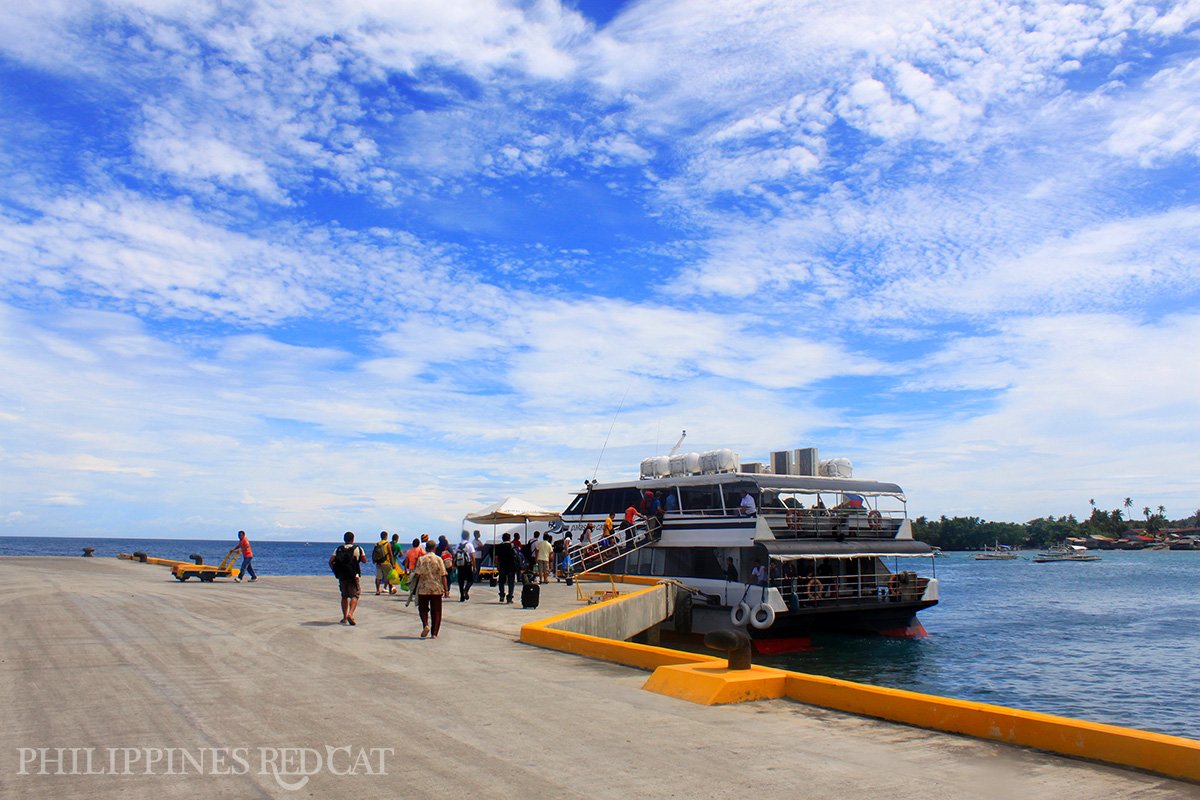 One of the most amazing things about traveling around the Philippines are the memorable ferry rides from island to island. The country has more than 7,000 islands which makes it comparable to Indonesia with its 18,000 islands, but the ferry network is a lot more developed and easier to navigate here in the Philippines.
You'll often find yourself booking combined bus and boat journeys, especially in the Visayas such as
Legazpi to Tacloban
Cebu to Negros / Boracay
Cebu to Bohol
Cebu / Bohol to Camiguin
Cebu / Bohol to Cagayan de Oro
etc.
Be sure to do at least a couple of such ferry trips as this is simply the best way to get a real feeling of how many islands this country has and an idea of the locals' excellent marine skills. Ferry tickets are extremely cheap and usually selling for less than 150 Pesos for a 2 hour trip.
Advantages: Breathtaking views of the ocean, small and big islands and volcanoes.
Disadvantages: The sea in the Philippines (Sulu Sea) can get quite "rough" at times (quick weather changes) means high waves that may cause you stomach problems even on the big boats.
Traveling by Airplane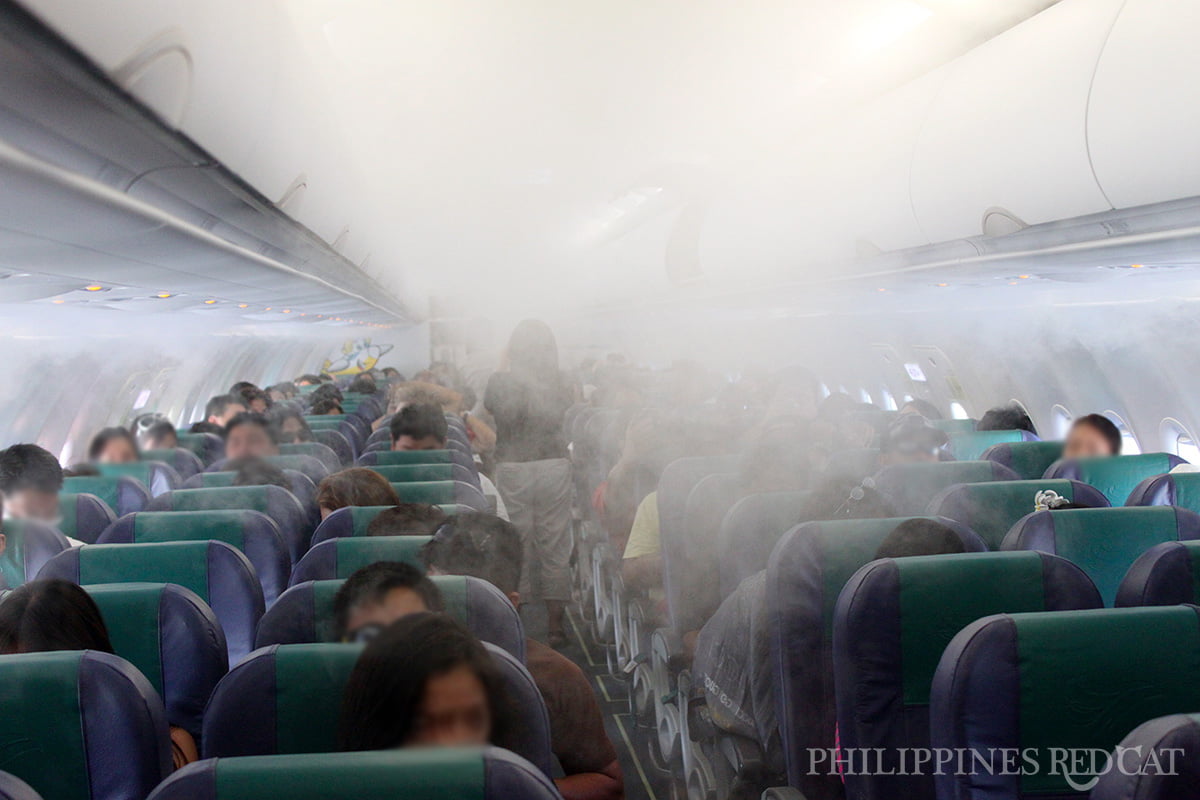 Typical flight on Cebu Pacific.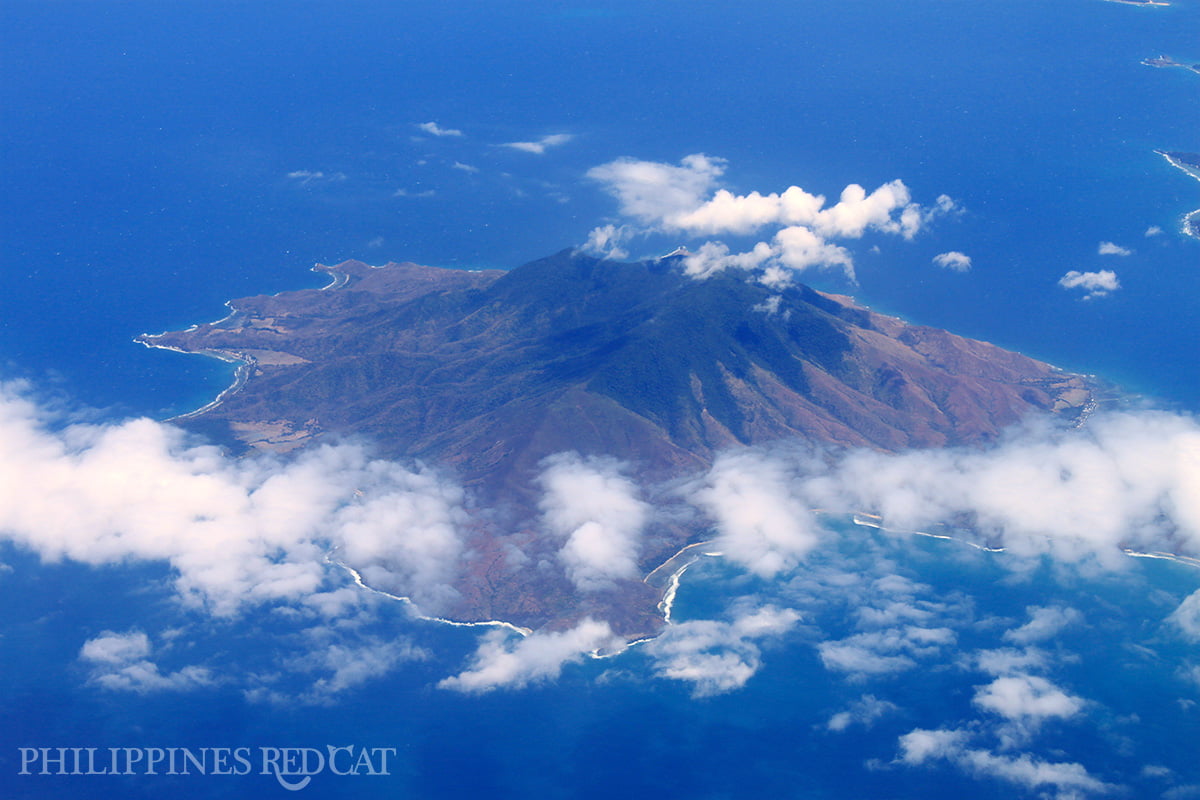 Flying from island to island in the Philippines has never been easier and cheaper. Cebu Pacific Air is the most popular budget airline in the country, followed by main competitor AirAsia. Example: Flight tickets for the popular route from Manila to Cebu (15x daily) can be had for as little as 1,080 Pesos! The national carrier Philippines Airlines offers good value for money, too, but like 80% of the times they are more expensive than Cebu Pacific and Air Asia.
Advantages: Quickest travel option & usually great views over the archipelagos (assuming you pick a window seat)
Disadvantages: Most expensive travel option (but still great value for money if you choose low cost carriers like Cebu Pacific)
How about Rail Transport in the Philippines?
There is currently no rail network existent in the Philippines, so just forget about traveling by train. A few years ago there was the so called Bicol Express from Manila to Naga (Southeastern Luzon) and The Mayon Limited from Manila to Legazpi, but these lines are currently not operating. The only train travel you can do is by the subway in Manila (picture).
Conclusion
I hope you got a good overview now of the different transport options in the Philippines.
I think if you come here for the first time it's best to mix them all up a little so you are both within your budget as well as get to see different things, like driving past rice paddies in the countryside by bus, crossing between islands with the big boat and getting a feel of how many islands this country really has, and similar when you take a flight and book a window seat you'll get to see breathtaking views of paradise-like archipelagos and volcanoes from the bird's-eye view.