Angeles City is the biggest sexual playground for foreigners in the Philippines. There are several thousand of young and sexy Filipina girls working in the different venues or just standing on the street to offer their "services" to foreigners because the competition in the bars and clubs is so high. There is no better place to have sex with Filipina girls than Angeles.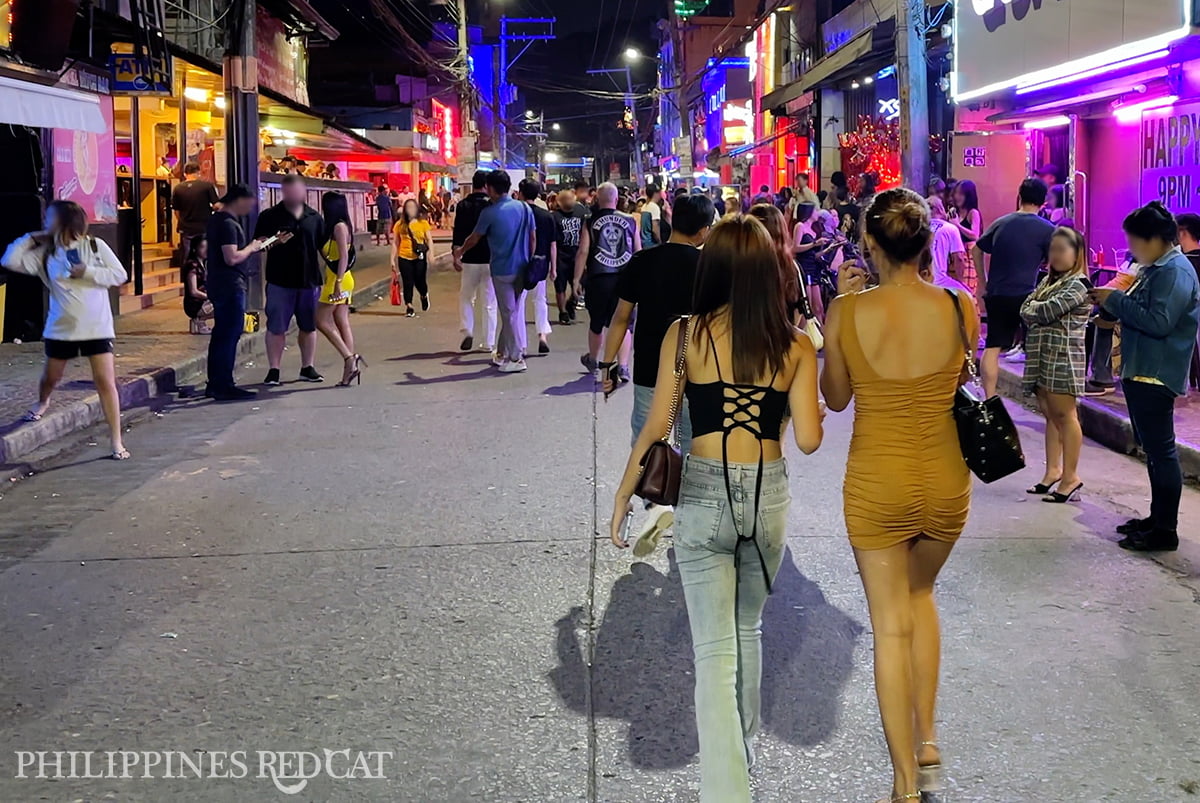 If you have never been to Angeles before, or even if it's your first trip to the Philippines – you will love it. It is also a lot safer than in Manila where you always have to be careful on the street, but here in Angeles it's totally safe because it is all set up for tourists. In this guide I will first give you an overview of the nightlife scene in Angeles and then go into more detail to each type of venue and girls you can find here.
Angeles Nightlife Overview
The center of the nightlife and red light action in Angeles City is Walking Street, a 300m long strip with dozens of go go bars, sports bars, massage salons, two nightclubs and many, many street freelancers. And even better: There are also many nice hotels, restaurants and shops right on Walking Street and that means you don't even need to leave this area during your holiday (no annoying tricycle rides) because everything you need is right there.
Next are the narrow backstreets of Walking Street such as Real St and Santos St that often get overlooked (or simply undiscovered) by many first time visitors. They are mostly popular among expats and return travelers who want to enjoy their time with Filipina ladies in a more relaxed atmosphere away from the hustle and bustle of Walking Street. Or just to meet and greet other foreigners.
And then the third nightlife area in Angeles is Fields Avenue. To get there just walk all the way to the western end of Walking Street and the street that crosses is called Fields Avenue. Here you can find even more sports bars, lady bars, massage salons and another nightclub, but it's not as centralized as in Walking Street, means the distances between the venues are bigger.
Now that you have a rough overview of the nightlife areas in Angeles, let's go into the different types of venues and girls. As always I will include pictures, information on prices, how things "work" in each place, the locations on the map as well as a few videos at the end of the guide.
Go Go Bars in Angeles
The go go bars are the main reason for most men to visit Angeles. They have the youngest and most attractive Filipina girls dancing on stage. Unfortunately, they don't take off their clothes anymore like 10 years ago, however, they still wear tight and short outfits so you can check out their sexy bodies.
It works like this: You go into a bar, take a seat, order a drink and take a look around. There will be girls dancing on stage as well as others who take breaks and even many waitresses are quite hot. Many of them will look and smile at you, trying to get your attention, and all of them will be willing to sit with you, "entertain" you and let you touch them as long as you buy them lady drinks. These are more expensive than your own drinks (see below) but your girl will make sure you have a good time. The ladies are also available for take out (even the waitresses and door girls), in other words you can pay their bar fine and take them to your hotel to have sex.
80% of all go go bars in Angeles City are located on Walking Street, about 5% on the backstreets of Walking Street and about 15% on Fields Avenue. The best bars with by far the hottest girls are on Walking Street, simply because the girls know that most of the tourists go out there so they have the best chances to make money.
Prices: A bottle of local beer costs 130-140 Pesos in the girly bars, lady drinks are 300-350 Pesos (the great thing is you can buy them a beer so it will take them much longer to finish it compared to a tequila shot) and the bar fine is 4,000 Pesos in most of the bars. Some places charge 3,000 or 3,500 Pesos, but their girls aren't usually that attractive.
Important: Unlike in Manila, the price of the bar fine includes the price for sex with the girl. You may only give her a tip of 500 Pesos or so if her service was excellent, but it's not compulsory. Oh, and if you want to waste your money by making the girls scream for 10 or 20 seconds, then you can do so by buying a bucket of ping pong balls (15 balls for 300 Pesos or 150 balls for 3,000 Pesos) or even confetti for 100 Pesos, and then throw it on stage.
Since this is an overview guide of the nightlife in Angeles, that's it for here about the girly bars. I go into much more detail as well as talk about the best bars in this post:
See also: Top 5 Best Girly Bars in Angeles City
Nightclubs in Angeles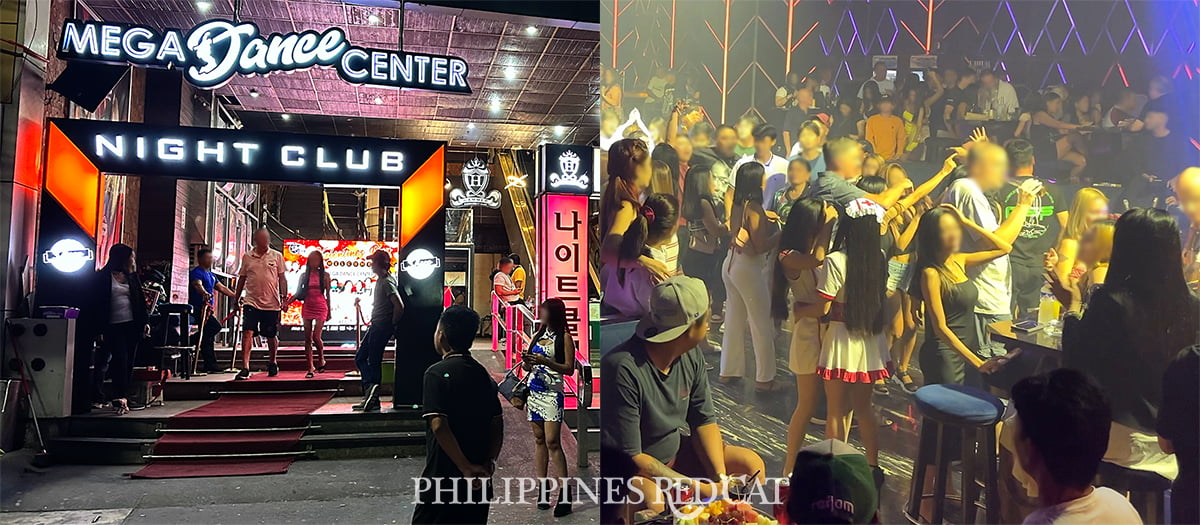 The next place to meet "open-minded" Filipina ladies in Angeles' nightlife are the nightclubs. By far the biggest and most popular one is Mega Dance Center. It's really an institution and may even be the best night club in all of the Philippines for meeting girls. Well yes, they are all freelancers but much cheaper than in the go go bars where you have to pay for your drinks, lady drinks, bar fine and tip.
You can go to Mega Dance Center on any day of the week from about 11pm and find countless of girls just standing around or dancing, some of them with their friends and some of them alone, but all of them with the same purpose: to meet a nice foreigner. You might think the girls are not as beautiful as in the lady bars, but that's not always true. A lot of them are extremely hot too (just look at my picture or video), and you also meet quite a few who have worked in the bar but don't want to share their income with the bar owner anymore. And they are definitely more attractive than most of the street freelancers (see below).
The other two night clubs in Angeles are Hammer Disco on Walking Street right next to Mega Dance Center that is mostly popular among Korean men (and girls who are looking for exactly these two nationalities) and Skytrax on Fields Avenue that attracts mostly Filipinos and has live music on most nights.
Prices: There is no admission fee in all of the nightclubs in Angeles. Especially Mega Dance Center has very fair drink prices with beers for just 130 Pesos, spirits for 200-250 Pesos and cocktails for 150-200 Pesos. Whiskey bottles are a bit pricier but still reasonable if you share it with a group of friends, such as Johnnie Walker Black or Jack Daniels for 5,000 Pesos.
And last but not least: The girls will usually ask for 2,500 Pesos for sex in your hotel, but if you do some negotiating it's not difficult to get them down to 2,000 Pesos or even cheaper than that. It's different for the few extremely beautiful and kind of "Hi-So" girls who would not go for less than 3,000 Pesos.
See also: 3 Best Nightclubs in Angeles to Meet Girls
Happy Ending Massage in Angeles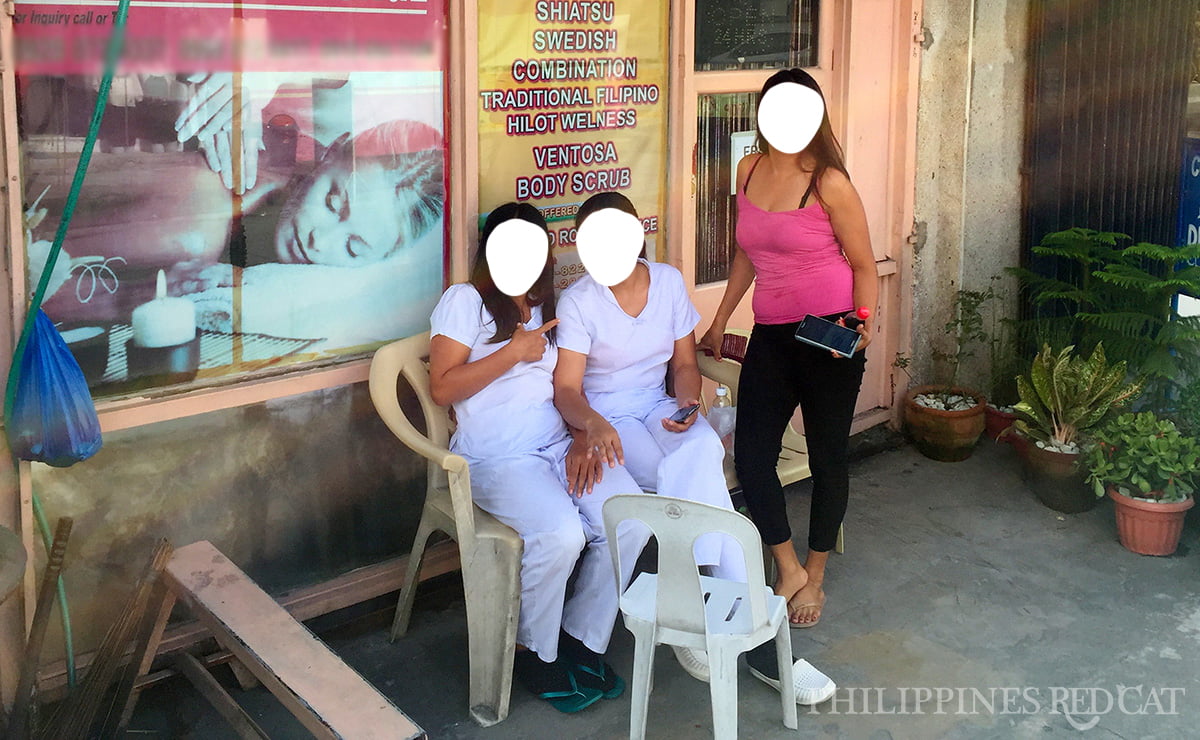 Since there is not much to do in Angeles City during the daytime besides eating, drinking and shopping, a great way to not just kill the boring afternoon hours but also to recharge your batteries (and potentially recover from your hangover) is to visit one of the many massage salons. Those are spread all over the place and aren't difficult to find at all.
However, it's important to be aware that not all massage salons offer happy endings (= hand jobs). Surprisingly it's mostly the shops on Walking Street that do massage only. You might think that those places are the naughtiest ones, but it's exactly the opposite. If you want a happy ending massage then go to Teodoro Street where you can find more than a dozen of small and rather low-key massage salons. Most of the ladies there will eagerly offer their services to you, some of them even sit outside of their shops (like in the picture).
Prices: The standard price for a 1 hour Swedish Massage (= full body massage with oil) is 400 Pesos on Walking Street and 300 Pesos elsewhere. If your massage girl agrees to give you a happy ending then an appropriate tip is 500 Pesos for a hand job. Unfortunately, you will have a hard time finding a masseuse in Angeles who is willing to do a blow job (which would normally be 800-1,000 Pesos) but that's not really a problem, just go to Mega Dance Center and you'll easily find one who will suck your dick for that price (and you save money on the massage, too).
Note that most massage salons in Angeles already close at 9pm, so it's really an afternoon / early evening kind of activity and not like in Pattaya where you think "If I don't find a girl I just go to a massage place to have one jerk me off".
See also: Guide to Happy Ending Massages in Angeles City
Brothels & Sex Massage Parlors in Angeles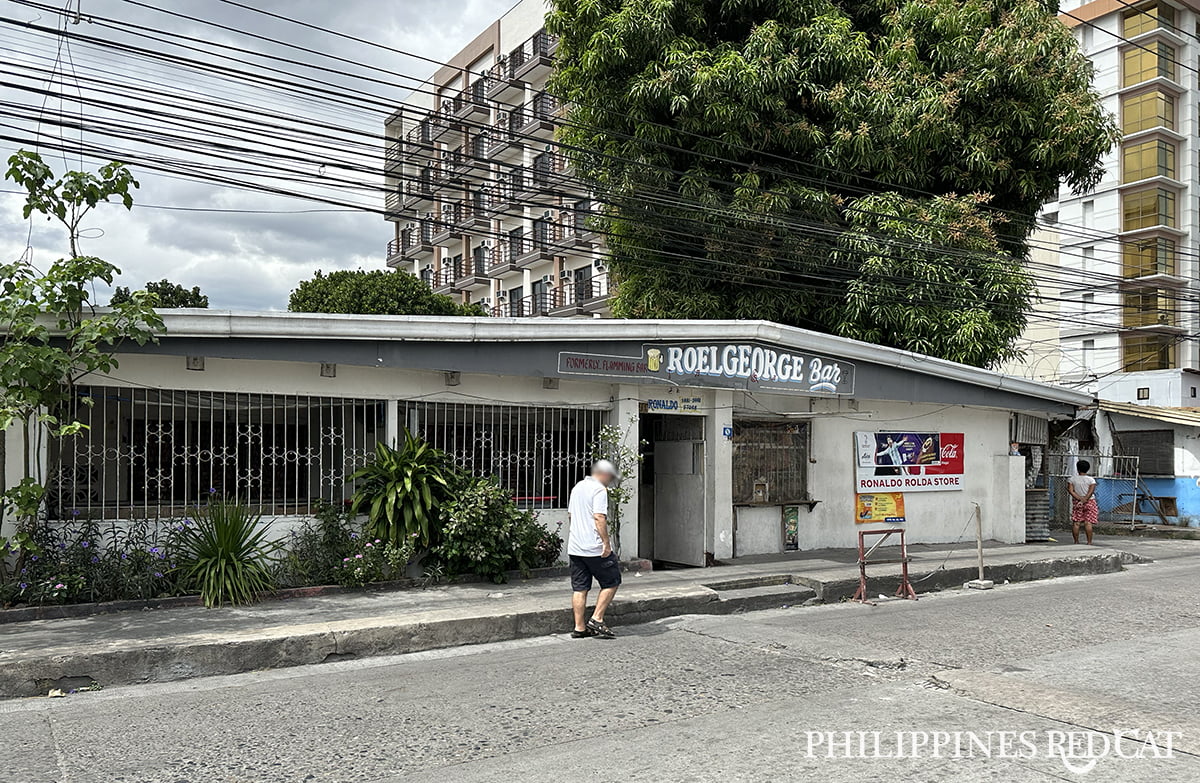 It's quite surprising as Angeles is the sex mecca in the Philippines, but there are no such sex massage parlors comparable to the ones in Manila. I will update this page in case anything changes in the future.
As for brothels, things look different. There is Roelgeorge Bar on A Santos Rd. It's not on Google Maps, but you can find the location on my map down at the end of this guide (light blue pin). It's officially a bar, and while they do serve cool beverages here, there's also a small room in the back where you can take any of the 5-6 ladies working here (they are like 35 years and up) for sex. The price for that is 1,000 Pesos, including the room.
Freelancing Girls in Angeles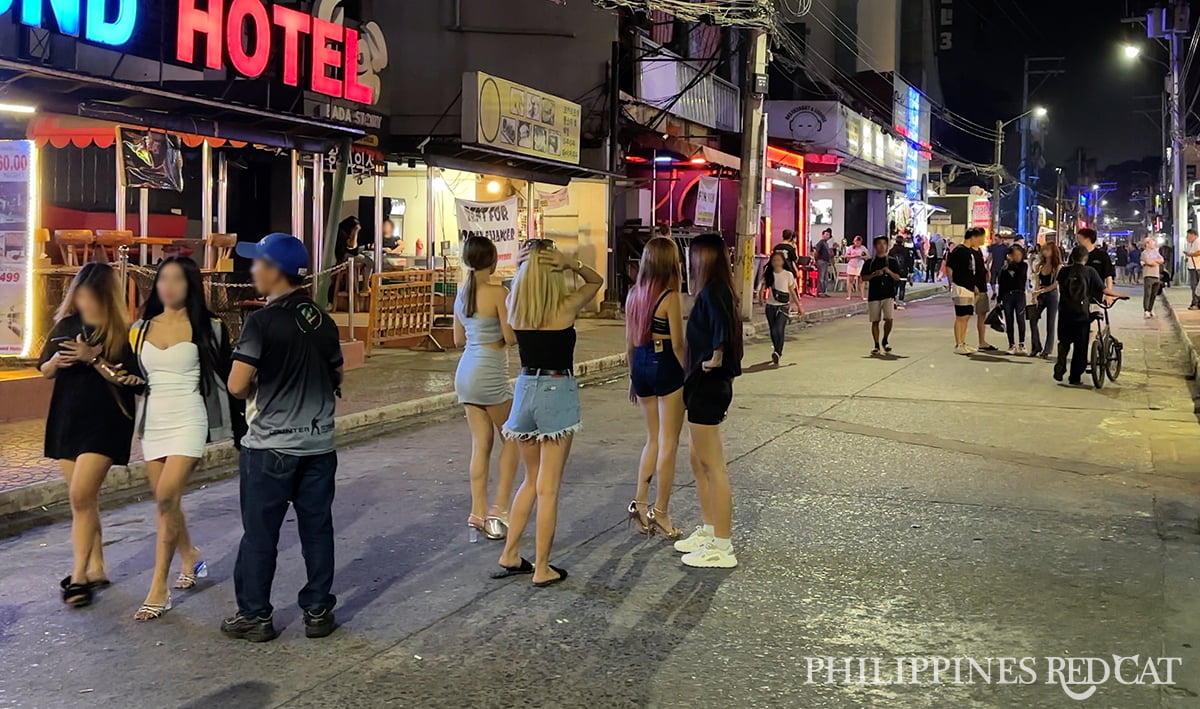 Taking a freelancing girl from the club or right off the street can offer excellent value-for-money, but you need to be a little bit careful. First, if a girl looks suspiciously young – don't take her. Second, when you take a girl, tell your hotel reception to call you before they allow her to leave (they will usually do that anyway). Third, use a condom. And also, don't expect them to be that easy. If you see a cute girl on the street and you say "Hey, how are you?" she might even ignore you. Pinays can have a lot of attitude, even if they are prostitutes, and if there's only a small thing she doesn't like about you she might not be receptive. Don't worry about that too much – there are more than enough fish in the water.
You can find freelancing ladies in Angeles mainly at these three places: 1. In Mega Dance Center nightclub on Walking Street. 2. All along Walking Street (they would often just walk up and down to avoid looking cheap by just standing around). 3. On Santos Street which is a side alley of Walking Street (these girls will offer you "massages"). Mega Dance Center is definitely the best place of all not just because it has the most attractive girls but also because you can find hundreds of girls all concentrated in one small place.
Prices: 800-1,500 Pesos for street freelancers and 1,000-3,000 Pesos for club freelancers. These prices are for short time, if you want her long time (the "girlfriend experience") then you can offer her another 500 or 1,000 Pesos for sleeping with you and leave the next morning after breakfast (or before, it's all negotiable).
Ladyboys in Angeles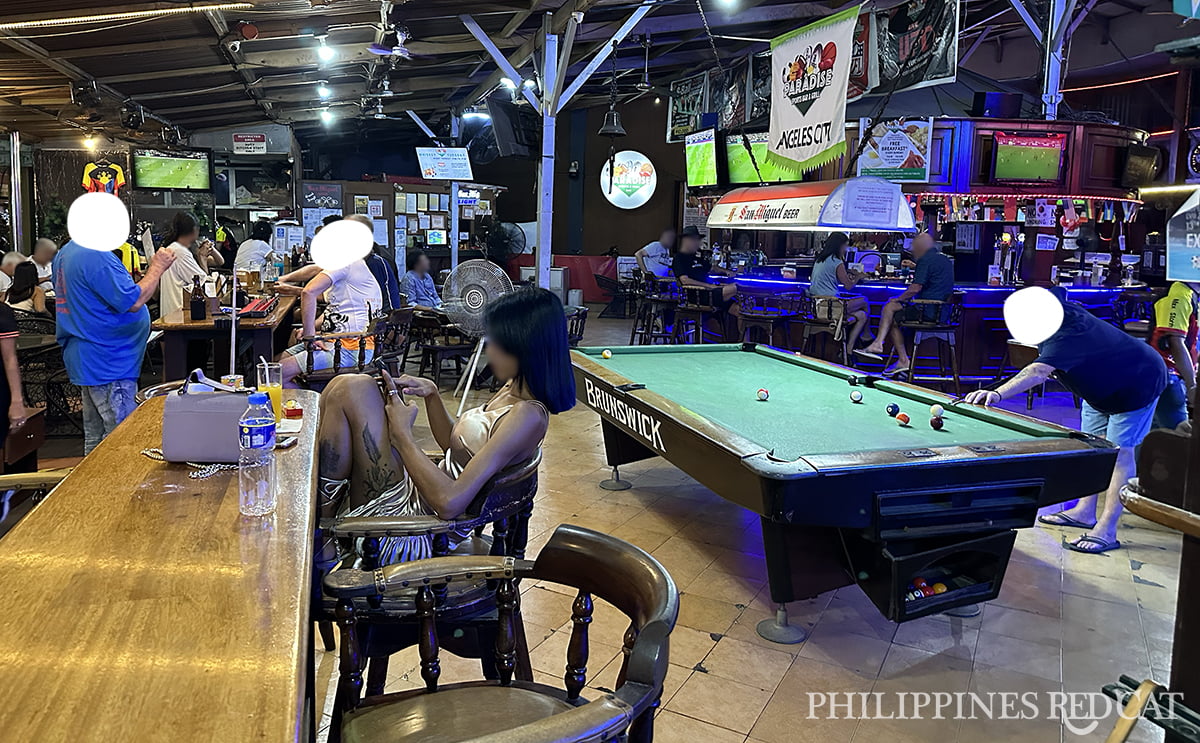 The nightlife in Angeles couldn't be more diverse and really has something for everyone. So if you want to make your fantasy to have sex with a Filipina ladyboy come true, then this is probably the best place in all of the Philippines to do it. Nowhere I have seen more attractive ladyboys than here in Angeles – not even in Cebu.
I have created a separate guide on this topic (see link below) but just to give you a quick overview: There are no ladyboy bars in Angeles, means all of them are freelancers. They like to hang out in front of the western entrance to Walking Street and you also see some of them playing pool in Paradise Sports Bar. Mega Dance Center allows only a few selected ladyboys to enter and keeps the rest out, so it's not really the best place to go in this regards.
Prices: 1,000-2,000 Pesos for short time (negotiable).
See also: 5 Places to Meet Ladyboys in Angeles City
"Normal" Nightlife Spots in Angeles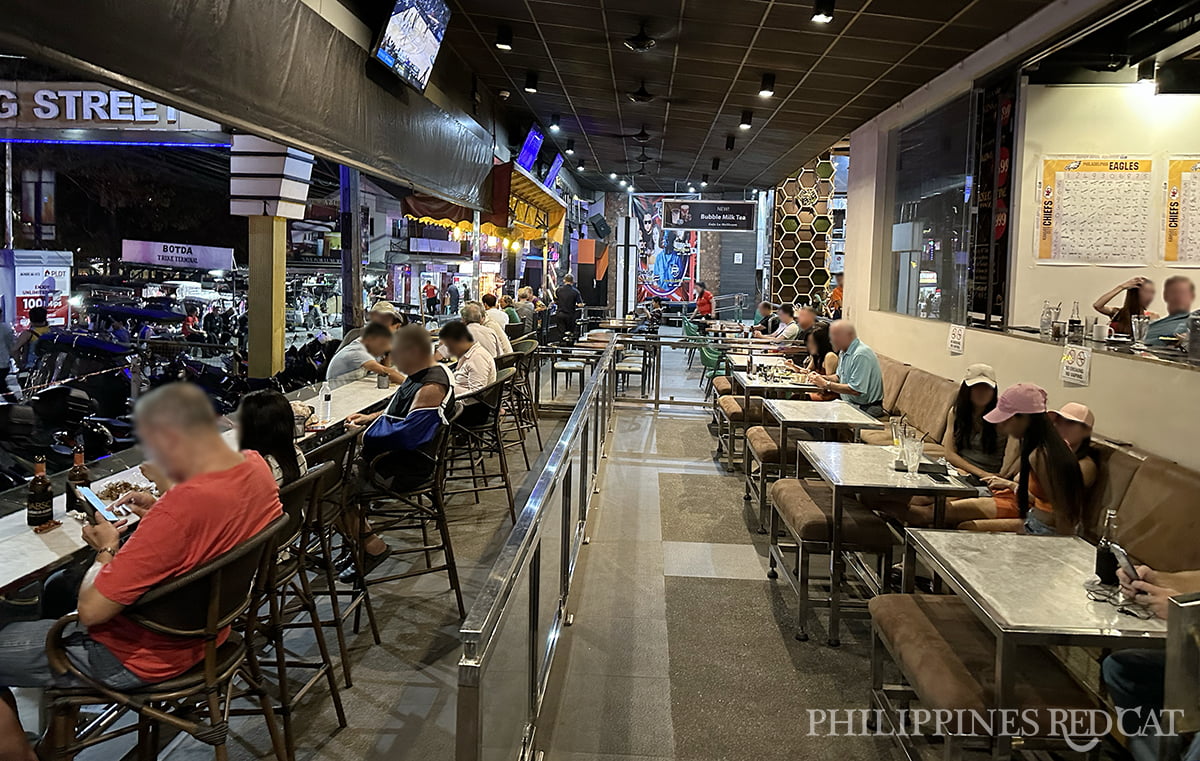 Since Angeles is a total sex town it's almost impossible to find a "normal" bar that isn't full of hookers. Three nice exceptions are the following:
The Australian owned Envy Sports Bar (picture) is hands down the best hangout place and restaurant in all of Angeles. Every time I'm in town, I have most of my meals there. It's also fun to just relax and watch the interesting street life at the entrance of Walking Street.
Kokomo's is more like a restaurant but has nice views over Walking Street, and the Pool Club at the ABC Hotel is an experience in itself.
That's it, and again your activities in these places will probably be again to watch the girls on the street – it's just all too distracting. So if you would like to read a book then you might as well just stay in your room.
Prices: 90-100 Pesos for a beer. The Pool Club is slightly pricier and has a minimum consumable charge of 500 Pesos for non-guests.
Map of Nightlife in Angeles City
You see the nightlife in Angeles is really diverse and you will surely have a great time here. I would say five nights is a great amount of time to spend here, so if you have like a week or even more then I would definitely recommend you to take a trip down to Subic Bay for a couple of days. It's obviously much more quiet than Angeles but great for a change of scene and a few relaxing days on the beach. There are also plenty of bars and the prices for girls are even cheaper than in Angeles, even though the selection isn't nearly as great to be honest.
That's it for the nightlife guide to Angeles City. I will update it from time to time to make sure all information and prices remain valid.
See also: 5 Best Girl Friendly Hotels in Angeles
Videos of Nightlife in Angeles City