While it's certainly worthwhile to spend the first couple of days of your trip to the Philippines in Manila, it probably won't take long until you feel like you want to get out of there again. And here's why: Manila is without doubt an exciting city with all its super modern shopping malls, tourist attractions, sky bars, nightclubs and of course the infamous red light areas.
However, sooner or later you will realize that you spend hours every day in the taxi and stuck in traffic, most of the parts of the city are extremely chaotic, not always 100% safe and most importantly: The prices for "entertainment" means especially lady drinks and bar fines for the girls are up to 50% more expensive than in other cities.
Angeles City is just 84km north-west of Manila and gives you a much better deal for a single man's holiday. All the bars, clubs, massage salons, freelancers, hotels, restaurants etc. are conveniently located in one small area without much traffic so you don't even depend on tricycle rides, because everything you need is within walking distance.
In other words: You will spend a lot more time and money in Manila to achieve the exact same end result like in Angeles: to lie in bed with a beautiful Filipina girl at the end of your day. So if you are like me, you would spend 2 nights, or 3 nights at most, in Manila before taking the bus up to Angeles.
In this guide I will describe the 3 most common ways to travel from Manila to Angeles and vice versa. I will put a priority on the bus travel as this is the best value-for-money type of transport and that's what you are probably interested in anyway. I will also shortly describe the other two ways to get there which are the taxis and limousines.
If you are interested I will also include information on how to get to Angeles from Manila International Airport (NAIA) in case you want to skip the capital completely. And then at the end of the guide I have a map illustrating the transportation hubs in both cities as well as a nice video I took on my bus ride last month. Let's go!
Manila to Angeles by Bus
There are many bus companies serving the Manila – Angeles route and the most popular one is Victory Liner. No need to pre-book your seat, you can just buy the ticket at the station. Take a taxi to Victory Liner Pasay Station.
Once you have arrived there, go to the office and buy a ticket to "Dau" which is the name of the bus station in Angeles City.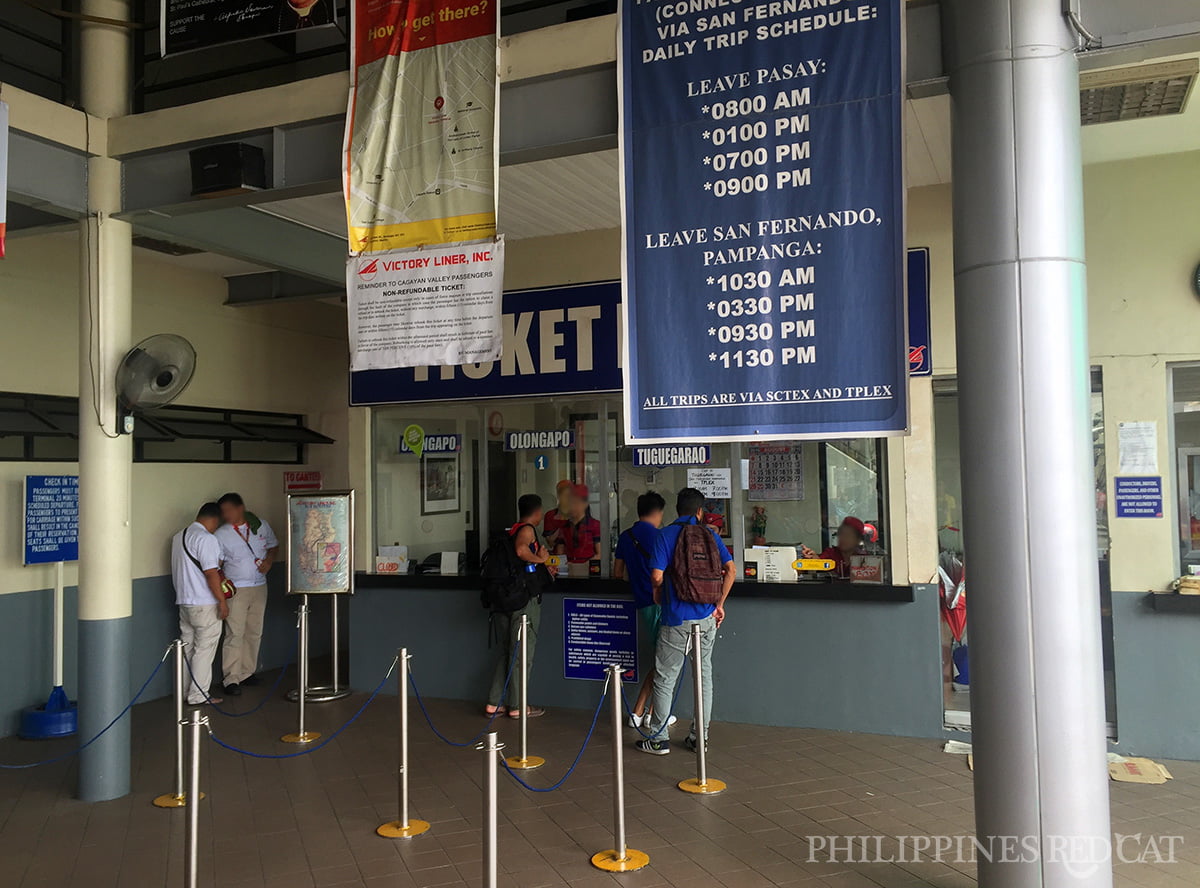 There are departures every 30-45 minutes from early in the morning to late in the evening, so you will never have to wait very long, and you don't need to worry about "missing your bus" in case the taxi is stuck in traffic (which is likely the case, it took me 40 minutes to only get from my hotel in Malate to the bus station).
The bus fare is 150 Pesos plus 5 Pesos for travel insurance.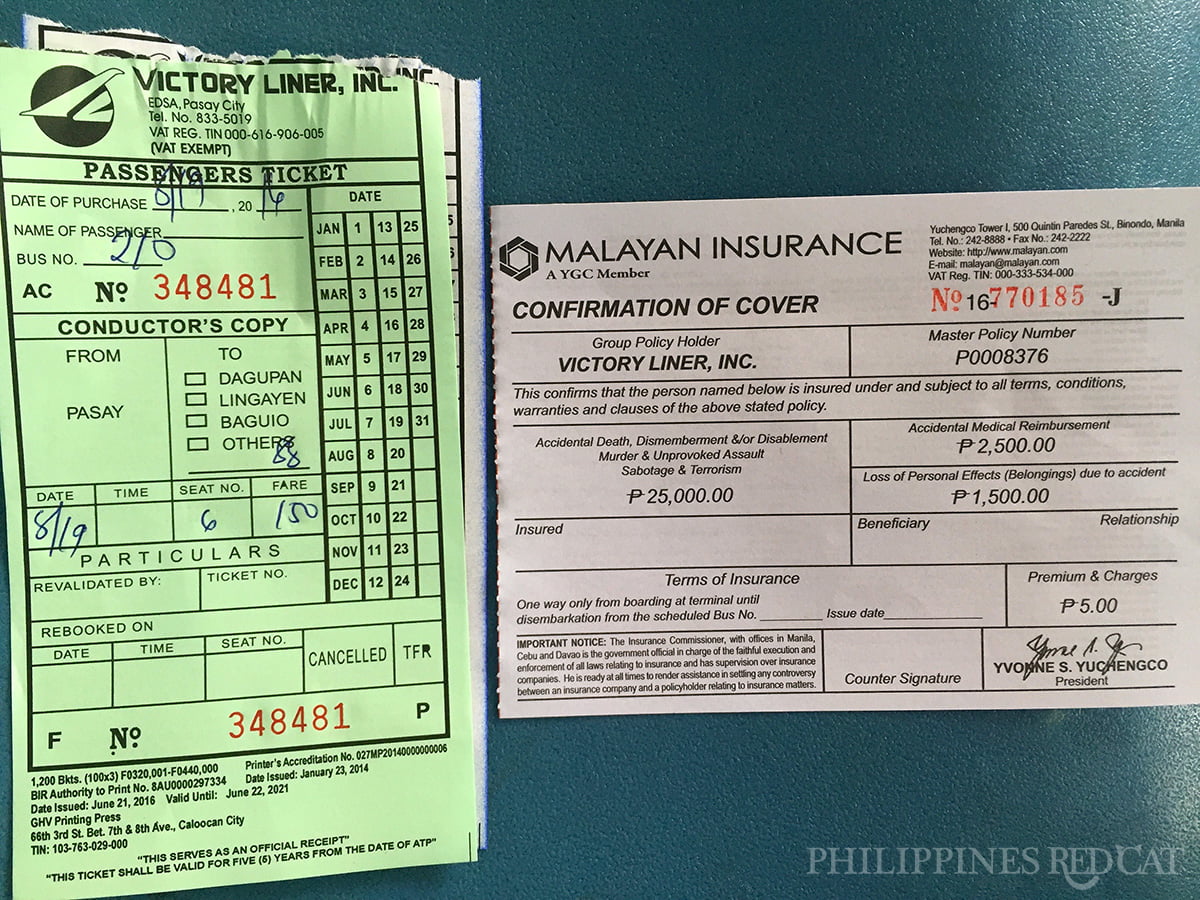 Note that you will get a seat assigned (in my case seat no. 6) and you can ask the nice ladies at the ticket office (see video below) which ones are available so you can choose a seat more in the front or more in the back, whatever you like.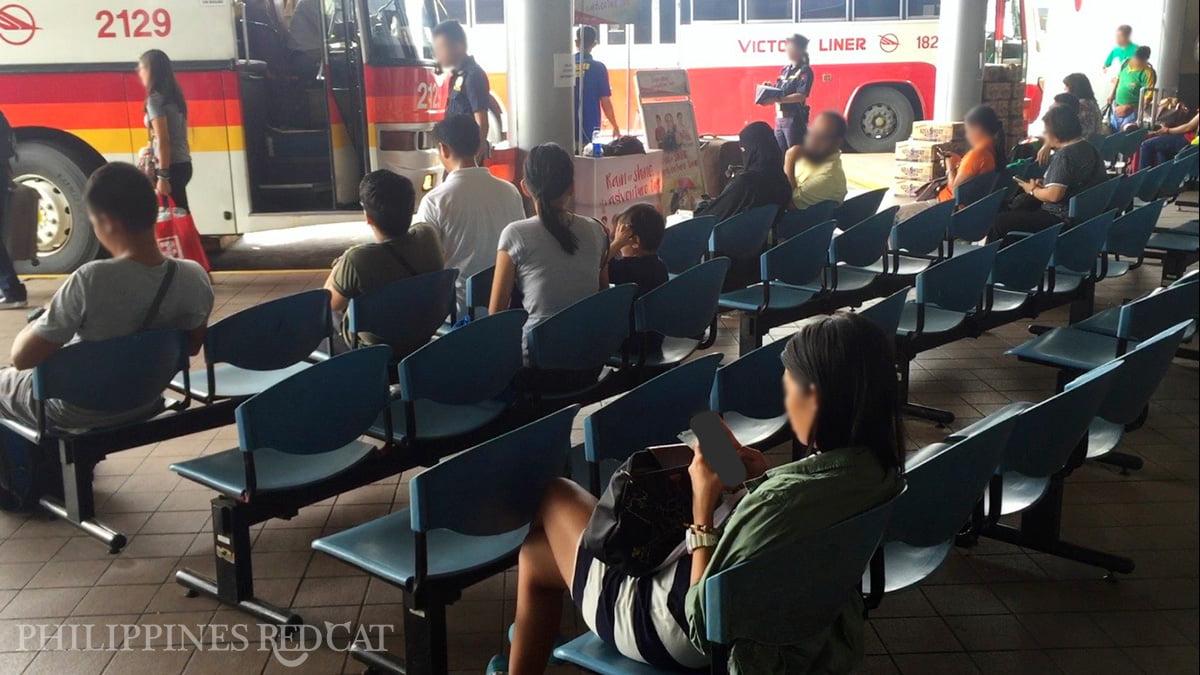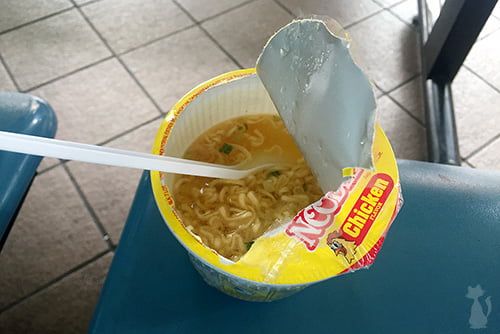 Then you will probably have to wait for 15 or 20 minutes until the bus departs. That gives you enough time to get a snack. Don't expect any decent food here, I usually just grab some cup noodles to fill up my stomach a little until I get to Angeles and have a proper meal. You might even consider leaving Manila after lunch, because the whole trip will take you longer than you might think (about 4 hours, I'll explain in the next paragraph) and they don't stop anywhere for food or toilets (by the way, there are no toilets in the busses, just so you know).
And if you feel bored there is probably someone lovely you can talk to while you are waiting.
The bus trip from Manila to Dau takes 2.5-3 hours. You might be surprised because the distance is only 84km. Well that's true, but it already takes an hour and a half to get through all the dense traffic in Metro Manila and Quezon City. Then another hour or so until you reach Dau.
Once you have arrived at Dau Bus Terminal you will need to take a tricycle to Angeles City. The distance is just about 1.6km to the center of Walking Street. On a nice day and with little luggage you could even walk there.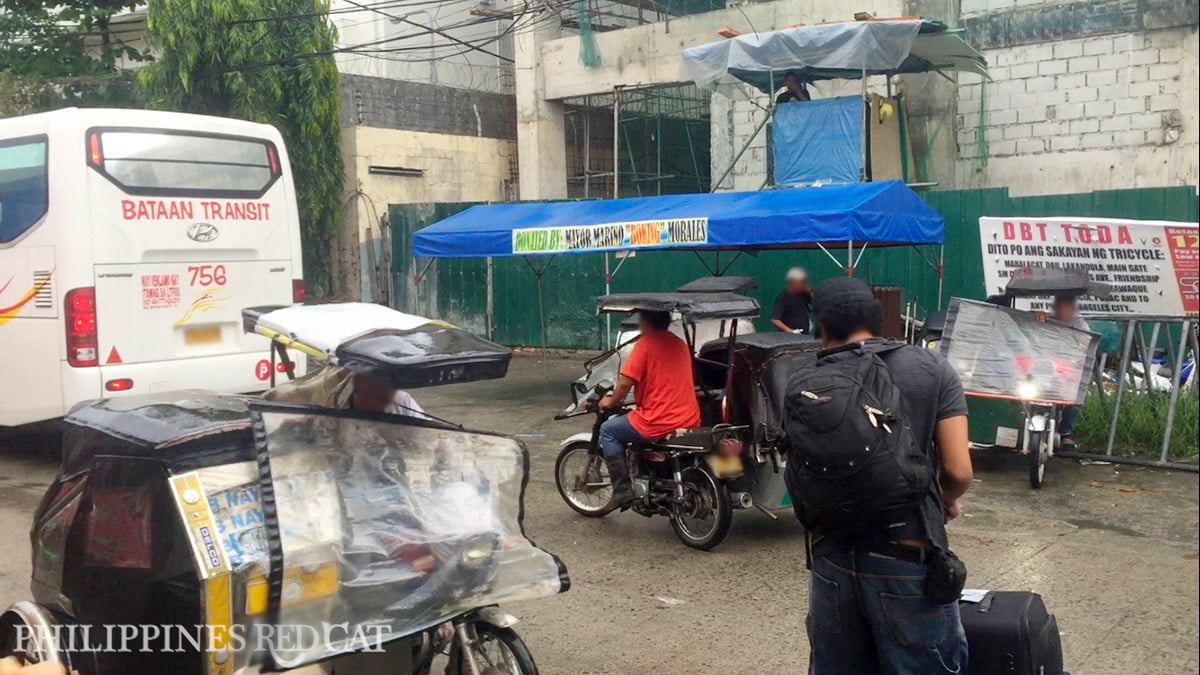 Of course the tricycle drivers will try to overcharge you and ask for 150 Pesos for this short trip. However, they will all accept 100 Pesos and if you do some bargaining you can get them down to 70 or 80 Pesos. For the local Filipinos the fare is just 40 Pesos.
There you have it – you can either walk from Dau Bus Station to Angeles in about 20-30 minutes or take a "trike" so you will get there in 4-5 minutes. I guess you are quite hungry (for food of course) when you arrive and will opt for the 2nd option.
To sum up the trip:
Taxi from downtown Manila to Victory Liner Pasay Station: 45 Minutes, 150 Pesos
Bus from Manila to Dau: 2.5 hours, 155 Pesos
Tricycle from Dau to Angeles City: 5 Minutes, 80 Pesos

Total Travel Time:

About 3 hours and 45 minutes (including waiting times)

Total Cost:

385 Pesos
Make sure to check out my video of the bus ride last month at the end of the post.
Alternative to the Victory Liner Bus: If that all sounds a bit too much work for you (it really isn't) then you also have another option: You can take the bus at the Swagman Hotel in Ermita (click the link to find the location on the map). It costs 600 Pesos, is a bit nicer and they will drop you off at your hotel in Angeles. But it's more expensive and they only run at scheduled times (2-3 times a day) whereas Victory Liner runs every 30-45 minutes.
Manila to Angeles by Taxi
If you don't want to travel by bus at all, then of course you can also pay a taxi or private car to drive you there. Your hotel will be able to arrange that, but it will cost more than if you do it by yourself. You can just ask the taxi drivers on the street if they want to do the trip (not everyone wants to drive up there) and how much they charge.
The common price range for a taxi or private car from Manila to Angeles is 3,000-4,000 Pesos and you will get there about 30 minutes sooner compared to the bus, means in just about 2 hours.
Manila to Angeles by Limousine
If you want to travel in style and impress the ladies on Walking Street when you arrive, then you can even arrange a limousine to pick you up. The price for that is 6,000 Pesos and up and for that you will indeed need to talk to your hotel to arrange it or go on some expat forum where some guys may have some contacts or numbers. From what I have heard some of the providers even have sexy girls waiting for you in the back to make sure your trip will be as pleasant as possible.
Manila Airport to Angeles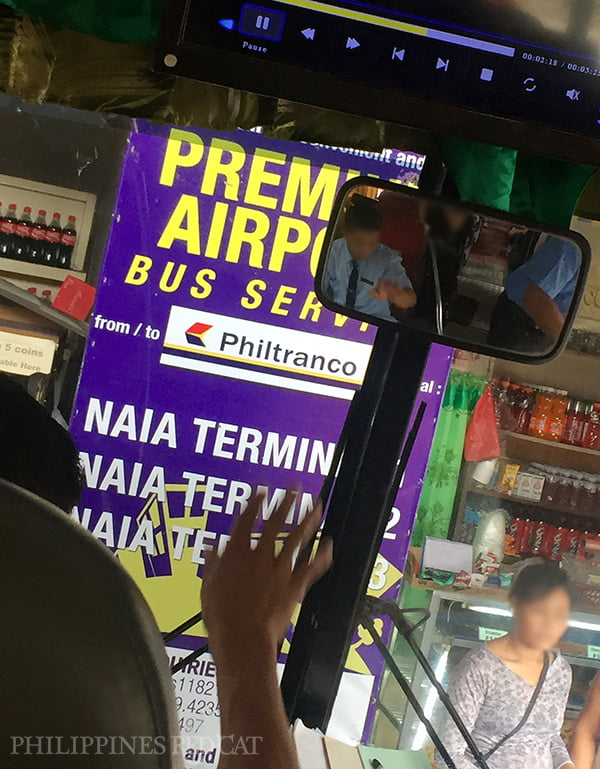 In case you don't want to spend any time in Manila at all and get to Angeles on the quickest way possible from the airport then this is how you do it. Note that there is also an airport in Angeles (Clark) and if you land there you can just get a jeepney to Angeles for 50 Pesos or a tricycle for 300 Pesos.
However, if you arrive at NAIA Airport in Manila then you will just exit the arrival hall and find the official yellow airport taxis waiting in line. They are the easiest and safest to use and have a service charge of 50 Pesos. They all use the meter. Tell the taxi driver to take you to the Victory Liner Pasay Station, and from there follow my advice as described above. The fare should be less than 100 Pesos as Pasay is not far away from the airport.
Philtranco has busses leaving for Angeles right at the airport, but the services are not as frequent as Victory Liner and to be honest, I can't tell you the exact location from where they are leaving because I never took one on this route. I suggest you just ask at the tourist information at the airport and if it turns out too much hassle (or a long waiting time) then just take the taxi to Victory Liner Station and from there a bus up to Angeles.
Map of Transport in Manila & Angeles
How to get from Angeles City back to Manila?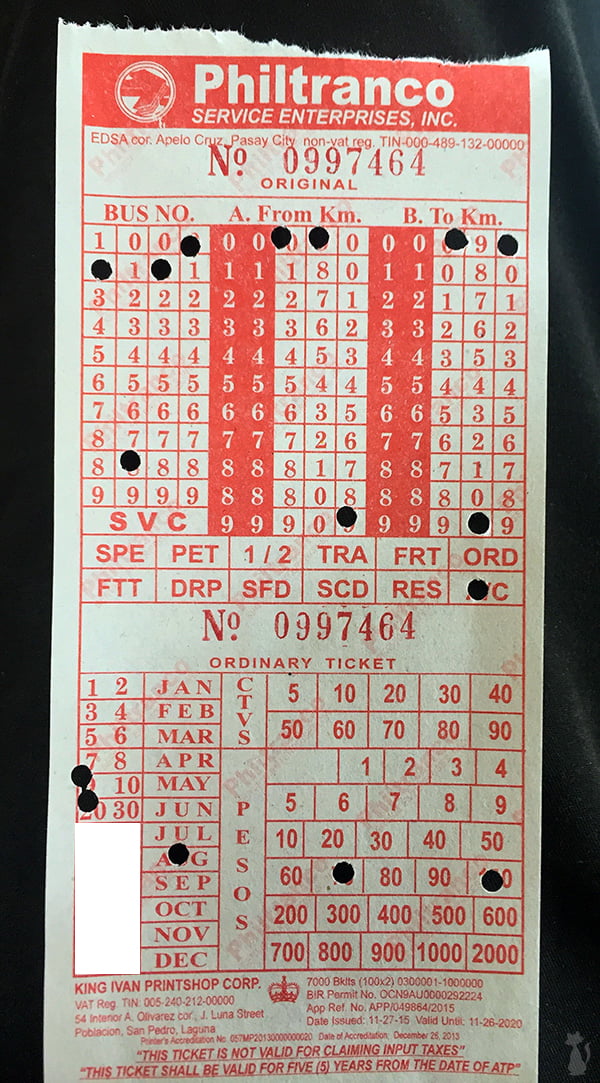 Once your time in Angeles is up and you said goodbye to all of your new friends, it's time to either continue your trip down to Subic Bay or travel back to Manila. You obviously have the same transport options as when you came here, means either bus, taxi or limousine.
All prices will be the same, means you just go to the main road and ask a tricycle driver to bring you up to Dau Bus Terminal. You will even find many of them waiting in front of your hotel on Walking Street or elsewhere, but they are less likely to give any "discounts" and stick to their ridiculous quote of 150 Pesos. So just go to the main road and you will easily be able to get one for 80 Pesos.
On my last trip back to Manila I actually took the Philtranco bus just for a change from Victory Liner. Pretty much the same type of bus and the fare was 170 Pesos. And again no toilet in the bus, I actually needed to pee urgently halfway down and the driver was so kind to stop at a gasoline station (other Filipinos left the bus to pee as well, they were obviously too shy to ask the driver).
If you are in a group of 2 or more you can also try to talk to a taxi driver and he might give you a good price (2,500 Pesos or less) because he needs to get back to Manila since that's his place to work, not Angeles.
Video of Bus Ride from Manila to Angeles