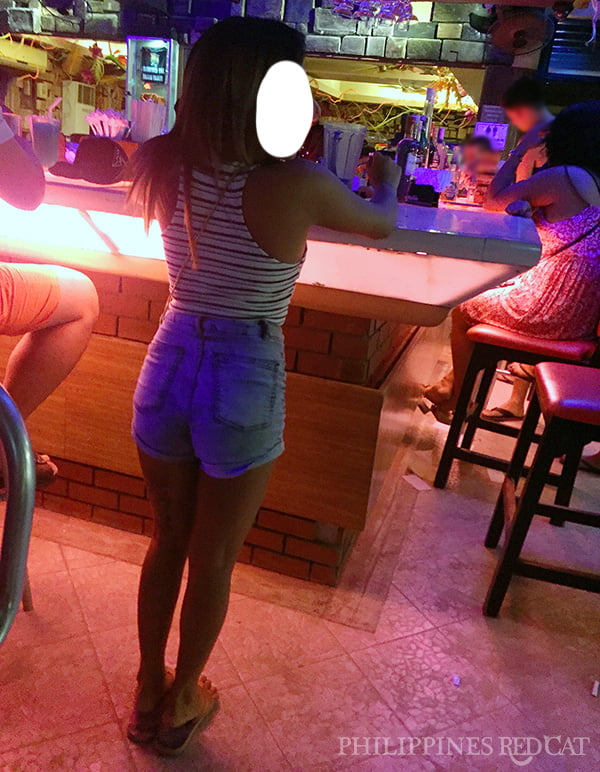 Everyone knows that Boracay has one of the most beautiful beaches in the Philippines (it's often marketed as the whitest beach in the world), but the one aspect about this island that doesn't get a lot of attention in the mainstream travel guides and blogs is the nightlife or more precisely: the different ways for foreigners to meet young and attractive Filipina girls in Boracay.
So in this guide I'll give you the full overview of the girls scene on the Philippines' most popular tourist destination, as well as where to find the best bars, nightclubs, massage salons and more.
The great thing about going to Boracay as a single western man is that you can meet both attractive and open minded Filipina girls who come here for holiday (and are in adventure mood) as well as the full range of hookers who will ask for some cash to join you to your hotel – but then really know how to please you and make you feel good.
And besides all that, you'll see countless of incredibly hot and beautiful Korean girls all over the place, but 95% of them come with their boyfriends so it's usually just looking. But believe it or not, there are even a couple of Korean hookers frequenting the bars and clubs, especially Coco Bar seems popular for them to hang out (see below).
Boracay Nightlife Overview
Just to give you a quick overview of the nightlife scene in Boracay so you got some orientation before I go into the categories: 95% of all nightlife venues on the island are found along White Sand Beach. This is the most developed and most beautiful (but obviously also most crowded) beach where most of the hotels and guesthouses are located.
White Beach is divided into 3 "Stations" to give tourists orientation and ease the communication with the tricycle drivers on where to drop them off. The majority of bars, clubs, restaurants and massage salons are located between Station 1 and 2, that's the central to northern part of the beach. Needless to say that you are best off staying around Station 2 if nightlife is one of your priorities (of course it is). There is no Station that's more expensive than the others, but obviously the closer the hotel to the beach, the more expensive the rooms.
With that being said, let's jump into the different types of places to party in Boracay and to meet Filipina ladies:
Girly Bars in Boracay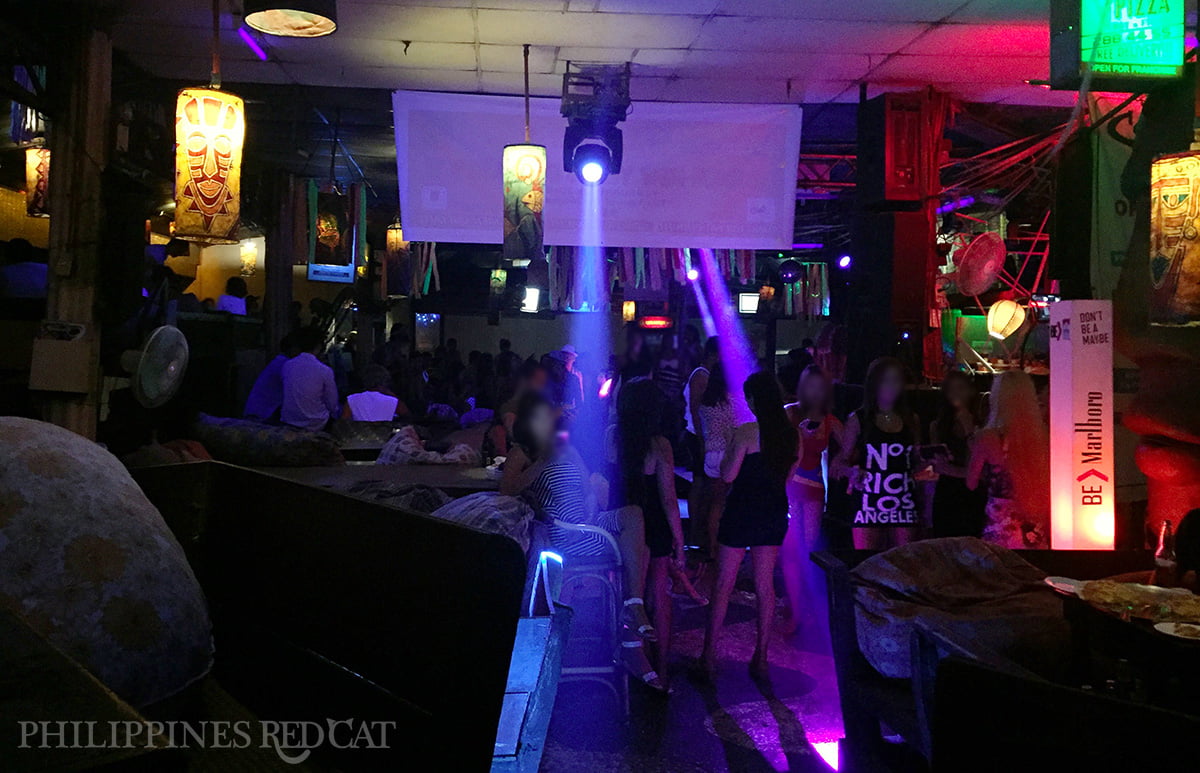 While there are no Bikini Bars or KTVs in Boracay that have girls employed to entertain foreign men like in Cebu, what you instead find are several bars that attract freelancing girls. The number one place in this category by far is Cocomangas (picture) in Station 1 that's the longest running bar in Boracay (since 1987) and the most famous girly bar on the island.
You can imagine it like this: The are several dozen of girls hanging out at the bar, just waiting for someone to make eye contact and to invite them for a drink. Since they are not employed by the bar there is no such thing as lady drinks, you would just pay the price on the menu (they usually ask for a San Mig Light, San Mig Flavored or Whiskey Coke). Unlike most other bars it's actually better you come to Cocomangas a little earlier around 9pm before the best girls are taken.
The only thing that kind of sucks at this place is the setup: There's a large dance floor (that tends to get busy around midnight with mostly western tourists) but relatively few tables and chairs around the bar where all the ladies are hanging out. So again, don't come too late or you won't find a place to sit near the girls.
Prices: There's a daily happy hour until 9:30pm with buy one take one drinks for 150 Pesos, otherwise it's around 90 Pesos for a beer, 160 Pesos for spirits, 170 Pesos for cocktails and 370 Pesos for several buckets with 12 shots. The girls are usually asking for around 3,000 Pesos for short time, but if you get along with them well they will quite possibly agree on something like 1,500 Pesos. But that means you would talk to her first and buy her a drink or two (or three).
See also: 4 Best Girly Bars in Boracay
Normal Bars with Girls in Boracay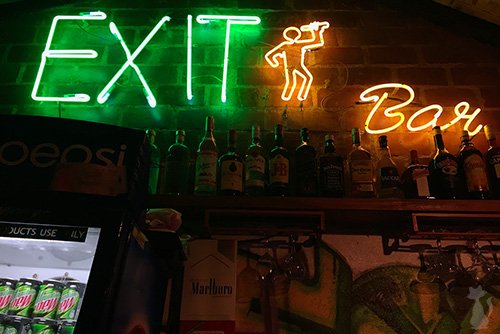 Of course there are also plenty of bars all along the Beach Walk, especially around Station 2. Unlike at Cocomangas the Filipina girls tend to go out to these bars much later around 10-11pm. Before that, you'll find almost exclusively Western and Asian tourists drinking, chatting and watching the constant flow of people walking up and down the Beach Walk.
One of the bars that stand out here is Coco Bar that makes you feel you are in the middle of a jungle when you first come there, however the whole bar and furniture is very modern and the red light makes the atmosphere pretty exciting. This is one of the most popular places for freelancing girls to hang out and look for customers while playing some games. Right next to Coco is Exit Bar that tends to get busy later around midnight, but then has even more Filipina girls partying and that would mean both freelancers and tourists from Manila.
Prices: Beers are cheap as always around 70-80 Pesos, whiskey and cocktails about double that price from 150 Pesos. And if you want to take a Filipina working girl back to your hotel for sex then a realistic price is anywhere between 1,500 and 3,000 Pesos.
Nightclubs in Boracay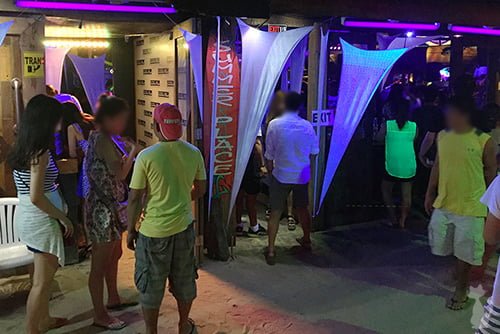 The line between bar and nightclub is very thin in Boracay. Some places even look like normal and romantic beach restaurants in the evening, but if you come back there on midnight it suddenly changed to a loud and busy open air night club with a stage for the DJ and laser show all over the place. Epic is just like that and probably the best visited club on the island. One of the main reasons for this is because it's pretty much all outdoor and even if you don't pay the cover charge you can still buy a beer at a neighboring bar and hang out with dozens of other people outside on the Beach Walk.
Summer Place has a different concept. It's also on the Beach Walk between Station 2 and 3, but it's all indoor and you'll need to pay a cover charge to enter. It's really hard to say what is the best nightclub on Boracay as it depends on the night, so I would just recommend you walk along the Beach Walk to see what you like, from Station 2 up to Station 1 and that's where Club Paraw is located in an otherwise rather quiet area with mainly restaurants (and Cocomangas across opposite).
Prices: There is usually no cover charge except at Epic (300 Pesos incl. 2 drinks) and Summer Place (300 Pesos no drinks included). Local beers 80-90 Pesos (San Mig Pilsener, San Mig Light, Red Horse), international beers 220 Pesos (e.g. Heineken), Whiskey around 160-180 Pesos, Whiskey bottles JW Red 1,700 Pesos, Jack Daniels 4,500 Pesos. Prices obviously differ from place to place, but these are the going price ranges.
See also: 5 Best Nightclubs in Boracay to Meet Girls
Happy Ending Massage in Boracay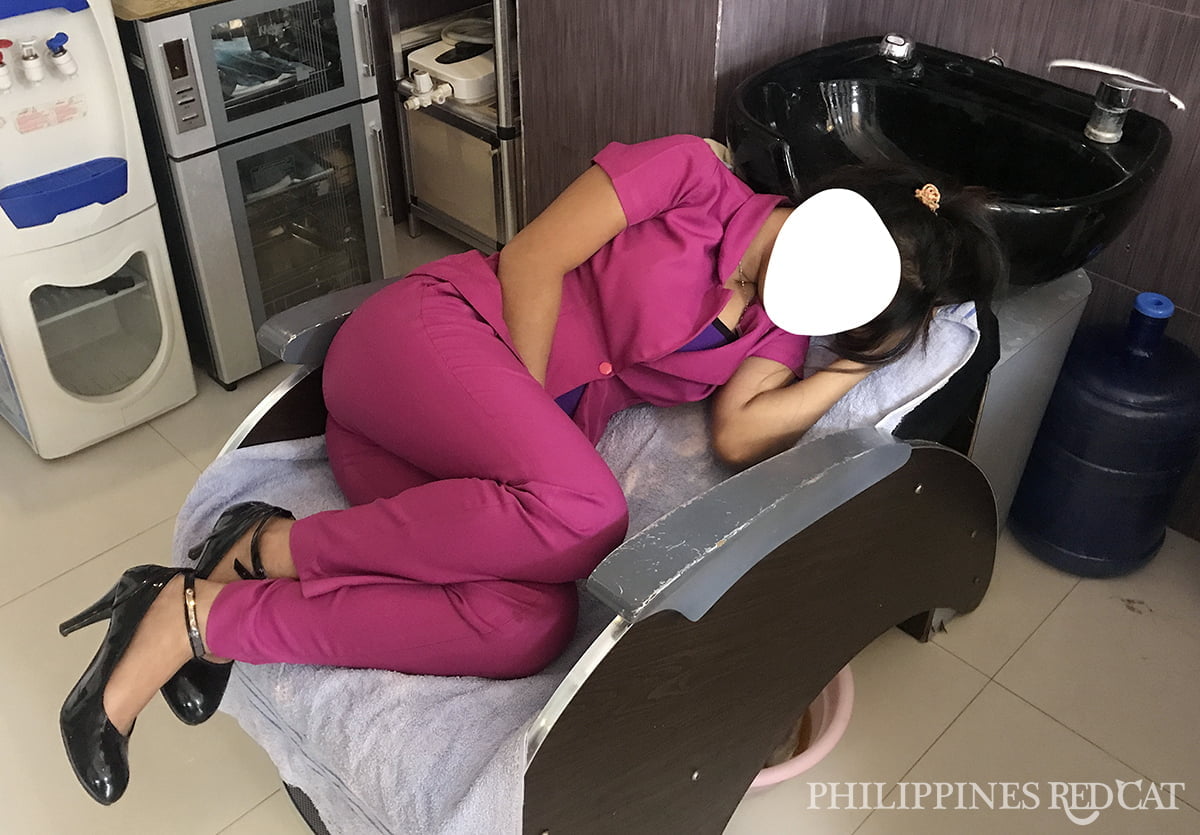 The truth is that while you'll find countless of little massage salons all over White Sand Beach, the chances for a happy ending in Boracay are extremely low. It's very different compared to Thailand. That's quite surprising because a lot of the ladies are eagerly smiling when they're saying "Massage sir? It's only 400 Pesos for one hour" so you just can't help but think they're willing to give you "special" in exchange for some tip.
However, what you will usually experience when you ask them "Can you massage here?" is often just a plain "No, sir", often followed with an explanation that her boss doesn't allow this or she has never done it and doesn't want to or whatever. I'm not saying that's impossible to get a happy ending in Boracay, but it really depends on the girl and how good you are going on with each other. I have highlighted two places in blue color that tend to have more young and attractive girls than elsewhere.
Prices: 350-400 Pesos for a one hour "Swedish Massage" (it's basically an oil massage, and if you want the happy ending this is what you should go for; it's the most popular service anyway). And a reasonable tip for the special (hand job) would be 500-1,000 Pesos.
See also: Guide to Happy Ending Massages in Boracay
Street / Beach Hookers in Boracay
If you walk along the Beach Walk any day from about 11pm, you will see more and more Filipina street hookers all over the place offering their sexual services.
Yes, I took this picture right on the popular beach promenade, but this is not really like in Pattaya means you will see like 20-30 of such ladies instead of more than a hundred. They would tell you something like "Massage, sir. Special massage, sex and blow job, sir."
You can usually decide if you want to take them to your hotel (make sure it is guest friendly) or take a tricycle back to their room.
Prices: Around 1,000-2,000 Pesos (negotiable).
Meeting Girls in Boracay during the Daytime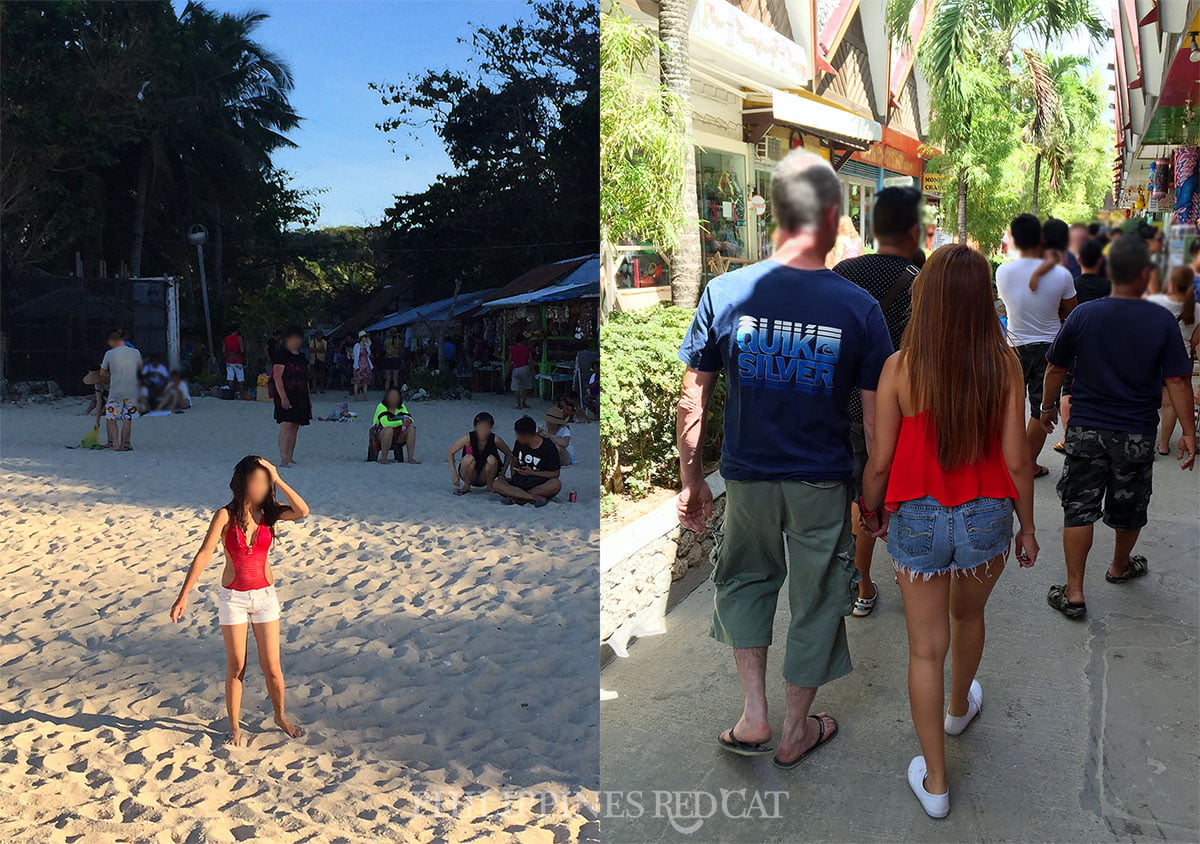 You don't really need to wait until sunset to meet a nice and single lady in Boracay – and certainly not have to pay for sex if you don't want to. If you read my blog sometimes you probably know anyway that I always recommend using the dating site as the best way to hook up with girls in the Philippines, and that's especially true in Boracay where people just pull out their phones on their 2nd day when they feel bored and look for someone to hang out with.
And you might not even have to rely on that dating site. Typical example in my case when I visited the island last month to update this nightlife guide: I was just sitting on the boat in Caticlan, waiting for the other people to get in, when that hot lady in her late 20s came around looking for a place to sit. I smiled and offered her the seat next to me. It took no time to break the ice and it turned out that she was an office worker from Manila taking a short vacation in Boracay by herself. You might think I was lucky, but the truth is stories like these happen all the time here in Boracay, where everyone is in holiday mood.
You could even stroll around D'Mall and the little shops by the street or ask a girl on the beach to take your picture, before starting some small talk like if she's from here, how long she is staying, what she's been doing, if she knows a good restaurant – and take it from there.
Ladyboys in Boracay
Boracay is definitely no paradise for ladyboy lovers, but it's still possible to meet a few sexy ones if you are really looking for them. I will cover this topic in more detail in a separate post, but to give you a rough overview:
Three good places to meet ladyboys in Boracay are Coco Bar (picture), the massage salons as well as simply on the beach, and they seem to like swimming around the north of White Sand Beach near the holy Maria statue.
See also: Ladyboys in Boracay – 4 Places To Meet Them
Map of Nightlife in Boracay
Video of Nightlife in Boracay