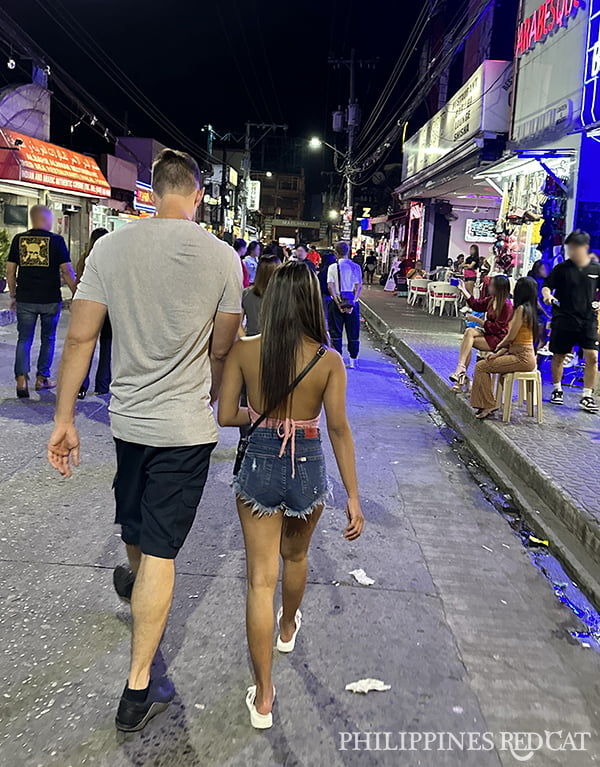 You can't really make a bad decision on when to visit Angeles. This little town 84 km northwest of Manila is the biggest sex paradise in the Philippines and no matter if you come visit in February, August or even on Easter, when a lot of girls go home to their families, you will always find more ladies than you could possibly handle who are more than happy to please you in exchange for a blue note or two.
The only difficult decision you have to make is to choose a hotel that's suitable for both your budget and expectations. First of all, in this guide I'm going to show you five hotels and all of them offer a great value-for-money. However, that's not really all you need to look out for. Because equally important is the location of your hotel.
There are only two areas in Angeles I would recommend you to stay in: Walking Street and Fields Avenue. If you book your hotel on Walking Street (like I always do) you will have the advantage that 80% of all girls are within 400m radius. In numbers that's a couple of thousand of girls. It can't be more convenient than walking out of your hotel and being right in the middle of the action. And after all, the reason why you come to Angeles is Walking Street with all its bars, restaurants and girls. Sure, it can be a little bit loud during the night (most bars close at 4am) but then your plan is probably to have a few beers anyway and to sleep late so it shouldn't really bother you if you can hear some music next door.
And then the other area that makes sense to book your hotel in case your priority is on girls and sex (of course it is) is Fields Avenue. It's directly connected to Walking Street but about five times as long. There are some bars too, but they are further away from each other and the talent isn't nearly as great as on Walking Street. Therefore you will find yourself walking longer distances every day as you will figure it's just more fun down on Walking Street. But well, if you really prefer staying in a more quiet environment then it might be indeed a good idea to book a hotel on Fields Avenue.
Below is the list of the 5 best hotels in Angeles for a sex holiday – 3 of them are on Walking Street and 2 of them are on Fields Avenue.
Best Hotels on Walking Street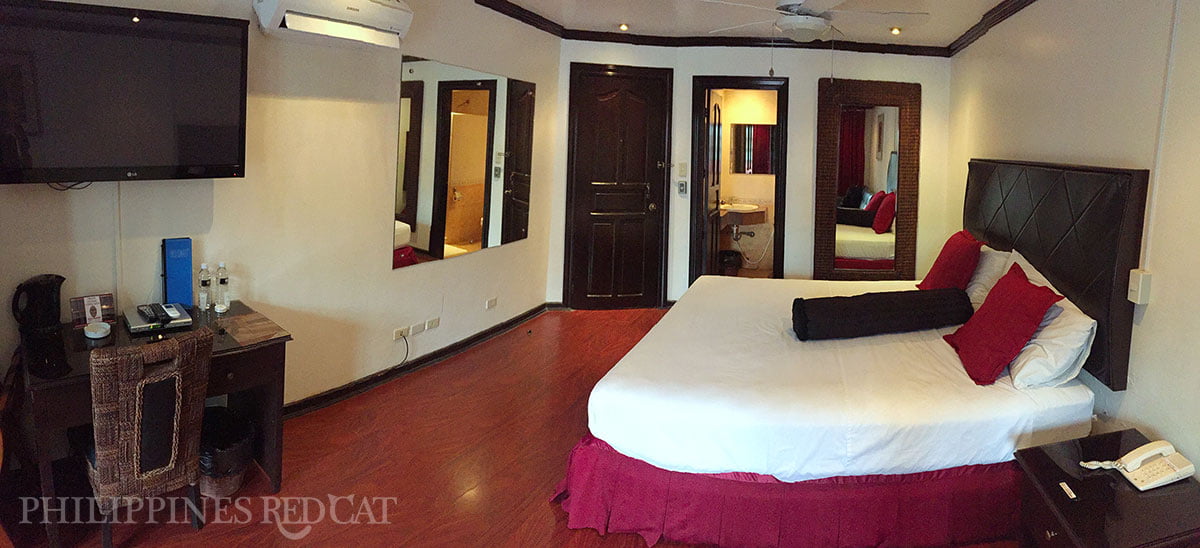 This is where I usually stay whenever I'm in Angeles. The Grand Central Hotel couldn't have a better location: It's right in the center of Walking Street means you can walk to any of the bars in less than two minutes. For just about 50 USD per night, their rooms don't just offer a fantastic value-for-money but are also specifically designed for single male travelers: Look at those mirrors! It's just an amazing feeling as soon as you bring a girl in here and get views of her (and whatever you are doing together) from all different angles.
To make things even better, there is a mix of café and bar downstairs in front of the reception that's half open air. In my opinion they serve the best coffee in town (and Kokomo's restaurant that has the best food is just 20 meters down the street). They have young, lovely and very charming waitresses and it also makes a great spot to just sit down, relax, have an ice-cold San Mig Light, watch the scene on Waking Street (Vikings Bar which is also my favorite girly bar in Angeles is right opposite) or meet and greet other travelers.
By the way, half of their rooms have balconies with views over Walking Street and the other side is city view and a little more quiet (you can just tell them which one you prefer).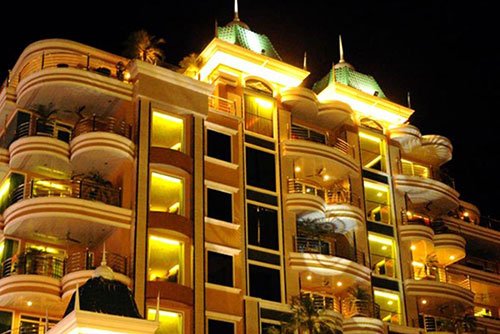 If you are looking for a five star hotel at three star prices in Angeles then you couldn't make a better choice than the Fields Plaza Suites. It's probably the most impressive building in the Walking Street area and is especially popular for its beautiful balconies that offer views not just on the infamous nightlife strip but also all over Angeles City. Like the name suggests, all of their rooms are suites, and their "Junior Suites" already start at about 115 USD per night. If you book your room there make sure to not miss out the jacuzzi pool on the rooftop bar and restaurant. It couldn't be more satisfying than lying in the hot and bubbling water with a hot and charming Angeles girl while sipping beer and whiskey.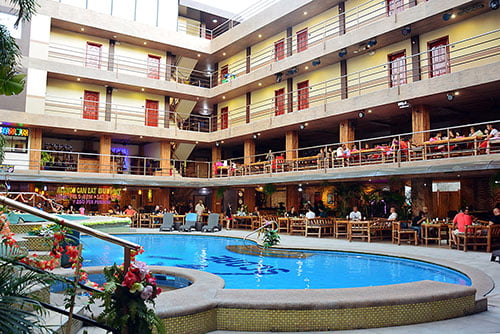 The Score Birds Hotel is an excellent choice if you are more on a budget (or just prefer spending more money on the girls) with room rates starting from around 35 USD per night. The hotel is actually located in a backstreet of Walking Street called Vian Street, but it's literally just around the corner: 200m from the famous nightlife street. That's the main reason the rooms are cheaper than elsewhere, and again they are equipped with huge mirrors on the wall, providing you with perfect views while you have sex with your Filipina lady. Just click the link below and check out the pictures on Agoda by yourself. They also have a swimming pool which is quite uncommon for hotels on Walking Street, as well as an atmospheric restobar right next to it.
Best Hotels on Fields Avenue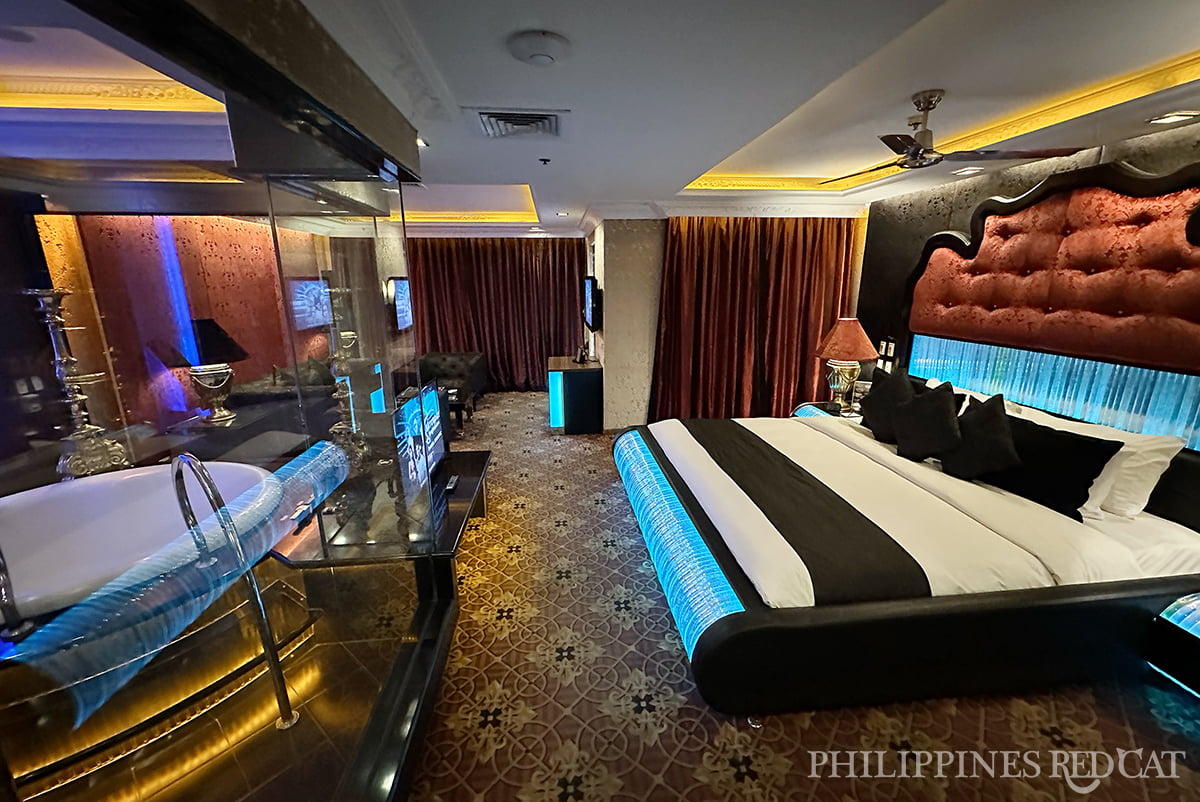 The most famous adult hotel in the Philippines. The ABC Hotel (which stands for "Angeles Beach Club Hotel") has 14 different room types, from Standard Jacuzzi Suite all the way down to New Millennium Penthouse – all of them tailored to the needs and expectations of single men spending their sex vacation in Angeles.
Besides that, the hotel is home to the hugely popular pool party that's traditionally held here every other weekend. It's an unforgettable experience and the best thing about it is that there are mostly super hot girls from the go go bars and they are not on duty yet, means you can have fun with them at just a fraction of the price like in the bars. Drinking beer at a nice pool with great views of dozens of girls certainly isn't the worst thing you can do on a Saturday afternoon.
Make sure to watch my video down below where I take you inside one of their Prime Minister Suites as well as the pool area.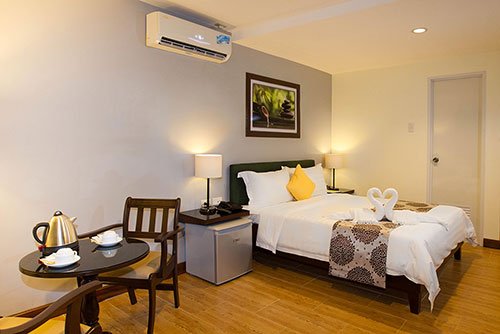 This is the highest rated hotel in Angeles on Agoda among budget travelers. And it's not difficult to see why: At room rates for only 30 USD for their standard double rooms that are well appointed (and have new air cons, see picture), a nice and cosy restaurant and bar with pool and a quiet location on San Angelo Street off Fields Avenue and just 3-4 minutes walk to Walking Street, it really offers a fantastic value-for-money. If your girl feels a little cool during the night just ask the hotel staff for a blanket – it's kind of tradition in the 2-3 star hotels in the Philippines to not provide any proper blankets (usually just thin linen) which is really strange. So just ask for it and they will give you one without any extra charges. Same for the guest friendly policy, but I think it's a good idea to talk about this in a separate section – see below.
Are these Hotels in Angeles Guest Friendly?
Yes, they are. I don't even know of any hotel in Angeles that is not guest friendly, means they all allow you to bring a guest (= a girl, or maybe a ladyboy?) back to your room. And they don't charge extra for your guest, means no so called "joiner fee". If you want to make 100% sure there are no problems you could ask your girl to leave her ID card at the reception, but even better: Ask your hotel reception to call you before they allow her to leave.
In most hotels (such as the Grand Central, see above) they do that anyway without you telling them. Means when you are finished with short time and your girl says bye and arrives downstairs at the lobby, the receptionist will call you to confirm "Hello sir, your guest is leaving now, okay?". Very professional and no problems.