After landing at Manila's Ninoy Aquino Airport you are probably quite tired and maybe also a bit jet-lagged from your long flight, so of course you want to get to your hotel in downtown as quickly as possible.
You may have heard all different sorts of horror stories about how terrible the traffic in Manila is and how nasty the taxi drivers can be. While both of that is true, if you follow the tips I'm about to share with you in this guide you shouldn't have any problems.
First of all, it's important to know that there is currently no railway service from the airport to the city center. Means no Airport Link like in Bangkok and no metro stations within walking distance from the arrival hall.
That said, there are only 2 different transport options: Taxi and Bus.
I'm going to describe both of them in detail, explain how much they cost, what to look out for so they don't overcharge or even scam you, include pictures I personally took there last month and also a video at the taxi stand so you get a good impression of how it looks like there before arriving.
Manila Airport Taxi
First of all, no matter if you take a taxi or bus, you will simply leave the arrival hall of Terminal 1 or 3 (that's where the international flights arrive) at one of the main exit doors. Very easy, as soon as you come out of immigration you just walk straight through the exit door, they even have big signs everywhere: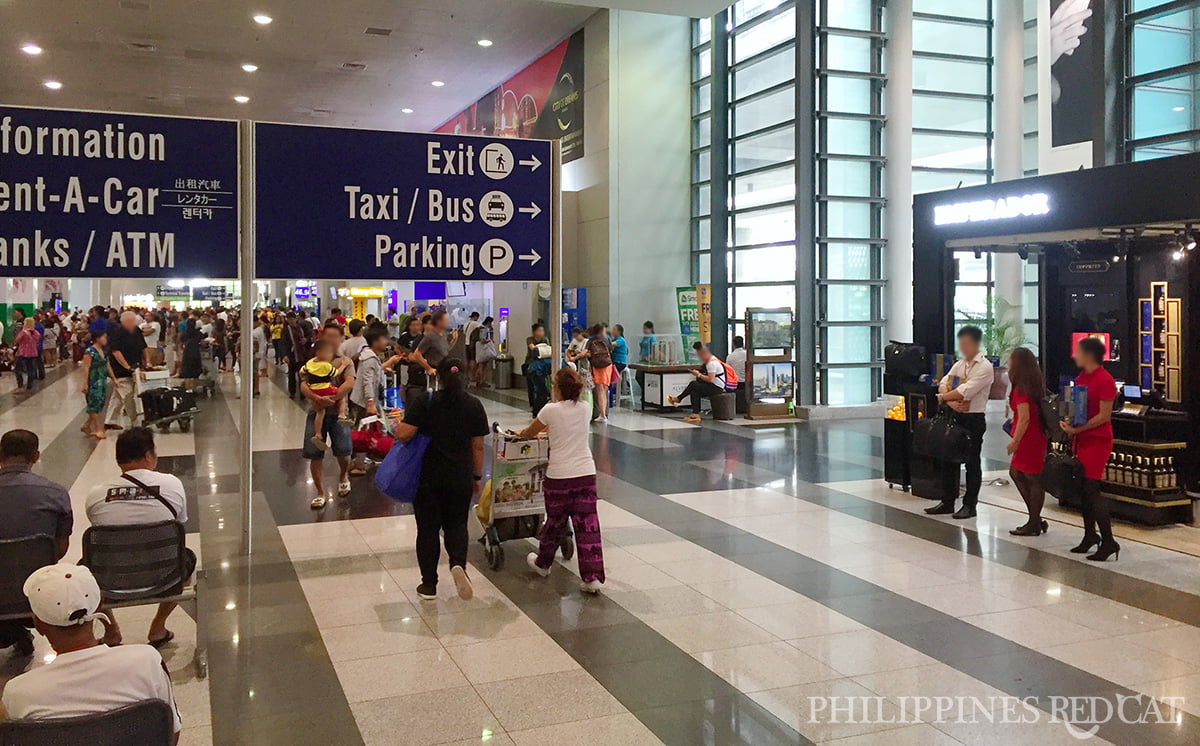 Once you are outside you will see the taxi stand right in front of you. There are two different types of taxis available: yellow and white.
Yellow Taxis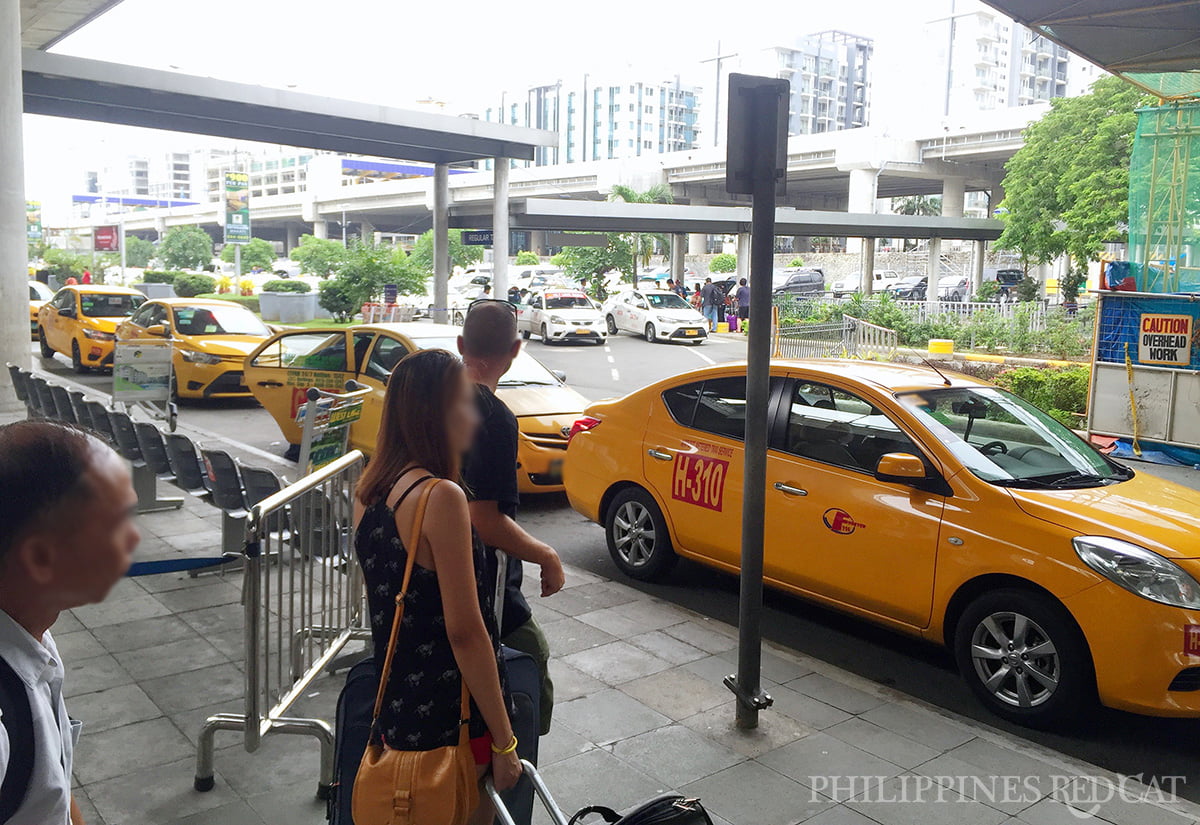 The yellow taxis are the official registered and certified taxis from the airport. They are the best and safest means of transportation from Manila airport to downtown and they use the meter just like the white taxis (see below) with the difference that the starting fare is 70 Pesos and increments by 4 Pesos there on instead of 40 Pesos and increments by 3.5 Pesos there on like in the white taxis.
That means if you go anywhere in the city center you will pay about 50-60 Pesos more with the yellow taxis compared to the white taxis. But seriously: It's worth it and I totally recommend it. This surcharge is exactly the same as at Suvarnabhumi Airport in Bangkok where they have a 50 Baht service charge.
If your destination is on P Burgos Street in Makati or in Malate then the total fare will be about 160-200 Pesos, depending on the traffic situation. And the trip takes between 30 minutes and 1 hour – if it's possible try to schedule your flight so you will arrive at the airport before 4pm so you will sit in the cab for just about half an hour.
If you want to use the yellow taxi you would just line up at the stand like you can see in the picture. There are plenty of vehicles around at any time so you won't have to wait longer than 5 minutes.
White Taxis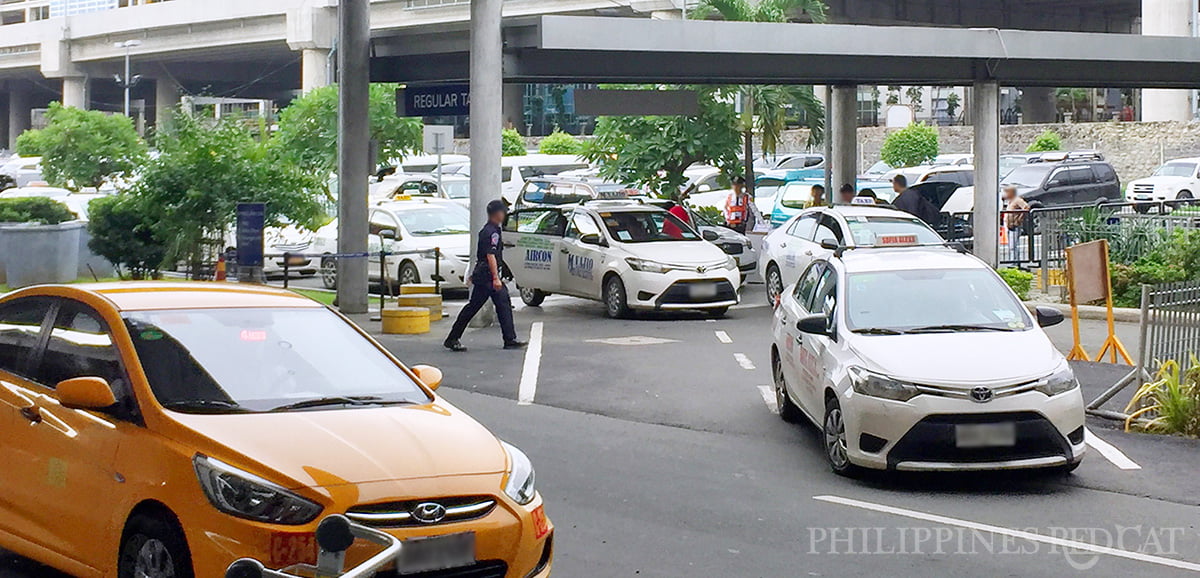 The white taxis are lining up right behind the yellow taxis (see above) and like already explained they are slightly cheaper, means the starting fare is 40 Pesos and increments by 3.5 Pesos every 300 meters. However, there are many drivers who will refuse to turn on the meter and instead quote you a fixed price. Sometimes they wouldn't say anything at all and then come up with a ridiculous price when dropping you at your hotel.
Always make sure they turn on the meter and if not, then you shouldn't go. There are so many cars available so just try the next one. That's why I recommend you to just go with the yellow taxis instead, the 50-60 Pesos extra is well worth the less hassle, and I also found the drivers a lot more polite and not trying to sell you some tour package or other things along the way.
The trip takes obviously the same time with both types of taxis, between 30 and 60 minutes to Makati, Ermita or Malate, depending on the time you go (the traffic situation is worst during the rush hour between 6pm and 8pm).
Here is a photo I took inside the yellow taxi about halfway to my hotel in Malate: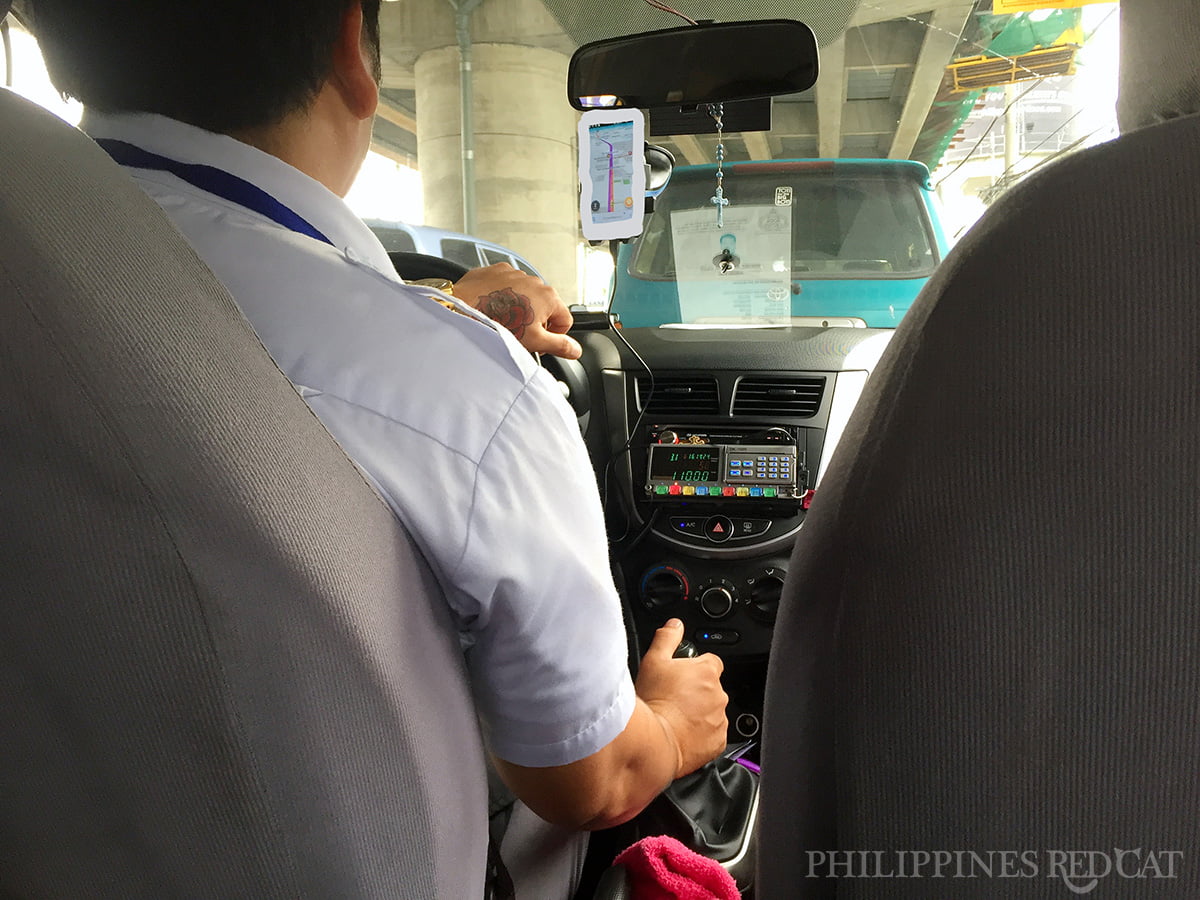 And another photo I took on another trip on the highway to Makati: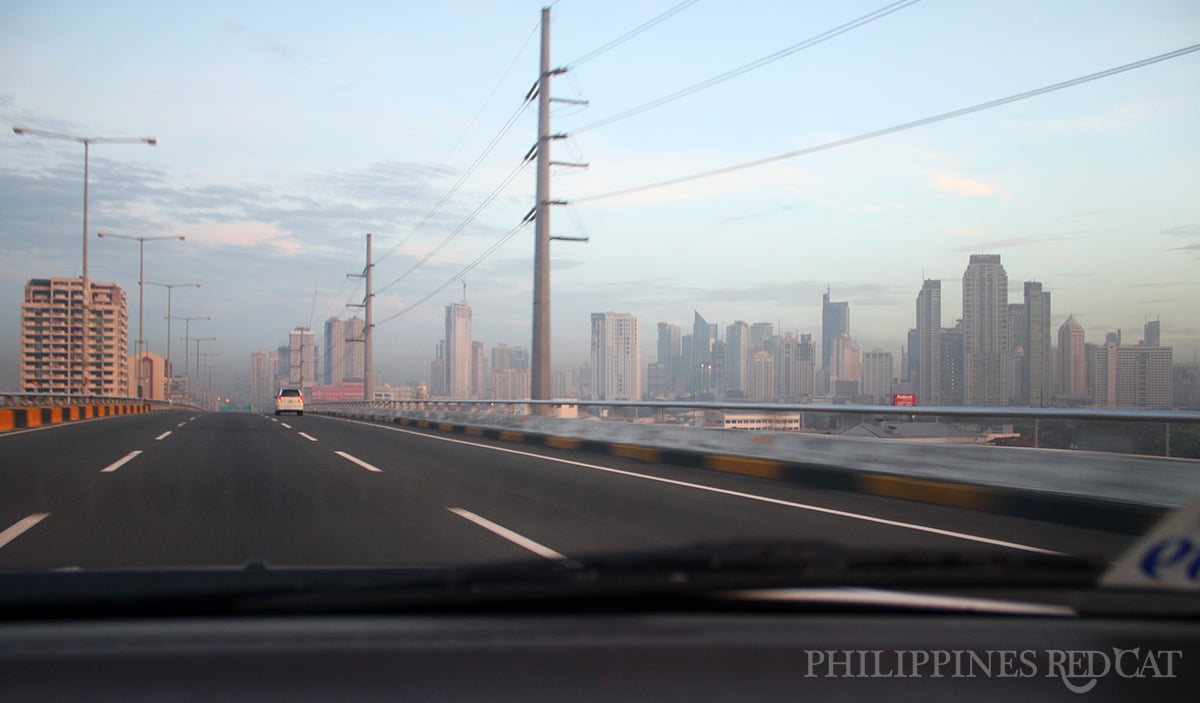 Taxis at the Departure Hall
Just to make things complete I want to let you know that a lot of people recommend you to avoid the taxis downstairs completely and instead walk up to the departure hall on the second floor where you can find white metered taxis that drop off the passengers so you can take them without any hassles like downstairs: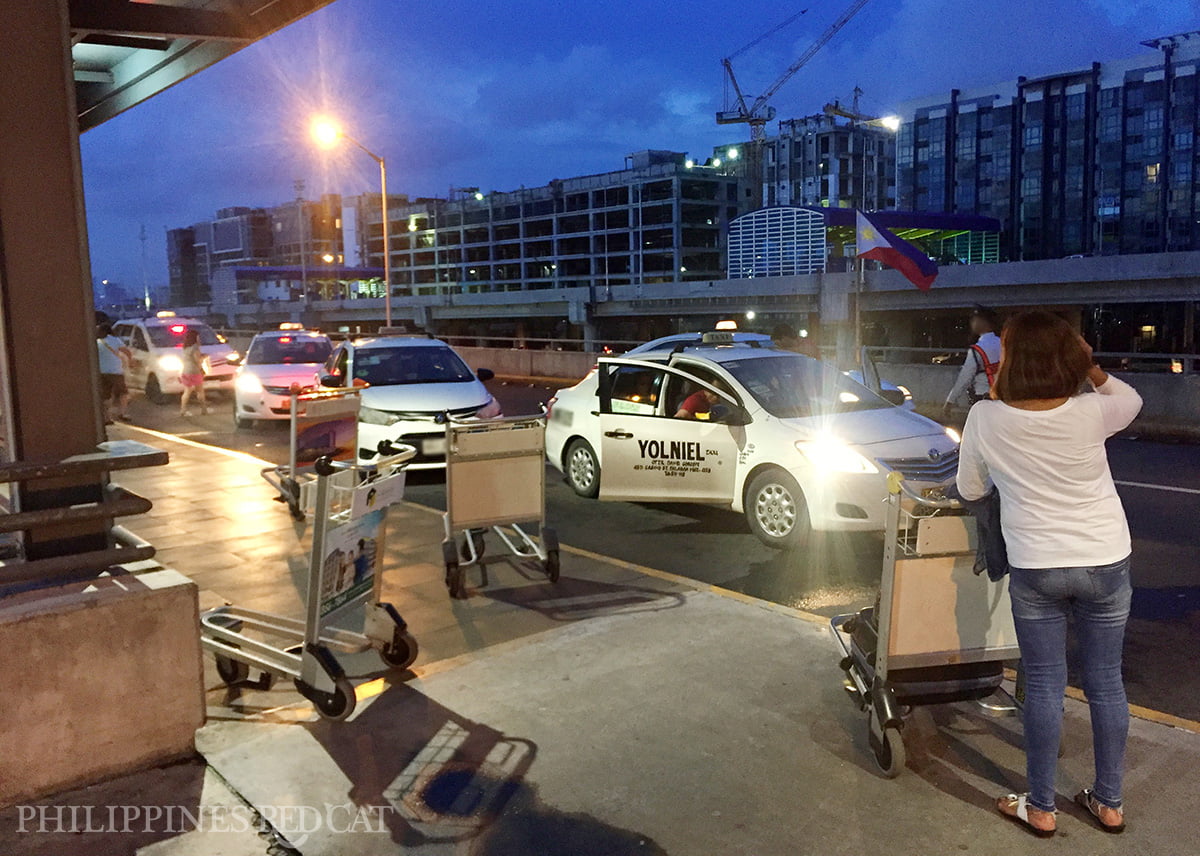 I would not advise you to do that. I actually tried it once and the security guy told me that it was "not allowed" anymore. On other occasions I have arrived there with the taxi (leaving Manila) and have indeed seen a few people trying to catch the taxis there (see the picture above), however, not all of them were willing to go with meter.
I even saw one wealthy Filipino guy with his wife becoming extremely furious and he was yelling at the driver in Tagalog for minutes because he was refusing to take them. I just stood there and watched the scene and after a while the guy shouted to the security guard that he should come over. He also took photos of the car and driver on his iPhone and eventually the security guard told the taxi driver to leave.
Seriously, just save yourself all that hassle and leave the departure hall like 90% of all other people and take the yellow taxi if you can afford the 50 Pesos service charge.
Manila Airport Bus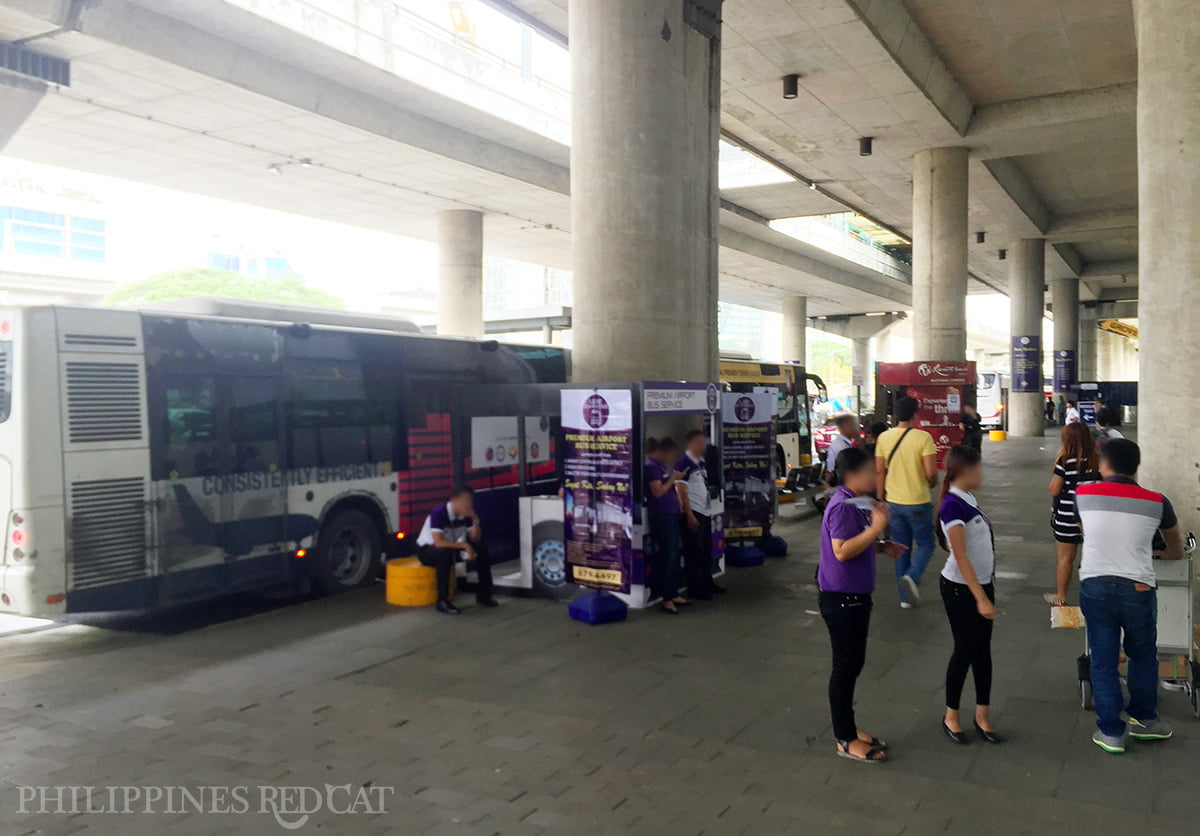 The second way to get from Ninoy Aquino Airport to Manila City Center is to catch a bus. They can be found outside of the arrival hall right next to the yellow taxi line. The fare is 150 Pesos and they go to different places in downtown, e.g. Greenbelt in Makati, Robinson in Malate etc. Departures are once every 30 minutes. It's best to just ask the very diligent ladies for assistance, well it's actually them who ask you "Where are you going, sir?" as soon as you are within 10 meters distance.
To be honest I don't really see a good reason to take the airport bus, if I take the yellow taxi that costs me 160-180 Pesos means just 20-30 Pesos more than the bus and the bus won't drop me at my hotel but on some main street from where I have to walk another 10 minutes to my hotel, carrying all my luggage.
How about Jeepneys?
If you really want to travel old school Filipino style then of course you can also take a jeepney. However, they are not allowed inside the airport so you will need to walk out to the main street and then it's best to just ask a local Filipino guy for assistance on which line (color) to catch. You will probably also have to change the vehicles at some point.
That makes the trip more stressful and time consuming than the other two transport options, but it's also quite cheap and costs you only about 8-12 Pesos per trip. Still not recommended, especially if you have luggage to carry.
Map of Manila's Ninoy Aquino International Airport
See below the location of the airport on the map as well as the three main tourist areas with the best nightlife (lots of girly bars, night clubs, massage salons etc.) which are P Burgos Street in Makati, Ermita & Malate.
And once again, international flights arrive at and depart from Terminal 1 and 3.
As you can see, the airport isn't very far away from the city center, depending on the location 10-13km, but of course it is the traffic that causes the relatively long travel time.
Now that you know how to get from Manila Airport to the City Center, you may also be interested on how to travel from Manila to Angeles City if that is your next stop.
How to get from Downtown Manila back to the Airport?
I don't know of any hotel that offers a free shuttle service to the airport, but most of them have a "car service". I remember how they quoted me 350 Pesos at the Victoria Court Hotel in Malte. I smiled, said no thank you and just walked out to the street and got a taxi by myself. You can also ask the hotel staff to get one for you, but then it often turns out that the driver won't use the meter (even though you told the hotel staff to make sure he does use it before letting him drive in).
Make sure you leave from your hotel no later than 3 hours before your departure time. I found the travel time from my hotels in downtown (no matter whether Makati or Malte) to the airport always to be between 45 minutes and 1 hour. This gives you enough time in case there is more traffic than usual, so even if you sit in the taxi for 1.5 hours you will still have another 1.5 hours to check in at the airport, go through customs and immigration, buy a pack of dried mangoes and have a cup of coffee at Bo's Coffee before boarding.