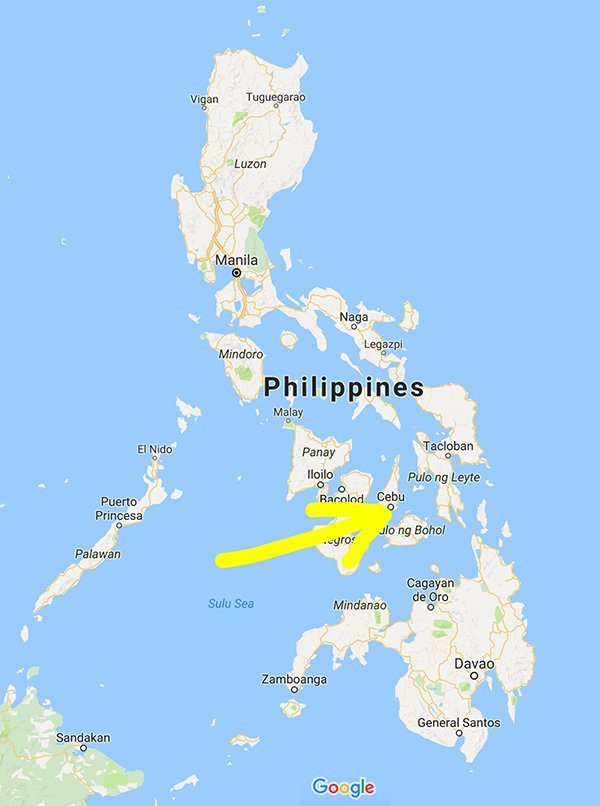 When you ask expats in the Philippines what's their favorite place to live in this country, a lot of them wouldn't have to think twice before saying Cebu.
But it's not only the people who spend several years of their lives here who love this island in the center of the Visayas, it's also popular among travelers to spend more than a couple of nights in Cebu City to recharge their batteries in between island hopping or just see it necessary to do so as it takes some time to really experience the way of life and all the highlights of this place.
This guide is mainly about the best things to do and see during the day, but here are just a few interesting facts and reasons why Cebu is such a popular place:
Cebu is the name of the island as well as the name of the capital city – Cebu City (this is not usually the case, e.g. Negros island – capital Dumaguete, or Palawan island – capital Puerto Princesa).
Cebu has the nicest shopping malls in the Philippines (which are not nearly as crowded as those in Manila) – especially Ayala Center and the newly constructed and super modern SM Seaside Cebu (see below) are extremely popular hangout places for people of all ages.
Cebu has the second busiest airport of the country (after Manila and before Davao) serving more than 20,000 passengers a day. It also has the perfect geographic location in the center of the Visayas to reach destinations all over the Philippines in the shortest average time.
Cebu has, after Manila and Angeles, the highest number of female sex workers in the Philippines.
How much time should you spend in Cebu? Well, this really depends on what you are looking for. If you are traveling with your girlfriend or find Filipina girls not attractive then I'd say three nights are enough and you can see and do it all. Cebu isn't really a tourist town and the main three highlights here are ziplining, visiting the sky bar for nice views over the city and a day or overnight trip to one of the beaches or islands a few hours drive away. Well, and recently swimming with whale sharks got really popular, but you might rather do that in Legazpi.
However, if you are considering to fully experience the infamous nightlife and potentially meet and sleep with Cebu girls, then you could easily spend a week here and still not get bored of all the bikini bars, sports bars, KTVs, massage salons and so on. Not even mentioning visiting them all.
But again, this post is about the main highlights and attractions of Cebu so you don't get bored during the day so here we go:
City View at "Sky Experience Adventure"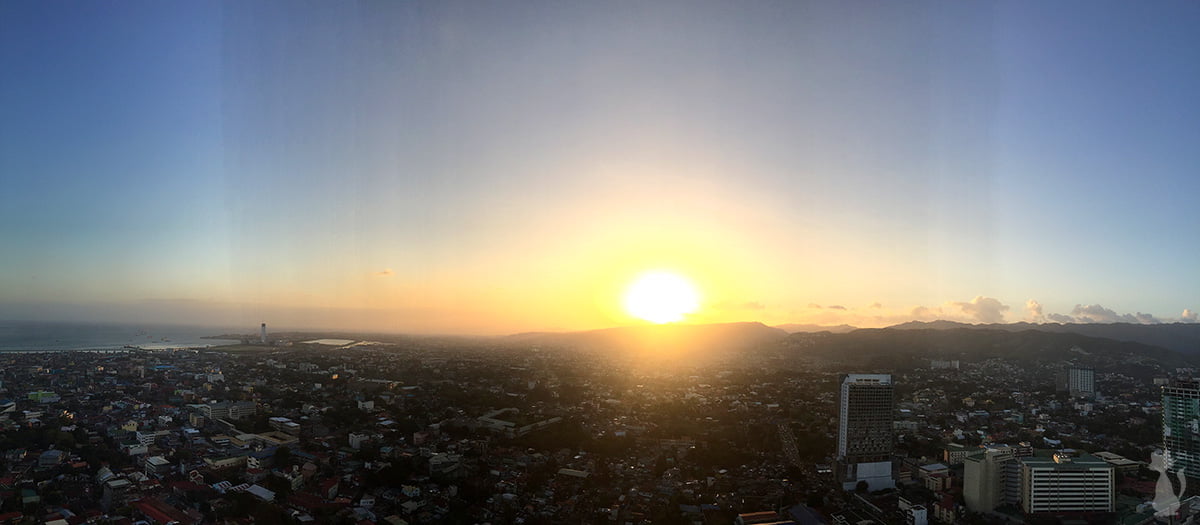 If you had only enough time to visit one place during the day in Cebu then I'd definitely say do this one. They call it the "Sky Experience Adventure" and that's located on the 38th floor of the Crown Regency Hotel near the Fuente Circle in downtown. Just walk in the hotel lobby and take the first elevator to the 20th floor. Once there you'll have to buy a ticket to the Sky Observatory (250 Pesos) – you'll get there by taking a second elevator called the Sky Lift that is half of glass so you'll get a good taste of what to expect upstairs.
I recommend you go there at around 5pm so you can experience both the beautiful panoramic views of Cebu, the surrounding hills and the ocean on the opposite side (you can even see the neighboring island of Bohol on a clear day) as well as the sunset at around 6pm, followed by the night view.
They offer several fun activities here such as a thrilling rollercoaster ride all around the edge of the rooftop (300 Pesos extra) or a skywalk on the edge of the building with an overhead safety harness at 126.55 meters above the street (300 Pesos extra – or 500 Pesos for both activities). Quite popular is also the zip-line that I'll describe later in this guide. And of course they also got a sky bar and sky restaurant a couple of floors below that make romantic dating and dinner spots at night.
Ayala Center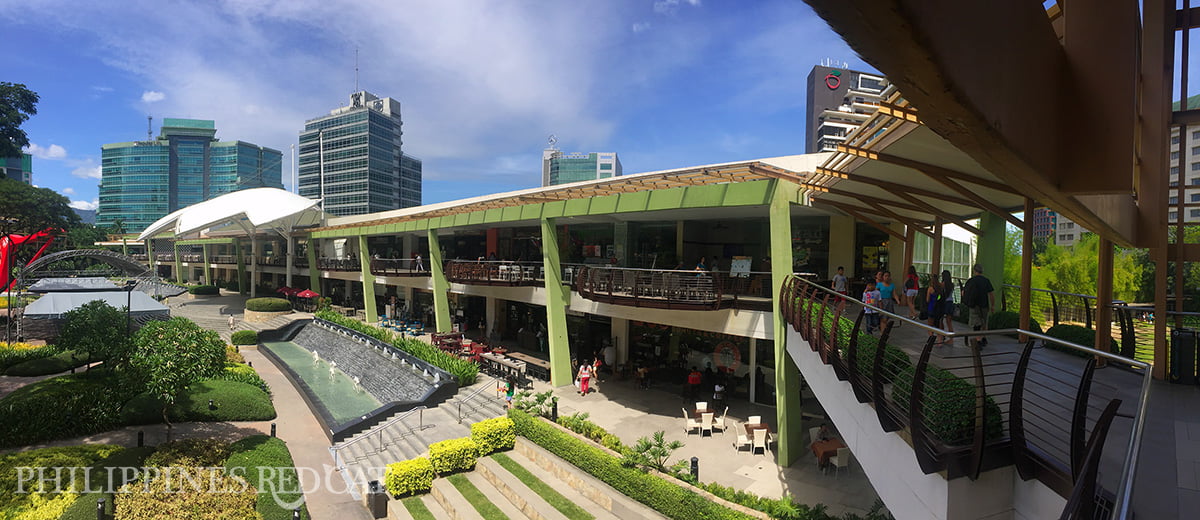 You might be surprised why I include a shopping mall on this list, but the truth is that Cebu isn't really a tourist town with a lot of landmarks to visit (the one exception here is found at the end of this guide). So there is no way I could ignore the beautiful Ayala Center in downtown, or more precisely: Cebu Business Park. You'll immediately notice how clean, modern and developed the whole area is and it gives a taste of the new way of life in the Philippines.
Ayala Center is extremely popular among both local Filipinos as well as expats and tourists to hang out during the day. The quintessential experience here is to visit Bo's Coffee on the second floor (a Filipino coffee chain and the quality is pretty good, as well as their cheese cakes) and to do people watching on the terrace overlooking the adjacent restaurants and green park below. You'll always find other foreigners doing exactly the same. If you want to meet Filipina ladies in this city, this is probably the best place to smile and smile back.
Two other great shopping malls in Cebu are SM City Cebu and the new and ultra-modern SM Seaside that has a rooftop called "Sky Park" that's just fantastic to visit during sunset: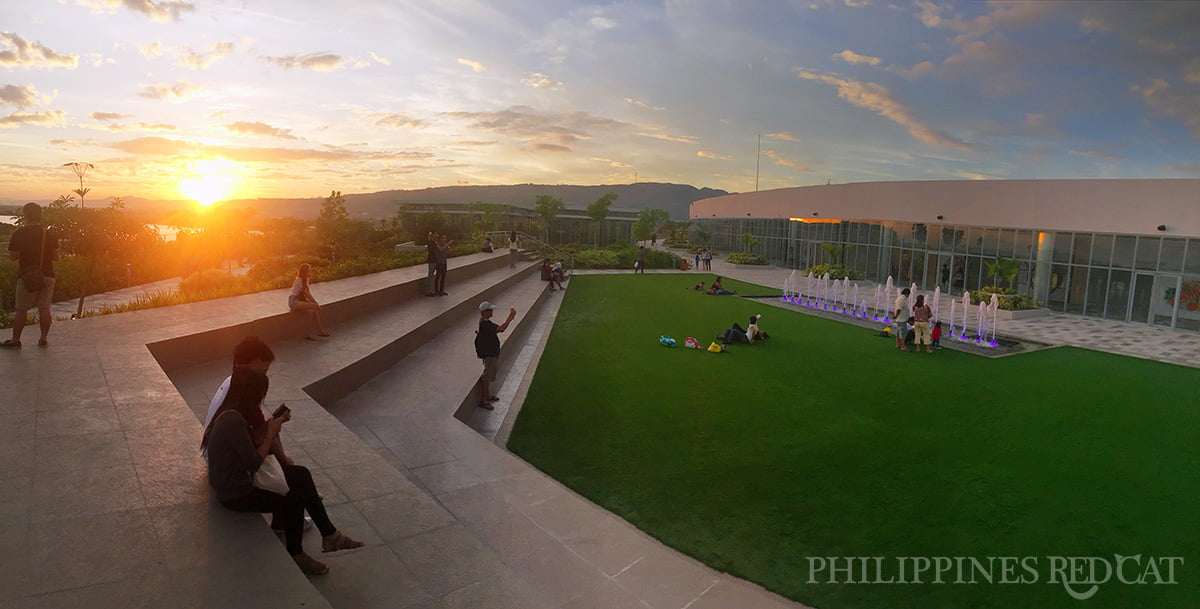 Tops Lookout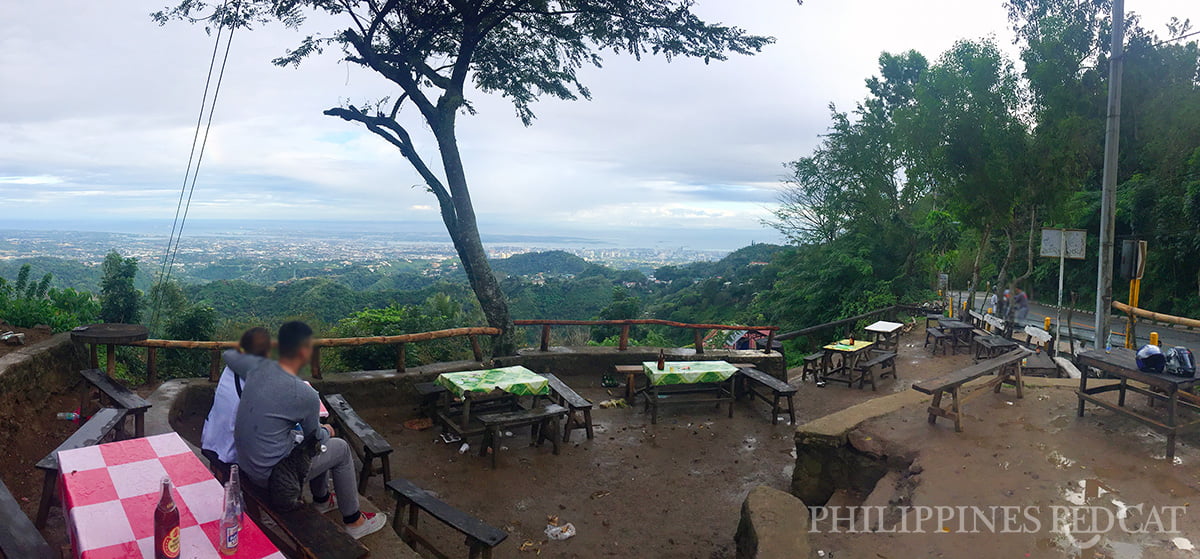 Cebu City is surrounded by green hills and it's well worth to escape the city life for a few hours and take a trip to the so called Tops Lookout. Nice dating spot overlooking the city and ocean. There used to be one of Cebu's most popular zip-line activities (picture below) but they moved that one to another place – see next section.

Ziplining in Cebu
Cebu is quite famous for its exciting ziplines and these are the two best ones: The Sky Experience Adventure in downtown where you can cross from one skyscraper to another (38th floor, see picture).
And the other one is 31km out of town in an area called Balamban in Central Cebu: Adventure Cafe and Zipline. The one in downtown is more expensive than the one in Balamban (150 Pesos), but you'll need to add fares for the taxi or cheaper: motorcycle (around 300 Pesos one way).
Basilica del Santo Niño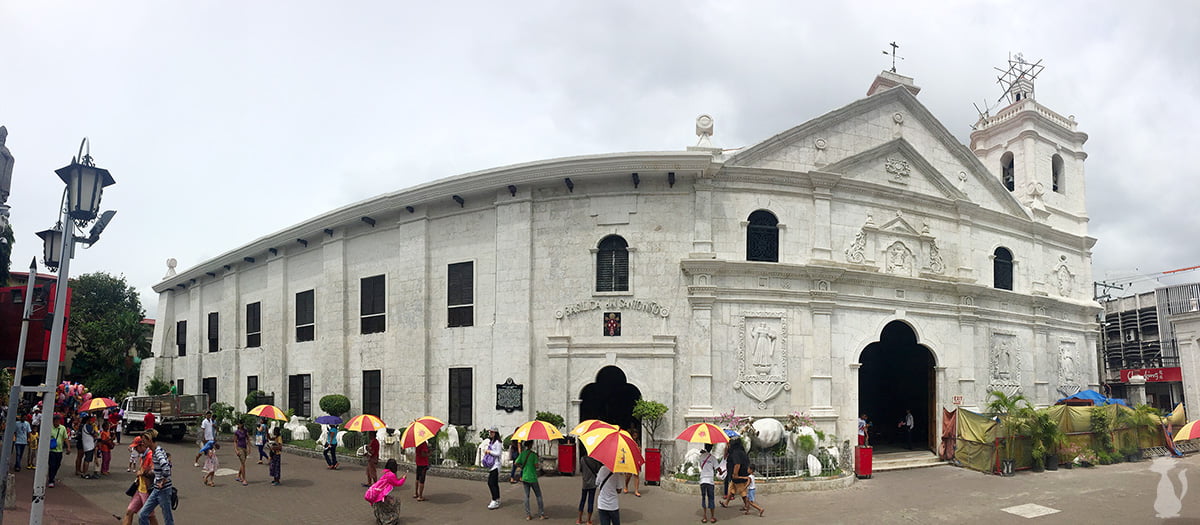 I've already mentioned that Cebu isn't that spectacular in terms of landmarks or historical sites. And so if you look at this post on TripAdvisor, the number 1 rated thing to do out of 82 in Cebu City is the Basilica del Santo Niño. It's the oldest roman catholic church in the Philippines and was built on the spot where the Santo Niño de Cebú (a statue portraying Jesus) was found by the Spanish colonialists in 1565.
Expect to queue up for at least 20-25 minutes before entering this holy basilica: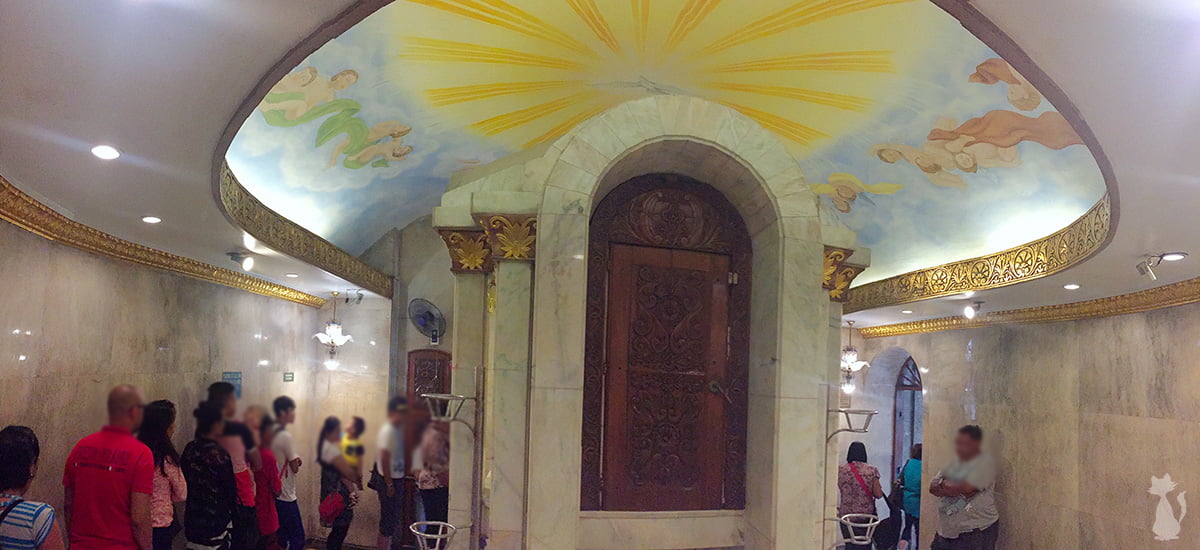 Map of Cebu City Highlights
That's it for the highlights in Cebu City. If you are wondering why there are no beaches on this list – well, that's because we are talking about Cebu City here.
Of course there are some really beautiful beaches and small islands (such as Kalanggaman Islet), but those are more than two hours drive away and it's better to make it an overnight trip. I'll cover that in some future post.
See also:
Videos of Cebu City Highlights