So you've been spending some time in Manila, and after a few days (or a few hours) you've decided it's time to get away from this giant metropolis, and make your way down to one of the many beach areas.
One of the nearest and best beaches is Puerto Galera. However, since the Philippines is in fact a giant glob of islands, getting there isn't necessarily as simple as getting in a car and driving there (although that's certainly an option).
Since you're reading this, I'll assume you already know enough about Puerto Galera to look up an article on how to get there. But just in case you're a little out of the loop, here is some quick info:
Puerto Galera is in the northernmost part of Mindoro, and at the south-western end of the Isla Verde Passage, which is about 130km (81 mi) south of Manila. It's the most popular tourist beach near Manila, and has actually made quite a few "most beautiful beaches" lists out there.
The main access point to Puerto Galera is Batangas Pier. All of your routes from Manila should end up here. After getting to Batangas Pier, you take a ferry to Balatero Port in Puerto Galera. From there, you can take a tricycle or taxi to your final destination on the island.
Here are the main areas you need to know:
Sabang

– a peninsula situated between Batangas and the rest of Puerto Galera. It's got a big beach that's the most popular, the most nightlife (including all the hookers and strip clubs), and some great snorkeling.

Muelle Port

– a tiny town by the base of the Sabang peninsula. Basically a port town that serves as a hub to the other parts of the area.

White Beach

– the second most popular part of Puerto Galera, situated on the coast west of Muelle Port.
Manila to Puerto Galera by Bus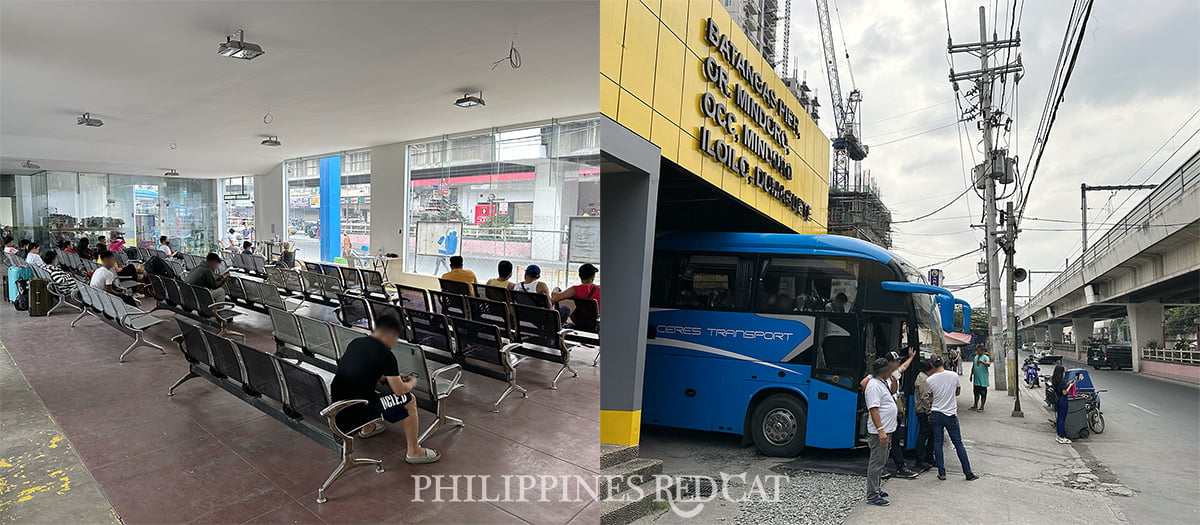 There are a number of buses that can get you to Puerto Galera, but you may need to take a taxi to a bus terminal first, depending on where you are.
When leaving from Manila, you should use the Buendia Bus Terminal. Make sure you get to the bus station early, because you'll need to get to Batangas Pier before 4:30 PM in order to access a boat for the rest of the journey. Ceres Liner and JAM Liner have the most frequent services. The one way fare is just 268 Pesos, and the trip takes about 1 hour and 50 minutes, depending on the traffic.
The following steps have to do with what to do when you actually arrive in Batangas, and this can apply to the other methods on getting here too:
After first arriving in Batangas, the bus stops at the Batangas City Terminal, but do not get off here, since the next stop is the pier, which is where you actually want to go.
Note:

At the parking lot for the pier, porters will be clamoring to take your bags. If you decide to let them, negotiate the price up front, as they will try to haggle afterwards if not. Also, if someone approaches you and tells you that you need to take a private boat for whatever reason, don't. It's a rip-off.
Ferry Ride to Mindoro Island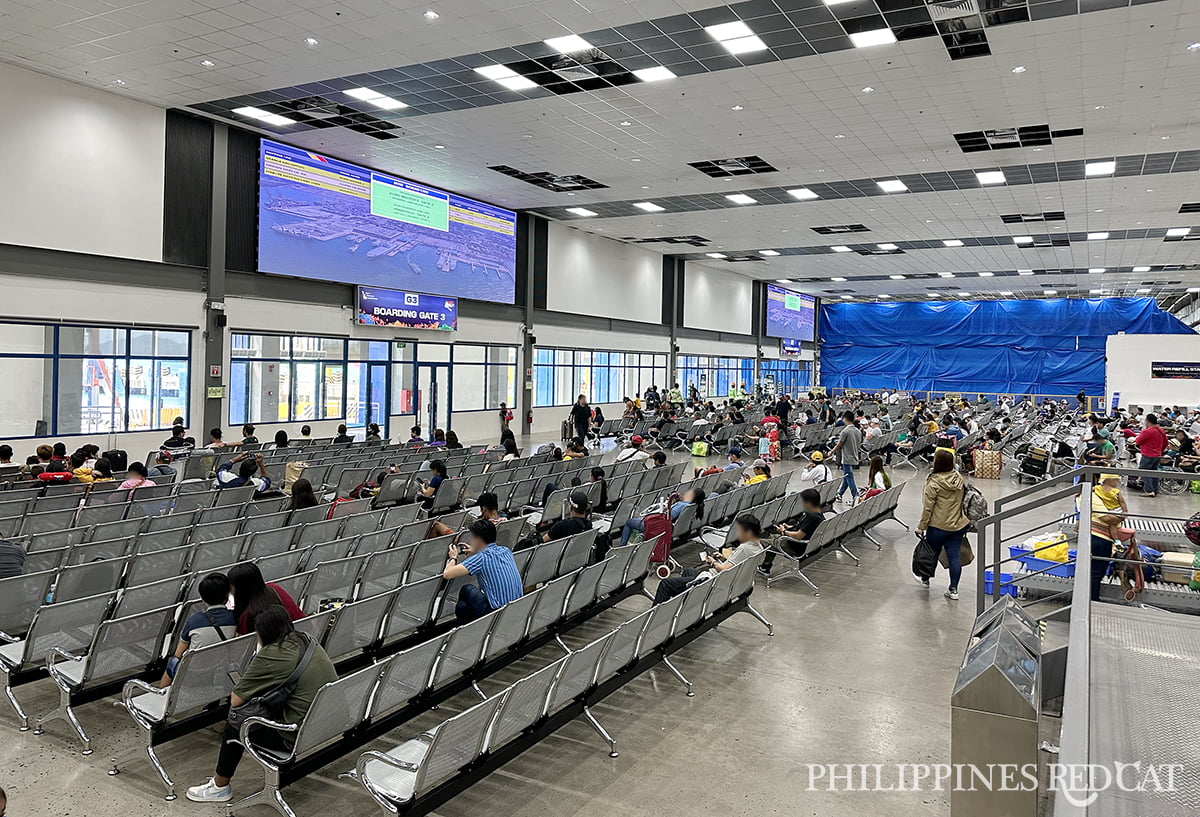 You should now buy a ferry ticket to Puerto Galera (Balatero Port). There are different boat companies, such as Montenegro that I went with recently, and the ticket price is 612 Pesos plus 30 Pesos Terminal Fee. The cruise takes almost exactly 1 hour. Check out my quick 1 minute video down below of the bus and ferry ride.
Get some snacks and drinks before leaving, and don't worry – there are bathrooms on the ferries.
Oh, and enjoy the views, they're great.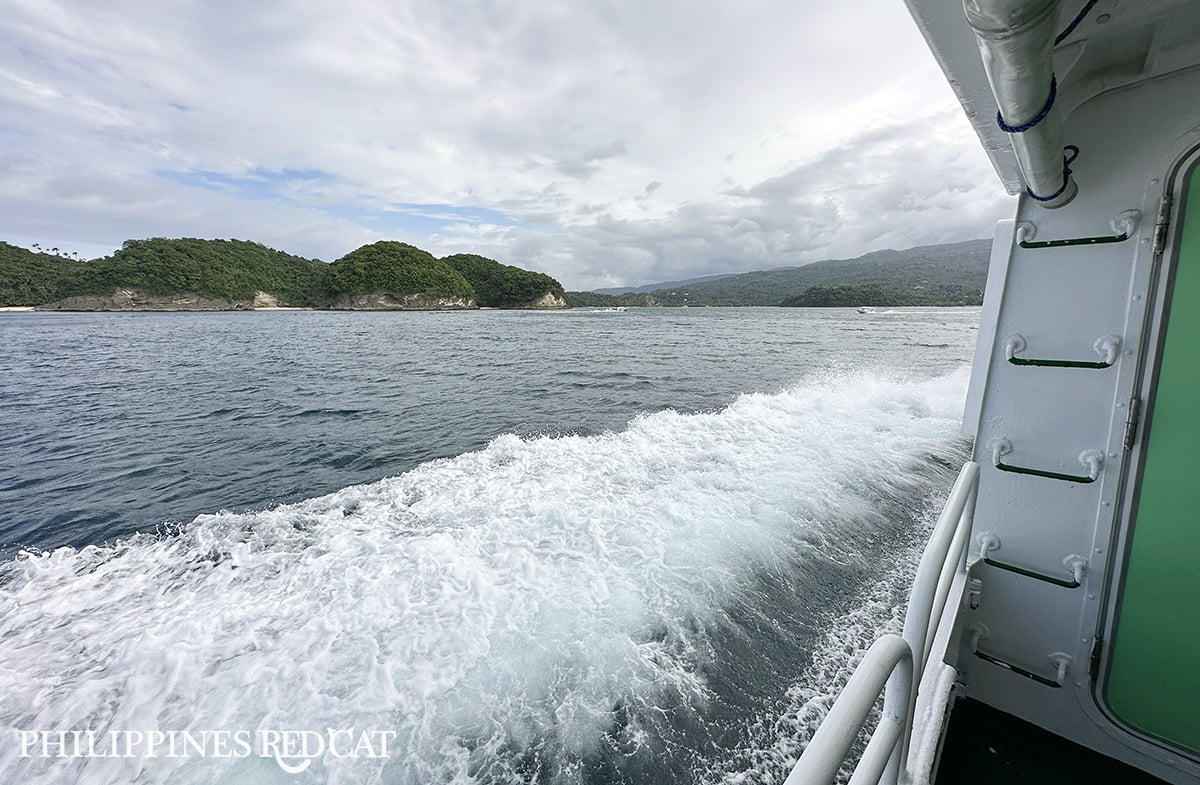 All foreigners arriving at the ports in Mindoro have to pay a Tourist Tax of 120 Pesos.
And right after you exit the ferry terminal, you will find several tricycle taxis who are already waiting for you.
They will quote you 250 Pesos for the 20 minute ride to Sabang, but if you bargain you can get it as low as 150 Pesos.
Manila to Puerto Galera by Taxi
One of the easiest ways to get to Puerto Galera is to hop in a taxi in Manila and let them do the work for you. The taxis are easy to find, and the total trip takes close to 2 hours from Manila International Airport to the pier. While you will avoid some of the hassle of using public transportation to get down there, it is fast, and again, requires little action on your part.
To do so, go out of the arrival hall of the airport and look for either yellow or white metered cabs. Be sure to get in a newer cab. As for the fare, it will cost you about 2,000-3,000 Pesos. You can let the driver know that you want to take the tollways.
Make sure the driver turns the meter on when you leave.
Manila to Puerto Galera by Driving Yourself
If you are someone who prefers doing things yourself and being more in control, renting a car and driving down to Batangas is the way to do it. There are a lot of solid car rental places at the airport, such as Happy Car which has daily rates from 24 USD.
After you've gotten your car, all you need to do is take the South Superhighway and the Star Tollway due south to Batangas. If you hate traffic, take the drive early in the morning, around 4:30am.
If you want to take your car onto the ferry, that will cost you between 800 and 2,500 Pesos (depending on the size) in addition to your personal ticket. The price for motorbikes is only 600 Pesos.
Manila to Puerto Galera by Flight
Want to skip a bunch of steps and just fly right into Puerto Galera like a straight-up baller? You can. And you'll get to do it in one of those airplanes that takes off and lands on the water.
This is done via seaplane operated by Airtrav. Just make sure to book in advance, especially during peak seasons. The ride leaves from Manila Bay (see map below) and reaches Puerto Galera Bay in about 30 minutes. It'll cost you 5,000-6,000 Pesos one way. Still, to avoid the multi-step hassles of the other methods, it can be worth it. And a pretty memorable experience for sure.
Map of Transport in Manila & Puerto Galera
Video of Bus & Ferry from Manila to Puerto Galera