Manila is a great place to find a girlfriend, mainly due to the sheer numbers. There are a ton of people here, and that certainly includes lots of nice Filipina women. And it's no secret that many of them are predisposed towards foreign guys, so that makes things a little easier.
Okay, a lot easier.
Anyway, I'll save all my thoughts on why it's so great to date girls in the Philippines for another time. This guide is intended for guys who are looking for advice on how to find a girlfriend in Manila – something that can definitely be an adventure, but doesn't have to be if you know how to go about it.
Let's get started.
A Few Things You Should Know First
I know that it's easy to find girls here to have a few hours of fun with, but do know that it's also easy to find girls who want more than that, even if for a few weeks while you're in town.
I'm sure many of you have heard the stories of guys getting scammed from girls here, whether that's from sending money, or the girl not showing up once they get here.
All of that is easily avoidable. While that can happen, first know that you can usually spot that stuff from a mile away, and two, not all the girls here are like that. It's perfectly easy to find lots of normal girls who won't try to pull stupid shit on you. You just need to know where to look.
As with any Asian country, don't try to rebel against the vibe and norms. Adapt and you'll be okay. Many girls here are over the city as a whole, and watch way too many Hollywood romance movies, while also being extremely motivated in their jobs and education – but not to the point of being annoyingly feminist.
So, in other words, this is the perfect hunting grounds for a girlfriend.
Meeting Manila Girls During the Day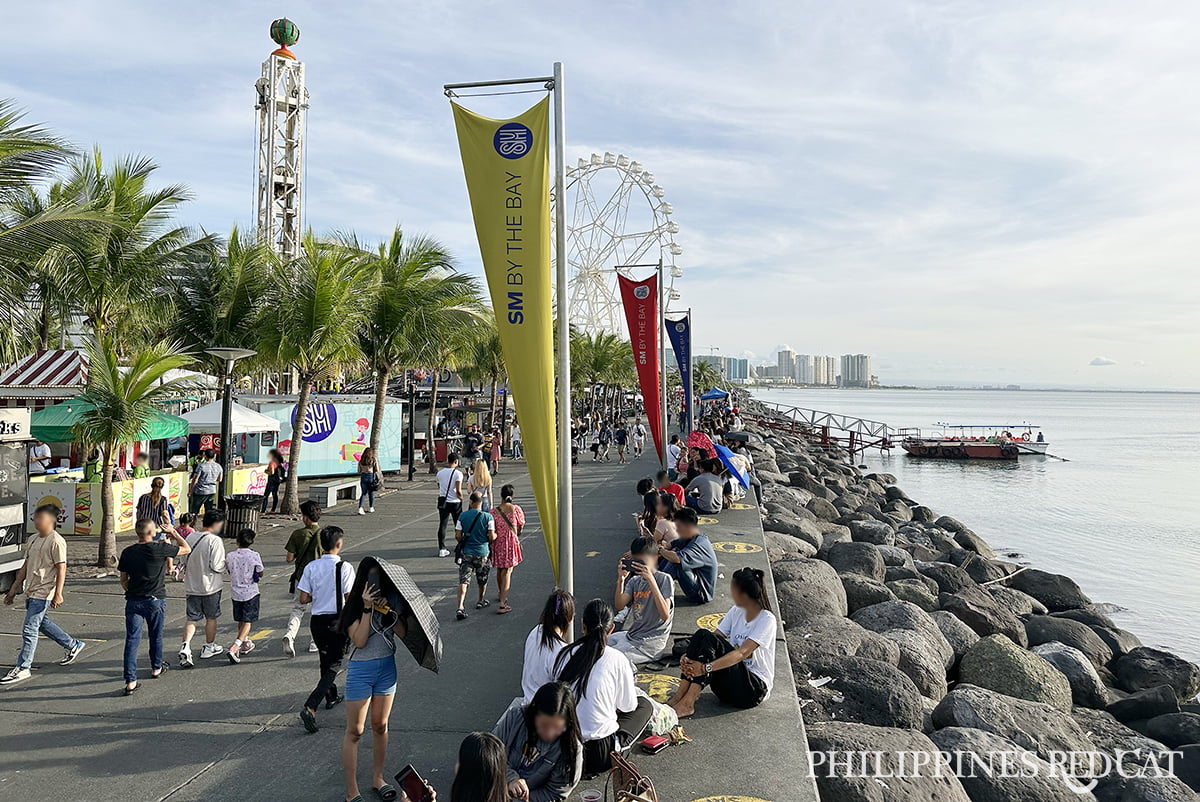 The first step to getting a girlfriend in Manila is to go to normal places during the day. This gets you away from the club and bar girl scenes, and more towards places that will have mostly non-pro girls going about their daily lives. It's also a great way to set up dates and meet ups for later.
My advice is to start off at one of the three popular malls. Greenbelt 3, Mall of Asia and Robinson Malate are all great places to hang out at during the day. I recommend staying around the Starbucks at any of the three, and also Cafe Havana at Greenbelt 3. You'll encounter normal Pinays who are out shopping (and in great moods because of shopping), and they'll be feeling extra receptive to meeting a foreign guy.
It's best to approach girls who are alone, and try to be discreet about it, as they won't want to draw attention, or look silly in front of their friends or family. You can lead in by asking a normal question (like direction to some landmark), complimenting her looks in a restrained way, or asking her to join you for a coffee. Whatever works.
Make it brief, get her number, and be on your way. A nice tip is to have your name and number on slips of paper that you can quickly give to her without making a scene as you write it down. You'll be amazed by how many girls will shoot you a message one hour later.
If malls aren't your thing, hang out around the Manila Bay Promenade (picture above) or Makati during the day at shops and cafes, and use the same tactics. There, you'll find a lot of Manila girls who are a little more educated and professionally-oriented, which means they'll be open to a savvy foreign guy like yourself.
Meeting Manila Girls at Night
Trying to find potential girlfriends at night in Manila will be a little more difficult than during the day. Not because of the lack of girls, but because of the amount of freelancers and other working ladies that will be out and about.
Still, it can be done. You just need to know what area to go to, and what clubs.
Makati is going to be where you'll want to focus on, which isn't really a surprise. It's the nicer, wealthier part of the city, and where all the hottest girls like to cut loose at.
XYLO at The Palace should be your first stop. It costs the most to get in, and has the lowest amount of working girls in regards to the biggest dance clubs here. This place is always packed, so even with a small amount of game, you can approach a lot of girls here and feel them out. Throw a few high fives, and remember to not draw too much attention to yourself with her. And as always, have that phone number paper ready to go.
Another great spot to check out that offers a different vibe is Firefly Roofdeck Bar. This place has an incredible view, and is a little more laid back – a good place to have more of a conversation and get to know someone a little better. It's also a good dating spot, so keep that in mind.
Manila Girls on Dating Sites
Dating sites can be a little tricky, but that doesn't have to be the case. Pina Love is a very popular site with a slew of girls on it, and it's not hard to sort through and find the ones actually interested in spending some quality time with you, rather than trying to come after your money – something very common on other dating sites with Pinays.
I think it's a better idea to try this site once you're already in town, rather than the usual lining up of meet-and-bangs before arriving in a country on a dating site. With Pina Love you can ask the girls out for coffee or lunch during the day, and take it from there. Just create a free profile, upgrade if you feel like it (I'd say it's definitely worth it), and begin browsing profiles and messaging girls.
You'll have plenty of dates set up in just a few hours, and you can begin your true girlfriend quest from there.
Conclusion
Manila is one crazy ass city that has way too many people, too much traffic, and too much to do. With that said, the abundance of girls, and the setup of the city makes it a great area to meet hot, educated, and interesting Filipina girls who are worthy of having a fling (or more) with. Once you figure out the vibe and the culture more after staying around for awhile, it gets easier too.
Just remember to be respectful yet confident, stay within the norms, and use some critical thinking when first making contact with girls in this city, and you'll be alright. Who knows, you may even find someone for the long term.