The massage scene in Bohol isn't much different compared to most other tourist destinations in the Philippines: Even though there are plenty of small massage salons and spas spread around the different beach towns, it's very difficult to find a masseuse who accepts some "tip" in order to provide you with an oily hand job or blow job happy ending.
You might think that at least Alona Beach in Panglao has something to offer for the single male traveler, and so did I when I revisited there last month to put together all these guides on Bohol for guys like you and me, who don't just come for the chocolate hills, but also for the creampie girls.
So I walked along every single street on Alona Beach, and could find about half a dozen massage salons. Especially one of these places looked very promising, it had young and lovely girls in pink dresses. They already smiled at me meaningful the day before when I walked past their salon to the beach the previous day, so I thought if I had some chances for a happy ending, then probably here.
I chose the girl you can see in my picture for a one hour body massage. The first surprise came when not she entered the massage room after I changed my clothes, but a man! I politely asked him if I could have a girl masseuse instead. He said sure, and five minutes later that girl came in.
But at that time I already knew that these people don't give any "extras" or "specials", so when I asked her about 45 minutes into the massage (after turning on my back), if she could "massage here?" while she was working on my upper legs, she just said "no, sir". Five minutes later I asked one more time, offering her a tip of 500 Pesos for a hand job, and again she said "no, sir, it's not allowed." That typical response you hear so often in the massage salons in the Philippines.
The money wasn't really bad spent as her massage skills were really good, so I gave her a tip of 100 Pesos. I could have easily gotten her phone number and met her later that day for dinner, but, I don't know, sometimes I'm too lazy for all that dating.
Too bad they don't do happy endings here. Bye Bye.
I still didn't want to give up, so I went to two of the other massage salons on Alona Beach, and simply asked them right away if they offered happy endings or not.
When they heard my question, they giggled and said "no, sir, we don't do that." I asked them no happy endings in Alona? They confirmed that. I was about to leave the place and drink a few pilsener in One 4 Da Road, when one of the older masseuses suddenly said: "Oh, sir. I know a place. They do happy endings, sure. But it's not in Alona."
I listened, and five minutes later sat on the back of a motorcycle taxi, on my way to Dauis.
The Only Guaranteed Happy Ending Massage in Bohol
Dauis is a small town in the center of Panglao, about 11km from Alona Beach. Actually, I wouldn't even call it a "town", it's just a few houses, shops, farms and a church on the main road leading to the bridge that connects Panglao with mainland Bohol.
Funnily, someone decided to open the premier happy ending massage parlor here in the middle of nothing. Maybe to avoid potential problems with the officials by staying "under the radar".
The place we are talking about is 108 Spa Inc., and located on the main road in Dauis.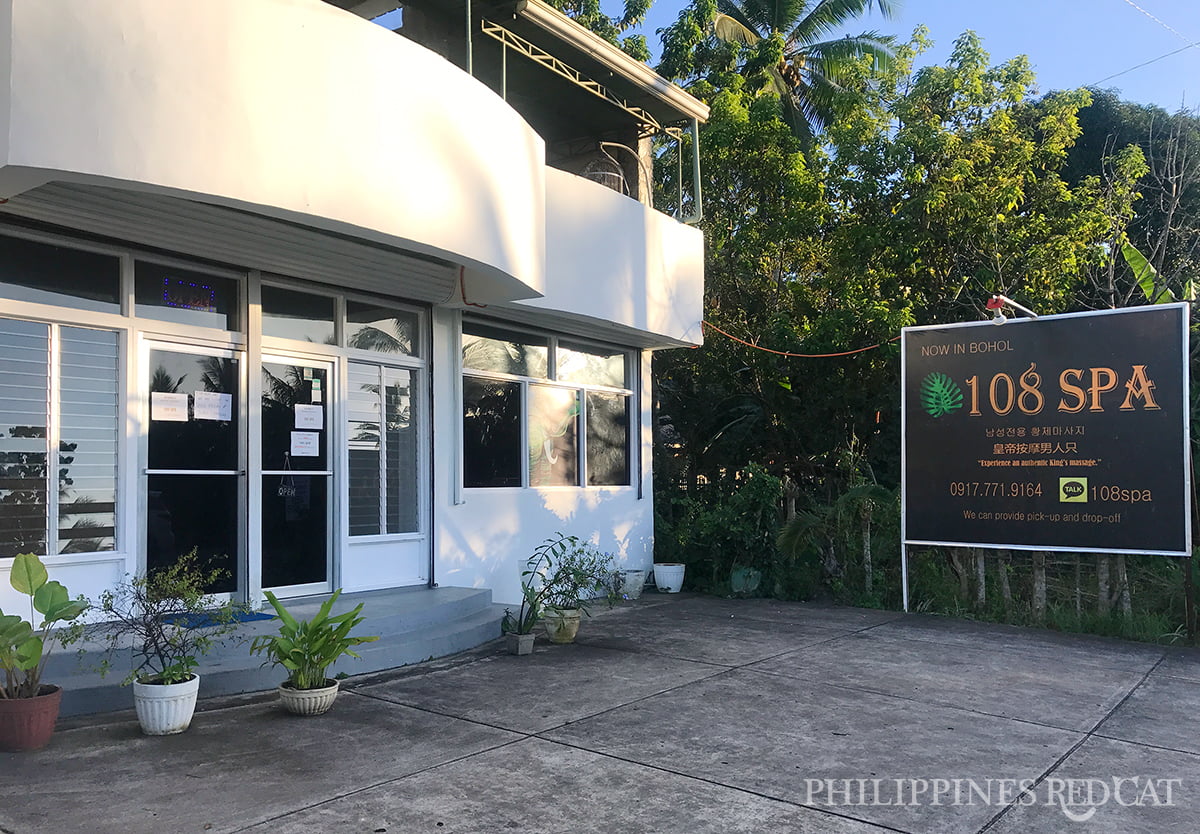 Upon entry, you will be greeted by the receptionist and offered their signature massage: A Lingam Massage. If you don't know what that is, it's basically an erotic prostate massage that finishes with a hand job.
The price is 1,200 Pesos and it lasts 60 minutes. I inquired if I may choose a girl (you don't see any of the masseuses in the lobby), and she said that they don't have all the girls line up for the customers to choose, but you can change the massage girl twice if you don't like her.
I said okay, so she brought me to the private massage cabin and told me to "take off everything" and lie down on my stomach.
Shortly after my masseuse entered the room. I didn't expect much, but she was surprisingly attractive, 29 years old from Cebu, very firm but smooth body, and a great butt and legs that I touched several times throughout the massage.
I obviously didn't request a change of the masseuse, because I really liked her.
She turned out to be not only a great masseuse (strong and skilled), but also when she started with the prostate massage and eventually the hand job, she knew exactly what she was doing. She didn't do it too fast either, I really think she enjoyed it, too, and tried to delay my finish until the 60 minutes were over.
Anyway, I don't think you want to know everything in detail. It was a great happy ending massage, in fact, one of the best I ever had in the Philippines – maybe because these girls are skilled in performing erotic massages, unlike the women in the regular salons who also turn you off when demanding more tip than you originally planned to give them.
After the massage was over, I could take a shower. Just like anything else in 108 Spa, nice and modern facilities. And before saying bye bye I managed to take a pic of my lovely masseuse.
And that's really everything you need to know about happy ending massages in Bohol: You may try your luck in the regular massage salons on Alona Beach or Tagbilaran, but if you want a guaranteed erotic massage with hand job happy ending (blow jobs are not offered, I inquired, but you may ask your girl and offer her some additional tip), then 108 Spa in Dauis is the place to go.
Overview Map of Massage Salons in Bohol
If you want to share your own experiences on massages in Bohol, then you can do that down in the comment section.