As already mentioned in the Boracay nightlife guide, this might not be the best place to meet ladyboys especially compared to other tourist hubs like Angeles, Manila and Cebu. You might even spend your whole holiday without even noticing one at all. And that could be partly because you don't know where the few ladyboys on Boracay are to be found or that you have difficulties spotting the difference between them and the girls.
However, if you are keen on really hooking up with a ladyboy in Boracay "just for the experience" and go out there and actively look for them then you shouldn't have big difficulties to make it happen. Especially after reading this guide.
As anywhere in the country, the most convenient way to go about this is obviously to use the Ladyboy Dating Site and browse through the members who live in Boracay. And besides that, you can meet them either in the bars, on the beach or in the kind of secret brothel that not many seem to know or talk about. At least not on any other English website. I'll show it to you as well as all other mentioned places.
Ladyboys in Boracay Bars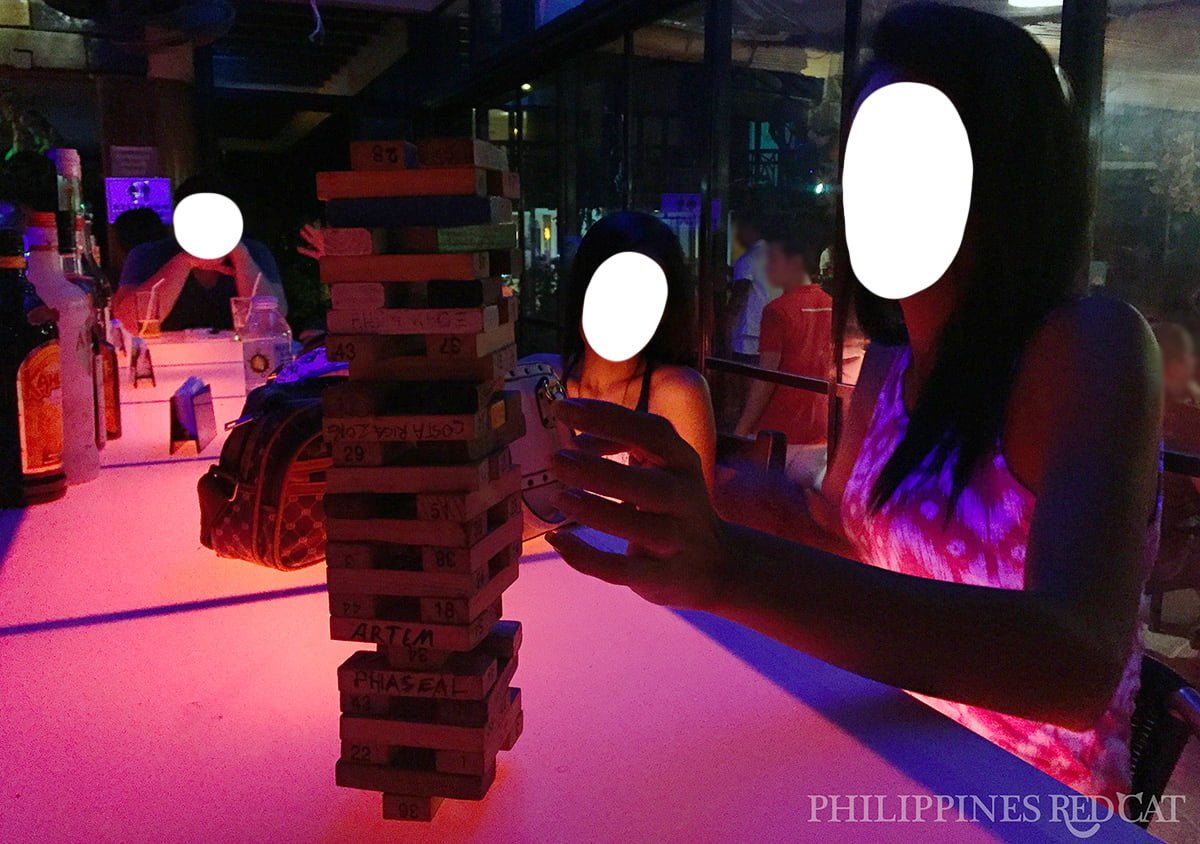 It's kind of rare that you see ladyboys in the bars as most of them would rather hang out on the Beach Walk while looking for customers instead of paying for drinks until they meet someone. There is one place though that seems to attract really nice and hi-class ladyboys and that would be Coco Bar (picture).
Technically they are all freelancers no matter whether you meet them in the bar or on the street, but the ones in the bar tend to be a safer option (less risk for issues) as they have enough money to buy drinks for themselves. And you will probably also agree that they are generally much more attractive than the street hookers. So again, Coco Bar is a great place in this regards, but also the neighboring Exit Bar and from about midnight the most famous Epic night club attract a bunch of ladyboys every night.
Prices: When you first ask them how much they want they might say 3,000 Pesos, but that's really just to test you out. More realistic is something in the 1,000-2,000 Pesos range – just be a gentleman, treat them with respect and you'll get a much better deal and service.
Ladyboys on Boracay Beach / Shops
Believe it or not, but when I went out to the beach one afternoon with my Filipina date (girl) and waded through the shallow water up to the holy Maria statue (see map), there were a group of three ladyboys jumping into the water not too far from us. As soon as they noticed me they couldn't stop looking and smiling and suddenly one of them pulled up her bikini so I could see her fake (but big) boobs.
I don't think my girl noticed any of that. Anyway, this spot on the beach near the Maria statue seems to be quite popular for ladyboys to go for a swim in the late afternoon and you'll notice they are even more "open-minded" and straightforward in their behavior than Thai ladyboys. You will also see a Filipina ladyboy here or there in one of the shops on the beach or, like in the picture, in the fashion market down at Station 3.
Prices: Potentially for free, but a lot of them will still expect you to give them some money to buy something to eat, "load" (top-up) for their phone or whatever other "small problems" they may currently have.
Ladyboys in Boracay's Brothel
There's a small alley connecting the Beach Walk with the main road and it's so narrow that most people don't even notice it. Even fewer make their way through the tunnel that leads to a slightly wider path with residential buildings of the local Filipinos. Walk straight for another 50 meters and you will come to a three-storey building to your left with a kiosk on the ground floor ("Local Massage" on the map below).
There's an open door and if you walk in, you will find not only girls but also ladyboys offering "massage" in one of the rooms. They may ask if you want to drink something first, but especially the ladyboys tend to come to the point very quickly after the standard questions of where you come from, what's your name, how long you stay here etc.
It's 300 Pesos for the rental of the "massage room" that has a bed, towels, small TV and attached bathroom. Condoms need to be purchased separately and of course you will also have to talk with her how much she wants for the "massage" which is of course rather shower and sex. They usually say something like "no worries, it's ok" but better to arrange something in advance to avoid potential issues. It works the same way with the girls and there seem to be both girls and ladyboys around at any time of the day (maybe not so much in the morning when they are sleeping).
Prices: 1,000-1,500 Pesos (negotiable), plus room rental for 300 Pesos, plus condoms for 100 Pesos.
Update: This place is now closed.
Boracay Ladyboys on Online Dating Site
The fourth and final way to meet ladyboys in Boracay is by using the Pina Love Ladyboy Dating Site. You would do some chatting before arranging a place to have a drink, dinner or, if you are too shy to meet her in public, you may ask to discretely meet her in her or your room. This may be a little bit more difficult in Boracay than it is in Cebu or other big cities where you could just tell the taxi where to drop you, but just see what she says. It's probably not the first time she is meeting a "curious" foreigner.
Prices: The dating site is free. Then it depends on the ladyboy if she wants money. You could clarify that before meeting her by asking like "Sorry, I don't want to be rude. But do you go with men for money?" I'd say it's like half of them want money and the other half just look for casual adventures with tourists.