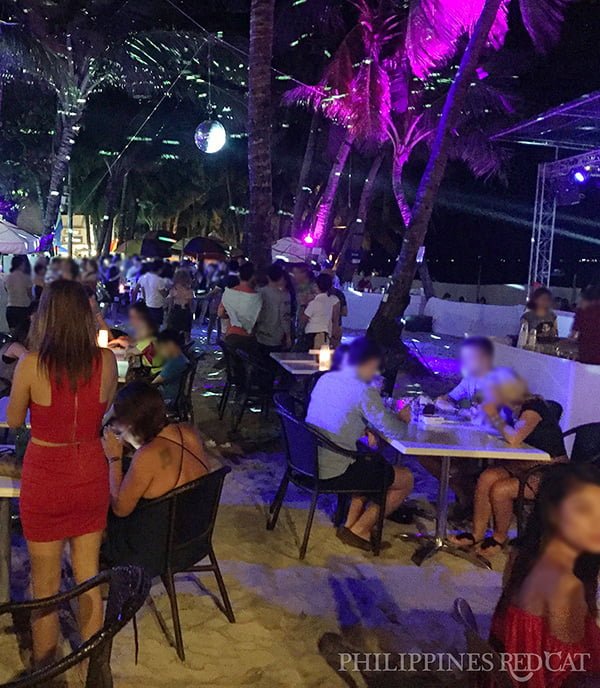 Boracay has the best island nightlife in the Philippines and that's no different when it comes to partying in the nightclubs. You will find a great mix of Western and Asian tourists as well as local Filipinos in these places.
If you have been to Thailand before, you probably know that they like to separate the clubs in foreigner and Thai places (mainly because of different preferences on the setup), but over here all places are good enough for everyone.
And guess what: If your goal is to land at least a couple of one night stands to make your trip to Boracay a memorable one, then you won't have big difficulties accomplishing that. Because you will find both Filipina girls from Manila and other parts of the country who are here on holiday and just want to have a good time as well as plenty of freelancers who will make things even easier, but then expect you to pay them some cash for "going with you".
All nightclubs on Boracay are to be found on White Sand Beach. But that doesn't really make things easier, because we are talking about a stretch of 3km with 90% of all nightlife venues along the Beach Walk and the remaining 10% on the main road that runs parallel to the beach and the smaller streets in the center of the island. It takes at least 40 minutes to walk from the southern end of the beach (Station 3) all the way up to the northern end (Station 1).
So if you don't want to waste your time and money you may find the following list of the currently five best and most popular night clubs in Boracay useful:
Epic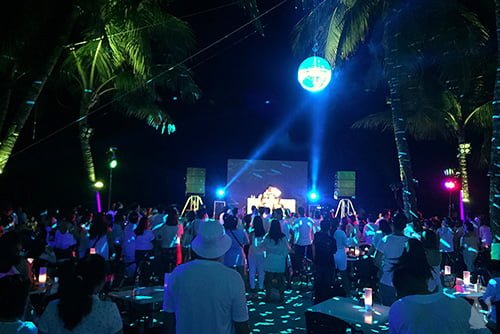 The number one and most popular nightclub in Boracay. Epic actually looks like just another romantic beach restaurant in the evening, serving seafood and pizzas for candlelight dinner. But if you come back at around midnight, the whole scene has changed to a bustling and vibrant open air night club with a big stage for the DJ, laser show and disco ball. Epic gets so busy on some nights that people just buy their beer from a neighboring bar and gather on the Beach Walk in front of the club. Doesn't make a big difference anyway since it's all open air. Really the best club on Boracay to party all night long as it closes at 5am.
Admission: 300 Pesos, 2 drinks included
Working Girls: 40%
Summer Place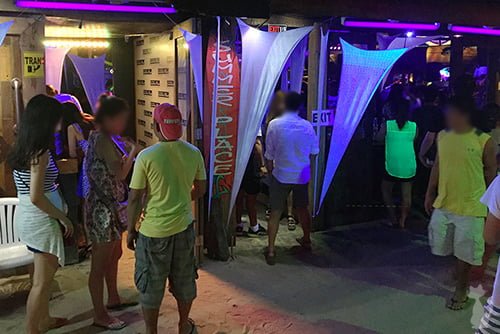 The biggest competitor of Epic (see above) with a similar new and modern set up and furniture, Summer Place is also on the Beach Walk about 100 meters south from Epic. It's all indoors and attracts some of the hottest ladies on the island and that would be both Filipinas and Koreans (as well as the odd group of western girls). You'll also see some Filipino guys hitting on the foreign ladies (see video), but don't worry as there are more open-minded and sexy Filipina girls than you could possibly handle. As in all other nightclubs in Boracay there is a DJ in charge of the music, so if you prefer a live band then you might instead visit one of the bars.
Admission: 300 Pesos, no drinks included
Working Girls: 30%
Cocomangas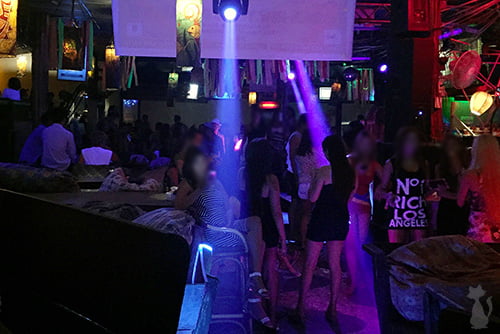 It's a little bit difficult to classify Cocomangas as either bar or nightclub, but one thing is for sure: This is the best place to find Filipina hookers on Boracay. You can come here on any night from about 9pm and have literally dozens of girls standing around and looking for guys to talk to. It really feels like a "chicken farm" where you would just go and pick one you like. Besides all that, there's also a spacious dance floor as well as comfortable lounge kind of bean bags in separate seating areas all around. Legendary place Cocomangas and being founded in 1987 they also pride themselves as the most successful and longest running bar on the island.
Admission: Free
Working Girls: 90%
Club Paraw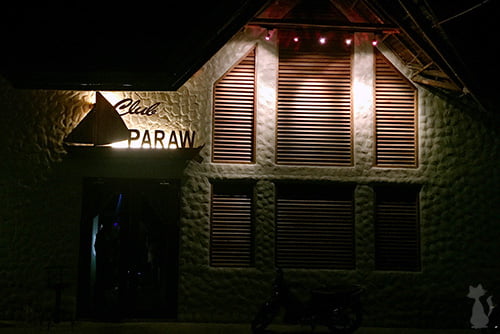 Right across opposite the street from Cocomangas is Club Paraw, a semi-open-air beach club. This is really the only party spot on the beach in this area (Station 1), and it tends to get busy mostly on the nights when the popular Pub Crawl ends their tour here at around 11:30pm and people just stay on for the rest of the night. It's not really a great place to meet Filipina girls, but instead you have good chances to pick up some enthusiastic and more or less drunk foreign girl from the Pub Crawl (and there are actually some Pinays joining as well who are here on holiday).
Admission: Free
Working Girls: 10%
Boracay Stars Disco Pub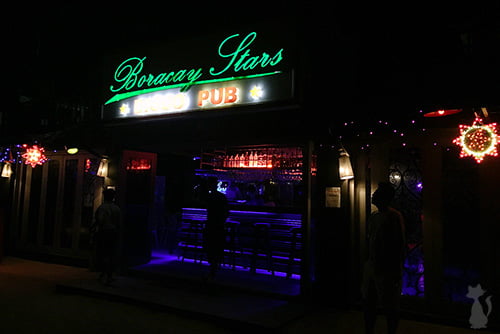 Boracay Stars Disco Pub is one of the newest night clubs on the very southern end of White Sand Beach near Station 1, mostly popular with Filipinos and you don't see that many foreigners partying here who would rather stick to Station 2, just because there are more places to choose from. But at the same time that means there are great chances to pick up a lady without much competition (not that it would be that difficult in other places either). Quite popular at this nightclub that has the usual DJ, laser lights and dance floor are the seating areas in the back with comfy couches that tend to get taken quickly by Filipinos who want to show off sharing a bottle of whiskey.
Admission: Free
Working Girls: 20%
How much for Drinks in Boracay's Nightclubs?
The next thing you might want to know is how much it's going to cost you for drinks at the clubs in Boracay. Well, the beers are relatively cheap as everywhere, like 80-100 Pesos for a bottle of San Mig or Red Horse (international beers like Heineken are pricier around 200 Pesos), cocktails and whiskey shots are in the 150-200 Pesos range and as for bottle prices, well, just look at the menu of Epic below to get an idea: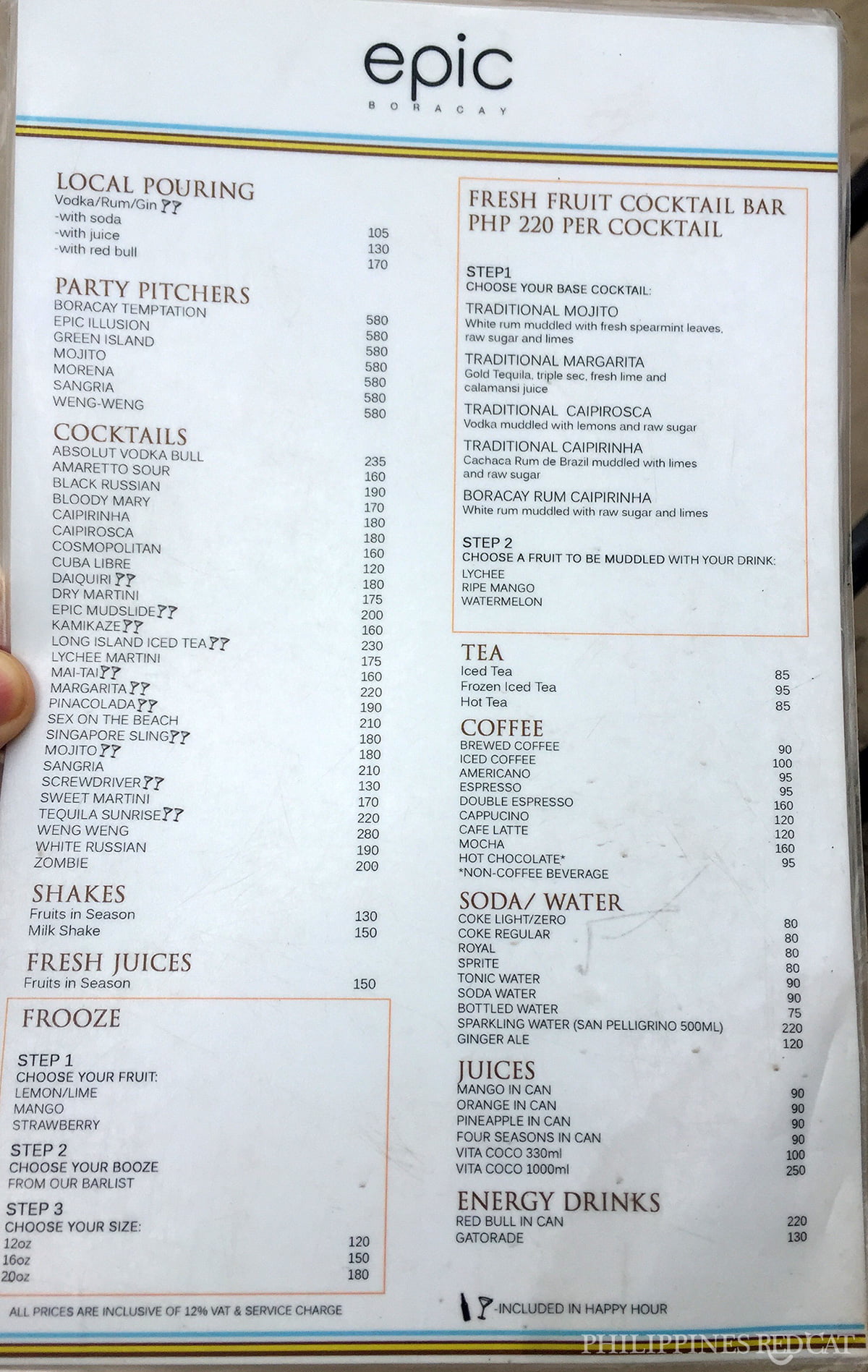 Map of the Best Nightclubs in Boracay
Videos of Nightclubs in Boracay