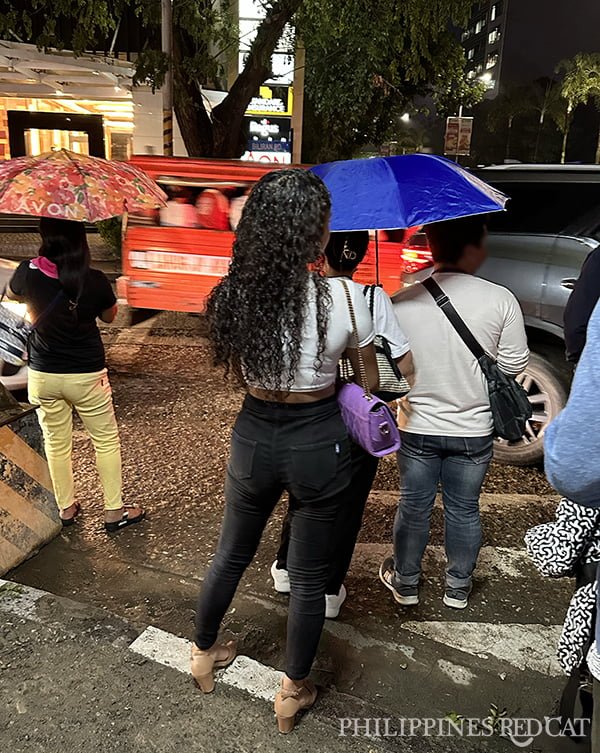 The Philippines are becoming an increasingly popular destination for single male travelers seeking paid love and sex with young and attractive Filipina girls. It may even safe to say that it ranks as the world's number 2 sex destination right after Thailand.
The number of tourist arrivals from men all over the world increases every year while word spreads that the prices are slightly cheaper than in the land of smiles, there are less misunderstandings, tricks or even scams going on because Filipinas speak English so well and understand the western culture a lot better than Thais do and also the infrastructure including hotels, restaurants and transportation has improved a lot during the past few years, making it more and more attractive for a great value-for-money sex holiday.
And many would also argue that the average Filipina hooker is more attractive than the average Thai, Cambodian or Indonesian bar girl with nicer curves and bigger (natural) boobs. And their skin is as smooth as it can get.
The Philippines long had a reputation for serving sex tourists (and expats) primarily in the infamous city of Angeles, 82 km north of Manila. While it's still true that Angeles City has the biggest and most diverse red light scene, there are hookers looking to sleep with foreigners for money pretty much anywhere in the country. Just have a look at my nightlife section that has detailed information on where to find bar girls in all major cities around the Philippines.
It is estimated that there are currently 800,000 Filipina prostitutes, but if you include all the freelancers the number should be well more than one million. And it's important to know that there are many different types of hookers in the Philippines so here's the complete overview including the average cost of sex:
Filipina Sports Bar Girls
Sports bars in the Philippines are comparable to the beer bars in Thailand. There is usually a pool table, lots of TVs with live sports and really make the best hang out and meeting place for both tourists and expats.
And they also got sexy Filipina bar girls employed that not just work as waitresses but also as "entertainers" who will sit next to you and make sure you have a good time as long as you buy them lady drinks. The difference to the beer bars in Thailand is that in the sports bars in the Philippines there is no bar fine means you cannot pay money for taking the girl out of the bar.
Since Filipina sports bar girls cannot go with men before they finish work (usually around 2am-3am unless she works the early shift from 12pm to 9pm, but those ones are generally not as attractive) the way it works is that you either wait for her to finish or, since that's really late, you just take her number and arrange to meet her the following day before her shift.
Prices: The beer in the sports bars is very cheap usually around 70-90 Pesos per bottle or glass of draft beer. Lady drinks are pricier yet not expensive at 170-250 Pesos (which is about Thailand beer bar standard). Billiards is sometimes free (usually if the table is old) otherwise the standard price is 20 Pesos if you lose your game (unless you play with the bar girl then you always pay).
Sex with a Filipina sports bar girl is about 2,000 Pesos. They will often ask for 3,000 Pesos but then it's about negotiation, don't forget to be polite, smile a lot and be their new best friend which always goes a long way here.
Filipina Go Go Girls
One of the most straightforward ways to get laid in the Philippines is to visit a go go bar, sit down, order a beer, watch the girls dancing on stage and make eye contact with the girl you like. After she finished dancing (usually after 3 songs, except in the smaller bars with only one girl on stage they'd just be up there for one song before the rotation continues) you can have her sit with you.
These places are more commonly called bikini bars and that's because they usually wear one but not get naked. Again I say usually because there are exceptions when you get to see them completely naked while performing a sexy coyote show, but these kind of places are much more rare compared to Thailand. And the really pretty girls don't tend to be willing to undress on stage anyway, so I wouldn't stress too much about this.
Anyway after your girl sits down next to you and you ordered her a lady drink you can still get intimate with her and touch her, they usually aren't shy if there are no Filipinos around and often grab your dick in less than five minutes. Then you can consider to pay her bar fine to take her out for sex.
Prices: There are some go go bars (or bikini bars) that don't allow bar fines, but 90% of the places do. Note that unlike Thailand or Cambodia, the price for the bar fine actually includes the price for sex. 4,000 Pesos is a standard at many places, however I have been to bars in Cebu that charge 7,000-8,000 Pesos (like East Paris and Arena).
Beers are slightly more expensive than in the sports bars around 100-140 Pesos, and the same applies for lady drinks which cost between 200 and 350 Pesos.
Filipina Karaoke Girls
The line between bikini bar and karaoke (usually called KTV) is very thin. That's because many KTVs have the setup of a bikini bar with girls performing on stage but then several private karaoke rooms for rent on both sides of the room or upstairs. The quality of the ladies is usually the same and among the best in terms of Filipina hookers.
Prices: Very similar costs to the bikini bars, but many KTVs have extra rules like you have to buy the mamasan one drink along with the girl's first drink (means like 600 Pesos just to get started). Also, they often say you have to buy the girl a drink every 30 minutes or hour so she continues to "entertain" you. The private karaoke rooms are usually 500 Pesos unlimited time use.
Filipina Bar / Club Freelancers
Freelancers are the most common types of hookers in the Philippines. Some of the girls may be full time pros. Others may have a day job at the department store or restaurant and can't resist the temptation to earn more money in one hour with a foreigner than working on their day job for eight hours.
The better looking freelancing girls are usually going in the bars and clubs to meet a foreigner. They aren't too difficult to spot when you keep in mind that Filipina girls are generally shy in public so when a girl makes the first step talking to you she's a hooker 90% of the time.
Others who just smile at you may just be normal girls who find you interesting, handsome, exotic or whatever but then hang out with their friends and would hope you start talking to them. Or they send over their gay friend to introduce them to you.
Prices: A lot of the young and good looking ladies may be asking for 3,000 or even 4,000 Pesos, but that's not what you should be paying. 2,000 Pesos is a standard price for sex with a Filipina freelancer, but if you spend some time together or just have a good chemistry she might be okay with 1,000 or 1,500 Pesos. Especially the later you meet her as her chances to find another customer go down.
Filipina Mall / Street Freelancers
The second type of freelancers in the Philippines are the girls looking for customers in the shopping malls or right on the streets. They are usually less attractive than the ones in the bars and clubs and that's because they don't need to spend money on drinks before they meet someone. But of course there are always exceptions and I've seen plenty of hot chicks in Ayala Mall in Cebu making their rounds who may not have the prettiest faces but great bodies and big natural boobs.
Prices: They may be asking for more, but most of them would happily agree to go to your hotel for 1,000-1,500 Pesos. If you go to the poorer areas of the towns you can even pick up girls for 500 Pesos. They usually also know short time hotel rooms for around 200-300 Pesos nearby if you don't want to bring them back to your hotel.
Filipina Massage Girls
Don't expect the same kind of happy ending massage scene that you may know from Thailand with ladies in short skirts sitting outside and yelling at you "hey handsome man, massage!". There are lots of massage salons in every city in the Philippines, but you'll need to go inside to inquire for a service. And when you ask if you can choose a girl they usually look irritated, sometimes they may say okay and bring over a few girls (or women) but sometimes they also respond with "why?" or "no, sorry Sir".
There are relatively few massage salons in the Philippines that offer guaranteed happy endings and those places let you know about it at the payment counter in the lobby. Check out my nightlife guides for each city if you want to know where these places are. For the remaining 95% of the massage salons it really depends on the lady if she reacts positively to your question "can you massage here?" in exchange for a tip.
Prices: The common price for a full body oil massage is 350 or 400 Pesos for one hour (they usually call that "Swedish Massage"). And an appropriate tip for a happy ending (hand job) would be 500 Pesos.
Filipina Soapy Massage Girls
Originally oriented towards local Filipino and Asian men (but increasingly popular among westerners) the soapy massage is different to the "traditional" happy ending massage: This is the full program including sex with a beautiful and usually light skinned Filipina girl in one of the bigger massage parlors. I wrote a full guide on this topic that you can find here.
Prices: The full price including the room rental as well as the sex price of the girl usually comes down to around 3,500 Pesos. However, there are some more upscale massage parlors (usually located within the premises of the bigger KTV complexes of Manila and Cebu) that make you pay 5,000 Pesos and more. This price includes about 1.5 hours time with a girl of your choice and "one shot" (one time sex).
Filipina Dating Sites Girls
The dating sites are usually the best way to meet Pinays for free, but you can also find quite a few pros on them who want money for sex. This can also be a good thing though because every once in a while you might want to skip the whole dating part (dinner, coffee, taking a walk, talking, convincing etc.) and just have a nice girl come over to your place for "watching a movie" for a couple of hours and then move on with your day.
Filipina Escort Girls
An even quicker and easier yet more expensive way to have a Filipina hooker come to your place is to simply book one at a site like Smooci and have her knock on your door one hour later. Just go on google and search for "manila escorts" and you should be able to find something (or rather someone) that fits both your taste and budget.
Prices: The standard price for a 2 hour session with a Filipina escort girl is 5,000-6,000 Pesos. Some agencies have cheaper rates for some of their girls from 3,500 Pesos while others position themselves as a premium service and charge as much as 10,000 Pesos. If the girl is really three times as attractive as the cheaper one is up to your own judgement.
Filipina Sugar Babies
Yes, you read it right, there are countless of women in the Philippines who are looking for a "Sugar Daddy". You can find them all on the popular Seeking Arrangement website, where you just have to create an account (it's free), and then you can browse through the thousands of girls all around the Philippines. And if you are traveling in other countries too, then even better: This website has "Sugar Babies" from all over the world (just use the search function).
Prices: Every girl on Seeking Arrangement has a different "Lifestyle Expectation" (that's how they call the price arrangement). Just take a look on the profile pages of the girls you like, and you will see how much they expect you to pay (but of course, that's always negotiable, depending on how much they like you).
Filipina Ladyboy Hookers
You see more and more ladyboys frequenting the bars, clubs, streets, shopping malls and even online dating sites these days, offering sexual services to curious foreign men. Since there is a lot more to say about Filipina ladyboy hookers than in just a few paragraphs you might find this guide interesting for very detailed information on this topic.
Short Time or Long Time?
Filipina hookers don't really use these words as much as they do in Thailand. Therefore, if you arrange with a bar girl to meet you on her day off (or just after work) and you don't talk about the time frame then you can safely assume that she stays with you for as long as you want or until she has to go to work again.
It's better to just not ask whether short time or long time because if you do chances are that she sees a chance to charge more or leave earlier when she would have stayed with you "long time" for the same price. And anyway, if you change your mind a few hours later you can just pay her and she will leave.
The exception would be the escort girls where they tell you exactly how much time you get to spend with her (again, the minimum is 2 hours for around 5,000 Pesos) and they even inform you how many "shots" you can have (the number of times you can have sex with her) and if you book her for 24 hours you get unlimited shots.
And also obviously if you go to a massage salon you would also pay by the hour, like 400 Pesos for one hour or 700 Pesos for two hours not including any naughty activities that need to be negotiated separately.
I hope you got a good overview now of the different prices of sex in the Philippines depending on the type of establishment. As always, I will update this guide in the future to make sure the info stays up to date.