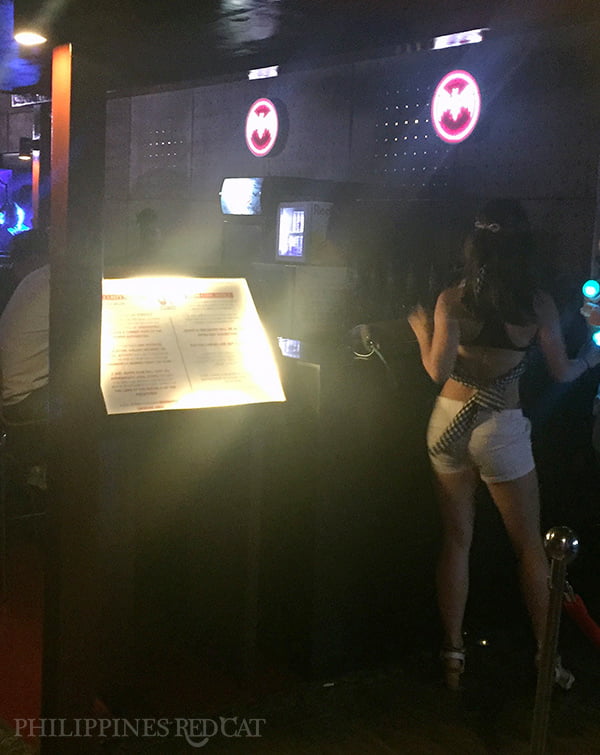 Cebu City is one of the best places in the Philippines to live or visit. Especially single foreign men love it here mainly because of its great nightlife and countless of ways to meet young, attractive and open minded Filipina girls. And the nightclubs are definitely among the best places to enjoy yourself and get "lucky".
You'll find it hard to spend a few hours in one of Cebu's night clubs and not have at least one nice Filipina look and smile at you. Chances are that you'll make promising eye contacts with quite a lot of ladies and become undecided on which one to approach (read: choose). Because there seem just so many available for you.
The question is: Which clubs are worth to visit? Especially when you are new here or just visit for a few days you might want to know about the places that attract most girls and that you have the best chances to score.
It won't be that difficult anyway, because if you don't succeed with a "normal girl" there are always more or less working girls around that are rather easy to spot. Especially when they come either alone or make the first step talking to you (Pinays are generally shy and may just smile at you, but expect you to make the first step or just send over their friend to introduce them to you).
Below is the list of the currently five best and most popular nightclubs in Cebu City. Including information on drink prices and entrance fees, share of working ladies in relation to normal girls, the exact locations as well as my videos of each place mentioned:
Club Holic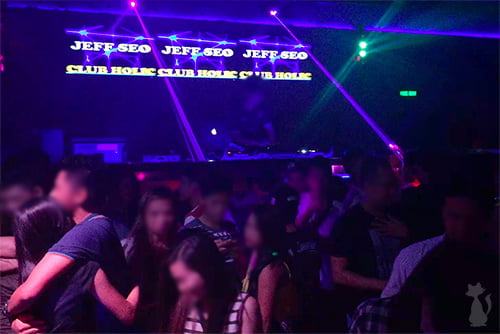 The biggest hooker club in Cebu right now, located right on the famous Mango Square. Most of the ladies here are freelancers who are looking for a nice foreigner to spend the night with (in exchange for about 2,000 Pesos). From all of the places on this list, Holic comes closest to the typical western type of nightclub with a very spacious dance floor in front of the DJ and several seating areas, partly bar stools, partly proper tables with comfortable couches (those tend to be taken by the guests opening a bottle of whiskey). Simply put: If you have only time to visit one nightclub in Cebu City and it's your goal to meet a nice local girl for a one night stand, you'll have the best chances at Club Holic.
Admission: Free
Working Girls: 80%
APEX Super Club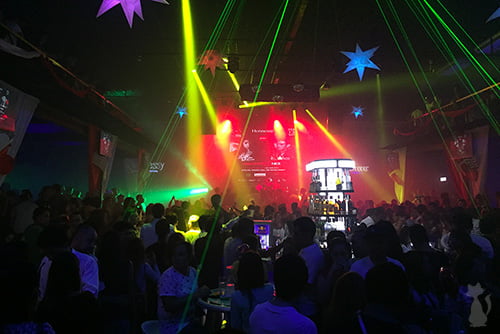 The newest, biggest and most popular nightclub in Cebu located near the Park Mall. APEX Super Club is packed every night and on weekends you may need to come early (before midnight) or otherwise have to queue in line outside. Here you can find some of the most attractive Filipina girls you can imagine and they usually come in groups with friends and take a table (you get one if you buy a bottle of whiskey). It's quite a lot about showing what you have in APEX, very similar to the local clubs in Thailand. There's a huge stage for the DJ (they get quite a lot of famous foreigners performing) as well as sexy Coyote girls dancing every once in a while (see my video below). There is also a dance floor, but that's relatively small since the concept of this super modern club is that people stick to their tables and dance right there. By the way, APEX Super Club is one of the few nightlife venues in Cebu that allow ladyboys to enter. And they are quite hot to be honest.
Admission: 200 Pesos (weekdays) / 300 Pesos (weekend), no drinks included.
Working Girls: 30%
Dress Code: Pants and shoes – no shorts, sandals or flip flops (there is no dress code in all other clubs mentioned here)
Uptown Cebu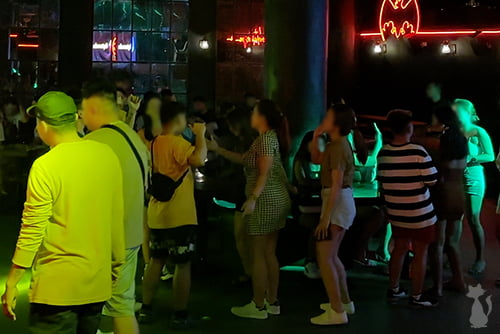 Uptown Cebu (previously J-Ave) on Mango Square was the number one night club for many years – until they built APEX. It's still quite an institution in the Cebu nightlife scene with extremely hot, white skinned and sexy Filipina girls. It's important to know that most of them are freelancers (or working girls, or pros whatever you like) that are here primarily to find customers. This club is known for attracting some of the top-notch hookers who would not go with you for less than 3,000 Pesos (often more than that). And also note that a lot of these girls are only interested in meeting Korean guys (about 60-70% of the people here are from Korea). About regarding the setup of Uptown itself: There are many round tables in front of the DJ stage as well as elevated "VIP tables" and private rooms with a glass front which are usually rented by guess who – the Koreans. And there's also a seating area outside that's nice for people watching, almost as good as on Mango Square itself.
Admission: 100 Pesos (weekdays) / 200 Pesos (weekend), one drink included.
Working Girls: 70%
Ultra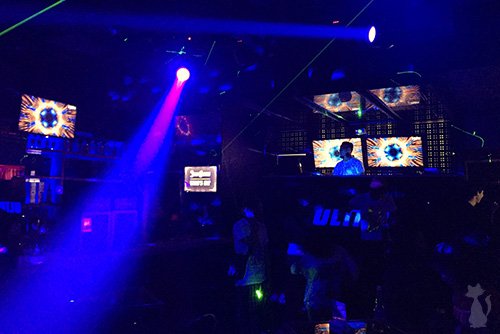 Right next to Holic is the small but neat Ultra. The atmosphere here is a lot more laid back, but that's not so much because of the music which is quite loud but rather because of the people you find here: Mostly young Filipinos who just want to have a good time with their friends. There are quite comfortable couches on the sides of the room, a few tables and a lot of open space that provides great dancing and meeting opportunities. Since the entrance here is free you can just have a look inside or grab a beer to see if you can make friends with someone.
Admission: Free
Working Girls: 20%
MO2 Restobar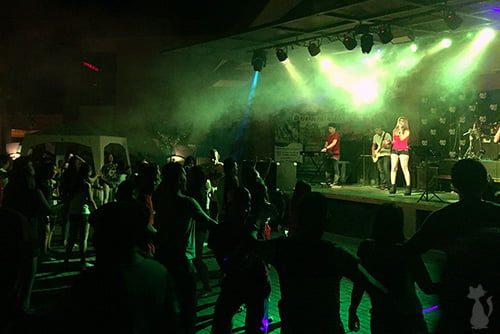 It's quite hard to classify this place as it's really a mix of outdoor bar, restaurant and night club with live band. The great thing about MO2 Restobar located within walking distance to APEX (see above) is that the atmosphere is really relaxed, you can just sit down, order a beer and some food if you want, do some people watching and maybe start dancing in front of the live band. No matter where you hang out in this spacious outdoor party place – there are always a few ladies around who try to make eye contacts. It's not that hard to start a conversation with them if you just smile and say hi. This is the only club on this list that has live music by the way as all of the other ones go with DJs.
Admission: Free
Working Girls: 5%
Map of the Best Nightclubs in Cebu
How Much for Drinks in Cebu's Nightclubs?
Now that you know where to find the best clubs in Cebu you may also want to know how much they charge for the drinks. Most people really buy beers which cost usually less than 100 Pesos per bottle. Others prefer to buy a bottle of whiskey together with their friends (usually to show off) and that gives you a much better deal than ordering shots.
Anyway, to get a clear idea of all the different types of drinks in the Cebu nightclubs and their prices check out the menu of Club Holic below: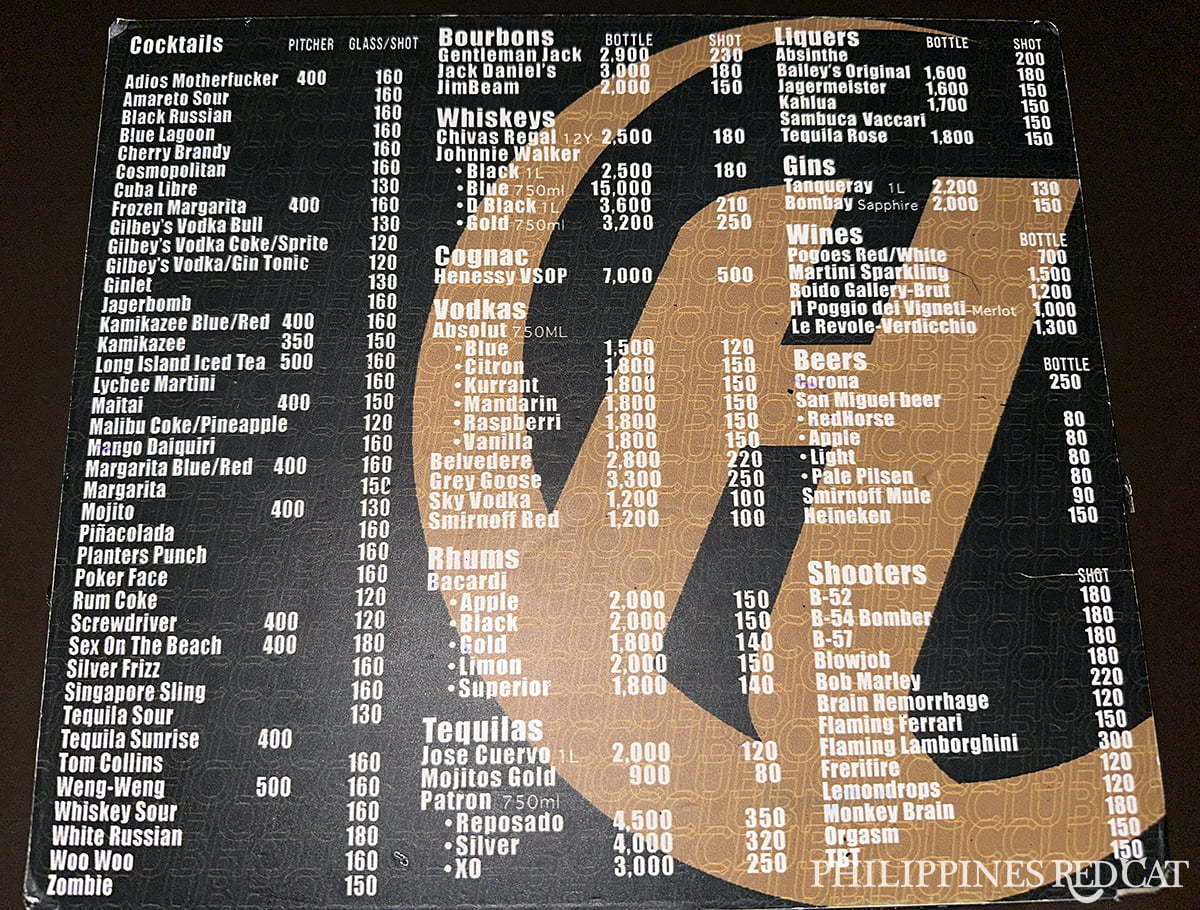 Videos of Nightclubs in Cebu