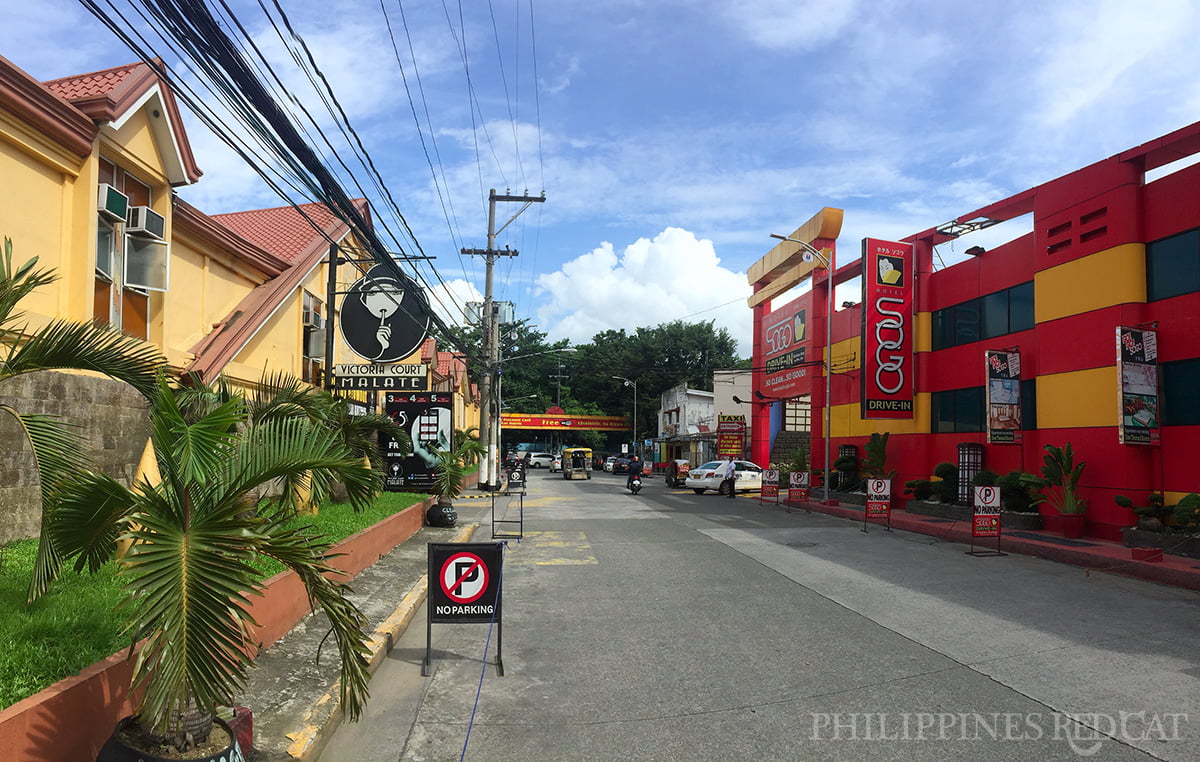 The problem with most hotels in the Philippines is that they offer a bad value for money, at least if you compare it to competing countries in the region like Thailand and Cambodia. Competing in terms for sex holidays of course. So from my experience you pay about 20-30% more in Manila compared to Bangkok for a similar standard.
The Victoria Court Hotel in Malate may not be an exception to this rule, for rooms like these that cost about 50-60 USD a night you would pay about 40-50 USD a night in Bangkok.
But anyway, enough with all the complaining: Whenever I decide to stay a few days in Manila to check out what has changed and update the nightlife guides, I always book my room at the Victoria Court Malate Hotel.
It's actually a franchise and they have about half a dozen locations just in Manila alone, as well as in other major cities around the Philippines. The reason why I always choose their Malate location is because the location is just fantastic: It's located at the southern end of the Malate red light district, and so you can walk up north past all the bars until you finally get to Ermita which is yet another one of the four red light areas in Manila with even more bars all along Del Pilar Street.
And the other reason for me to stay there is because it's the most popular short time hotel in Manila. Means that most guests don't actually stay there overnight but book the rooms for 2, 4 or 6 hours to spend some romantic time with their girls. Pretty fun to watch all the happenings here.
It's quite common that they drive into the garages which are underneath each room, so it gives them perfect privacy: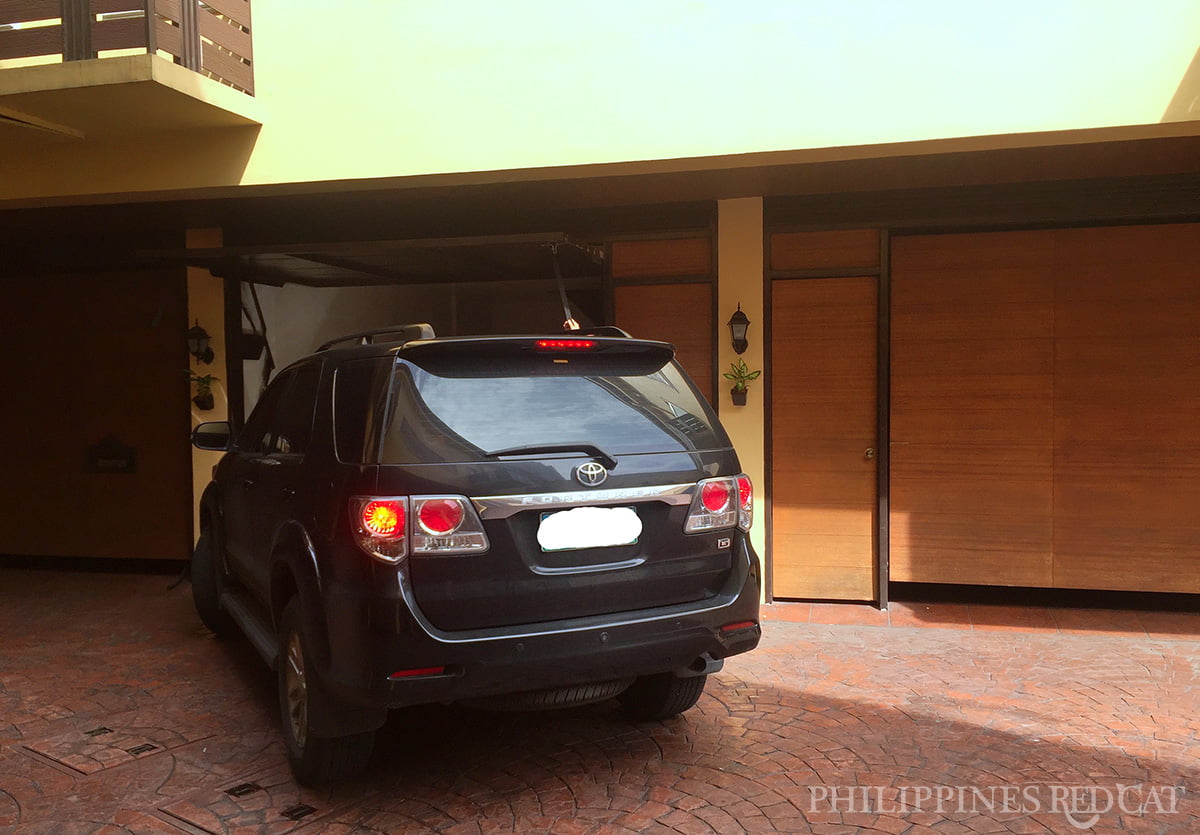 That's why these types of hotels are also known as "drive in hotels".
You have complete privacy and to make sure absolutely no one sees you you don't even need to leave your car in order to book a room: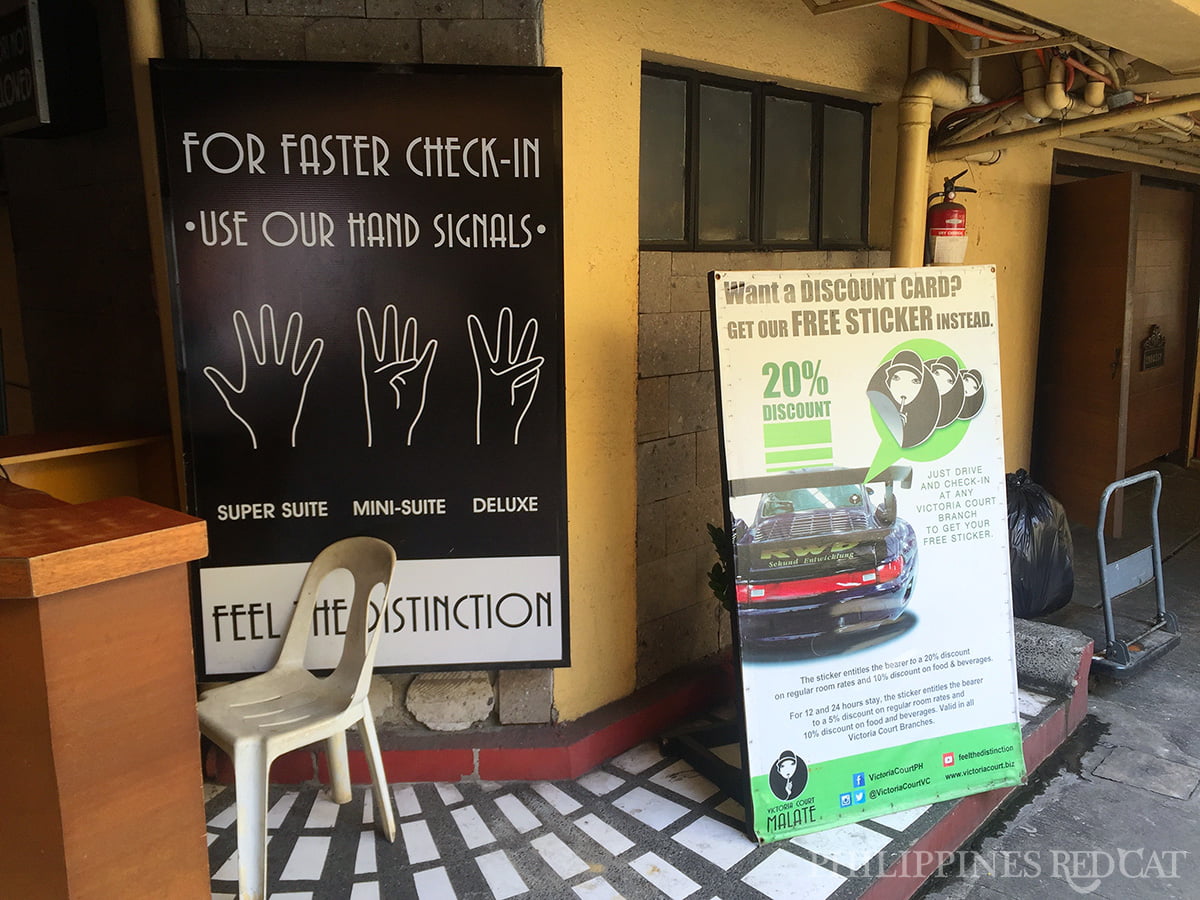 Don't worry though, you don't need a car to stay there. It's just a little strange feeling when you get your key and walk through an empty garage first, before taking up the stairs to your room.
They have nice different themes for their rooms, each of them with a different decoration and furniture.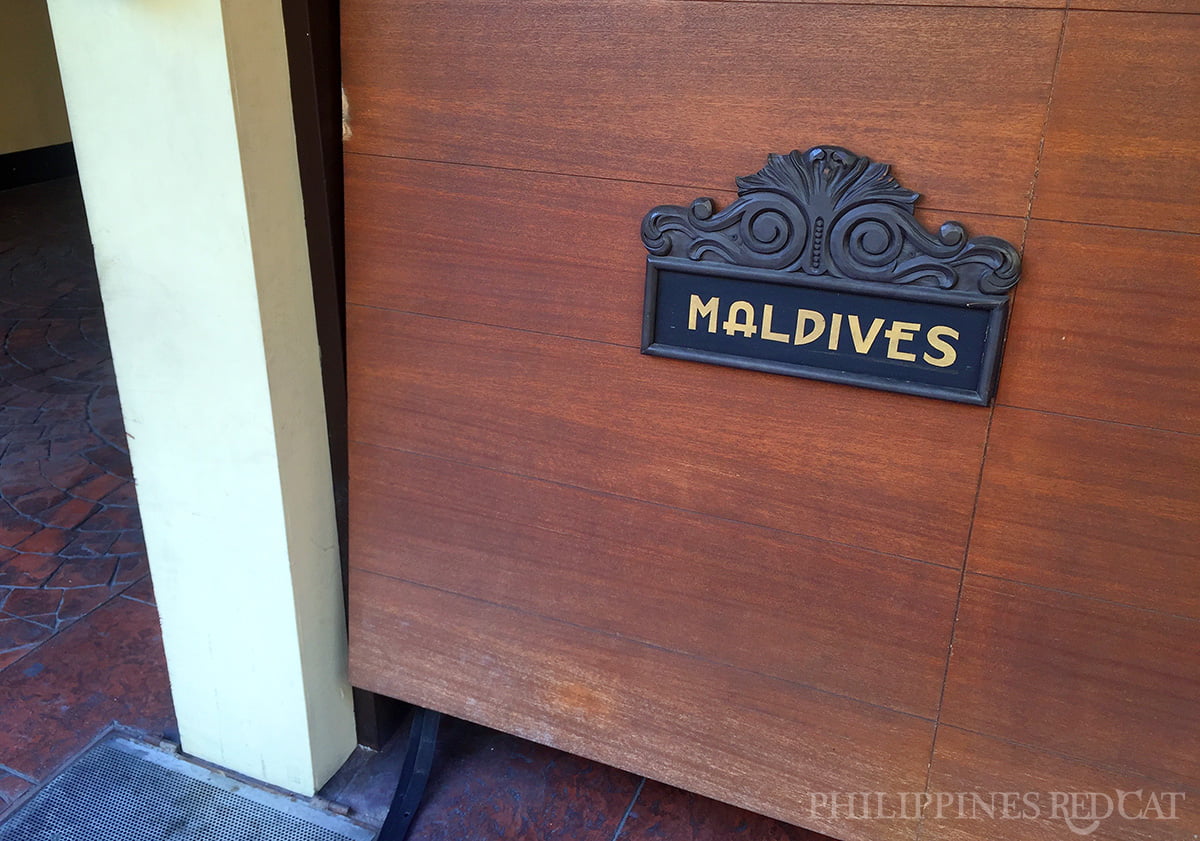 Other room types include "Orient", "Africa", "Disney", "Black Forest", "Red", "Dubai" and their super suite goes with the name "Casino Royale".
Now let's take a look at the rooms: And here the greatest thing about them first – they have lots and lots of mirrors all around. Means when you bring a girl for short time you will get great views of whatever you are doing with her.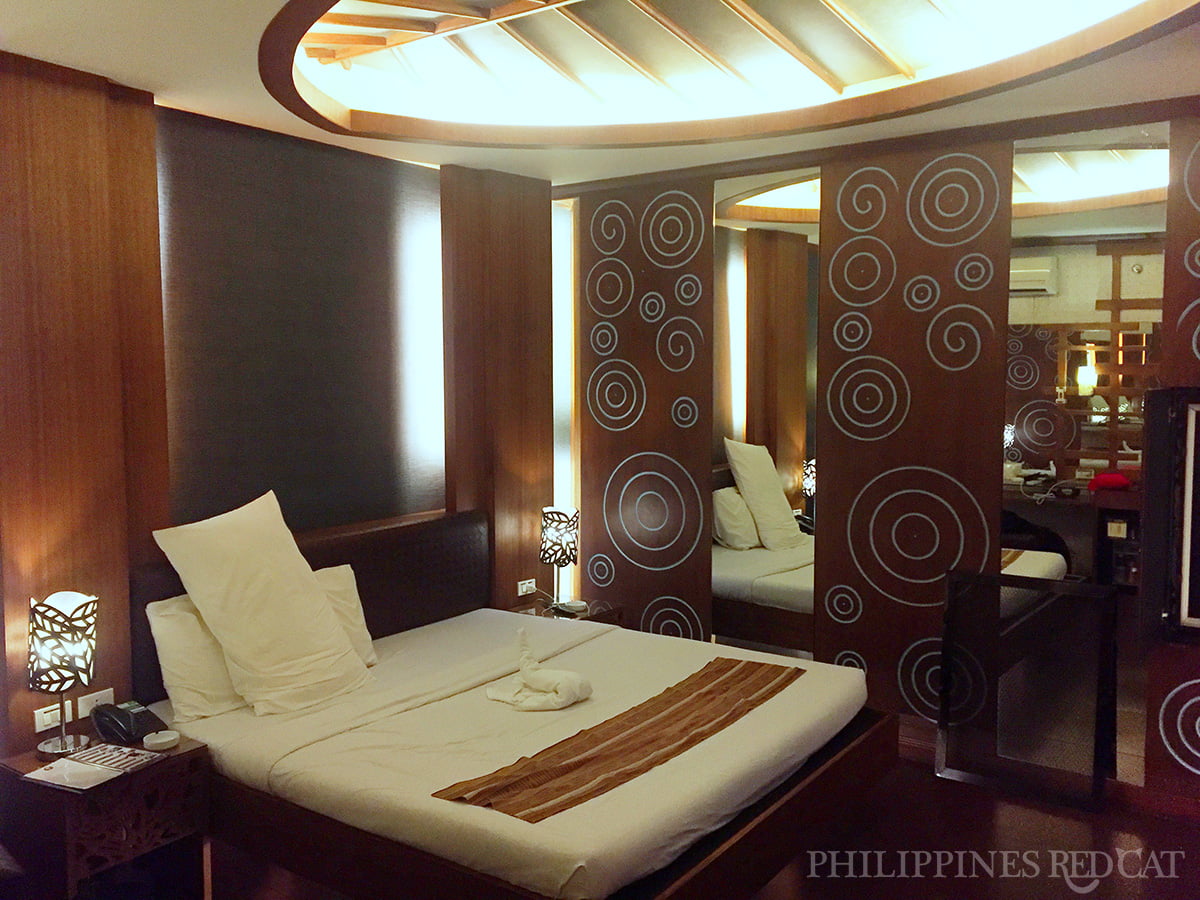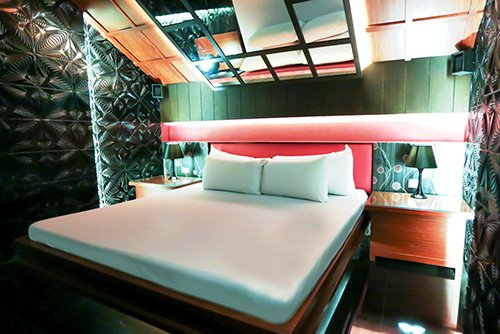 The other fantastic thing about the rooms are the many different lights. I think I counted 8 different light switches that allow you to create a romantic and dark atmosphere by turning on only the ground lights or a lot more so you can see every detail of your girl. You can even close the window so there is absolutely no light from outside disturbing your imaginations and plans. The rooms are also completely sound proof – everything you could possibly expect from a short time hotel in Manila.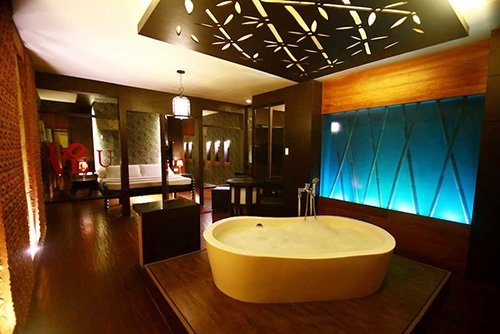 Apart from that, everything is quite alright and "normal" and 3 star hotel standard, with a nice long glass table to sit at and work on your computer (if you are like me), a spacious bathroom with nice strong water flow and so on. I guess you get a good idea if you look at the pictures. The suites even come with big bath hubs where you can get wet with your girl.
They have a welcome drink and also breakfast is included in the room price. The only thing I would criticize at the Victoria Court is their coffee: They only have 3 in 1 instant coffee and if you don't like it sweet (like me) then you will not find that very good. But it's okay, I usually visit one of the shopping malls at least once a day anyway and then I just get a nice Cappuccino at Starbucks or Bo's Coffee.
Can you book a girl for short time at the Victoria Court?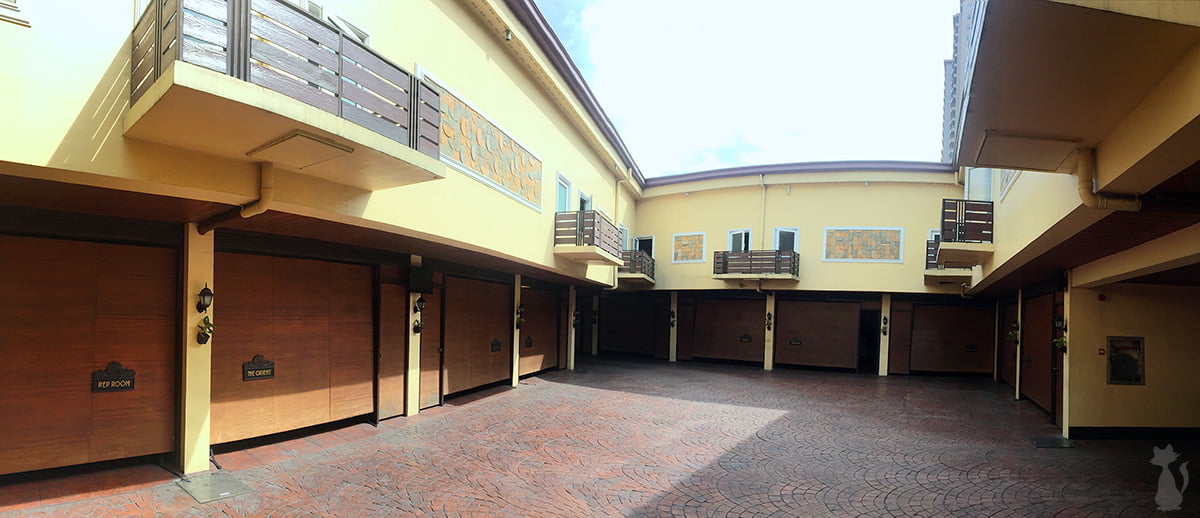 Unfortunately, you can't. But what they do have are "therapists" means you can have them massage you in your room. And then it's not unlikely that they give you a happy ending, but it's not really guaranteed and nothing official. It really depends on the lady, how well she gets on with you and probably also how much tip you will give her.
I would love to present you a picture of these therapists here, actually when I checked into the hotel last month there were two of them walking around the courtyard and keeping smiling at me. At one point I asked them if I can take their picture but they just giggled at each other. I asked again and they said "No, sir". So I respected that.
Below is the location of the Victoria Court Malate Hotel on the map, and if you want more info or inquire the prices you can do so here (Agoda).
By the way, right opposite the Victoria Court is another popular short time hotel: Hotel Sogo. It's a little bit cheaper, but the rooms aren't quite as nice and themed like in Victoria.