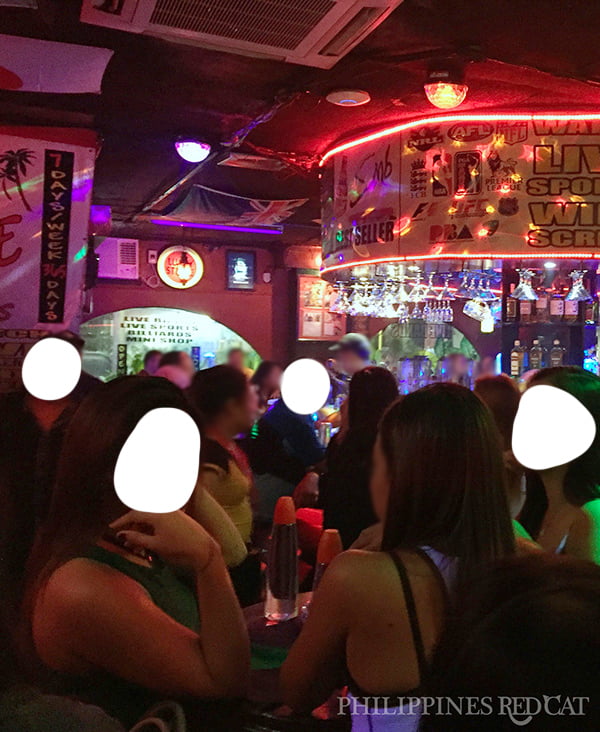 Let's face it: There aren't really many fun things to do in Manila except visiting tourist attractions like the overrated Rizal Park or Manila Bay. It's not like on the islands where you have beautiful beaches to chill, or in places like Legazpi you have a volcano, on Bohol you have the chocolate hills and in Cebu you have fun zip-line adventure parks.
Manila isn't much more than a chaotic metropolis and the only reason we all come here is for the girls. Luckily there are more than enough options to get laid in the capital and I have described them all in the nightlife guide. So in this post I will go into more detail on one type of establishment: the girly bars.
Just like in every other major city in the Philippines, there are three different types of girly bars in Manila:
Bikini Bars, in other words go go bars with girls dancing on stage but they don't get naked while wearing bikinis, Sports Bars, which are comparable to the beer bars in Thailand and popular meeting and greeting places among tourists and expats, usually with pool tables and TVs with live sports, and the KTVs which are mainly oriented towards Korean and Japanese men and offer more privacy in their karaoke rooms but also tend to be much pricier than all other bars in terms of prices for drinks and girls.
In this top list you will find four bikini bars and one sports bar, and they are all located in the red light districts of Manila. You can find the exact locations of all mentioned bars at the end of the guide.
LA Café (Ermita)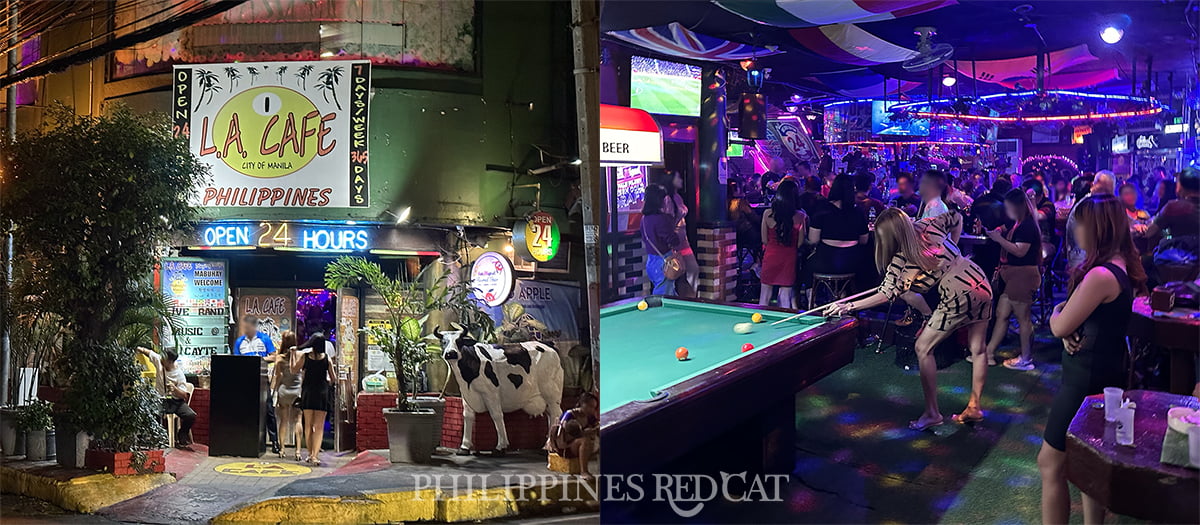 My favorite girly bar in Manila. It's officially a sports bar but unofficially the biggest freelancer bar in town. In other words: You can go there at any night of the week and will find easily more than 100 (!) girls who are not employed by the bar but work for themselves, means they hook up with the male customers and after a drink or two (sometimes even quicker than that) they will join them to their hotel for short time or long time. And all that without paying overpriced lady drinks and bar fines.
The common asking price for short time sex with LA Café hookers is 3,000 Pesos, but that's negotiable of course.
The Swedish owned LA Café has two floors: On the ground floor there is a nice round bar surrounded by many stools and tables and also two pool billiard tables on the other side of the room. If you go there at around 11pm you will hardly find a place to sit down because there are just so many girls (I would say the ratio of girls/guys is 70/30). Upstairs is a stage for the live band playing every night (admission fee 100 Pesos) and even more "open-minded" Manila girls (a lot of them actually come from other parts of the country, especially from the poor regions of Mindanao, Leyte and Samar).
LA Café is also the place to meet girls during the daytime in Manila (apart from the shopping malls). Means you can go there on a Tuesday at 3pm and still find several dozen of ladies eagerly smiling at you as soon as you walk in there. The only thing I don't like about this place is that they charge pool games depending on the time played: 25 Pesos for up to 7 minutes, 50 Pesos for 8-14 minutes, 75 Pesos for 15-21 minutes, 100 Pesos for 22-28 minutes and 125 Pesos for 29 minutes or more.
Girls: 8/10
Atmosphere: 9/10
Value-for-money: 9/10
Dusk Till Dawn Bar (Ermita)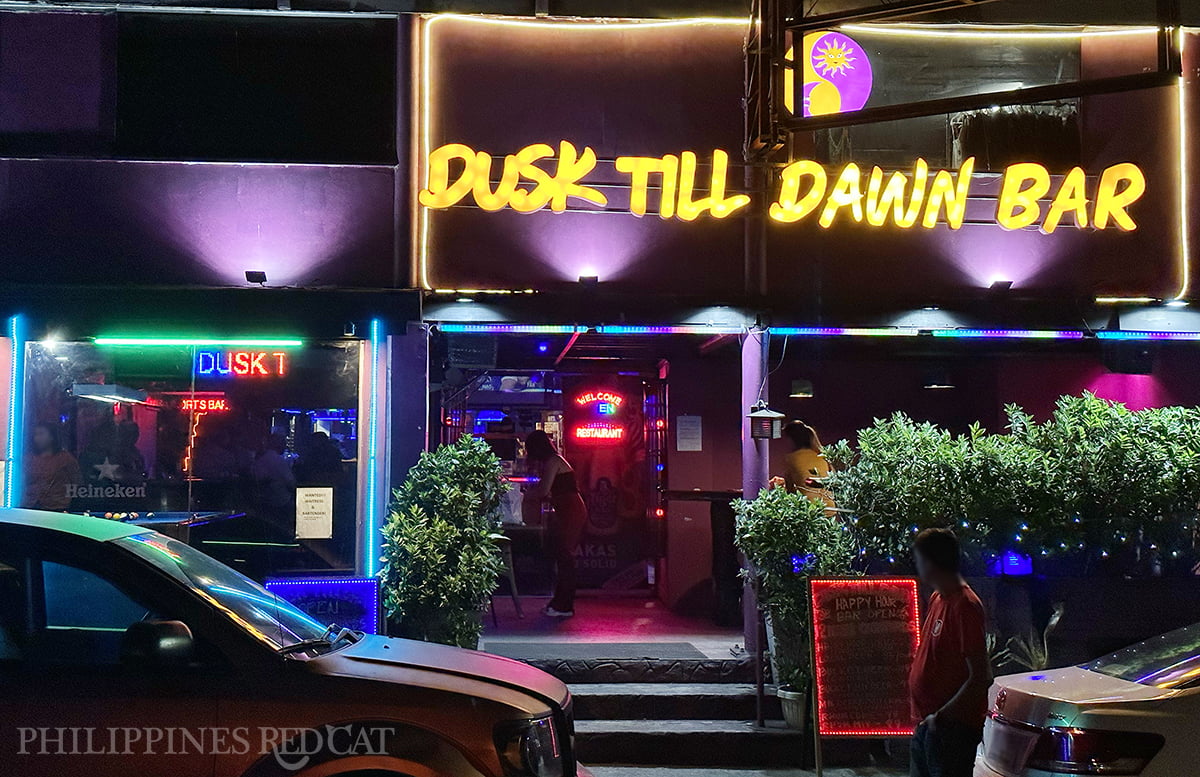 Dusk Till Dawn Bar is just 70m up the road from LA Café in Ermita and it would be just another typical girly bar in terms of the quality of the girls: Most of them are very average (like 6-7) while a few really hot, tall and white skinned Pinays can be found there, too.
However, what makes it still worth including in the top 5 list of the best lady bars in Manila is that it has a lot to offer other than half naked girls. You can already feel that by just looking at the bar from the outside (see picture): There is a really nice pool table, a small stage where girls dance every once in a while, several TVs with live sports and many seating niches on the sides of the bar – all amid the really cosy and relaxed atmosphere.
That said, Dusk Till Dawn Bar is a great place to enjoy a beer in a more quiet environment and maybe get to know other travelers or expats, but if you are serious in hooking up with a hot Filipina lady, better stick to LA Café.
Girls: 5/10
Atmosphere: 8/10
Value-for-money: 7/10
Neon Nights (P Burgos Street)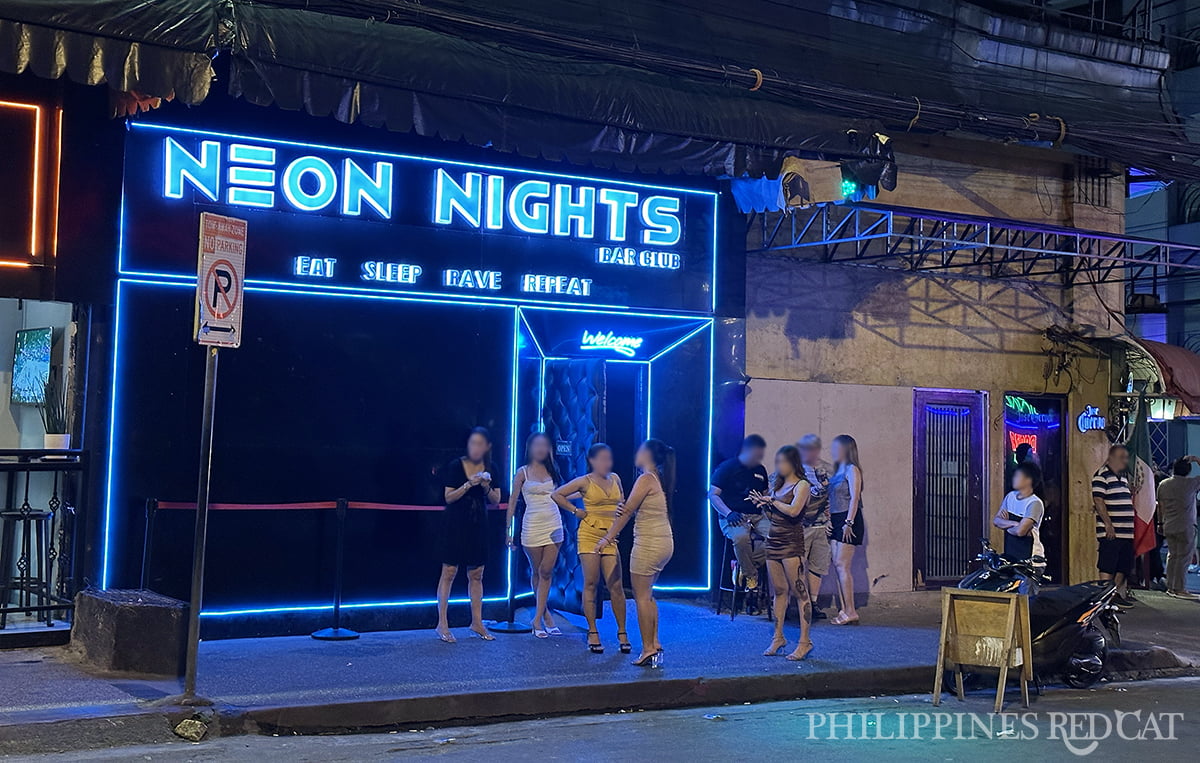 This is without doubt the most famous strip club in all of Manila and there are three reasons for it: Firstly, it has a prime location right in the center of P Burgos Street which is the number one nightlife area for tourists. Secondly, it's the longest established bar on the strip means they have been mentioned countless of times on travel guides, websites and forums. And thirdly, they simply have the hottest ladies.
Neon Nights has two stages, one smaller one for 2-3 girls and a bigger one for 5-7 girls dancing. They are surrounded by a good mix of bar stools with tables as well as comfortable couches – especially the ones in the back are great to get a full overview of the whole bar, and they are extremely comfortable, too.
But of course it's the girls you are coming here for, most of them are extremely attractive and also well equipped in terms of boobs. The good thing is that their tops are actually just suspenders and so you will get some great views from the side. One girl who sat down next to me on my first visit there didn't even bother when her big boobs completely popped out of the suspenders so I could see everything including her nipples.
Girls: 8/10
Atmosphere: 8/10
Value-for-money: 7/10
Lips (P Burgos Street)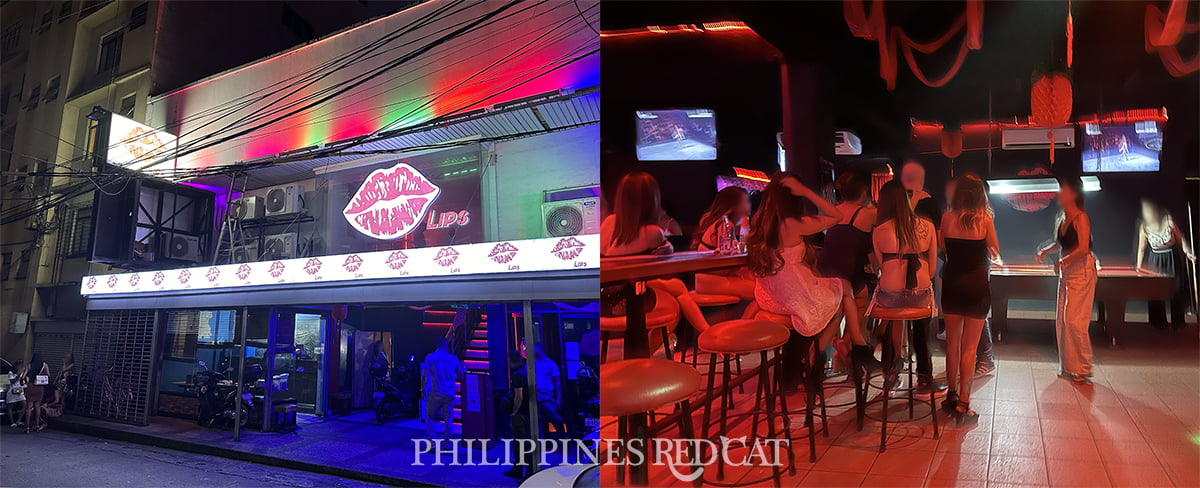 Lips is the naughtiest bar on Burgos and it's not hard to tell why. As soon as you walk into that place (there are 2 floors with separate entrances) you will be accompanied by about half a dozen of excited and giggling ladies who make the impression as that they awaited your arrival for weeks.
It's not uncommon that two or more girls play with your dick and another two push their boobs on your face, even before they ask what you would like to drink! Entertainment at its best at Lips, but of course the girls do know very well how to suck the money out of the tourists (literally). They will ask you to buy lady drinks for the whole group, but of course you can decline (so they will leave) or just buy a drink for one of them (and then the others will likely continue to work on you while hoping for a tip).
At some point they might ask you if you would like to have a blow job on the sofa in the dark corner of the bar (1,500 Pesos seems to be the going rate here), and in my case one of the girls at one point just said to me "let's have sex". What she meant by that is going into one of the short time hotels, but of course it all has its price – room rental, bar fine, price for sex, price for drinks. Oh well, and they also got 1-2 ladyboys at most nights (it's quite easy to spot them) and a rather small stage with 3 much more beautiful but not so naughty girls dancing.
Girls: 7/10
Atmosphere: 8/10
Value-for-money: 7/10
Halim's Bar (P Burgos Street)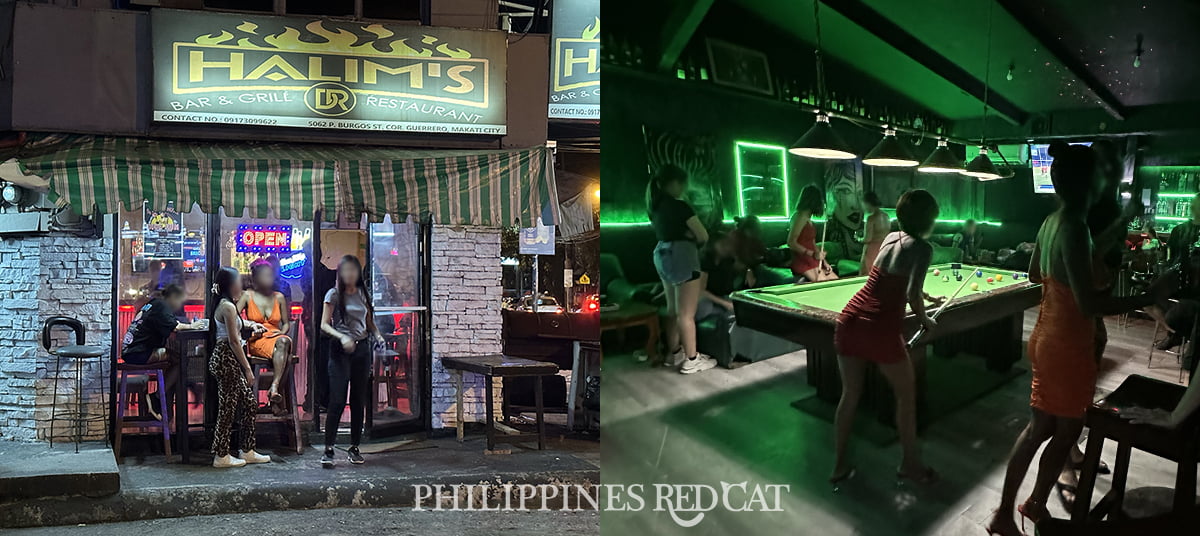 Located in the more quiet northern part of P Burgos Street, Halim's Bar is a small hidden gem in this otherwise rather hectic and in many places even sketchy red light area.
Just walk in and up the stairs, and you will get to a cosy room with comfortable couches, a pool table and a small bar. The bar ladies here are super charming and will instantly make you feel welcome and relaxed. Instead of asking for lady drinks right away, they will usually start a funny conversation and get warm with you first, before you can get "closer" to them on the sofa.
Lady drinks are relatively cheap for Manila (250 Pesos for a long shot), playing pool is free of charge and note that they don't have a bar fine system at Halim's, which can actually be good: Just take her phone contact or wait until the bar closes to make further arrangements.
Girls: 8/10
Atmosphere: 7/10
Value-for-money: 7/10
Map of the Best Girly Bars in Manila
Prices for Drinks & Girls in Manila's Girly Bars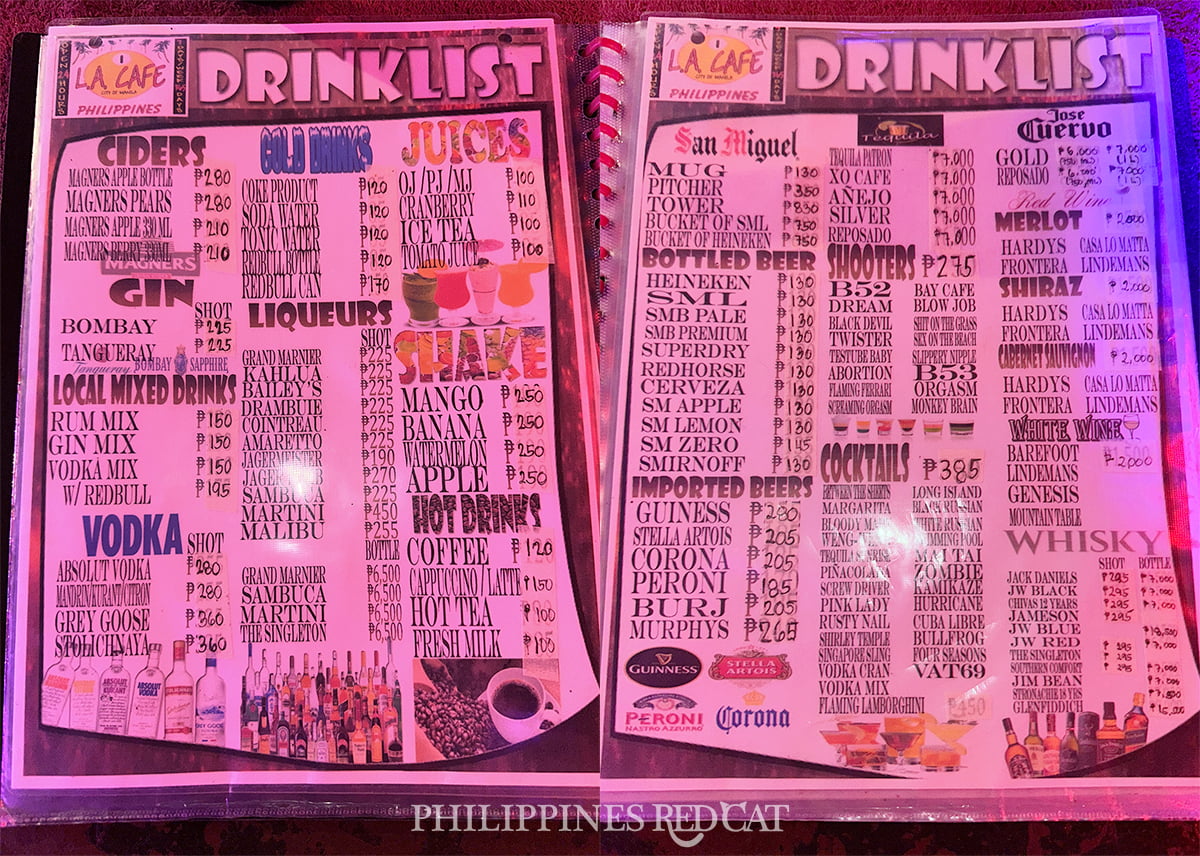 Everything is most expensive in Manila and that's no different with the girly bars. You pay between 30-40% more compared to other tourist hot spots like Angeles and Cebu and up to 60-70% more compared to low key destinations like Davao and Bohol.
The average prices for drinks, entertainment and girls in the bars are:
Beers (0.33ml bottle): 80-130 Pesos in sports bars & 140-180 Pesos in bikini bars
Spirits with mixers (glass): 90-120 Pesos in sports bars & 150-200 Pesos in bikini bars
Lady Drinks: 250-390 Pesos (e.g. 275 Pesos at Cotton Bar in EDSA & 350 Pesos in Lips on P Burgos Street)
Ping Pong Balls: 300 Pesos/15 balls or 3,000 Pesos/150 balls (girl receives 10 Pesos for every ball she catches, that's just for fun and if you ask me not the best investment you can make in these bars. Just buy them lady drinks instead and you'll get a lot more entertainment and pleasure compared to just making the girls excited and screaming for 10 seconds or so)
Pool billiard: generally 20-25 Pesos per game
Bar Fine: 2,500-3,500 Pesos not including the price for sex with the girl
Price for Sex: Most girls expect somewhere between 2,000 and 3,000 Pesos in "tips" which is ridiculous if you ask me when you compare it to Angeles just a 2 hour bus drive away where you would normally pay no more than 500 Pesos in tips, if any at all (unlike in Manila they don't negotiate about the tips before leaving with you – it's totally up to you if you tip them and if they provide a bad service then you may not need to tip anything at all).