Angeles is well known not only for its countless of go go bars, sports bars and street hookers all along Walking Street. It is also home to the best foreigner-oriented nightclub in all of the Philippines: Mega Dance Center.
What do I mean by "foreigner-oriented"? Well, if you look at the typical Filipino discos, like Liv Superclub in Cebu or XYLO in Manila, they may be extremely fancy, big and even more popular in terms of number of people visiting them every night. However, most of the girls there come with their friends and boyfriends and aren't really interested in foreigners at all. Sure, some of them may just be a little bit too shy to talk to a foreigner in public, but some of them simply aren't interested.
It's all different in Angeles.
Here you just go into the club and find "open-minded" Filipina girls all around who are all hoping to meet a foreigner for the night. These types of clubs are often referred to as "hooker discos" and that's what they basically are: full of girls who would join you to your hotel for sex if you pay them some money afterwards.
However, don't think the clubs in Angeles are like a "fresh-market" where you can just take a look at what's available and then make a pick. Filipina hookers can have a lot of attitude and of course they want to get to know you first, do some small talk, maybe have a drink or two (which you have to pay for of course, but don't worry the drinks aren't expensive at all, especially if you compare it to the girly bars), maybe even dance for a while and may then ask you "what's your plan?" how they often like to say.
Long story short: These ladies don't like to be treated like hookers, even if they clearly are hookers. But then there are also exceptions. You may as well just buy a gin tonic at the bar at Mega Dance Center and just while starting to do your round to check out the girls discover a hottie, immediately feel a "connection" with her and after just 2 minutes of small talk you agree with her that she comes to your hotel right away to "watch a movie together". No, you may not even discuss a price in advance nor have to pay her a drink.
Let's now come to the overview of the currently 3 best nightclubs in Angeles to meet girls, like always with pictures, descriptions on prices, the locations on the map as well as a video of each club at the end of the guide:
Mega Dance Center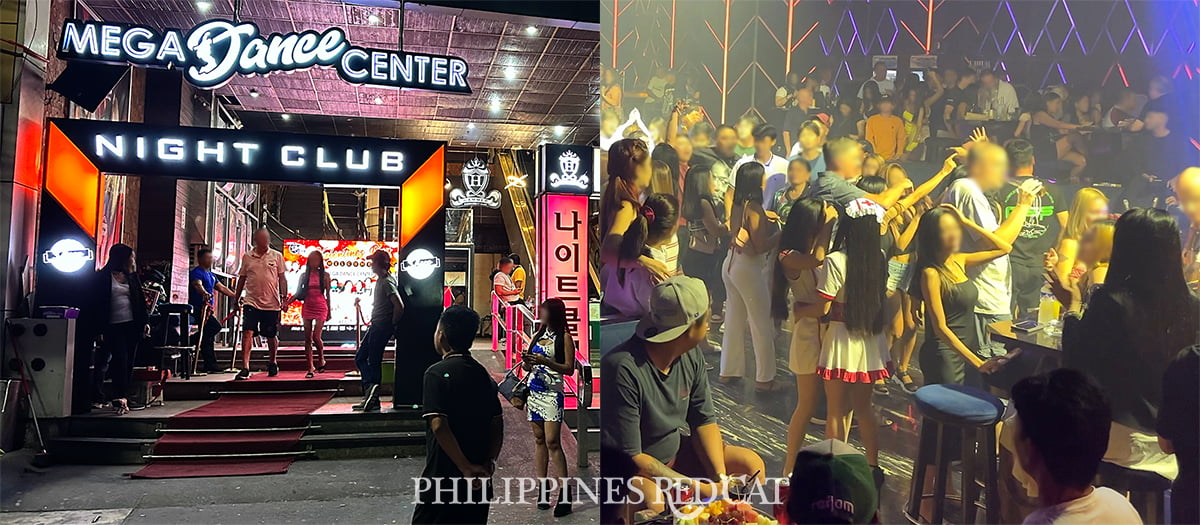 By far the best and most popular nightclub in Angeles. In fact, this place is so legendary it's pretty much the one "tourist attraction" you should not miss out on. You can go there on any night of the week and find hundreds of sexy ladies who are all there for the same purpose: to meet a nice foreigner. Most of the girls are like 6s or 7s, but you also see quite a few 8s or 9s who do have some attitude and definitely want to party with you first before they "go with you".
Most girls will ask for 2,000 Pesos for short time and the better looking ones for 2,500 or even 3,000 Pesos – but it's always negotiable. Like you could agree on her price and ask her to give you a blow job before you have sex. Or simply two rounds. Or simply reduce the price if you just want to have a quick short time for 30 minutes.
The setup of Mega Dance Center (formerly "High Society") is great. There is a spacious dance floor in front of the DJ stage, several VIP tables behind that and then many normal seating areas all around with great views over the club. The bar is in the back of the club and that's kind of a separate area with even more comfortable tables and couches and some views down to the dance floor. Maybe it's a little bit difficult to imagine with this description, so just take a look at my video below to get a better imagination on what the club (and girls) looks like.
Admission: Free
Girls Quantity: 10/10
Girls Quality: 8/10
Hammer Disco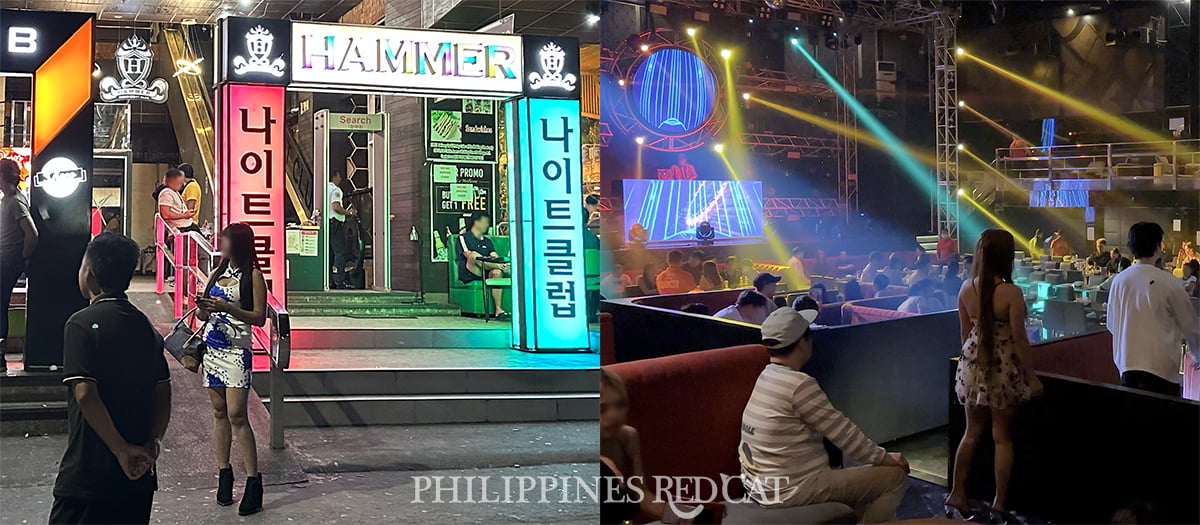 The newly opened Hammer Disco targets Korean customers, and it seems to be a trend I've recently noticed in Pattaya as well, where they have opened a club for Indians and another one for Chinese on Walking Street.
Hammer Disco is located right next to Mega Dance Center (see the first listing), and just like with Skytrax, if you are a westerner, it doesn't really make sense to walk in there, unless you are into K-Pop and similar music style and have no problems with spending a lot of money for a nice table (there is no dance floor at all) and an expensive bottle of whiskey to impress the ladies.
So yes, this is kind of a "Hi-So" club where people like to show off. Just check out my video down below to get an impression of this place and its people.
Admission: Free
Girls Quantity: 4/10
Girls Quality: 7/10
Skytrax Superclub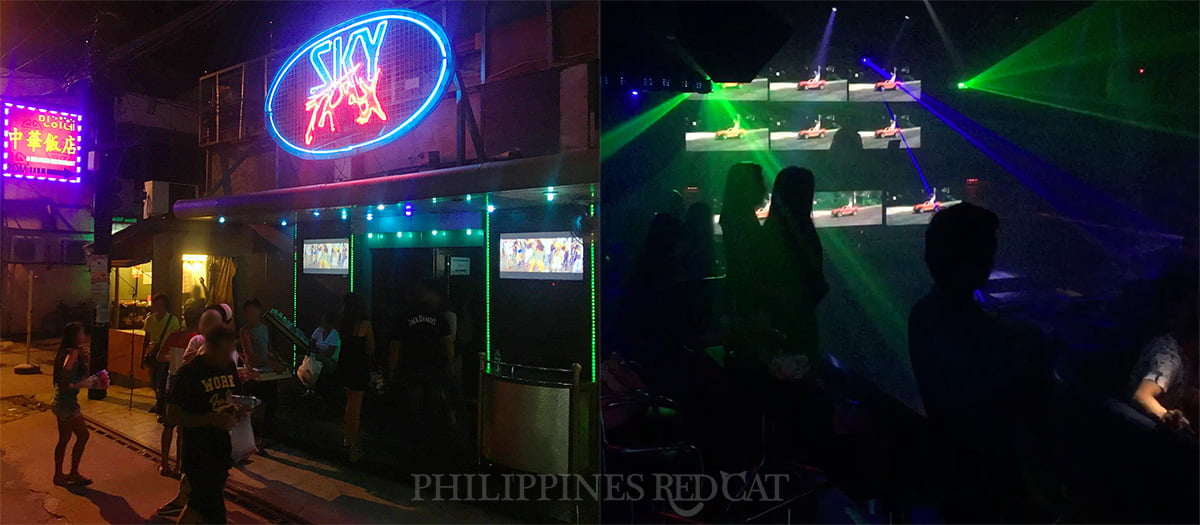 Skytrax is located on Fields Avenue about 150m from the western entrance to Walking Street and mostly popular among Filipinos. It's much smaller than Mega Dance Center with space for about 150 people. The girls you meet here are mostly trying to meet Asian men, and if you aren't looking like one they might completely ignore you as a Westerner.
Skytrax is still a nice place to party, the only thing I don't really like is that the music is extremely loud (like Filipino style), but if you like that you will probably have a great time. There is a small dance floor in the center of the club, but it usually stays empty until well after 1am when people start getting drunk and drag their friends (or girls) on it. 90% of all tables in Skytrax are for groups of 4 people or more, so it's not really recommended to come here alone. In that case you will just stand around with your bottle (or glass) in one hand and most people will ignore you.
But again, if you are Asian (looking) and come with a few friends, you will probably have a great time here because all the girls will try to get your attention so they can sit and drink with you. And if you are a Westerner you might either come with many people so you can share a table or just go to Mega Dance Center where you will find it much easier to meet girls.
Admission: Free
Girls Quantity: 6/10
Girls Quality: 8/10
Map of the Best Nightclubs in Angeles
Drink Prices in Angeles' Nightclubs
One of the great things about the nightclubs in Angeles is, besides the opportunity to meet and sleep with a different girl every night, that there are no admission fees and the drink prices are more than reasonable. So you can just go, buy a drink and take a look, and if you don't like any girl you can just leave to another place without having spent much money.
I guess you are curious about how much drinks cost in Mega Dance Center, so guess what: I took a photo of their drink menu so you can see everything. Pretty awesome, local beers are just 130 Pesos, spirits about 200-250 Pesos, most cocktails 150-200 Pesos and if you want to share a bottle of whiskey then prices start at 4,000 Pesos.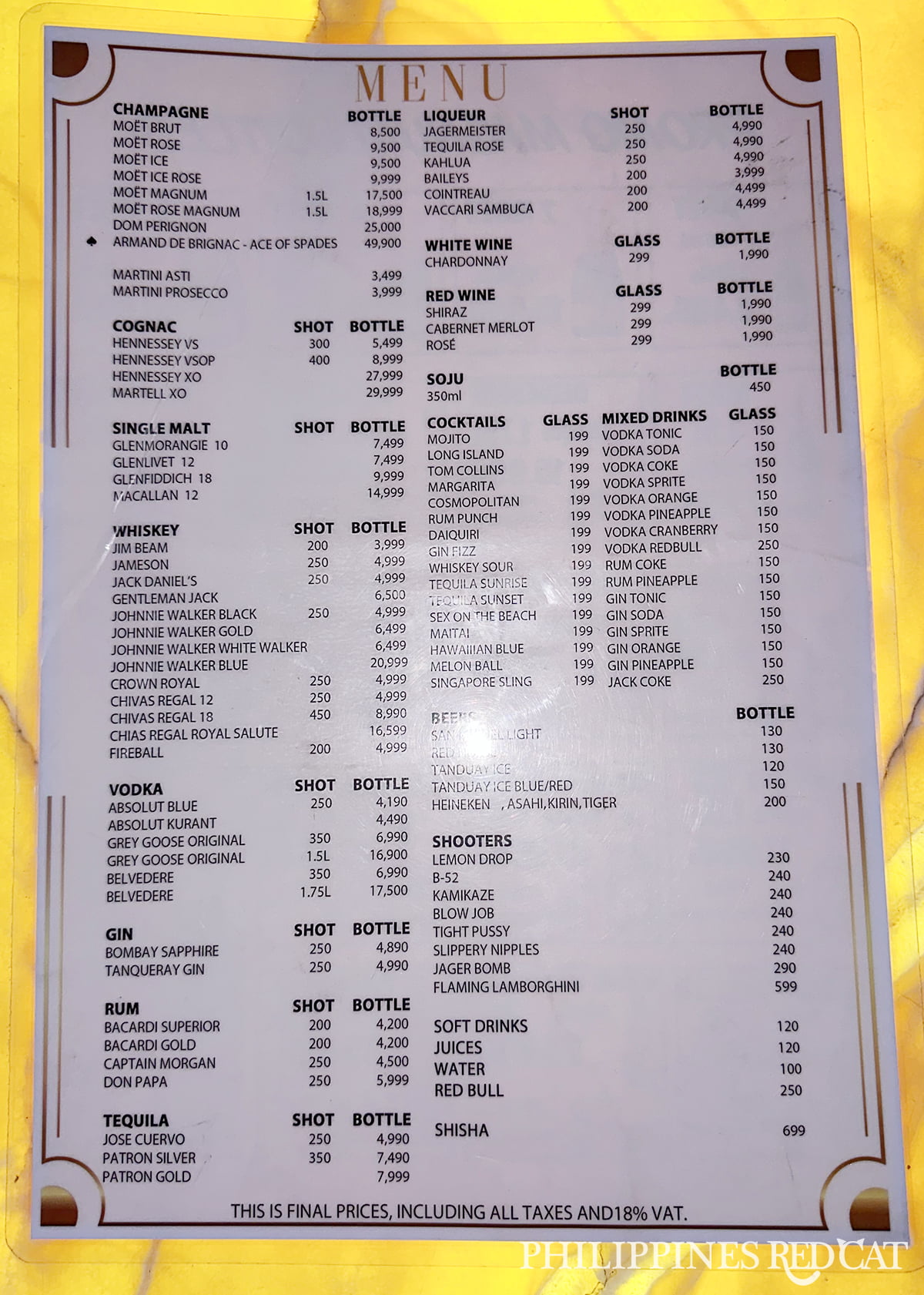 Videos of Nightclubs in Angeles