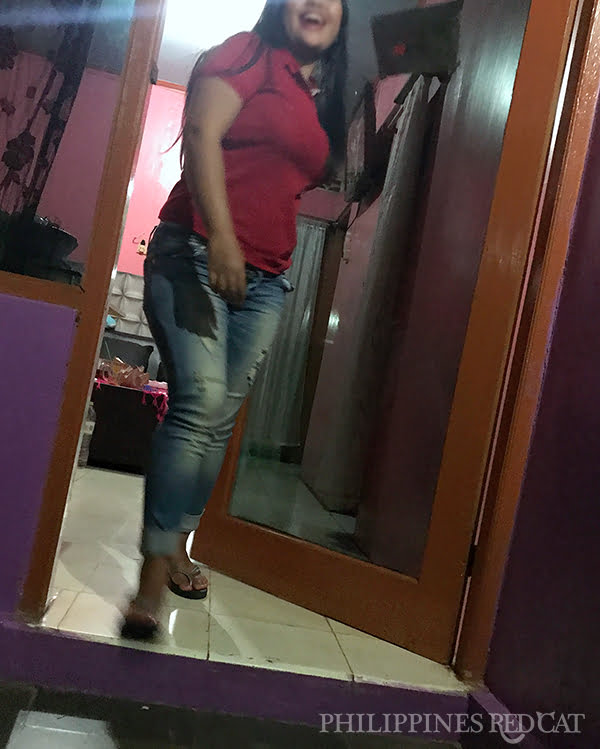 I often hear people complain about the massage industry in the Philippines and how few places there would be available to choose from. While it might be true that there aren't quite as many massage salons in Manila compared to Bangkok, it's still more than enough places than you could possibly need during your stay in the capital.
I have already covered the bigger sex massage parlors in another post, these are usually found on the premises of the KTV entertainment complexes. So this guide is all about the smaller erotic massage salons that offer all sorts of different happy endings: Hand Jobs, Blow Jobs and also Prostate Massages if you are into that.
Allow me to make another comparison to Thailand: If you have been there then you may be used to sexy ladies in short skirts yelling "Hello, sexy man! Welcome massage!" and you can just look at the group of masseuses and choose one of them.
Things are a little bit different here in Manila.
Firstly, the girls usually don't stand outside of the shop to lure in customers, instead they are sitting inside together in a room. So you would walk in and inquire the services at the reception.
Secondly, if you ask if you can take a look at the girls to choose from, they will call them up in pairs, means two girls at a time. If you like one, you can choose her right away, and if not then you can tell them and they will call the next two girls. There are usually between 6-10 girls available in these massage salons.
And thirdly, most importantly: Not all massage salons offer happy endings. Out of the more than 30 different shops I have marked on the map, only about half of them will provide hand jobs or blow jobs to their customers in exchange for a tip.
Where to find Happy Ending Massage Salons in Manila
The best chances for a happy ending are in the salons of Malate as well as right on P Burgos Street. And one special kind of place that specializes in prostate massages is called Abacca Spa and is located in north Makati. I will talk about it later in this guide in more detail.
I know it may sound a little outright, but I would strongly recommend you that every time you walk into a massage salon to always ask the receptionist first if they do happy endings here. There is no need to be shy and she will always give you a polite answer, usually with a big smile on her face. If she says "No, sir", and again in at least 50% of the places in Manila this will be the case, then you have just avoided losing one hour of your time, money for the massage, and big disappointment, too, when your massage lady will tell you towards the end of the massage "No, sir. It's not allowed" when you ask her "Can you massage here?" while pointing on the area between your legs.
Well, maybe you won't be that disappointed and feel you wasted your time and money, but I don't think so since you are reading this guide. However, it's not impossible for them to give happy endings in the "clean" and "traditional" massage salons – sometimes it does depend on the lady, if she likes you and if she can resist to five crisp 100 Pesos notes.
So let's come back to the topic I was about to talk about: Where to go for a "special massage" in Manila. Again, there are two main areas:
Happy Ending Massages in Malate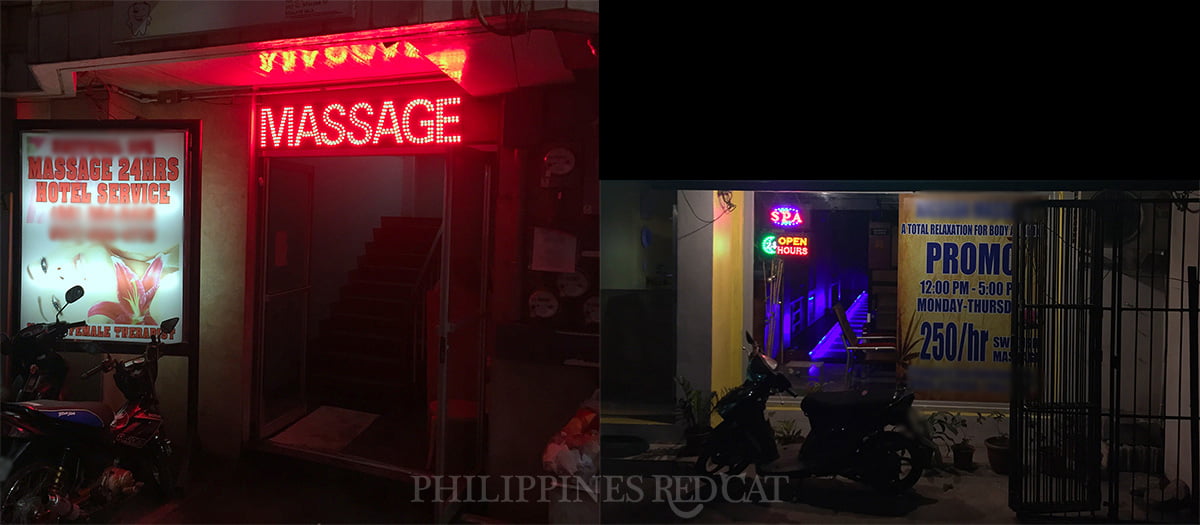 Malate is one of the four redlight districts near Roxas Boulevard and Manila Bay, and so it's not really a big surprise that it has by far the highest number of massage salons spread all around the area. You can just take a taxi to Robinson's Malate and then walk south along Adriatico Street for four blocks, then turn right and on the next corner turn right again and back north along Mabini Street, and you will pass more than a dozen massage salons just in this little area.
Don't get distracted by all the super hot and attractive KTV girls standing outside their establishments and trying to lure you in (along with the Filipino doormen and also the street vendors can be quite annoying). It will cost you about twice as much to hang out with one of them for 2 hours – without shooting off your load of course (unless you want to jerk off in the toilet).
Most of the massage ladies in Malate aren't that attractive to be honest, but you never really know. Just take a look into a few places, and if you don't like what you see then you can just leave again and nothing will happen. Except maybe that the people make some derogatory comment about you because you didn't buy their service. But that's often the case, not just in the massage shops.
Happy Ending Massages on P Burgos Street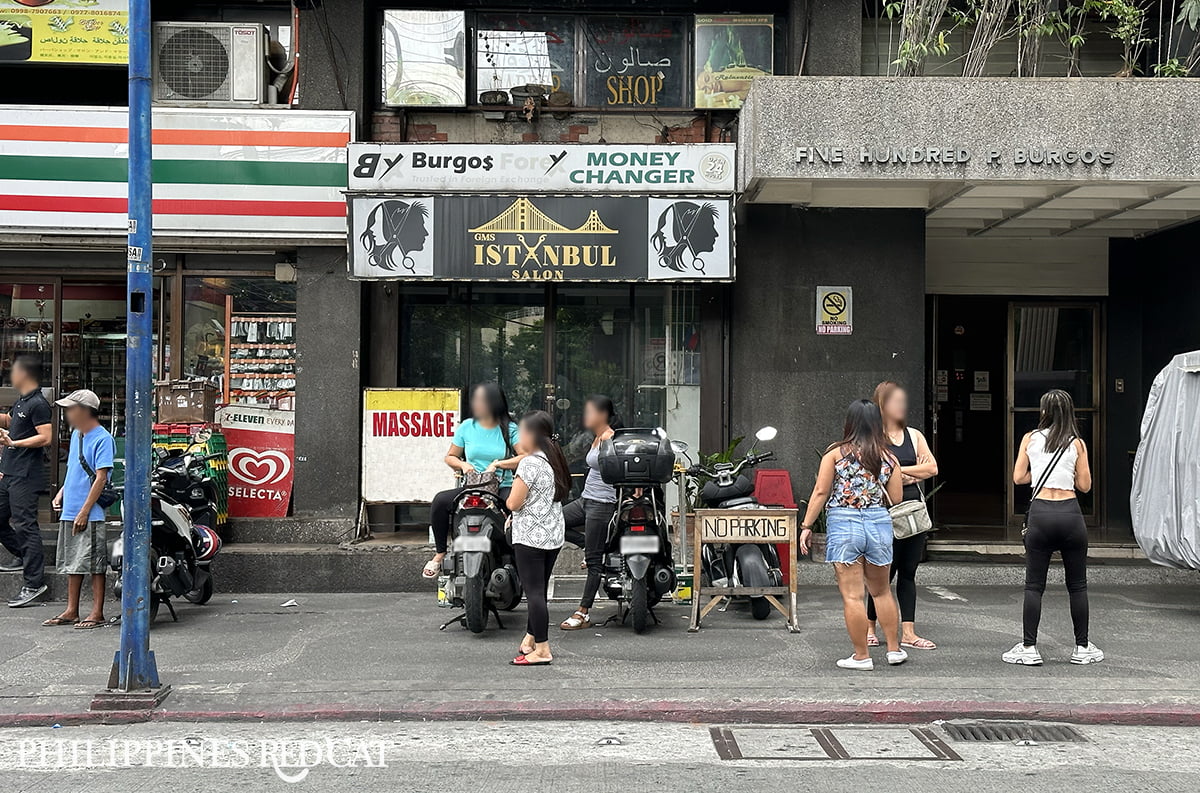 Next is P Burgos Street which is the most touristic and western-oriented street in Manila. It's located in the modern Makati district and you will find also many foreign restaurants, girly bars, hotels and street prostitutes here.
So there are a couple of massage salons right on P Burgos Street, and they all offer happy endings. Just take a look at the map for the updated locations, and you'll know exactly where to go.
Apart from the official shops, there are also many, many girls and ladyboys on the street who will offer you "Massage, sir!" in your hotel room. Of course they don't really have an intention to work on your back, but rather on your dick. Most of them also offer sex – it's always negotiable, but you shouldn't really pay them more than 1,000 Pesos, maximum 1,500 Pesos. And also be careful when taking them back to your room. Always keep an eye on them. You might even want to consider having them leave their IDs at the hotel reception. The good thing with these freelancers though is that they are cheaper because they don't have to share the money with the owner of a massage salon. Means you can easily get a hand job for 500 Pesos.
Overview Map of Massage Salons in Manila
As you can see, the highest concentration of them is in Malate and on P Burgos Street:
Types & Prices of Happy Endings in Manila
It doesn't really matter where you go, the offerings and prices are more or less the same everywhere: The most common type of service is the "Swedish Massage" that costs 300-500 Massage for 1 hour. It's the standard full body massage and they usually use oil. Usually, not always. Again, double check as it will make the hand job much more enjoyable (unless you want a BJ).
The standard tips for the happy endings are:
Hand Job: 500 Pesos
Blow Job: 1,000 Pesos
Sex: Not allowed, sir!
Important: Not every girl likes to suck, so don't be surprised or upset if she insists to work with her hands only. Some places also offer 4 Hands Massages, again if you want that just inquire at the reception. It's usually double the price, except for the next kind of special place:
Prostate Massage in Manila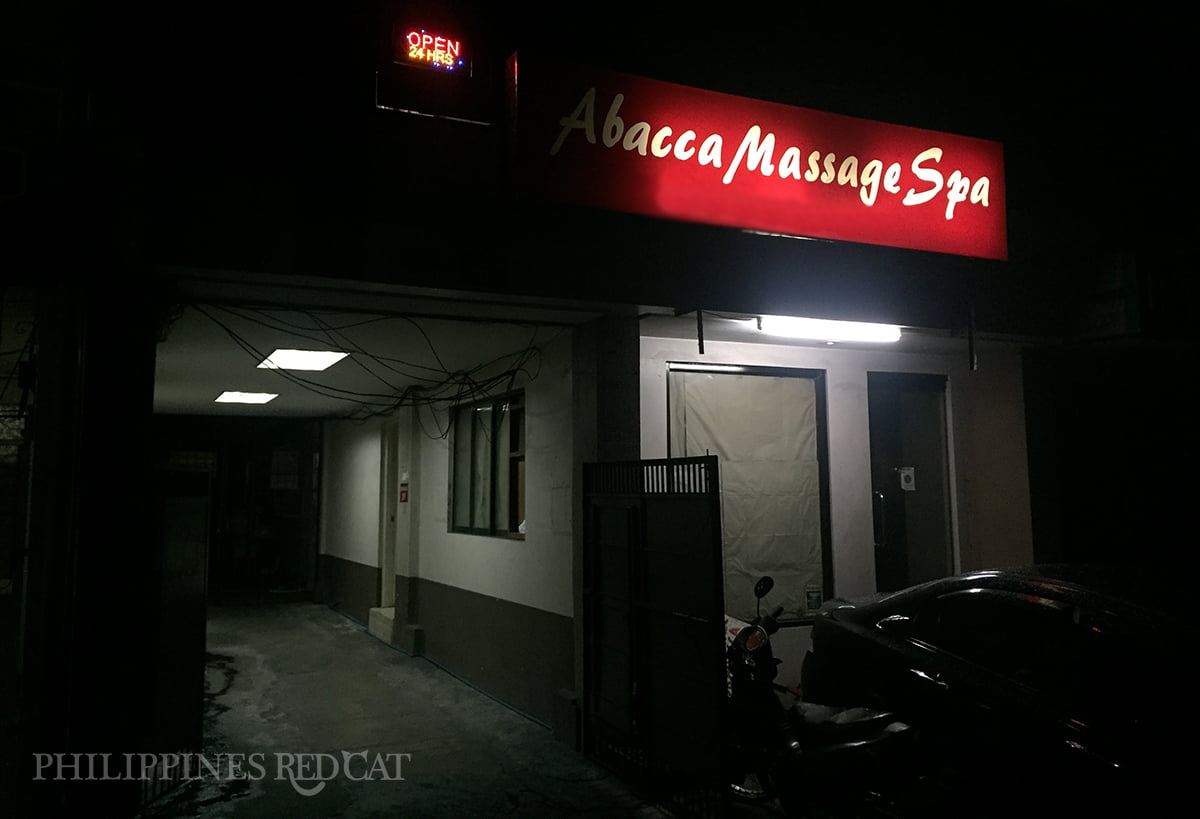 One place that stands out from the mass is Abacca Massage Spa in Makati. Their speciality are prostate massages, or how they call them: Lingam Massage. It's probably the best sensual massage you can experience, as the well trained ladies will work themselves closer and closer to the area between your legs and then give full attention to your testicles, perineum and "sacred spot": the prostate (externally).
I don't normally do this, but their menu really brings it all right to the point:
Abacca's Signature Massage
Experience a relaxing and soothing back and head massage. Then be rejuvenated with our authentic sacred spot massage for 1,300 Pesos for 80 minutes of rejuvenation.
Abacca's Classic Massage
Relax and be energized for 2 hours with our gentle and soothing massage that will eventually release physical stress and tension and clear out the blockages in the energy for 2,000 Pesos.
Kundalini Therapy
Trance with 2 therapists soothing you with our finest strokes and techniques. Balanced and flourished your physical and mental strength for 2,000 Pesos for 90 minutes.
I wouldn't be surprised if Abacca gets some serious competition in the near future, simply because they are so popular being straight forward in what they are offering, their service is very professional, the staff is well trained and also the rooms are in great condition – they have proper massage beds which is rarely the case in the erotic massage salons in Manila. They even include a free facial mask for all services (your masseuse will ask if you would like one before she starts with the exciting second part of the therapy).
There are only 2 things I can criticize about Abacca: You cannot choose a girl. If you ask for that the receptionist will tell you that it's not possible as they are on rotation, "but I will give you a nice girl, sir." Yes I know, that's a quite contradictory statement. Anyway, from what I have seen all masseuses are quite sweet, and when I left there was one ladyboy entering for starting her shift. I'm sure you can make a request for her if you like.
And then you cannot touch the girl. And she will not take off her clothes. In fact, they aren't even dressed sexy at all but in pink T-Shirts. All in all, that's still all acceptable given the great price for the great service.
Abacca Spa is located in a very quiet street called Antipolo St in Makati. I have marked the location with the purple pin on the map above.
Summary
Equipped with all these tips, you shouldn't really have a hard time to find a massage salon in Manila that ends with a hand job or blow job. Just take a walk around Malate or P Burgos Street (these are the areas I'd recommend you to stay in anyway), do your due diligence before paying for a massage by asking them if they do "special" and you will be fine. And if you are still unlucky (and unhappy, literally) then you can always take a taxi up to Abacca to save your day.