There are many reasons why the massage parlors in Manila are so popular: It's the most discrete way to have sex with a Filipina girl (no one sees you in public and you will avoid the "walk of shame" in your hotel), they are easy and quick (no need to buy drinks for the girl like in the bars or waste time talking and dancing with her like in the clubs), the service is safe (compared to freelancers who could potentially steal from you while you take a shower) and in some places it's also cheaper compared to the bars.
However, they are not always great value. Especially in Manila. Most sex massage parlors are found inside the big KTV complexes, and you probably know that the KTVs are the most expensive "entertainment" venue in the Philippines. Let me explain.
Sex Massage Procedure & Prices
When you enter the massage parlors in Manila you will usually come to a lobby with just a receptionist. It's not like in Thailand where you will see the fishbowl right after entering. The receptionist will then present you the price list (often they have a menu either on paper or on the wall behind the desk). The price list will show the "room rental" fees.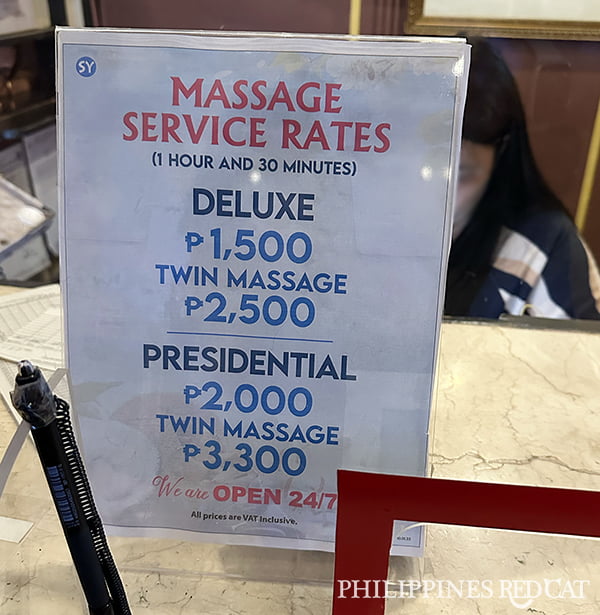 Yes that's right, you will pay separately for the room and for the girl. A standard price in many parlors in Manila is 1,500-2,000 Pesos for a standard room plus 2,000 Pesos for the lady's "tip" (in other words her price for sex).
So yes, that makes it about 4,000 Pesos in total. Sometimes the rate is cheaper (usually during the afternoon before 7pm and after 1am) and sometimes more expensive if you choose a better room type.
The procedure is that you will take a look at the girls in the fishbowl who are all eagerly smiling at you, choose one you like (they have number labels on them) and then pay the room fee at the reception. You will then follow your girl to the room, where you will take a shower together and then have sex.
There is usually no massage involved unless you request it (generally for an additional tip). After the service that takes around 1 to 2 hours you will give her the tip and that's it. Expected tips are 1,500-2,500 Pesos, depending on the place (see below).
If you are wondering why I call them sex massage parlors in this guide and not soapy massage parlors like you hear it very often, well that's because there is usually no bath hub in the room! Even in the best parlor in town, Flight 168 (see below), the standard rooms only have a shower. If you want to bath with your girl then you will need to choose the more expensive room type.
If you ask me it's kind of ridiculous that 4,000 Pesos don't give you a bath before the sex part in a third world country like the Philippines. For this money you could have easily 4 hookers from the dating sites come to your hotel room for 1,000 Pesos each. Not to mention all the "normal" girls you can take out on "dates".
But okay, if you want it quick and easy or have only a short amount of time to spend in Manila, then you will definitely have a memorable time in one of the following 7 best sex massage parlors in town:
Starfleet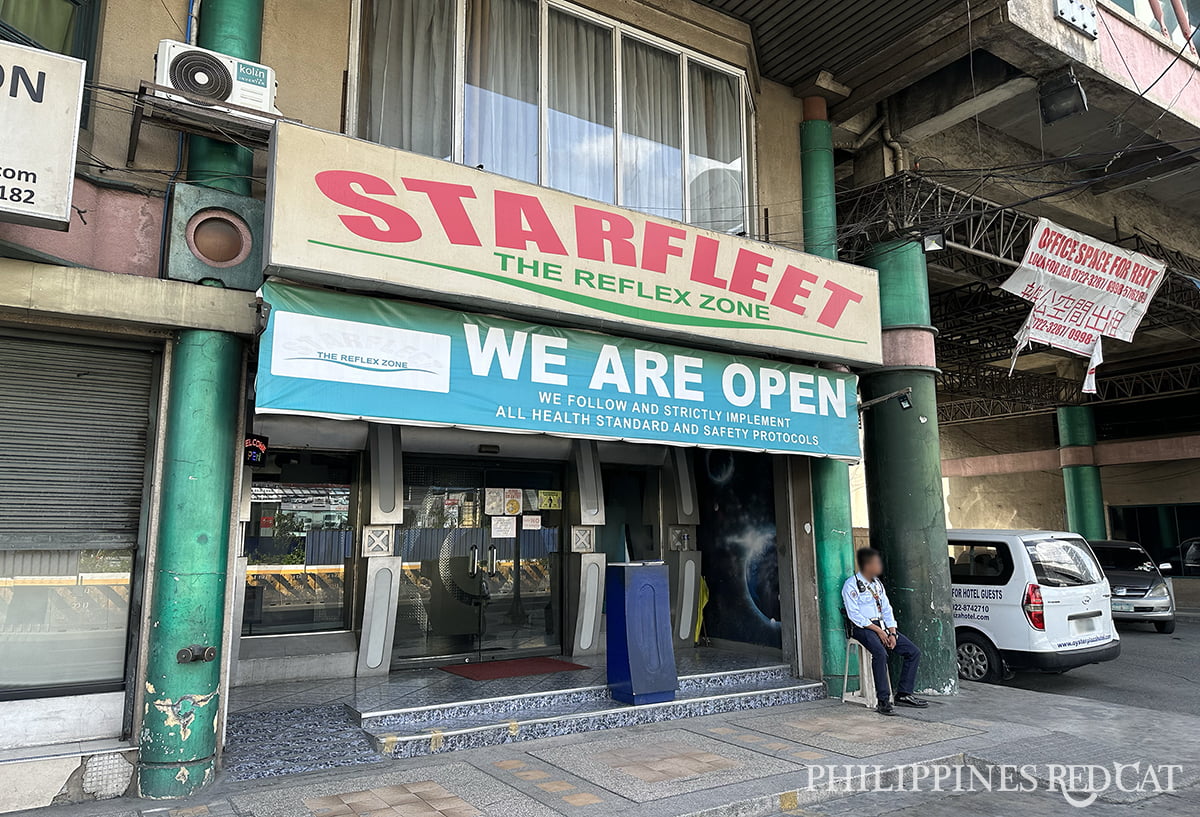 Located just southwest of the airport and right next to the Oyster Plaza Hotel, "Starfleet" doesn't only sound very attractive and tempting to give it a visit – when you walk inside this building and take the elevator up to the 2nd floor, you will get to a lobby with a small fishbowl of 5-8 mostly really attractive Filipina ladies to choose from.
They charge 900 Pesos for the room (1 hour) which includes an erotic massage, but no extras: Depending on what you want (hand job / blow job / sex) you'll need to negotiate the tip with your lady separately, and the common price range for full service is between 2,000 and 4,000 Pesos – all depending on the attractiveness of the girl and how good the chemistry is between you two.
Starfleet is open 24 hours.
Girls' Quantity: 6/10
Girls' Quality: 8/10
Like with all other places mentioned in this guide you can find their exact locations on the map below.
The Cave Spa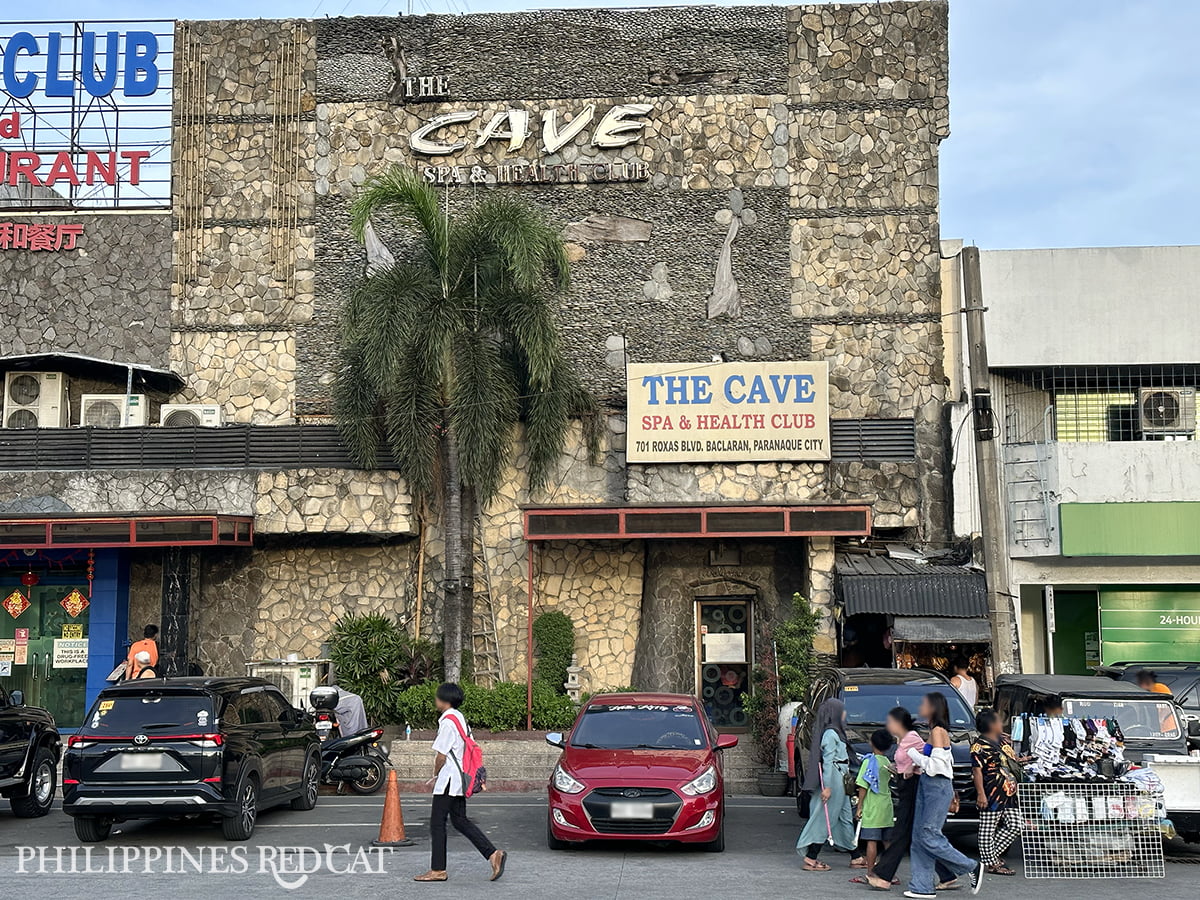 The Cave Spa has the youngest and prettiest girls on average of all the sex massages in Manila, but that comes at a cost:
Upon entering, the male manager will lead you right into one of the rooms which are quipped with a queen-size bed, shower, sink and TV and explain to you the procedure (as if you didn't know it already): You'll take a shower with your girl, followed by a naked massage, followed by sex.
He'll be asking for 8,500 Pesos, which seems totally random and overpriced, but then quickly lowers it to like 4,000 or 4,500 Pesos everything included.
The Cave Spa opens relatively late at around 5pm every day.
Girls' Quantity: 7/10
Girls' Quality: 9/10
Flight 168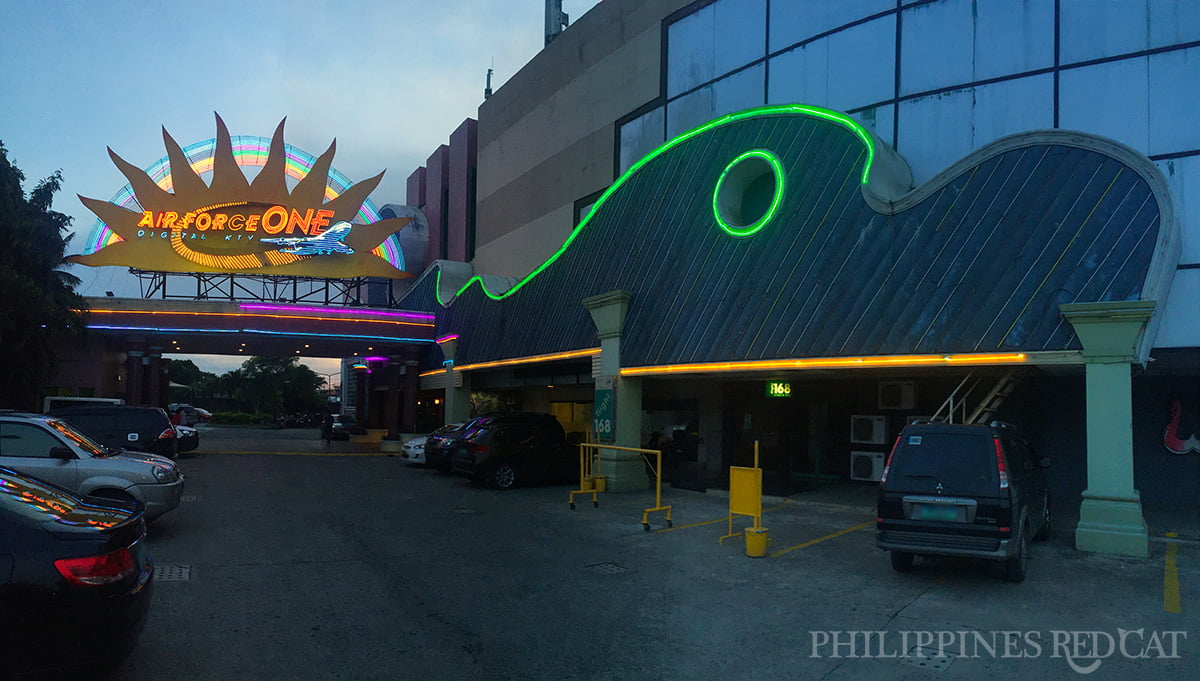 Flight 168 is a massage parlor located in the Air Force One entertainment complex. It has been around for more than a decade so the owners must be doing something right. It's without doubt the best sex massage parlor in Manila, and the main reason for that are the girls.
But first things first: Air Force One is, like the name suggests, located near Manila International Airport, so if you are on a short stopover this might be a fantastic choice to spend a couple of hours in heaven. Just go through the entrance (see the sign that says "168" in the picture), down an escalator and you will be right in the lobby. You can see their room charges in the picture above and the minimum tip for the girls is 2,500 Pesos.
The fishbowl is right behind the reception in the lobby. It's just somewhat irritating that they have a view protection right before it to create a more discrete atmosphere. You can look through round wholes in the wall and will see 20-30 extremely attractive and light skinned ladies smiling at you, each of them trying to get your attention.
You know where to go from there and by the way, they also have happy ending massage (hand job) on offer but with different, less attractive girls and you cannot choose. The price for that is 700 Pesos for massage and 700 Pesos for tip.
Girls' Quantity: 8/10
Girls' Quality: 9/10
Sylvanus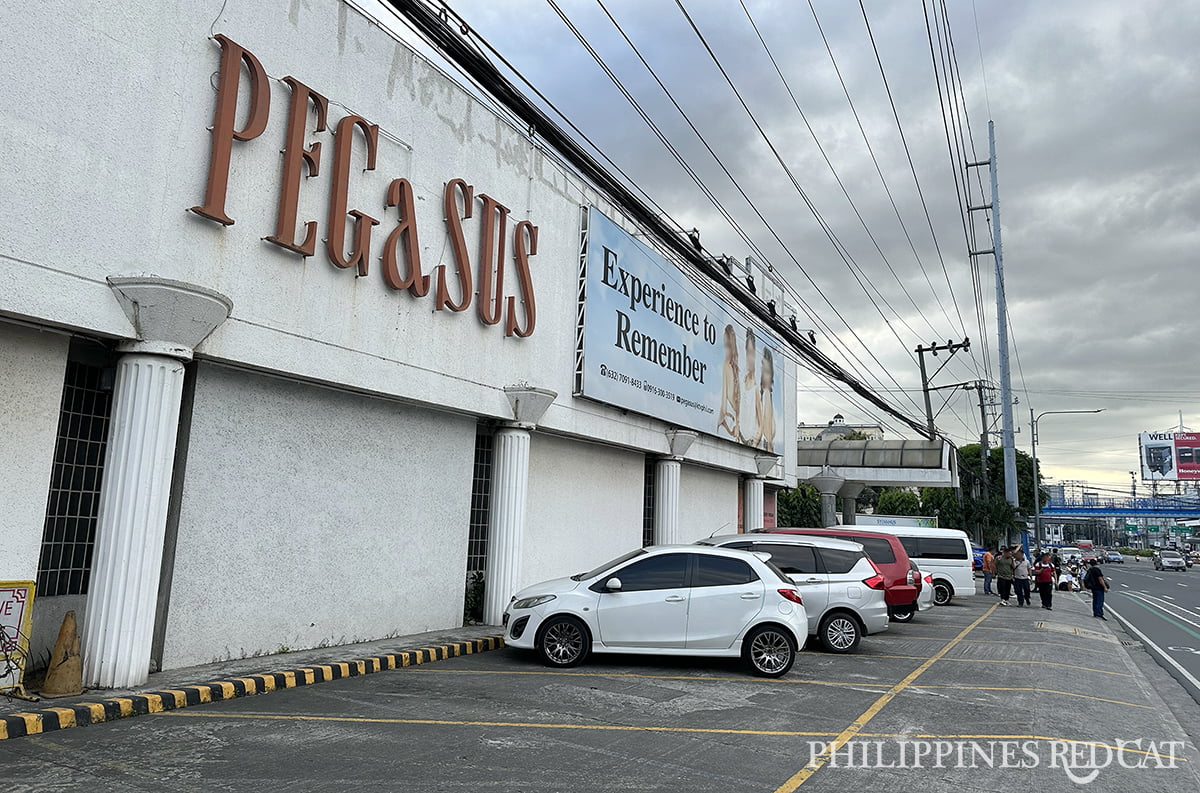 Located inside the Pegasus gentlemen's club (yes, you guessed right, which is another karaoke complex) on Quezon Avenue is the next legendary massage parlor of Manila. It's second only to Flight 168 and has cheaper prices, however, in terms of the girls it's more like a hit and miss kind of place.
The karaoke girls on the upper floor are super hot and model-like (they even say some superstars of the Philippines have started their careers here) and they charge between 1,100-1,500 Pesos per hour. That's obviously not inclusive of drinks and anything else, but you might just want to know about it in case you don't find anything you like in Sylvanus.
Speaking of it, back to the massage which you can find downstairs: There are about 15-20 ladies sitting on the show room's couches. The room prices there are 1,500 Pesos for the "Deluxe Rooms" and 2,000 Pesos for the "Presidential Rooms". Note that the cheaper rooms have no bathroom attached – you will have to use the public one to shower, without your girl. So you might not want to think too much and just pay 500 Pesos more for the better room, and then the expected tip for the girl is always the same as for the room price (e.g. Deluxe Room 1,500 Pesos plus girl's tip 1,500 Pesos), except if you choose two girls:
Example: If you take a Twin Massage in the Presidential Room, you are expected to pay 3,300 Pesos (room), plus 1,500 Pesos (1st girl's tip) and another 1,500 Pesos (2nd girl's tip).
Girls' Quantity: 8/10
Girls' Quality: 7/10
Classique Bar & Spa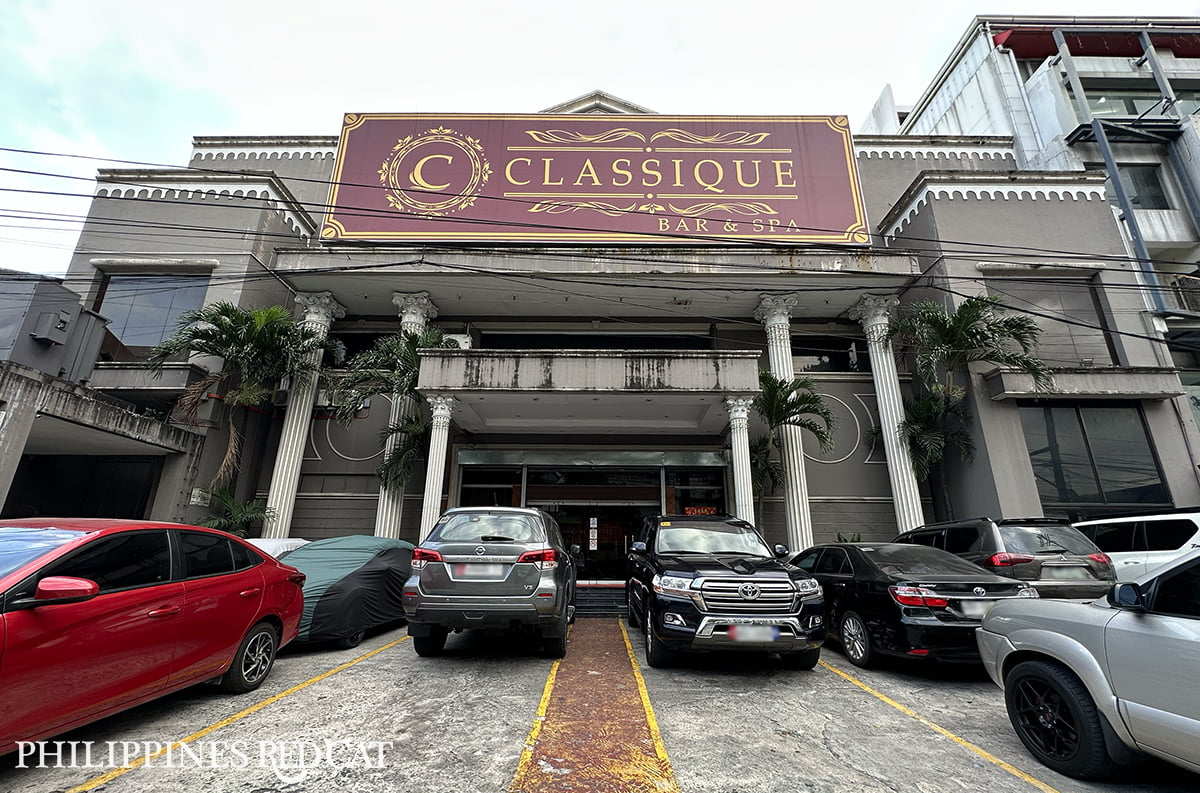 Classique is the big and famous KTV and erotic massage complex in Quezon City that was formerly called "Kremlin". It's the nicest brothel in terms of design, cleanliness and atmosphere.
The massage girls are found in the showroom on the 2nd floor, and it has no glass in front of it, which is rather unusual here in Manila. And even better: The girls are among the hottest you can imagine and eagerly smiling and waving at you, hoping that you choose them.
It's 1,500 Pesos from 12pm to 7pm and 2,000 Pesos from 7:01pm to 3am for Premium Class rooms, and 2,200 Pesos from 12pm to 7pm and 2,700 Pesos from 7:01pm to 3am for Elite Class rooms.
The expected tip for the girl is 2,000 Pesos.
Girls' Quantity: 9/10
Girls' Quality: 8/10
Frictio Health Spa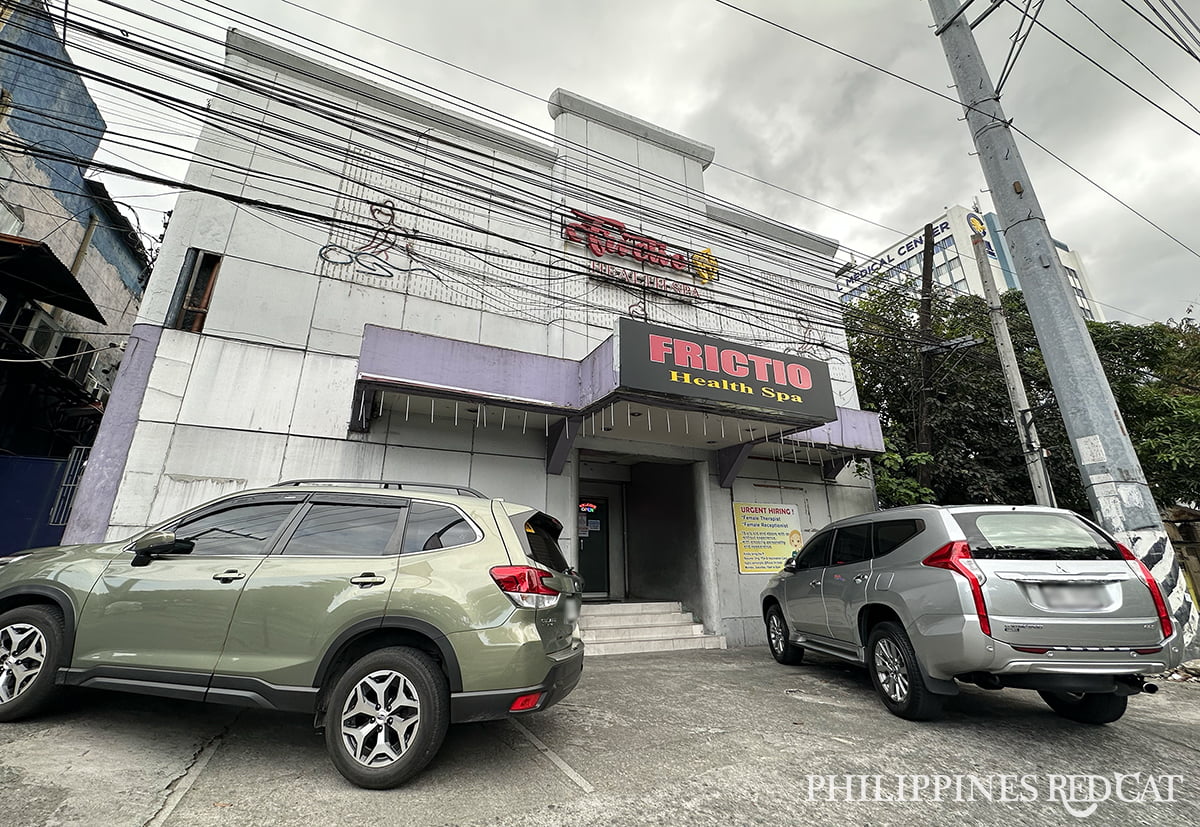 Just 500m down the road from Classique (see above) is another popular all-inclusive massage parlor on Quezon Avenue: Frictio Health Spa. From the outside it doesn't look very special, but if you go inside you'll be pleased to find about a dozen of pretty ladies wearing sexy Japanese silk dresses. Needless to say, they are skilled and know very well how to please a man for 1.5 hours.
As for the prices: It's 1,700 Pesos for the room and 1,500 Pesos for the girl's tip, which makes it a total of 3,200 Pesos.
Funny: The mamasan is known to ask you "Who will be the lucky one?" while you scan the girls in the "aquarium" how they call it.
Girls' Quantity: 8/10
Girls' Quality: 7/10
Wilderness Health Zone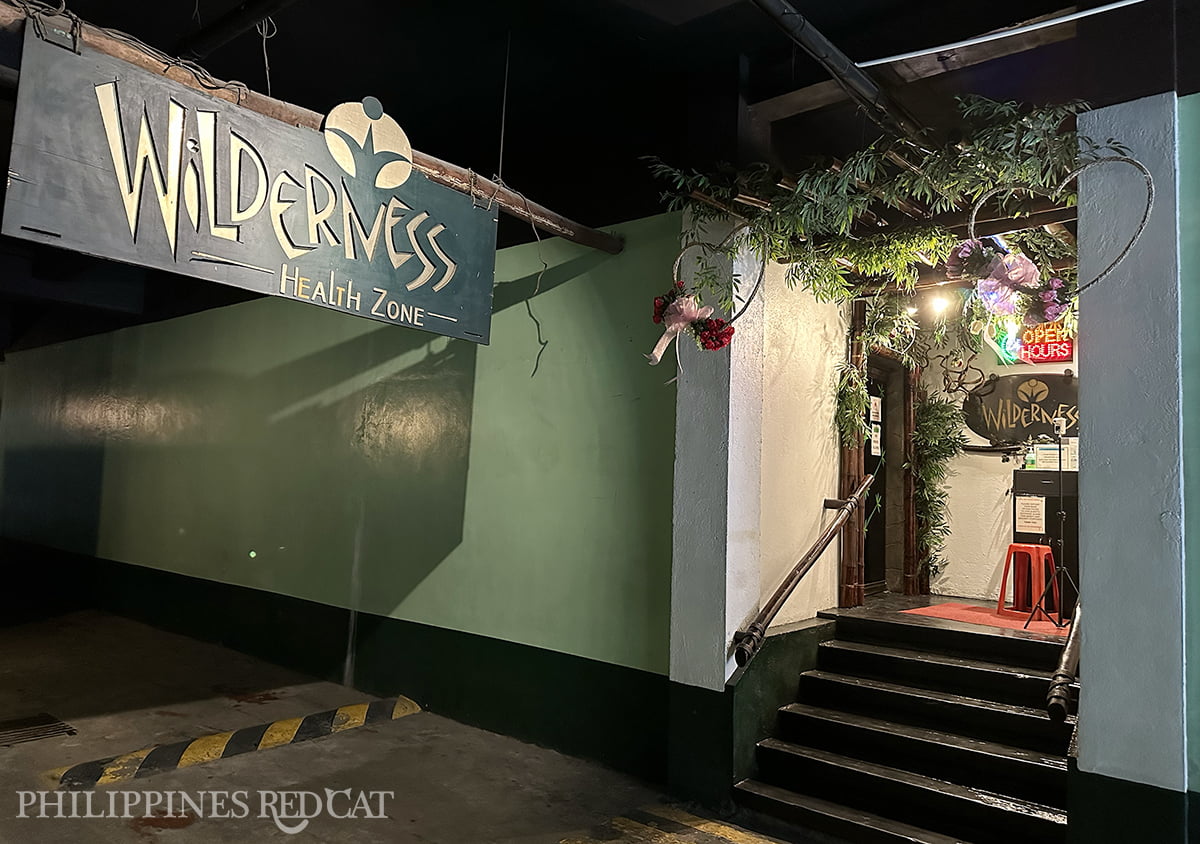 They make you feel like you are entering a jungle at Wilderness Health Zone with lush green plants, a pond and a bridge leading to the lobby.
Other than that, it's another typical soapy massage parlor up in Quezon City. There were 7 ladies to choose from last time I checked, and apart from one hottie, the quality was rather average.
Room rates for 1 hour and 30 minutes: 2,000 Pesos for Presidential (or 3,300 Pesos for 2 girls) and 2,500 Pesos for Rainforest (or 4,000 Pesos for 2 girls).
Wilderness Health Zone is open 24/7.
Girls' Quantity: 7/10
Girls' Quality: 7/10
Nuru Massages in Manila
An increasingly popular type of sex massages in Manila are the so called "nuru massages". Nuru is that special kind of oil/gel that will make your body warm and feel incredibly good as soon as your girl starts rubbing up and down you with her naked body. Yes you read it right, it's the special kind of body to body massage you may have seen in some Japanese, err, adult movies on the internet.
The most famous and most popular service providers of nuru massages in Manila are Nuru Manila, Discrete Massage and Sensual Massage Manila. They are all outcall massage services without a physical location, means you'll book a lady from their website and she will come to your hotel room. They charge around 4,500 Pesos all included, and the treatment including sex takes up to 1.5 hours.
Girls' Quantity: 7/10
Girls' Quality: 7/10
Map of the Best Sex Massage Parlors in Manila