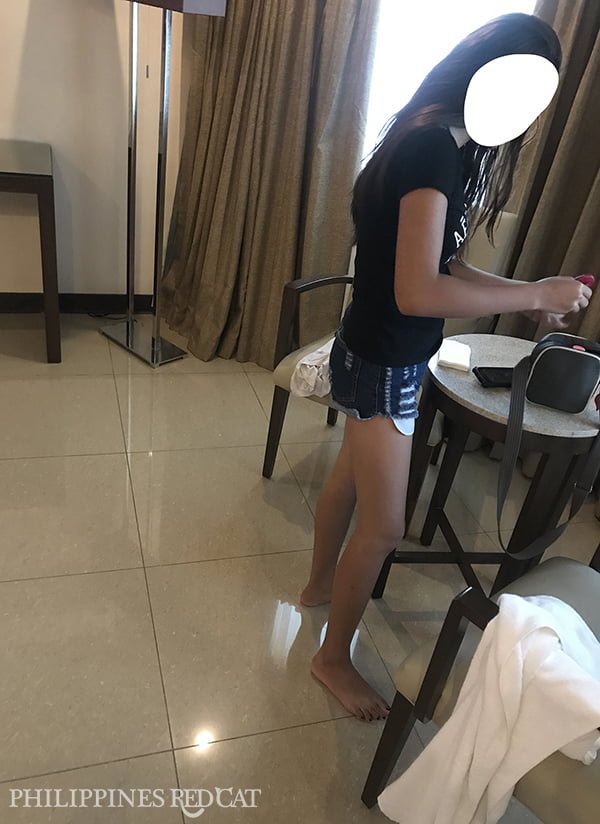 If you are like most guys who read Philippines Redcat, a trip to Cebu means more to you than snorkeling with whale sharks or ziplining in the surrounding hills.
You may do these kind of activities during the day to keep you busy, but as soon as the sun sets you would probably like to experience the nightlife of Cebu and more often than not this is what happens:
You want to bring a Filipina girl back to your hotel room for sex.
Yes, I know that's quite frankly spoken, but let's be honest that's the way at least some of your nights out in this city will end.
And then what you want to avoid under all circumstances is that you have already paid the bar fine for your girl of 3,000 Pesos or so, and just while you enter the hotel lobby some Filipino guy holds you two back with a smile on his face saying, "Sorry sir, your room is only for one person." Or that they don't allow guests here. Or that you would have to pay some extra (like another 1,000 Pesos or so) for him to allow you to bring a guest back to your room. The so called "joiner fee".
If you don't want to be confronted with scenarios like these, it's important that you make sure to book a guest friendly hotel, in other words a hotel that's good for sex with a Cebu girl you pick up.
But that's not the only thing you need to be careful with when considering a certain hotel. Because what you also need to look out for is where the hotel is situated. Of course you can find lots of places that may be in the outskirts of town and cost you more than expected with the taxis late at night. What you want is a hotel within easy walking distance or otherwise just a short 60 Pesos taxi ride maximum to the best nightlife spots including the girly bars and night clubs. And maybe even close to the hugely popular Ayala Mall that's not just great to hang out during the day but also to find lots and lots of very "open-minded" Filipina girls.
Below are five of the best hotels for sex in Cebu and that means they not only provide awesome value for money (which is not always easy to find in the Philippines – you'll find huge differences in price and quality especially compared to Thailand) but also don't make problems when you walk hand in hand to the elevator with your girlfriend for the night as well as being located close to the main nightlife spots: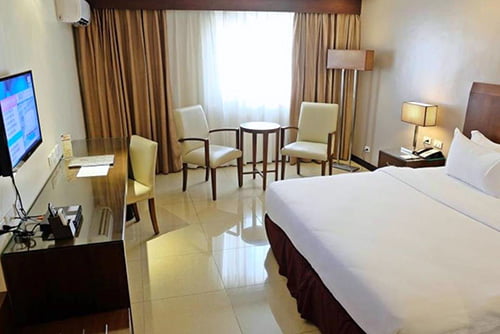 I have personally stayed at the Mandarin Plaza and I loved everything about it: 50 USD per night, it's right opposite Ayala Mall (2 mins walk) and the bars of Mango Square are just a 60 Pesos taxi ride away (or 25 mins if you walk). The rooms are modern and well appointed, the air-con is fine (look at the picture, it's a new machine unlike in a lot of other hotels that have that kind of whole-in-the-wall thing that doesn't get cleaned regularly), new TVs, good quality mattresses and even the bathroom is quite luxurious and also got a nice bath hub. The breakfast buffet is the best I have ever had in the Philippines (the fruit juices are actually fresh and the bacon tastes great). And well, if you want to bring a girl back to your room for sex then no need to be embarrassed to walk through the lobby to the elevator – just sit down one evening at around midnight and you'll see foreigners of all different countries dragging in the hookers and the only ones who are looking up are the Filipino guys at the cafeteria (to check out their sexy bodies).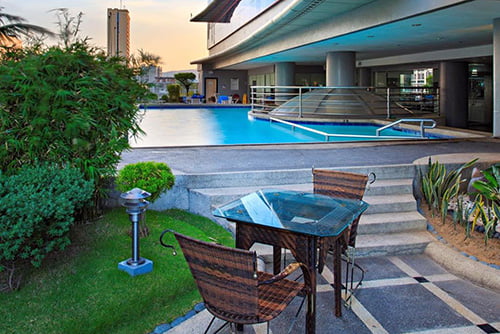 Located right across the street from Mandarin Plaza (see above) the Parklane International offers very similar amenities but is slightly more expensive (they also got rooms in the 50 USD range, but the ones that are similar to the Mandarin cost around 70 USD). I think the reason for this is that it's more oriented towards western tourists and so they got a much nicer swimming pool, better western food and also the bar is more fun to visit. But why hang out at the hotel bar when you got girly bars just a short taxi ride away? I personally think the Mandarin Plaza Hotel has a better value-for-money at a similar standard, but the Parklane is still hugely popular among single male travelers so I thought it's worth to include it on this list.
When you read through the reviews of the Century Plaza Hotel on Agoda, the one thing that seems to be mentioned all the time is how much they liked its location. Well, and if you look even closer it turns out that this is one of the most popular hotels for "solo travelers" and even more precisely: single male travelers that find it extremely convenient to have the bars and girls of Mango Square literally around the corner – 100 meters or two minutes walk from "door to girl" you could say. Room rates at this three star hotel start at around 35 USD including breakfast, making it one of the best choices for your (sex) holiday in Cebu.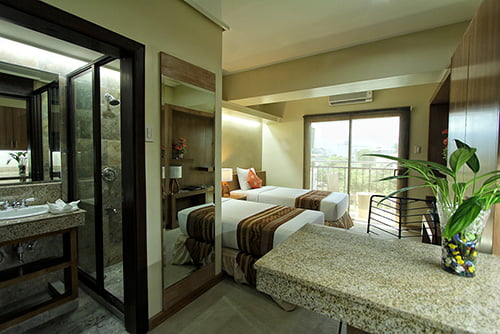 If you are looking for a budget hotel in a fairly good location in Cebu, then the City Suites Ramos Tower may be a good choice. With room rates starting from as low as 30 USD a night and all the important amenities you may need including 32-inch LCD TVs, posture-pedic mattresses (that's how they call it), kitchenette and dining area, bathroom with hot shower and of course free WIFI. The hotel is located 500 meters inside F. Ramos Street and that's not only where you can find the highest concentration of happy ending massage salons in town (especially Chuva Chuva) but also if you walk down to the main road and turn right you're right at the nightlife center of Mango Square. No need to take a taxi really as it's just about 10-15 minutes to walk.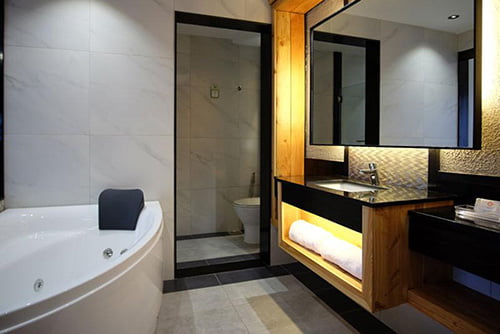 One of the newest boutique hotels in downtown Cebu. The most important thing first: This place is bar girl friendly, offers great value for money and is located within two minutes walk from the Fuente Roundabout – from there it's another three minutes walk to the bars and clubs of Mango Square. Your girl may not know this place as it's quite new, but once she enters the well appointed and beautiful decorated room she'll be happy to take a romantic bath and stay with you for the whole night (supposing you behave like a gentleman). Anyway, the Cuarto Hotel is one of your best choices if you want to have sex with a lady in Cebu and besides that the 8.7 average review score on Agoda really speaks for itself.