You are in Cebu and totally frustrated with the massage salons here? That's how many guys feel when they come here for the first time and walk down the small streets around Mango Avenue.
Like in the late afternoon, when you don't want to go drinking in the bars yet and look for a change from finding girls in the malls like Ayala and SM City. This is one of the most popular cities in the Philippines among foreigners, so there must surely be plenty of opportunities for a nice happy ending massage?
You may find several small massage salons, but they won't look very promising. No girls sitting outside, all very discrete. So you may eventually try one of the "standard" massage shops (Swedish Massage for 350 Pesos) and of course it turns out that they don't provide any sort of happy endings – no hand jobs, no blow jobs, to their customers.
So this is the situation: If you try a random massage salon in Cebu, in 95% of the cases you will leave the place totally frustrated.
Fortunately for you, I have done some research both online on the forums and offline by talking to the expats in the beer bars, and by doing that discovered the few "special" massage salons in town.
This is the first time someone writes a complete overview to the happy ending massages in Cebu City – enjoy:
3 Happy Ending Massages in Cebu City
Chuva Chuva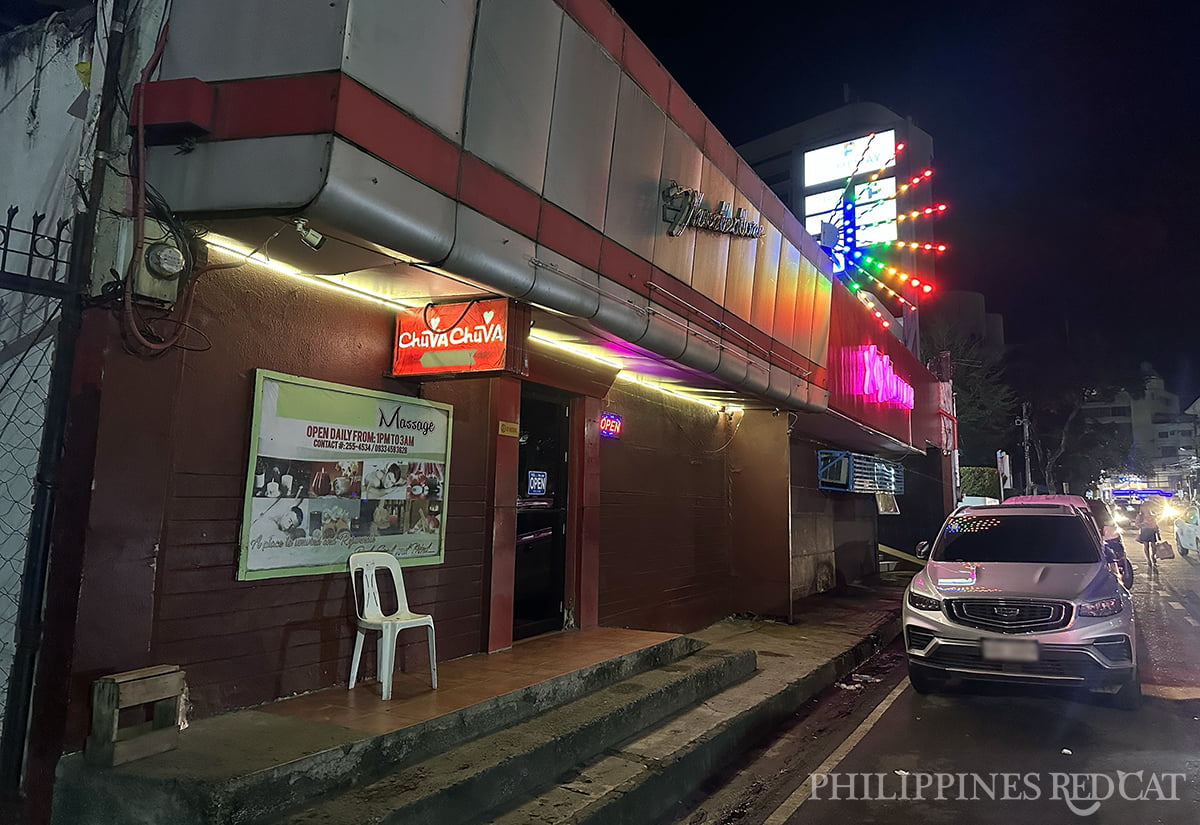 That's the most famous place of all, and that's partly because they do good marketing online, and partly because their location is very good: You can find Chuva Chuva on F. Ramos Street, just 300m from Mango Square.
Don't worry, it's very easy to find – and I have added a map with all the locations further down the guide.
Upon entry, you will be greeted by the receptionist. "Is this your first time at Chuva Chuva, sir?", is what she will probably ask. Say yes, and she will explain that they offer Happy Ending Massages (hand job) for 1,000 Pesos. Alternatively you can also choose their "VIP Package" with 2 girls for 1,800 Pesos. Quite a good deal. But be prepared that if you have two girls, they will do their best to get some additional tip – like they offer to take off everything, allow you to touch them (which is not always permitted), or do a blow job for an additional 500-1,000 Pesos.
Unfortunately, you don't get to see all of the massage ladies in Chuva Chuva, they don't stand up in line like you may know it from Thailand. Instead, they will send one of their girls to the massage room (they are rotating), and if you don't like her, you are allowed to see another 2 girls.
108 Spa Inc.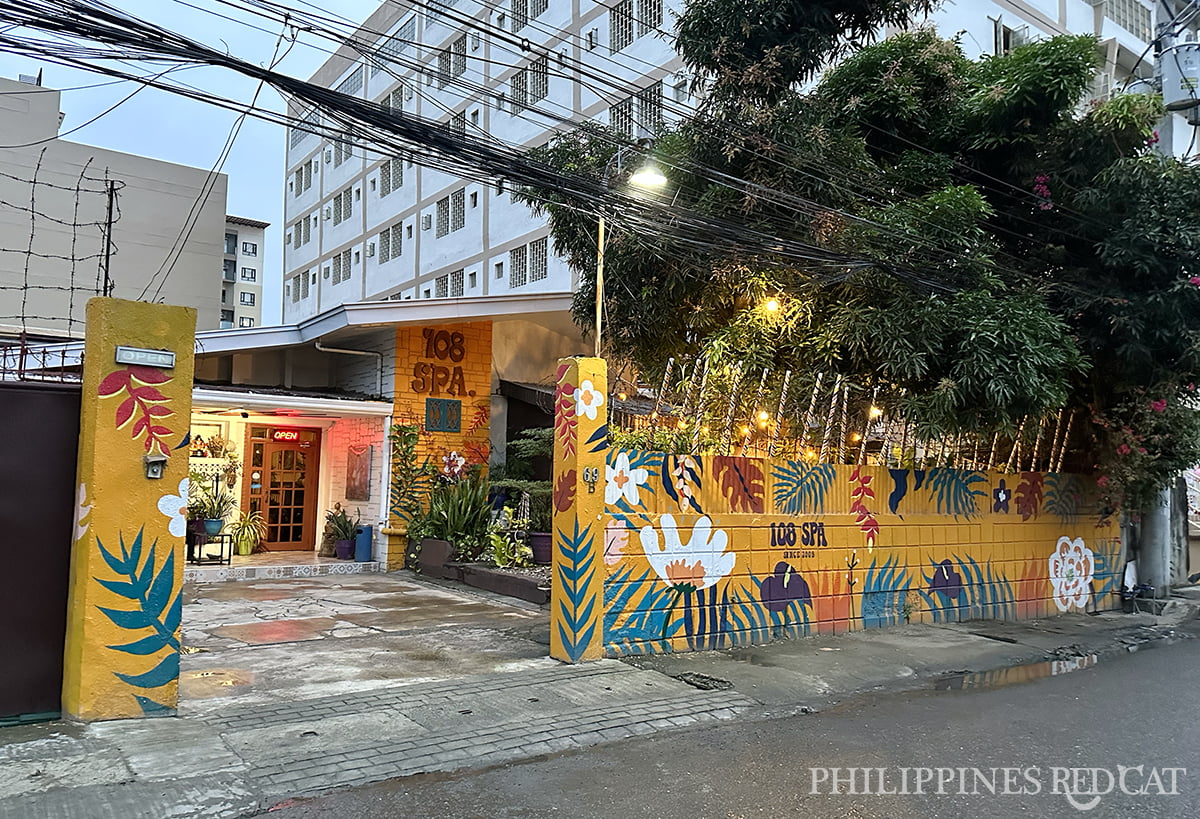 108 Spa is probably the best happy ending massage salon in Cebu City. Why? Well, the girls are a bit more attractive, and the atmosphere is not as cool and business oriented as in Chuva Chuva. It's a completely different feeling when you walk through their entrance on Tres Borces Padres Street, which is a relatively quiet residential area, about 900m from Ayala Mall.
They offer so called "Lingam Massages" for 1,000 Pesos (1 hour and 15 minutes). That's the Filipino expression for a prostate massage that finishes with an oily hand job. The staff is much better trained in performing the erotic massage than in Chuva Chuva – they really know what they are doing:
It starts with about 40 minutes of massage on your back, legs and ass, before they spread your legs and gently massage everything from your testicles to your penis. Then you turn around and they skillfully delay your finish until the time is over.
After you have "finished", you can take a shower. Great and modern facilities here.
And when you come back to the lobby, you get a hot tea and banana, before you pay and leave.
The same type of massage is available as a Four Hands Massage (2 ladies) and that's double the price – 2,000 Pesos.
Update: There is a new branch of 108 Spa Inc. located in Mandaue (see the map below). Just like in the downtown branch, they have 2 shifts of each 5-6 girls working (12pm-7pm & 7pm-2am).
And: 108 Spa opened its first branch in Panglao, Bohol. More info here.
Young Hands Spa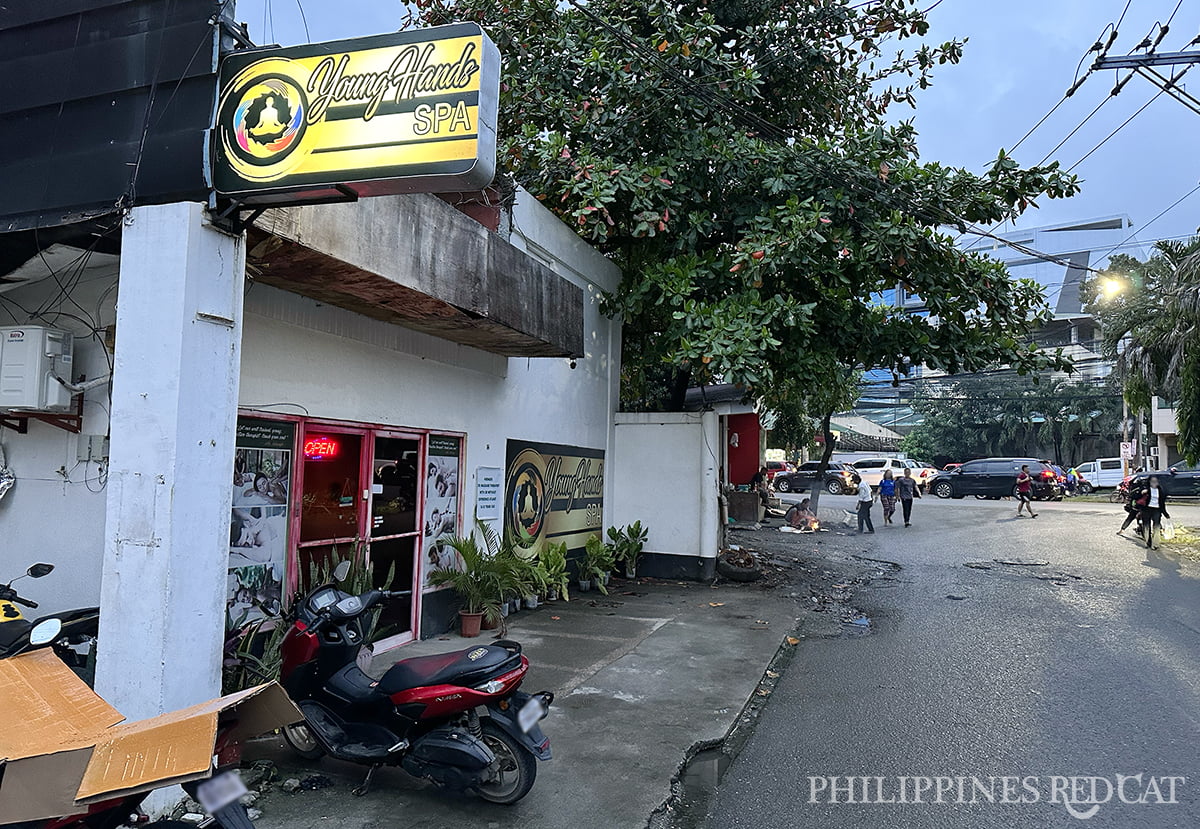 Located just 100 meters from 108 Spa on Tres Borces Padres Street as well, Young Hands Spa does indeed have young and mostly very good looking ladies working.
The type of massage is similar like in the other two salons described above, just that it's called a Back Massage (80 minutes).
Well, it does start with a back massage, but after she tells you to turn around it'll turn into a sensual erotic massage where she patiently works on your genitals until you ejaculate.
The price is 1,000 Pesos for 1 girl and 2,000 Pesos for 2 girls.
Outcall Massages in Cebu
If you aren't satisfied with "only" hand jobs or blow jobs but want the full program, then you can try the new Masaji Spa. They offer Outcall Nuru Massages.
How it works: You go on their website and take a look at the pictures of their "masseuses". Then you call them and tell them which girl and service you would like. Their speciality are nuru massages – for that she will bring a plastic mattress cover straight to your room, as well as nuru oil and condoms.
Don't be confused by the word "spa" – it's an outcall massage, means everything happens in your room. She will perform an erotic body to body massage, which finishes with a hand job, blow job or sex.
The massage itself costs 2,500 Pesos. This money goes 100% to the agency. You then tip the girl anywhere between 1,000-4,000 Pesos – a HJ is obviously cheaper than a BJ, and a BJ cheaper than sex.
You can expect to tip at least 1,500 Pesos for a sex massage (rather 2,500 for most of the girls), so the total is at least 4,000 Pesos. Too expensive if you ask me, we are still in a 3rd world country here and for that money you could easily get 2-3 freelancers from Pina Love coming to your room for "short time" with no questions asked.
Update: Masaji Spa recently closed down. Not sure yet if this is just temporarily or permanently.
Overview Map of Massage Salons in Cebu City
I have marked Chuva Chuva, 108 Spa Inc. and Young Hands Spa with the purple pin and all "regular" massage salons with the yellow pin.
In case there are any new hand job massages in Cebu in the future, I will make sure to add them to this guide.