What's the easiest way to have sex with a Filipina girl? Visiting a girly bar and looking for someone you like? Not quite. While it's certainly the most popular choice for many guys, partly for the reason that they can just hang out and drink a few beers without committing to anything, it does take time and effort from the moment you walk into a bar until you undress the girl back in your room.
If you go to a bar you would need to order a drink, spend some time looking at the ladies, make eye contact with someone you like, invite her over, do some small talk, buy her a drink, do more small talk and maybe after an hour or so you finally agree to pay her bar fine. Then it takes at least another half an hour for you to pay the bill, wait for her to change clothes and to make your way back to your room. In total you spent at least two hours from the moment you walked out of your hotel until you are back with a nice girl.
By far the easiest way to sleep with Filipina girls is to visit a massage parlor. I'm not talking about the smaller massage salons here that may offer a happy ending (if you are lucky) but no sex. I'm talking about the bigger massage parlors that usually have a fishbowl (see below for the explanation).
There are 2 types of massage places in the Philippines:
Massage Salons – offering the standard choice of Foot Massage, Swedish Massage, Oil Massage and other overpriced aroma kind of massages. If you want a happy ending, means hand job, at the end of your massage, make sure you don't choose the foot massage as you don't get a private room or cabin for that. Always choose the Swedish Massage or better: Oil Massage (however, some places use oil during their Swedish Massage, too – better clarify that before).
Massage Parlors – offering the full program including shower, sometimes bath, body to body massage and sex.
I know a lot of first time visitors to the Philippines that visit the smaller, regular massage salons but don't really dare to walk into one of the bigger massage parlors. It's easy to explain why: The massage salons look like normal and legitimate businesses (which they usually are) and you can just try a Swedish Massage and see what happens. If she gives you a hand job that will be fine but you don't usually ask for it beforehand.
It's different with the massage parlors: They are really the most direct type of prostitution. You would basically walk in, look at the selection of girls and tell the owner which one you would like to bang. You don't usually get to talk to the girls beforehand like in the girly bars. It's easy and straightforward, but it's certainly not the girlfriend kind of experience you may get when visiting a bar.
How it works
Let me walk you through a typical visit to a sex massage parlor in the Philippines.
You walk into the massage parlor. Unlike at the smaller massage salons, there are no girls sitting outside and attracting the customers. Everyone is inside. They don't really need to do that kind of marketing as people know what they can expect from these places. Well, supposing they are informed of course.
Upon entry, you will get to a lobby where the receptionist greets you with a friendly "Hello, sir". She will explain to you that there are different room types available for rent. If you have ever been to a soapy in Thailand, this will be confusing. In Thailand, you would walk into a place and see the selection of girls right away. But here in the Philippines, it's a lot more discrete.
So back to the room types: There are usually 2-3 different room types available and the rent is 1,000-3,000 Pesos for 2 hours. This is for the room rental only and doesn't include the girl. It's also important to know that the cheaper rooms usually have a shower only, while the more expensive rooms often come with a bathtub and sometimes a mattress for the body to body massage.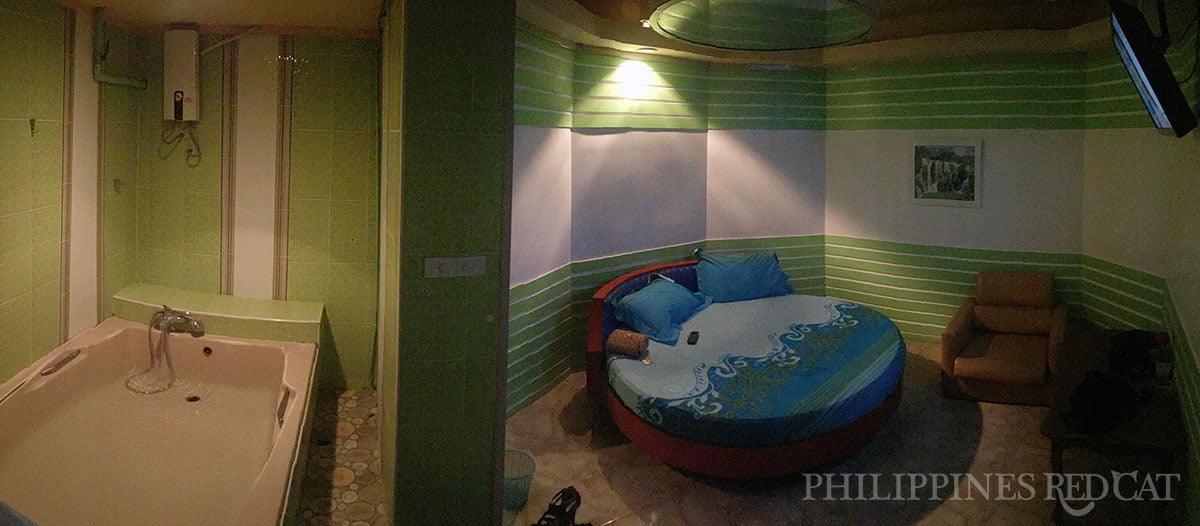 Of course it's never a good idea to pay for the room before you even get to see the ladies. So make sure you talk to the receptionist that you would like to see the "masseuses" first. You will then be lead into another room (or just around the corner) where you will see the so called fishbowl.
The fishbowl is basically a room with a huge glass window. You can look through the glass and see many girls sitting on the red carpet stairs (or couches if they are "models") and as soon as they see you, they will do their best to get your attention. Some will eagerly smile and showcase their nice bodies, while others will (pretend) to ignore you and play on their phones while hoping that this behavior makes you attracted to them.
You talk to the papasan (that's how they call the manager who looks after the girls) and he gives you some recommendations on which girls do a good job, which girls have babies, how old the girls are and everything else you would like to know. Unfortunately, I usually feel the papasans in the Philippines aren't as friendly and willing to talk compared to Thailand, but you have to accept that.
The papasan will let you know how much for the girls (see below for the price information) and then, if you like one of them, you will let him know your choice. He will then call the girl over to the reception, where you pay the money for the room. Important: You don't pay for the girl just yet, but you will give her the "tip" at the end of the "massage".
You follow the girl to the room. Then it's time for a little bit of small talk to get warm with each other. No need to rush, remember you have two full hours to spend with her – even though some of the girls are more business oriented and rush through the procedure, you never really know. Try to take your time with her, be nice and polite, make a few jokes and you should have a great time.
Next is shower or bath (depending on the room type) and then body to body massage. It's important to know that not every girl is willing to do that. So if you would like the girl to slide up and down on you with her sexy and slippery naked body – you should ask the papasan before you make your choice.
And then it's time for the dirty part – means you will hop on the bed where your girl will kiss and suck on your nipples and stomach, stroke all over your body and eventually unpack the condom, apply it on your penis and start riding on you. From there it's time for you to take control of the procedure.
After you are "finished" you will take one more shower together. Before you ask: You usually get only "one shot", means you can have one time sex with your girl. If you want a second round you will be asked to tip more. For most guys one time is enough though and that means you would pay her, follow her back to the lobby and say goodbye.
How Much for the Body to Body Massage?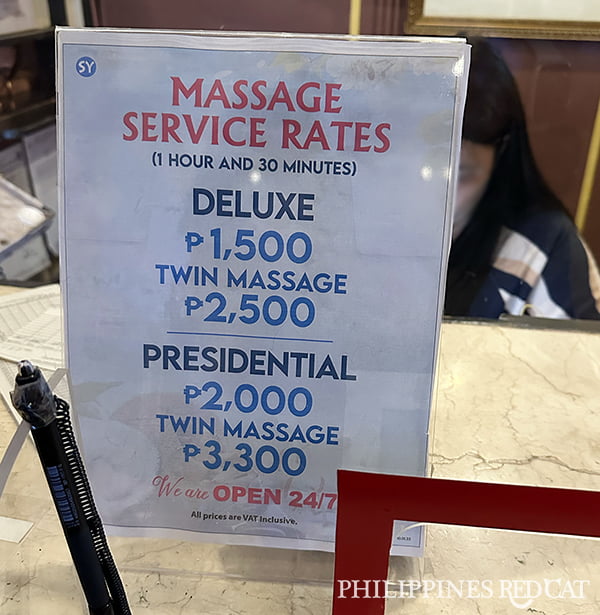 As already explained, there are two types of prices you will have to pay when visiting a sex massage parlor in the Philippines: The room rental and the sex price for the girl.
Regarding the room rental, the price differences depending on the city or even within a city can be huge. If you look at my picture to the right – this is the selection of Sylvanus in Manila. As you can see, they have two different room types – Deluxe and Presidential. I was told that only Presidential rooms are equipped with bathtubs, so if you want a body to body treatment then you should really choose that type of room.
Also interesting: The room rates vary depending on the time of the day. Means if you come before 7pm or after 1:30am the prices will be cheaper than during the regular hour. However, the sex price for the girls are usually the same at all times and you can expect to pay somewhere between 2,000 and 3,000 Pesos (in some upscale places even more than that).
So if you sum up the room rental plus the tip for the girl that comes down to a total price of around 3,000-6,000 Pesos.
However, there are also exceptions: At some places, especially those in the tourist areas, they charge an all inclusive price. Good examples for that would be Shogun Spa in Manila and Serenity Nuru Spa in Angeles. By the way, if the body to body treatment is a big priority to you when visiting a massage parlour, then the more and more popular nuru massage places are an excellent choice. Not only can you be sure that the girl will perform a body to body massage, but they also use that special kind of nuru gel that makes your (and her) body warm and extremely slippery. Much more sensual than standard soap.
Where to Find Sex Massage Parlors in the Philippines?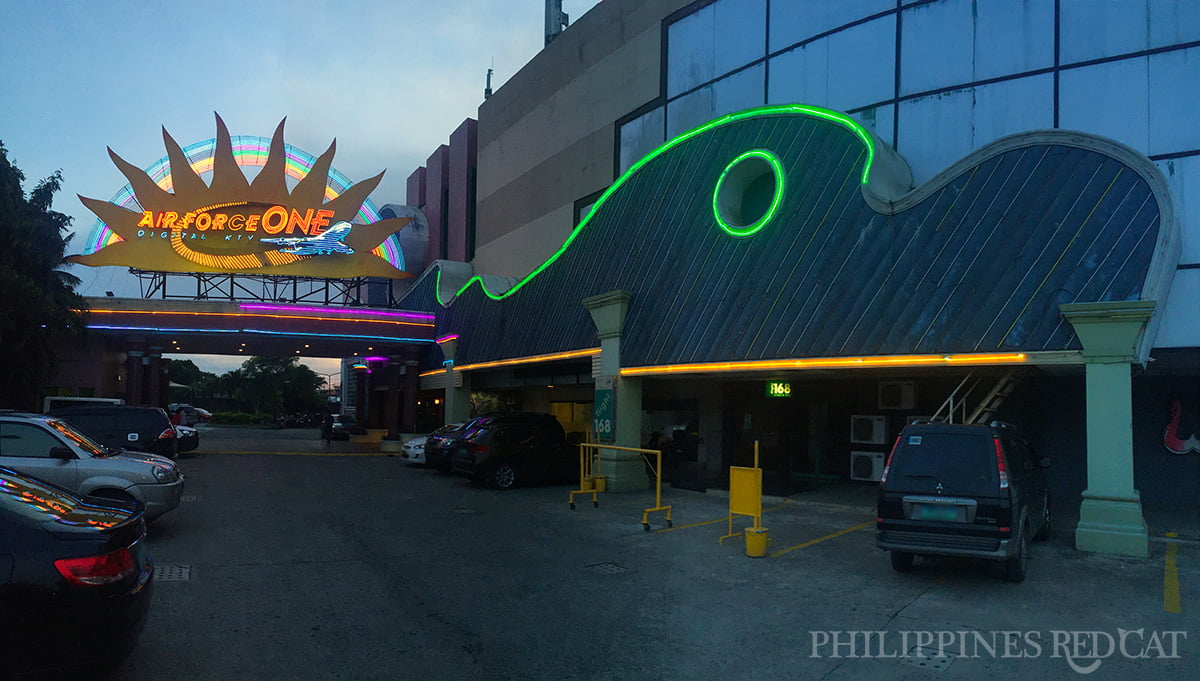 Now that you know about the typical procedure and how much it costs, the last thing you are probably interested in is where to actually find the sex massage parlors. I have already written dedicated posts on that topic for Manila, Angeles and Subic:
In these guides you can find detailed information on where to find the massage parlors (including maps), my own pictures of the best places as well as information on prices and what makes each place unique. Apart from that, if you decide to visit smaller towns or islands in the Philippines, you can find the most important information and locations in my nightlife overview guides.
There are so many ways to get (paid) sex in the Philippines – and finally of course it's your decision. Are the massage parlors one of the better options to meet and sleep with attractive Filipina girls? Sure, 5,000 Pesos or more for a 2-hour all inclusive massage is quite pricey – but if you compare that to a typical visit to a girly bar that comes down to at least the same price – if you include all your drinks, the lady drinks, the bar fine and the sex price for the girl.
The massage parlors are expensive, but convenient and discrete. Especially if you have a girlfriend or wife they are the way to go – you cannot just take a hooker from the bar or club and walk down the street with her hand in hand. That's why in my opinion it's great to have the sex massage parlors available so you can escape from reality every once in a while – without anyone seeing you.