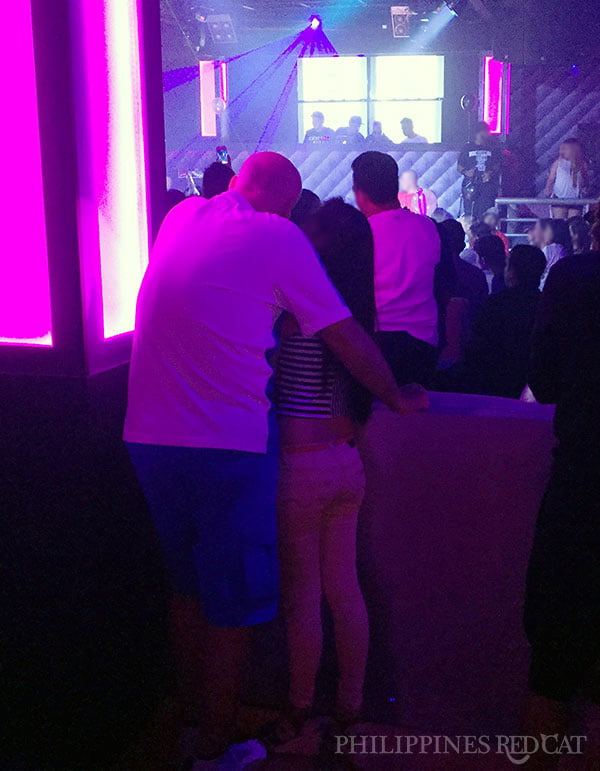 There are many ways to spend your night in Subic. If you are a single male traveler then you will usually go to the girly bars of Barrio Barretto or just take it easy by having a relaxed beer and maybe a chat with other foreigners in the popular expat bars such as Johansson's or Harleys Pub.
Another increasingly popular alternative is to visit one of the nightclubs in Subic. I'm using the word "increasingly" because a few years ago there weren't really many options in this category at all besides from "whole-in-the-wall" chaotic Filipino clubs with boomboxes or the regular KTVs where you'd pay more money than you originally planned to.
Fortunately, things have changed and there are now two extremely popular "real" night clubs (or discos how the Filipinos say) in Subic Bay or to be more precise: In downtown Olongapo, the capital city of the region. They are called Nocturnal Disco and Club V and are conveniently located just 100m from each other.
What Makes Subic's Nightclubs Worth Visiting?
The fact that it's cheaper to hook up with girls compared to the girly bars. Means not only your own drinks are slightly cheaper, but especially if you decide to pay a girl a drink then you don't need to pay for pricey lady drinks (which cost around 200-250 Pesos in Subic's lady bars) but instead just pay the price that's on the menu, because they are not employed by the clubs.
Another great thing about the nightclubs is that you can find both freelancers, means hookers who will go with you if you pay them some money, as well as "regular" girls, means girls with normal day jobs or students. It can be very difficult to meet Filipinas in everyday life because most of them are too shy to talk to a foreigner in public, but you can imagine that it's a lot easier in the club after they had their second or third cocktail.
Let's take a look at the currently two best nightclubs in Subic and what makes them so popular:
Nocturnal Disco

Nocturnal Disco is what has been missing in the nightlife of Subic for many years: A fantastic nightclub to party at reasonable prices (see info below), to dance and to meet both locals and foreigners. If you have been to Angeles and liked Mega Dance Center, then you will also love Nocturnal because their concept is quite similar:
There is a very spacious dance floor in front of the DJ stage (and sometimes sexy Filipina coyote dancers), several round tables and stools on the sides and on the back of the club, as well as a few VIP tables with comfortable couches – you will need to come early or make a reservation to get one of those and buy a bottle of whiskey.
Nocturnal is packed every night with dozens of attractive Filipina ladies and it's not really hard to meet them: Just make eye contact with one you like, smile at her, say cheers and start some small talk. Like already mentioned they may be shy when they just walked in and have their first drink, but after a couple of hours they will feel much more relaxed and it's not difficult at all to break the ice with them.
And then if they are hookers, means freelancing girls who are looking for customers, then of course it will be even easier and often it will be them who approach you and say hi. Some of these girls are extremely hot and attractive, but they can also be (over)confident and expect you to buy them several drinks, party with them and then agree on their price of 2,000 or even 3,000 Pesos to spend the night with you. Others will be much more easy going and just fine with 1,000 Pesos to solve their "small problems" they often tell you about.
Don't think about it too much. Just enjoy your night, go with the flow, see what happens (but of course always use your common sense, and keep in mind that there are also plenty of ladyboys in Nocturnal) and you will no doubt end up walking out of this club hand in hand with a lovely girl at the end of the night.
Admission: 100 Pesos including one drink
Working Girls: 60%
Club V

Club V is the second best night club in Subic Bay. It's about half as big as Nocturnal, just 100m down the street and has quite a different concept: It's mostly popular among the local Filipinos and especially groups who share one of the many tables.
It's by no means a typical "hooker-disco" means most of the working ladies are going to Nocturnal instead because they know there are many more foreigners and so they have better chances to make some money. So Club V is really more suitable for group partying and there is only a very small dance floor in the front part of the room (you can see it in the video I took there last month, see below).
On the side and second floor of the nightclub are several VIP tables with couches like it's the standard in the discos in the Philippines. Similar to Nocturnal you will need to buy a bottle of whiskey to get access to them, unless it's a weekday then the rules may not be as strict because the club doesn't even get half full.
So yes, my final tip here if you decide to go to Club V: Make sure you go on the weekend or otherwise you will ask yourself where all the people are. Well, I think you know the answer: in Nocturnal.
Admission: Free, unless they have an event then it's 100 Pesos including one drink
Working Girls: 20%
Map of the 2 Best Nightclubs in Subic
Drink Prices in Subic's Nightclubs
One of the questions I receive from readers all the time is "how much for this" and "how much for that" and so I decided it's a good idea to just take a photo of the full drink menu in the best places.
Same for the nightclubs in Subic, if you asked me what a bottle of Red Horse costs in Nocturnal, or a Caipirinha or maybe even a bottle of Jack Daniel's – well, then I could either answer you 75 Pesos, 150 Pesos and 3,000 Pesos. Or even better, I'm presenting you the drink menu below so you can get the full overview all at once: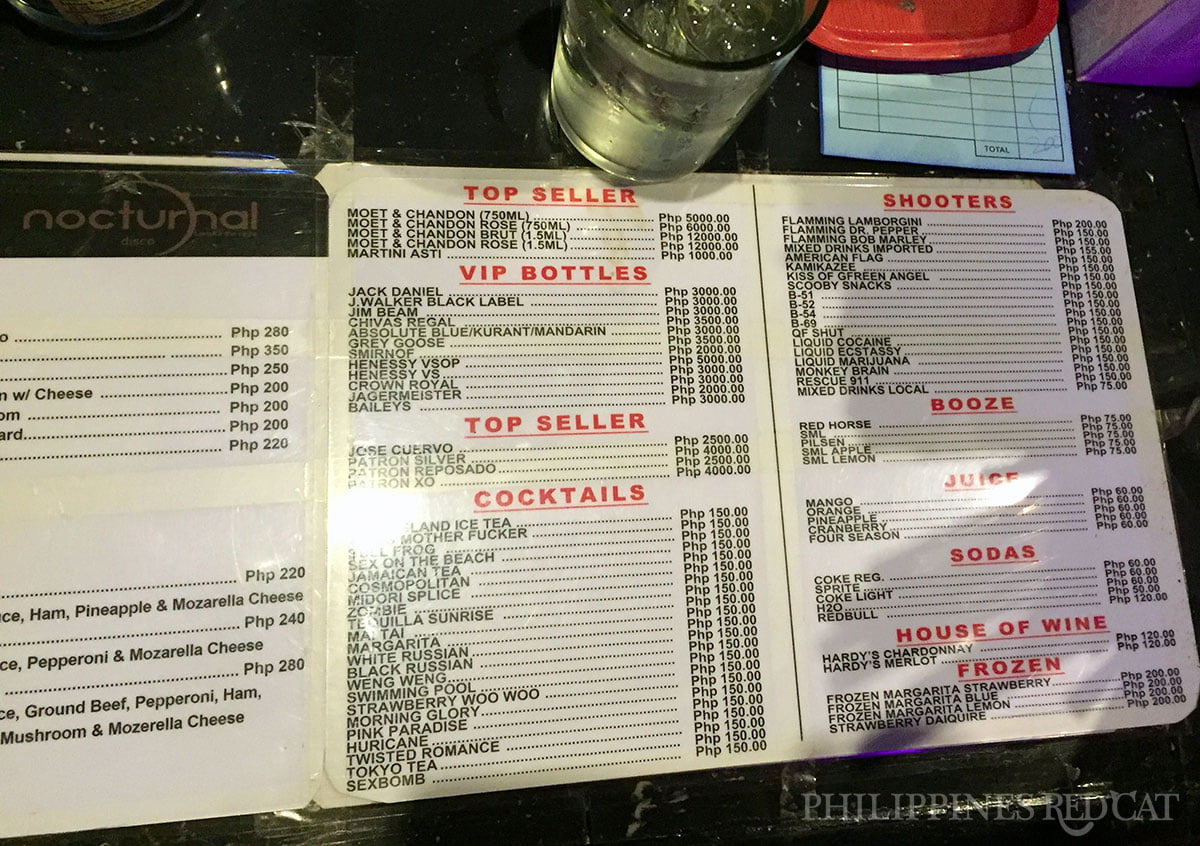 How to get to these Clubs from Barrio Barretto?
If you've read my other posts on Subic then you probably know that I always recommend people to stay in Barrio Barretto because all the foreigner-oriented girly bars, restaurants and best value hotels are located in this beach town. There is really no reason to go to Olongapo other than visiting the shopping malls, night clubs or taking the bus back to Angeles.
So if you want to get to Nocturnal Disco or Club V (or pretty much anywhere else in Olongapo) you have two options: You can either take a tricycle for 150 Pesos. That's the fixed price – I confirmed it with local Filipinos so don't let them overcharge you for this 6.5 km long trip.
The second option is you take the blue jeepney from Barrio to Olongapo. It costs 12 Pesos and you get off at the final stop which is right opposite the Victory Liner Bus Terminal. From there you walk around the corner to the main road (Rizal Avenue) and take the yellow jeepney to the southern direction (8 Pesos). It's just over 1 km and you can get off right in front of either Nocturnal or Club V – they are on the same street.
If you are unsure you can even walk there using your phone's GPS. But it's really easy, just ask some young Filipino, most of them will know where Nocturnal Disco is located and be able to point you in the right direction.
Videos of Nightclubs in Subic