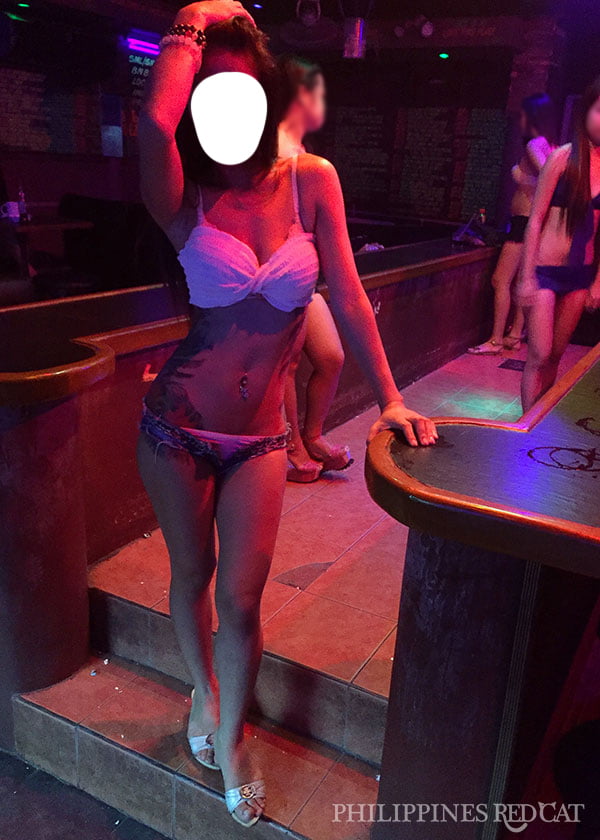 Subic Bay is one of the most underrated places in the Philippines. I'm not talking about the beach, which is not even half as beautiful as the likes in Boracay, Camiguin or Palawan. And there isn't really much to do during the daytime at all except from reading books on the beach, going for a massage and start drinking beer at noon.
What I'm talking about are the girly bars of Subic that are so much more fun than you might expect. Sometimes I hear expats claiming that Subic was "dead" and you shouldn't waste your time going there, and instead spend most of your time up in Angeles. That's certainly not true.
Of course, Angeles has a lot more bars to choose from, but at the same time the prices for drinks and entertainment are also higher and the whole atmosphere is more business oriented and somewhat touristic. The best example are the bar fines: In Angeles the standard price is 4,000 Pesos whereas in Subic it's just 2,500 Pesos. And yes, that's inclusive of sex with the girl.
For me, the bar scene of Subic is a little paradise. Barrio Barretto is the name of the beach town that is home to about two dozen girly bars that have young and pretty Filipina ladies employed to look after the wellbeing of the male customers. Many of these girls have just recently started to work in these bars and that means they are not just young but also a lot more "authentic" and friendly compared to most bars in Angeles or Manila.
About 90% of all bars in Barrio Barretto are located on the main road (the so called Olongapo-Bugallon Rd). It's not like in Walking Street Angeles where all of these bars are clustered one after one, however, most of them are located within a 500m long strip between the Pub Hotel and the bend of the main road (see the map at the end of the guide).
If it's your first (or second) time in Subic then you might find it difficult to decide on which bars are worth to visit, especially if you only have two or three nights to spend here. I have personally been to pretty much every bar in town and thought it's a good idea to recommend you the following five best girly bars in Barrio Barretto today:
Hot Zone Bar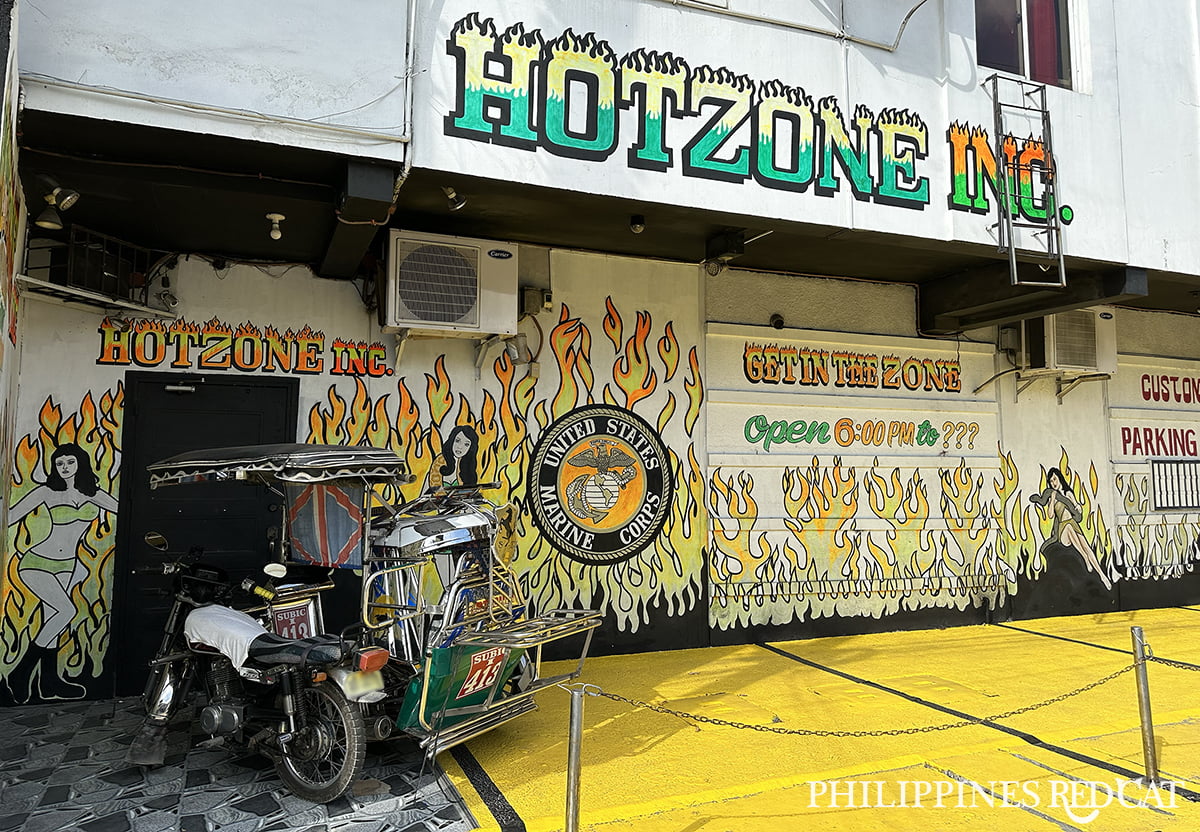 This is my favorite girly bar in Subic and the only reason why I didn't put it right on top of this list is because the bar is still relatively new and I'm not sure if they are going to keep this high level in the future. What I mean by that is that Hot Zone has some real stunners, extremely young and beautiful girls.
I'd highly advise you to visit Hot Zone Bar as soon as you can, because things are changing relatively quickly in the bar scene, but from what it looks like the owners are doing a fantastic job in recruiting some of the best girls in the Subic Bay region. There is a stage in the center of the bar where about 6-8 girls are dancing at a time (rotation) and then even more girls all around resting or "entertaining" customers on the comfortable couches.
There is also a pool billiard table in the back of the bar in case you get bored (very unlikely) or in case you want to start "playing" with your girl (very likely). Hot Zone Bar closes at 2am which is earlier than most other girly bars in town so don't come too late. Even better: Go there right at 8pm when all girls have started working so you have the full selection of these incredibly hot chicks.
Girls Quantity: 8/10
Girls Quality: 9/10
Lollipop Bar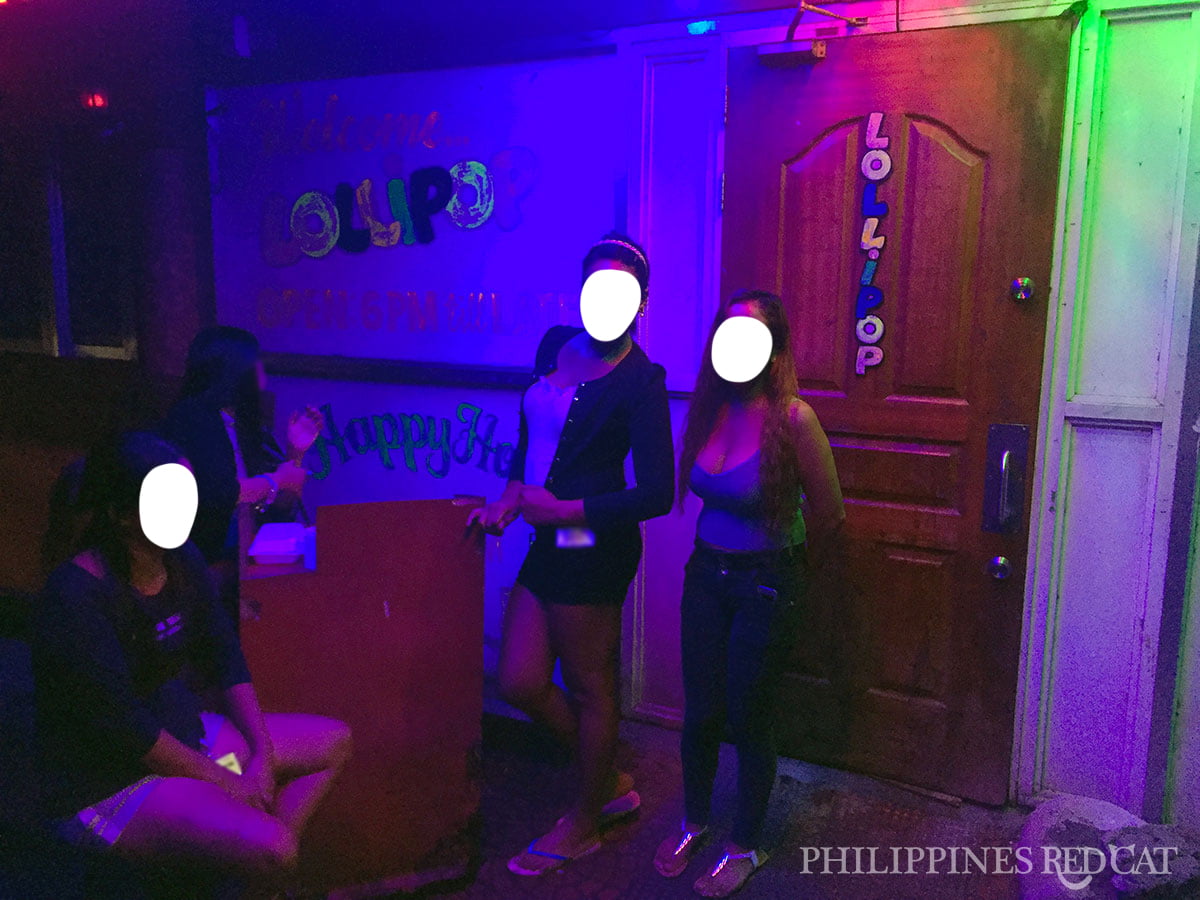 One of the best girly bars in all of Subic. Unlike most other venues, Lollipop has a very spacious dance floor with space for more than ten girls at a time. There are no pole bars so the girls are instead just holding on each other. Just look at my video in the Subic Nightlife Guide and you know what I mean.
The girls in Lollipop are among the hottest you can find in town, and some of them are very well equipped in terms of (natural) breasts. Yes right, I'm referring to the picture above. But not only are the ladies super attractive here, they are also extremely fun to hang out with and not pushing at all.
Like when I go there I often play pool with one of the staff (there is a pool table next to the stage) and they usually don't even ask me to buy them lady drinks. I still get them a San Mig Light though, I mean it's free to play pool, the atmosphere in the club is just fantastic and the prices are, like in all other girly bars in Subic, more than reasonable. See below for the detailed information on drink and girl prices.
Girls Quantity: 8/10
Girls Quality: 8/10
BarCelona Sports Bar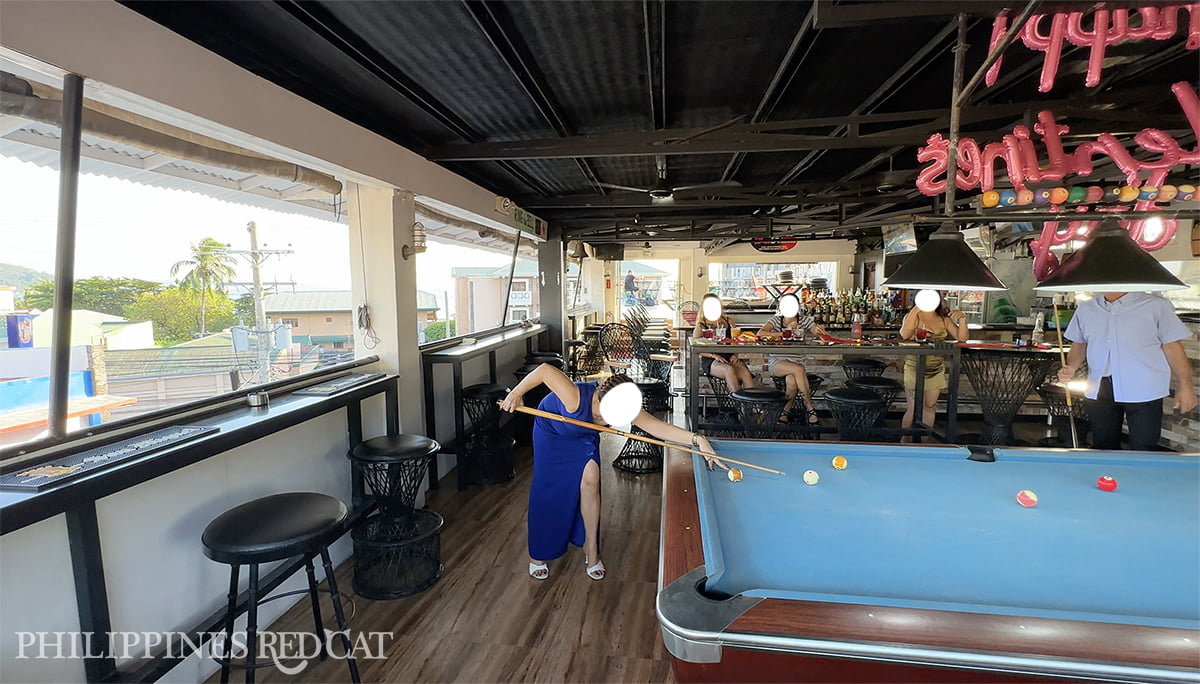 BarCelona is located on a rooftop opposite the street from Cheap Charlies in Barrio Barretto (see below) and much bigger. It's one of the expats' favorites and that's mainly because the girls may not be as attractive on average as in the first two bars on this list, however, they really know how to make you enjoy your time. Just buy them a drink and you'll quickly understand what I mean.
I remember when I first walked in there the two ladies behind the bar excitedly giggled and said "Welcome to BarCelona, sir", helping me to find a nice place to sit down. One of them took my order and the other girl just stayed with me and started chatting, immediately giving me the feeling that she was super happy that I stopped by.
Fantastic setting and atmosphere at BarCelona. They have a free pool table, lots of different sitting options and exciting views of the main road, the hills and the ocean. Must visit if you are in Subic, you won't be disappointed.
Girls Quantity: 6/10
Girls Quality: 7/10
Cheap Charlies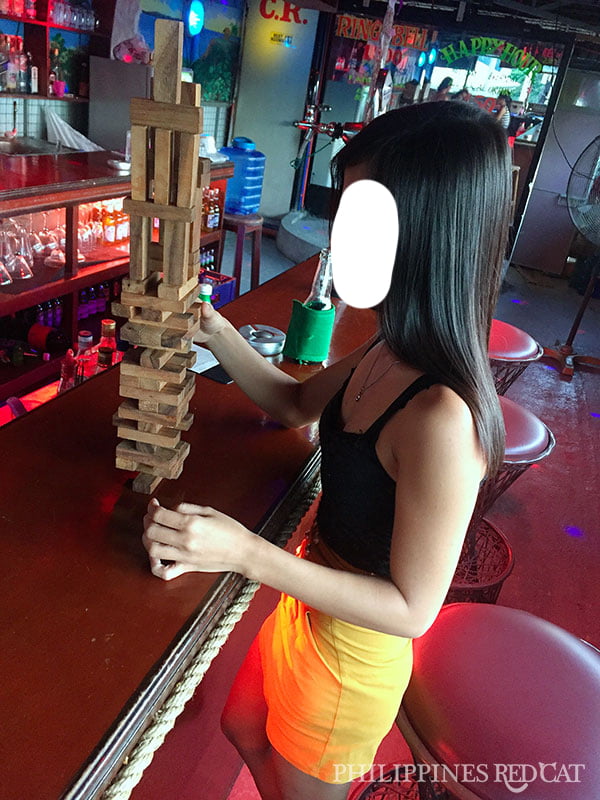 Along with BarCelona (see above), Cheap Charlies is without doubt the best bar in Subic during the daytime. They have two areas: Downstairs is a small bar with three pole bars. There are about ten girls around and the atmosphere is quite intimate because the bar is so tiny. It's not really the type of place where you come to sit down and watch the girls dancing because there are only one or two on stage at a time and you will be surrounded by a group of girls as soon as you come in.
The highlight in Cheap Charlies is the rooftop bar on the third floor. They have lovely girls who will invite you to play games and if you lose you will have to buy a lady drink. Of course you don't have to play anything and can just sit down and enjoy a few San Miguels and the great view of the surrounding hills and street life from above. It's one of those Subic experiences you won't forget.
And what you won't forget either are the charming girls who make sure you have a great time here. It's in no way as business oriented as in the typical girly bars in the Philippines, it's just a fantastic hang out place without getting bothered to buy drinks and the girls' company all the time. That's why you can easily spend several hours in Cheap Charlie's when you originally planned to just drop by and "have a look".
Girls Quantity: 6/10
Girls Quality: 8/10
Alaska Club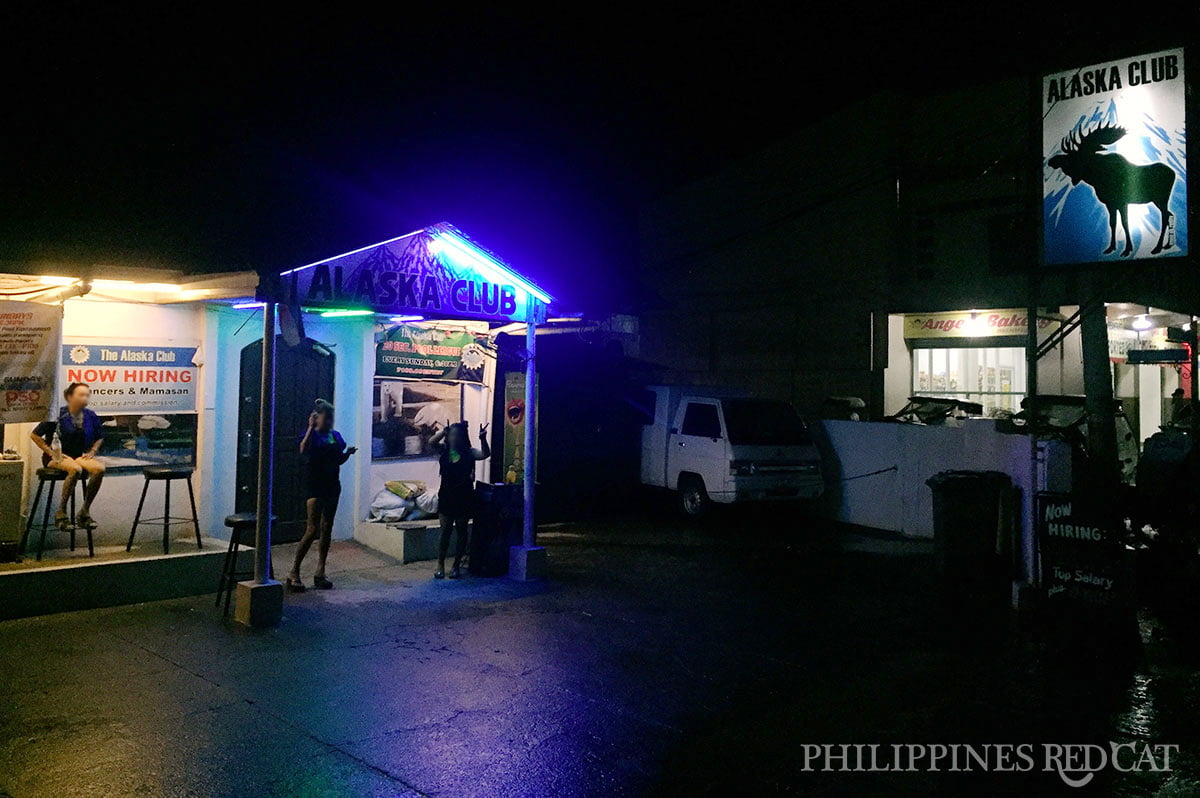 Another favorite among foreign expats in Subic. Alaska Club is located on the main road in Barrio Barretto right next to the infamous Serenity Nuru Spa. It looks quite interesting and special from the outside, but if you go inside it's just above average in terms of atmosphere and girls.
Don't go there too early or you will be the only customer. Most of the girls start working relatively late, around 9pm. You can kill some time by playing pool in the back of the bar, but the table is quite terrible if you ask me – I have never seen such a low table anywhere in the Philippines.
The expats don't seem to bother about it though and they even organize a weekly pool competition every Sunday. You see I'm mainly talking about negative things here, but Alaska can be quite fun to visit, just come a little bit later around 11pm and you will find more than enough pretty girls on stage.
Girls Quantity: 5/10
Girls Quality: 6/10
Map of the Best Girly Bars in Subic
Prices for Drinks & Girls in Subic's Girly Bars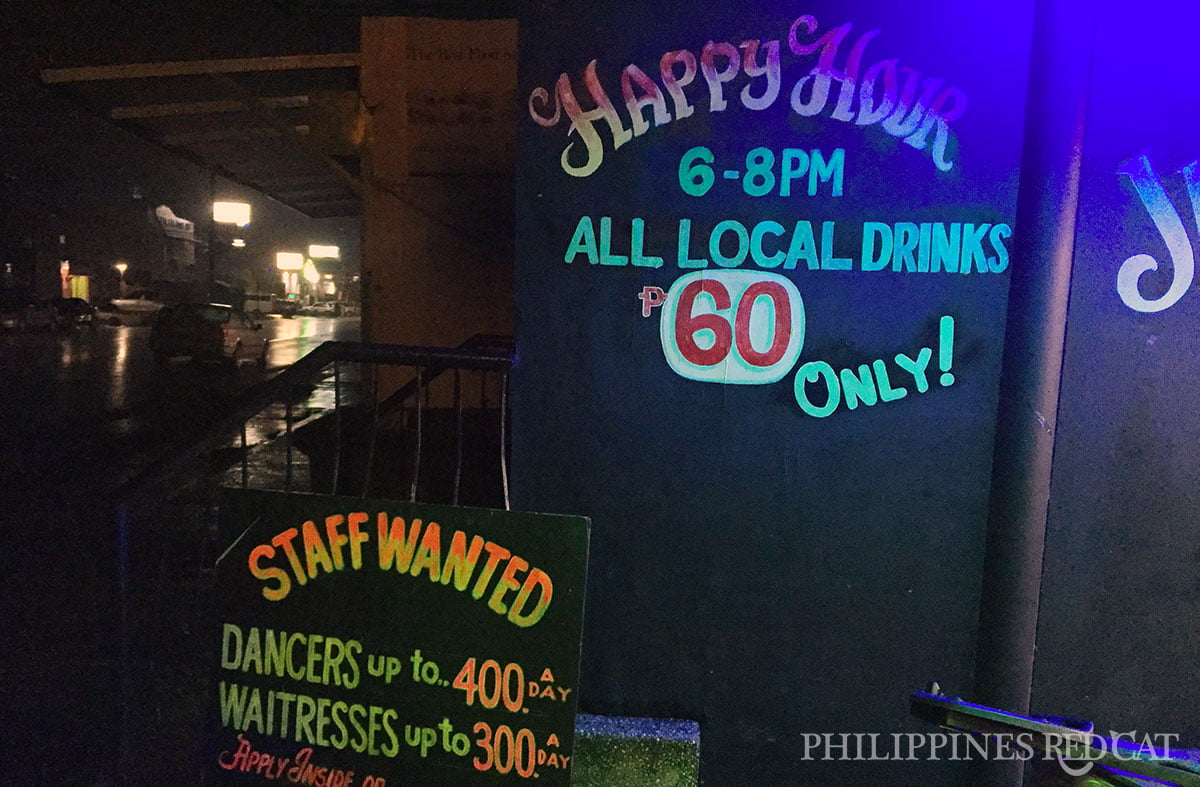 I have mentioned it various times on this website that in my opinion Subic Bay gives you the best bang for your buck in all of the Philippines. You really can't find a better deal than paying less than 100 Pesos for beers in the girly bars, just about 200 Pesos for lady drinks and about 2,500 Pesos for the bar fine including sex with the girl.
This is obviously the red light scene of the Philippines and if we are talking about meeting regular "friends with benefits" then that's a different story and you will certainly find your paradise in Cebu or Manila where it's extremely easy to arrange meetings with girls using the dating sites. But if you are on a single man's vacation for two or three weeks and looking for the most efficient and best value for money way to meet and sleep with Filipina girls – well then, Subic it is.
Final Tips
You might think that the lady bars in Subic should be all more or less the same, but that's not true. What you will find is that you walk in some bars and there are only one or two other customers and you immediately attract the attention of all girls. That can be fun if you are new to this, but otherwise it's just annoying when you just want to sit down and enjoy your beer and the view at the girls before committing to buying anyone a drink.
Also in terms of "talent" there are huge differences. There's a reason why some bars struggle to attract customers and mostly have some expats playing pool and that's because their girls are simply not as attractive as in other bars. If you visit any of the bars I mentioned above (especially number 1 & 2) you will no doubt have a great time and probably find yourself in bed with one of the many lovely ladies at the end of the night.
Videos of Girly Bars in Subic