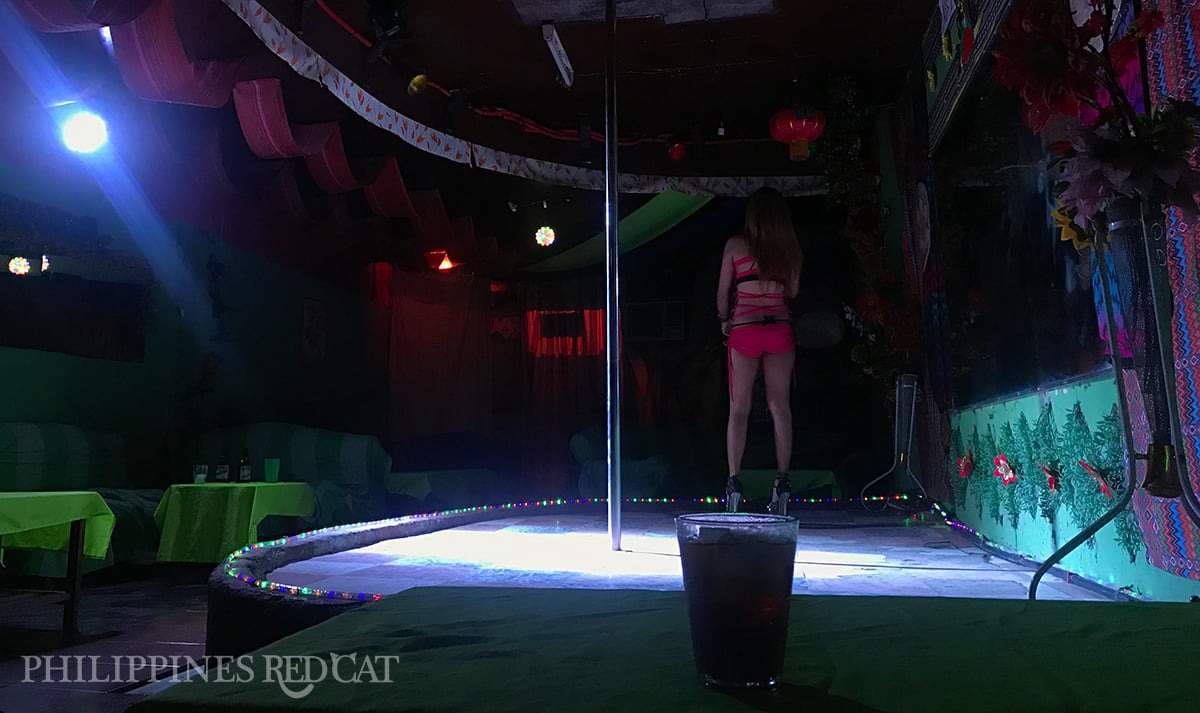 I guess the main reason you decided to go to Davao is not to see the Philippine Eagle, but to enjoy the nightlife that is among the most diverse, fun and underrated in all of the Philippines. There are relatively few foreigners making their way down to the capital of Mindanao (with relative I mean in comparison to places like Cebu, Boracay and Bohol), and that means you will get even more attention, smiles and "hi, sir"s than you are used to in this country.
I have already described all the different places to meet girls in Davao two days ago, so today it's time for the next part of the series: the girly bars and the bar girls.
First of all: The girly bar scene in Davao is very different from the main tourist cities in the Philippines. You probably know Mango Avenue in Cebu with all its sports bars (like The Philly or Howling Dogs) or Ermita in Manila, which also has several foreign owned bars full of freelancers (like LA Café or Dusk Till Dawn Bar). There is no such a bar scene here.
Instead, the type of lady bars you will find here are the so called bikini bars. These are basically go go bars – if you have been to Thailand, you know what I'm talking about. However, the reason why they don't call them "go go bar" or "strip bar" is because the girls don't get naked here. "It's not allowed, sir", they would say. Instead they are wearing tight shirts and short skirts or just bikinis and panties.
Don't worry though, that doesn't mean you don't get to see young Filipina nipples or pussies in these bars. You can touch and even have sex with the girls, more on that in a moment.
Let's start with the most important thing:
Main Areas with Girly Bars in Davao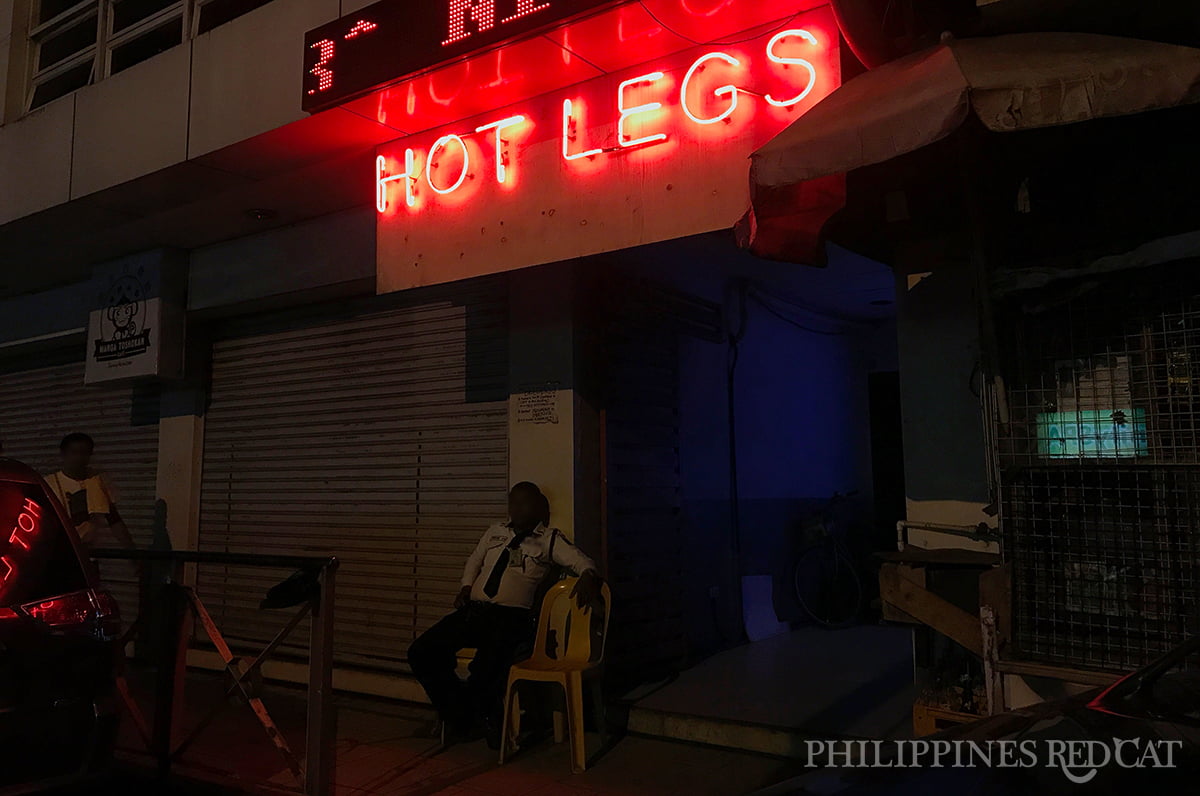 The good news is that the girly bars in Davao are all conveniently located in a small area in the city center. So if you stay in either the Mandaya Hotel (like I usually do) or in the Marco Polo Hotel (which is also very popular), then you can just walk to any of these bars in less than 10 minutes.
I don't want to list all the names of the bars here (the owners and names change all the time), but the most popular and longest established place is Hot Legs. They have 3 branches on different streets, and I have marked them with a separate color on the map below – even if they have a similar setup and design like the other bars, but I found the girls hotter and younger than elsewhere, at least on average.
So just take a walk along Palma Gil Street, Iñigo Street, San Pedro Street and Rizal Street (which are all connected to each other), and you will pass 90% of all girly bars in Davao. I would recommend you to take a quick look inside each bar and if you like the ladies, then you can take a seat somewhere and order a drink. Don't worry, if you don't like any of the girls, you can just turn and leave again.
Next I will talk a bit about what you can expect when visiting one of these bars, but before that I show you the map with the exact location of each bikini bar:
Overview Map of Girly Bars in Davao
I have marked Hot Legs with the purple pin, the other girly bars with the beer pin and the karaoke bar with the music pin.
How it works in Davao's Girly Bars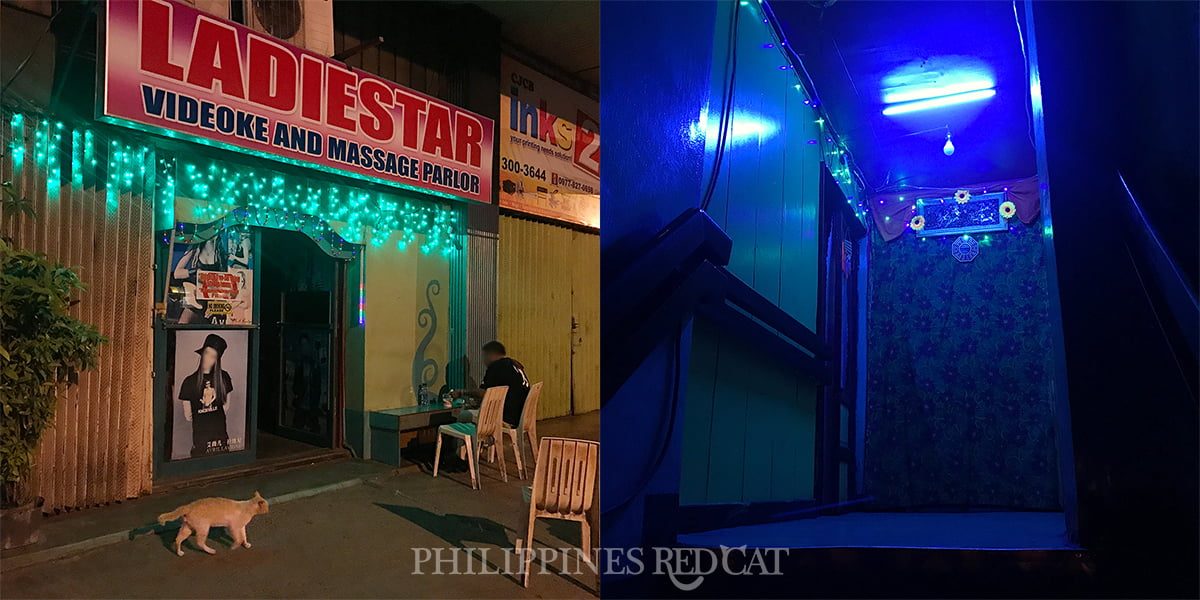 So if you have found a bar with some nice girls, then you can just sit down somewhere – there are usually cheap but comfortable couches, and order a drink. Beers are relatively cheap, but lady drinks relatively expensive (see the next section where I talk about the prices in detail).
Then just lean back and enjoy watching the girls. There is usually only one girl on the stage (unlike in my photo below, that's a quite rare sight), and she will be dancing for one, or maximum two songs. If there are only a few customers in the bar, they will barely move their legs back and forth, but if the place is half full with hungry men, then these ladies will show some really skilled and passionate moves.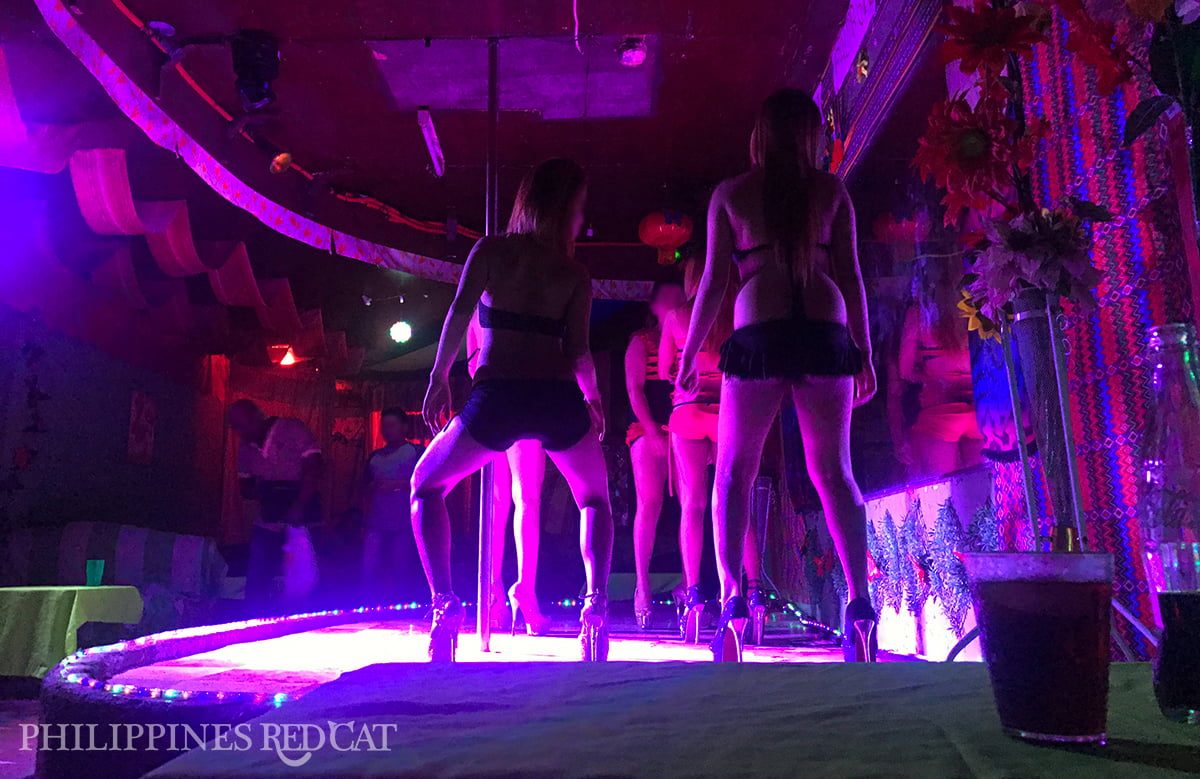 You can see that in the videos I took in two different bars (scroll down to the end of the guide).
If you like one of the girls, you can call her over to sit with you. After a minute or two of small talk, she will expect you to buy her a lady drink (usually whiskey coke or tequila). The unspoken rule is that as soon as you bought her a drink, you can touch her body. She will make sure you enjoy yourself, and at one point probably ask you if you want to have sex with her.
Then you have two options.
Prices for Drinks & Sex in Davao's Girly Bars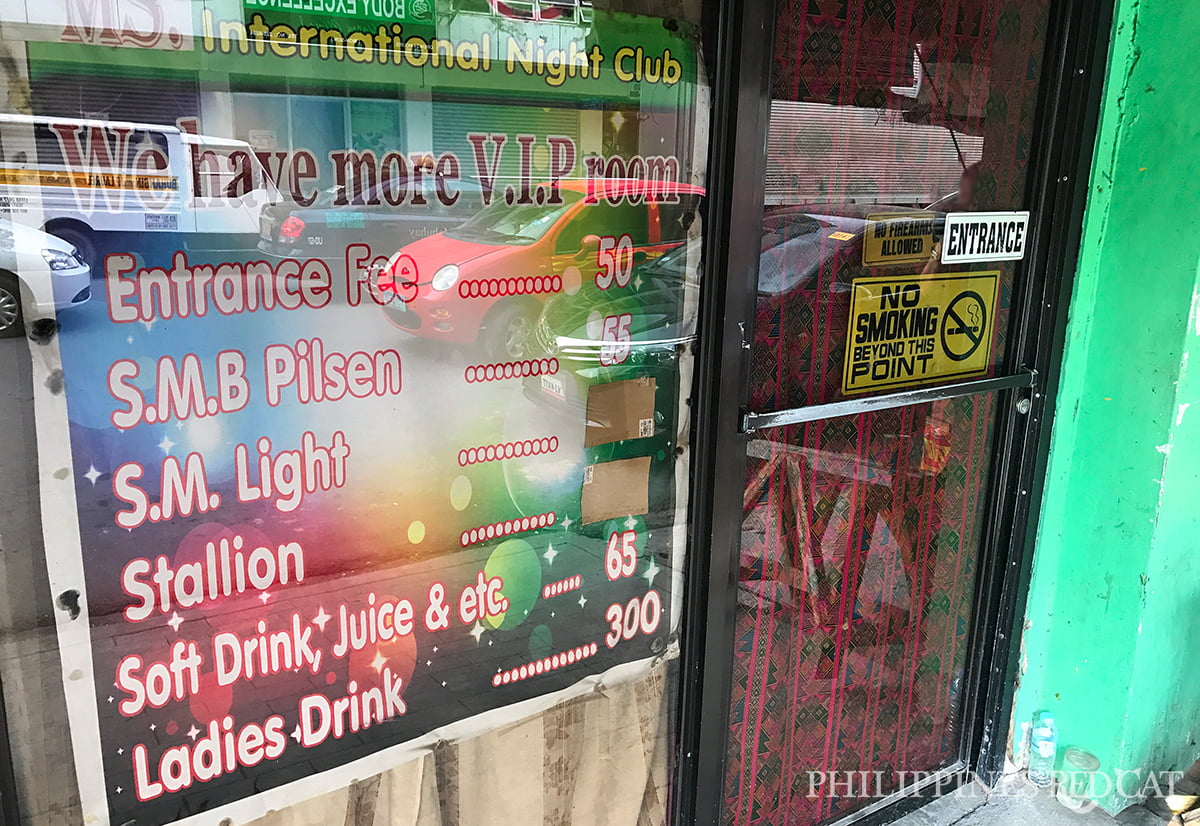 The above picture shows the most important drink prices: You are probably going to have a beer, and that will cost you between 75-90 Pesos per bottle. Note that all of these bars also charge a small entrance fee of 50 Pesos, but that shouldn't really be a big issue, they do it mainly to keep out the poor Filipino guys who would otherwise just sit there and don't order any drink (you see that a lot in the Philippines).
Lady drinks cost 300 Pesos everywhere, which is really expensive and the main reason why I personally don't really like these bars, except for watching and relaxing. If you are here on a holiday, then that might be okay for you, but for guys like me, well, it's a different story.
And if you want to have sex with one of the bar girls in Davao, then you can either pay her bar fine (usually 1,000 Pesos plus 2,000-3,000 Pesos for the lady), or you can go with her into one of the "VIP Rooms" in the back of the bar and have sex right there (they quoted me between 2,000 and 3,000 Pesos in the different bars).
Yes, they usually provide condoms and yes, I would strongly advise you to wear one.
More Hookers in Davao
The good thing is that there are also other types of hookers working in the area around the girly bars. Most obvious are the various happy ending massages, but you can even find a lot of street prostitutes: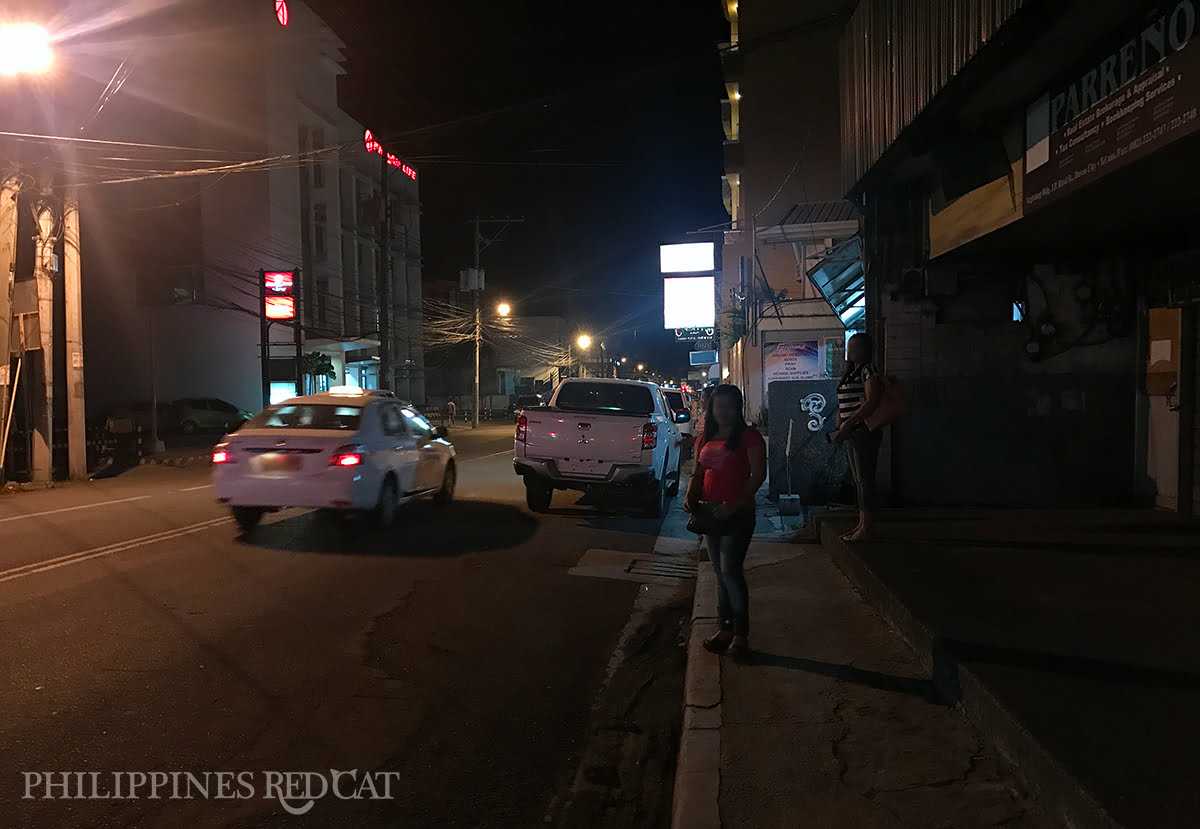 I took that picture on the corner of Rizal Street / Pelayo Street. So if you don't want to spend around 4,000 Pesos for one of the bar girls (entrance fee, beers, lady drinks and bar fine) you can easily find a street hooker who will join you to your hotel for sex for 1,000-1,500 Pesos.
I know, the girls (or women I should say) in the photo are not that attractive, but there are plenty of young and hot chicks around, too. Just always check their age (no ID = no thank you) and better stay away from the ladyboy pimps who offer you one of "their" girls, and of course will want to have their share of the business.
And if you go to A. Pichon Street near the Davao River, there are a few karaoke bars. They look quite rundown and dirty though: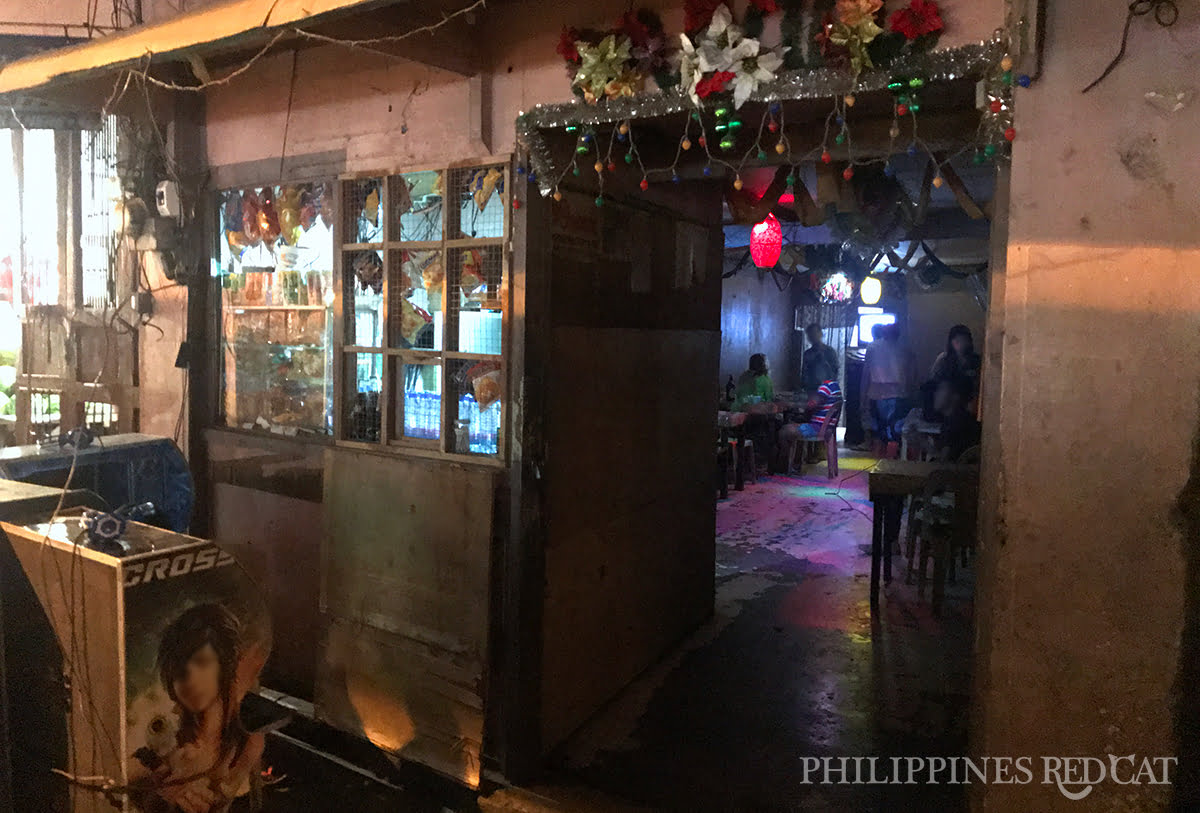 So that's pretty much everything you need to know about the girly bar scene in Davao. It does get a little bit sketchy at times, especially outside on the streets where you will surely be approached by a few ladies. But I guess Davao is not your first stop in the Philippines, so you should already have some experience in this regards, and then you shouldn't have any problems either.
Videos of Girly Bars in Davao